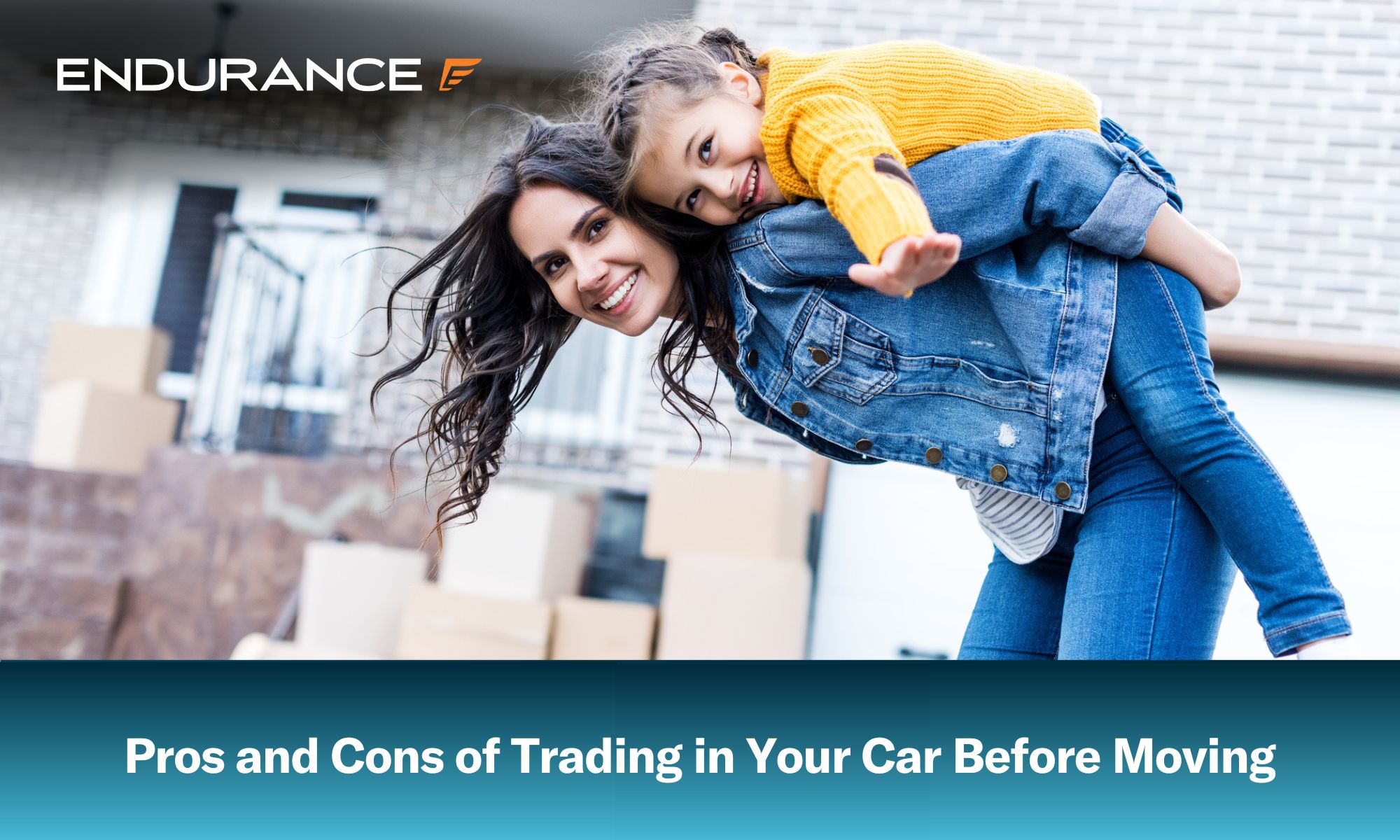 Planning to move is an exciting experience, and it requires a lot of preparation. One item many people overlook is using a move as an opportunity to trade in a car they've been looking at getting rid of for some time.
There are a number of benefits and drawbacks to using your move as this opportunity and looking at each can help you determine if trading in your old car is the right choice for you.
Pros of Trading in Your Car Before You Move
For many people, trading in a vehicle can seem like a hassle that isn't worth the time commitment. However, your current car could fetch a significant cash value if it's been taken care of properly, which can be put towards items related to your move, a new vehicle, or even a down payment on your new home. Consider the following benefits of trading in a vehicle prior to your move to see if it's the right choice for you:
1. Reduced transportation costs.
On an average yearly basis, a household tends to spend around $13,000 on transportation costs, whether it be gas, maintenance, or other related items. For those who are moving to an area where a vehicle just isn't necessary, such as in a walkable major city, trading in your vehicle can save you over $1,000 per month in transportation costs. On top of this, you can pocket your car's trade-in price value for whatever purpose you may need.
2. Receiving cash towards a new car or other expenses.
Some people may be tired of driving an older vehicle and are looking to find something newer for their garage. Rather than keeping your current vehicle and allowing it to accumulate dust, trading it in for a sum of money that can be put towards a down payment on your new vehicle is an excellent choice.
3. Avoiding potential problems that come from car transportation.
Getting your car from one side of the country to another is a hassle in and of itself. A myriad of problems can occur along the way, such as car accidents, mechanical breakdowns, and more. For those with older vehicles, driving the car to your new destination or paying a company to transport it just may not be worth the cost.
Cons of Trading in Your Car Before You Move
On the flip side of this coin, choosing to trade in a car just before moving may not be the best option for everybody. Whether you have potential buyers already lined up or you just don't feel like working with a car dealership, there are a variety of reasons you may be hesitant to trade in your vehicle. Consider each of the following drawbacks to trading in your vehicle before making a decision:
1. Potential loss of value in the car.
While everybody looking to trade in their vehicle wants the best price and likely believes their vehicle is worth far more than it's quoted, the truth is that vehicles depreciate quickly. It's entirely possible that you will go through the arduous process of trading in your vehicle only to be disappointed by the sum of money you are offered due to a loss in value of your vehicle.
2. There may be limited options for trade-in value.
When it comes to negotiating with a private party or a car dealership for a trade-in, there isn't as much wiggle room as there might potentially be when purchasing one that is new. Research comparable values for your trade-in on sites such as Edmunds or Kelley Blue Book to see what you can expect before going through the entire process.
3. Potential need to replace the car shortly after moving.
There are some cities around the world that are extremely walkable, but the majority of places are not. The car buying process can take a significant amount of time which you may not have once your move is complete. Therefore, you may need a vehicle right when you reach your destination, so you can't trade in your current car.
Factors to Consider Before Trading in Your Car
Several factors should also be considered when evaluating all of the above benefits and drawbacks of trading in a car before a move. These factors can help a person narrow down whether they will get less money or a better price for their vehicle when they go through the trade-in process:
The Current Age and Condition of Your Car
As mentioned, a vehicle will depreciate extremely fast, with the majority of vehicles losing 20% of their value in the first year alone. The age of your vehicle will be a significant factor in your car's trade-in value. On top of this, the condition of your vehicle will also play a major role. If you have not taken care of your vehicle over the years and solved maintenance problems, you will likely get a lower value than the market value.
Your Financial Situation and Goals
When looking at the legwork involved with trading in a vehicle, a person needs to consider their financial goals and current situation. If you are saving up for a downpayment on a home, car, or other purpose, trading in an older vehicle you don't need can help reduce your monthly payment.
The Distance of Your Move and Transportation Options
Before ever considering trading in a vehicle, a person must look at the area they are moving to in order to learn what transportation options are available. For example, consider whether there is a strong public transportation infrastructure in place or if your new home is close to your place of work. On top of this, consider the distance you are moving and how challenging it will be to get your used vehicle to that area.
Other Options for Selling and Disposing of a Car
After receiving a trade-in offer, the resale value may be particularly disappointing. In this situation, it may make sense to seek out a private party sale or, rather, just donate your vehicle to a good cause if you don't need the money for any purpose.
4 Key Tips for Maximizing Trade-In Value
With the average used car trade-in amount offered rising to above $17,000 in recent years, it's clear that this path can generate a person a large sum of money. To that end, there are four key tips that can help you maximize the value of your trade-in:
1. Take time to clean and prepare your car for trade-in.
While you may not be able to take care of major issues that have gone neglected for years, minor repairs with your vehicle that don't cost much money to fix should be handled before the trade-in. This could result in as much as a couple extra thousand dollars.
2. Research market trade-in values and negotiate with the dealership.
There likely won't be a lot of wiggle room when the dealership gives you the trade-in offer, but if you believe they are seriously undercutting your car, it may be worth pushing back. Show the research on market value trade-in offers, especially if your vehicle has no history of issues or anything that would lower the price.
3. Time your trade-in to maximize value.
If you can wait until there is a serious demand for vehicles or some other event that results in more cars being needed, a dealership will likely offer a better deal for your trade-in. Time your trade-in offer to get the most amount of money possible.
4. Utilize an auto protection plan from Endurance.
Finally, trading in a vehicle that comes with an extended warranty contract can boost the value of your offer. Endurance Auto Warranty has a slew of extended warranty contracts which are transferable, which can result in a private party or dealership offering more money due to the added protection that comes with the vehicle.
Keep Your Vehicle Safe with Endurance Auto Warranty
Whether you use your move to trade in your used car for a new vehicle or not, ensuring that your vehicle has adequate protection should always be a priority. Mechanical breakdowns can occur to vehicles of any age, and not having a factory warranty protecting your vehicle can cost you thousands of dollars at the repair shop.
Instead, consider investing in one of Endurance's auto protection plans to protect your vehicle. From competitive and affordable basic protection with our Secure Plus plan all the way up to our near bumper-to-bumper protection with our Supreme plan, there is something for everyone. As an added bonus, for a small activation fee, all new Endurance customers can get access to Elite Benefits, offering additional perks such as up to $500 in collision coverage, 24/7 roadside assistance, reimbursements for two tires per year due to road hazards, and much more.
To find out more about how Endurance Warranty can keep you and your vehicle protected out on the road, request a FREE quote or call (800) 253-8203 to speak with an Endurance representative. You can also see your price and shop online yourself today!
More like this
Expert Auto Tips

Retired professional racecar driver Danica Patrick is a pioneer in the world of motorsports. Her breakthroughs include being the first woman to lead an Indianapolis 500 race (the 89th running..

Read More

Expert Auto Tips

Buying a new car can be incredibly exciting and can open up a whole new world of possibilities. There are so many vehicles on the market, and no matter what..

Read More

Expert Auto Tips

Changing your oil and keeping your tires at the correct PSI are two great ways to keep your car running smoothly and driving safely as the seasons change. Your vehicle's..

Read More