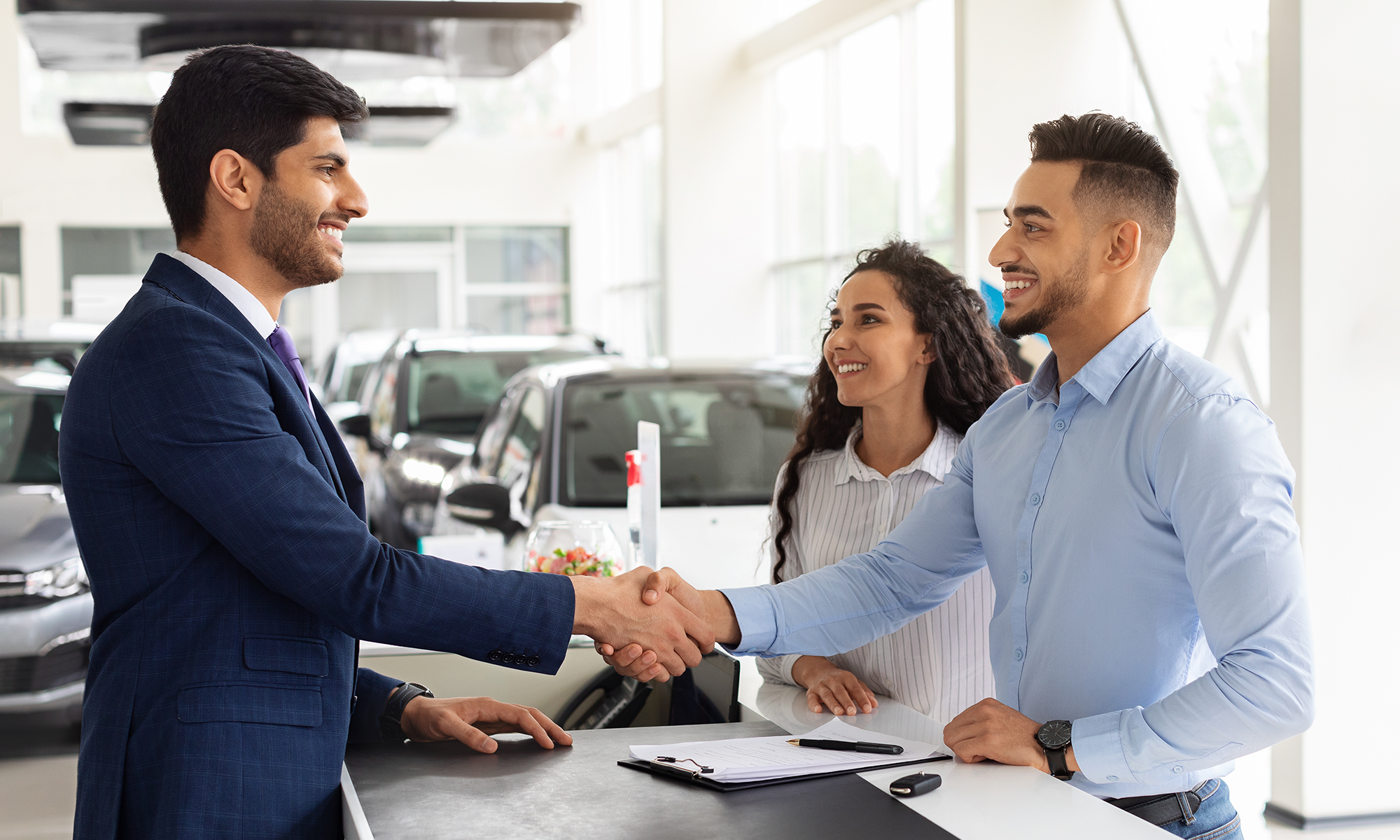 With savings from Black Friday and other holidays coming up, it's one of the best times of year to save money on a new or used car. However, another strategy that is arguably even more effective at saving you money on any vehicle anytime throughout the year is trading in your current vehicle.
But while trading in your current car for a new one sounds easy, there are a few things to be aware of. It also helps to know what you can do to help spruce up your car before starting the trade-in process to help you get the most money or credit possible toward your next car.
What is a "Trade-in?"
A vehicle trade-in is when you exchange (aka trade) your current vehicle to a car dealer to receive a certain amount of credits, based on the valuation of your vehicle, to purchase another vehicle. And while you can trade in almost all vehicles, the amount offered by the dealership will vary depending on several factors:
Current mileage of the vehicle

Exterior and interior condition

Current market demand for your vehicle

General negotiating between you and the dealer
Be aware that a vehicle depreciates rapidly during the first five years of its life, meaning that trading in a car that is seven years old (from when it was brand-new) won't be the best trade-in value compared to a three-year-old vehicle. 
Overall, though, there are some benefits and drawbacks to vehicle trade-ins that you should consider before choosing to use this strategy:
Benefits of Vehicle Trade-Ins
Smoother process of getting a

new vehicle

as trade-in credits go towards a new purchase.

Get a tax break on your trade-in.

Removes the hassle of selling the vehicle yourself.

Can trade in a vehicle even if you haven't paid it off.

An extended

warranty

or vehicle service contract can be transferred to whoever becomes the

new car

owner.
Downsides of Vehicle Trade-Ins
Potential undervaluing of your vehicle.

Any

maintenance performed

on the vehicle won't count towards increasing the

car's trade-in value

, only ensuring it will not decrease.

A

dealership

may not want your vehicle.
How to Get Your Car Ready for a Trade-In
Used and new vehicle buyers are faced with all-time high purchase prices that can hinder the car buying process. But, a vehicle trade-in can be an excellent way to get a new vehicle without busting your budget. 
Even better, learning some simple ways to help prepare your car for a trade-in can help you get save toward a new vehicle. 
Clean the Interior & Exterior
First impressions are a big deal when trying to trade in or sell a car, and a significant factor that goes into a vehicle's resale value, from the car dealership's perspective, is the vehicle's state. For example, suppose a vehicle comes to them with extensive exterior damage and an abnormally dirty interior. In that case, the resale value would be minimal, as the dealer will have to take the time (and spend the money) to fix and clean those issues.
Take the time to go through your vehicle's interior and make it as spotless as possible while also giving the exterior a good wash. This also acts as the perfect time for you to perform a walk-around vehicle inspection to see if there is any visible exterior damage, such as scratches or dents.
Take Care of Any Small Maintenance Issues Yourself
Oil changes, topping off essential fluids, changing interior light bulbs or headlight bulbs, and even touching up paint scratches are items you should consider handling before taking your vehicle to the dealership. While these simple maintenance tasks may cost you a little bit of money out-of-pocket, this cost will be made up by potential increased trade-in value.
If larger, more serious repairs are required, leaving those for the dealership is a better idea. And while these repairs may reduce your trade-in value, they would be too large for you to handle out-of-pocket. But, if you have an extended warranty or vehicle service contract, like an Endurance vehicle protection plan, you won't have to worry about paying any repair bills. Instead, you can sit back while your chosen mechanic completes your repairs while we work directly with them to help you get your car ready to go, whether you're hitting the road or trading it in. 
Don't Forget to Include Any Extras You May Have Added to the Vehicle
If you have added anything to your vehicle over the years, such as extra keys, accessories, or new components, include them with the vehicle when you bring it in. While some add-ons may not adjust the trade-in value, more crucial ones, such as not providing a spare key, can actually negatively impact this value. 
Get a Preliminary Estimation of Your Vehicle's Value First
Going into a dealership trade-in blind is a recipe for disaster. Take the time to use online services like Kelley Blue Book (KBB) that help you determine the actual value of your vehicle. Many free-to-use tools allow a person to input their vehicle information and any imperfections or add-ons to help determine a range you can expect for trade-in value. 
Feel free to inform your dealership that you have run this estimated value if they offer you a trade-in value far lower than you expected. This will give you better ground when negotiating your vehicle's trade-in price. It's also a good idea to have any service records, maintenance records or other information about the vehicle to help show the dealership that it has been well-maintained and that any repairs, if needed, were taken care of. 
Consider Protecting Your Vehicle with an Extended Warranty
For those unfamiliar with the term, an extended warranty is something you can purchase for your vehicle after your original factory warranty expires. And while automakers only offer genuine extended warranties, you can also find third-party extended warranties, also known as vehicle service contracts, from third-party providers like Endurance. And like coverage from automakers, these plans can cover anything from basic powertrain components to near bumper-to-bumper coverage, depending on the package. 
Some extended warranties are transferable to new owners, like our plans here at Endurance. So should you choose to sell the vehicle yourself, you can market a higher price due to your car's coverage. Even if you choose to go through a dealership that doesn't allow extended warranty transfers, our Advantage plan provides breakdown coverage AND maintenance benefits that can help you get better value when you decide to trade the vehicle in. 
However, it's important to note that plans from Endurance and other providers have a "waiting period" before your coverage truly begins, so be sure to read the fine print of your plan thoroughly before doing something to possibly void your coverage.
Other Tips for Selling Your Car
Whether you're trading in a car to a dealership or are handling the selling process yourself, there are a few tips to be aware of that can help you get a better price. From advertising your vehicle properly to taking a few preventative steps to get it ready, following the tips below can assist in your selling goal:
A

clean car

is easier to sell, so wash, vacuum, and detail your vehicle to help give it more curb appeal

.

Understand the market for your vehicle and look at similar listings to gauge price points.

Take your vehicle to a mechanic to have any problems diagnosed so that they can either be fixed or mentioned to a

prospective buyer.

Keep a

vehicle history report

, including any service and/or

maintenance records.

Advertise your vehicle on different sites if selling yourself.

If you have a transferable extended warranty

, inform the potential buyers.
Regardless of how you choose to get rid of your current vehicle, making it as presentable as possible and being upfront with any issues is the best way to get a better deal on the trade-in or selling opportunity. 
Protect Your Vehicle with Endurance
Trading in your current car can be a great option if you're looking to get a little more "bang for your buck" when shopping for your next vehicle. Even more so, taking proper care of your eventual new car now can mean that you'll get more than a fair price if you look to trade in again. But to help you get the best possible return on your investment, only an Endurance vehicle protection plan can help.
With plans that can offer you basic powertrain protection with monthly payments as low as just $79 per month or near factory-like bumper-to-bumper coverage, you can rest easy knowing your vehicle is protected without worrying about your budget. You'll get complimentary services like 24/7 roadside assistance towing, trip interruption coverage, and rental car reimbursements. 
Plus, as a new Endurance customer, you'll automatically be eligible for an entire year's worth of Elite Benefits, which provide even more perks and savings, including tire replacements or repairs, collision discounts, key fob replacements and total loss protection. And that's still not all, as Endurance plans are also transferable, so you can use your car's award-winning Endurance coverage as an extra selling point, helping you get the best price possible when trading in or selling your old car.
Don't get stuck paying expensive repair bills on your own; request a free, no-obligation quote today or call us at (800) 253-8203 to see how we can help. You can also find even more great tips on buying or selling a car, plus other articles on topics ranging from DIY maintenance how-tos, extended warranty coverage comparisons, vehicle buying guides and more, by visiting the Endurance blog.
More like this
How To

In the event of a breakdown, having an extended warranty or vehicle service contract watching your back can be a total lifesaver. With some major repairs costing thousands of dollars,..

Read More

How To

Keeping a Hyundai Accent running for the foreseeable future is about more than simply being a safe driver on the road. While keeping your eyes peeled and attention on the..

Read More

How To

While reliability is always a factor when choosing a vehicle, many more considerations are involved when kids are in the picture. Safety, space, and comfort must also be part of..

Read More