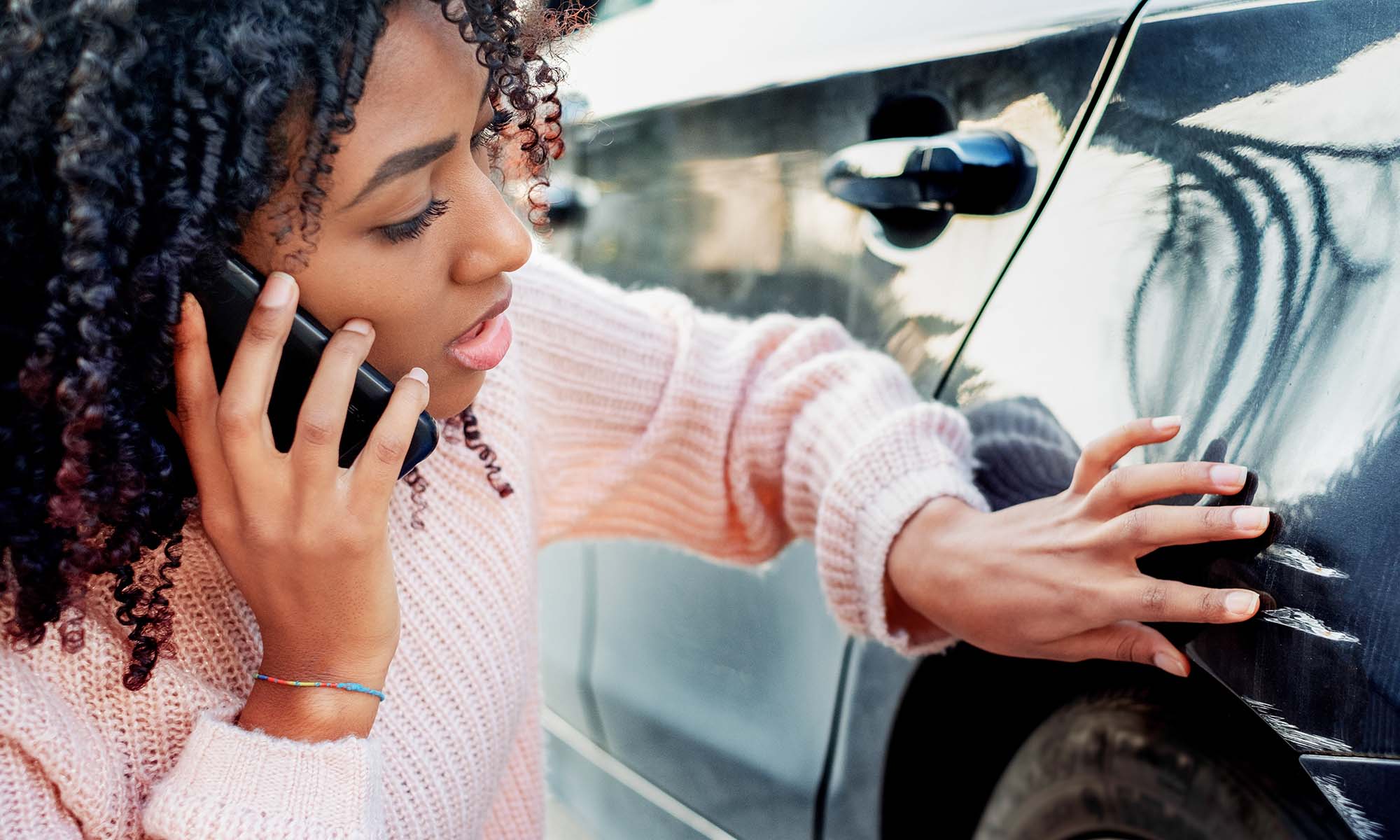 Whether you're navigating through bumper-to-bumper traffic, the hustle and bustle of a crowded college campus or a store parking lot, there's always a chance your car could be dinged, dented or scratched. And since the severity of a scratch or dent can vary, it is important to know what you can do when your car is damaged, including learning whether or not you can use your car's warranty to help with repairs. 
Does My Warranty Cover Dents & Scratches?
To get right to it, whether it's a manufacturer's warranty on a new car right from a dealership or an extended car warranty plan or vehicle service contract on a used car, it will not cover scratches, dents or door dings of any sort. Instead, your auto insurance company will often cover cosmetic damage to your car, depending on the incident that caused the dent or scratch. 
For example, while your car insurance policy will help with cosmetic issues due to an accident as part of your policy's collision coverage or even help with vandalism or severe weather, issues caused by general corrosion likely won't be covered. Even still, if the scratch or dent is covered, you will most likely have to pay a deductible, so knowing how to repair a dent or scratch can help save you time and money instead of going to a body shop or other repair facility.
How to Handle Dents
As a car owner, you're likely to deal with a few dents here and there, whether they result in a scratch or not. So to help you be prepared, here are some of the best ways to handle a dent:
Use a Dent Removal Tool
A dent removal tool is a specialty tool designed to remove a dent from a vehicle's metal body panel. However, while helpful, these tools often come in various configurations and are only useful for specific kinds of damage. So if you choose this route, it is important to note what type of dent you have to know which dent removal tool you should purchase. Otherwise, you could further damage your vehicle's body panels or paint.
Use Dry Ice
Believe it or not, but if your dent is more rounded and does not feature any sharp creases, you may be able to use dry ice to repair it. However, working with dry ice can be dangerous, so always wear high-quality, thick rubber gloves and even protective eyewear when handling it. But to remove a dent, simply place a piece of dry ice on it and cover it with a towel for up to 20 minutes. But while you may be asking, "how does this work?" The answer comes down to science! Dry ice, which is extremely cold, will help cause the metal body panel of your vehicle to contract, popping the dent back into place.
Use a Professional Dent Removal Service
When it comes to car repairs, whether cosmetic or on something more complex like your car's engine, brake pads or cooling system, it can never hurt to go to a professional. After all, if you're not a professional yourself, you could risk damaging your car. So if you believe your dent will require professional help, you can always use a dent removal service. Professional dent removers have a wide variety of tools and techniques that they can use to fix a dent of any size. Services such as paintless dent repair can save you time and money as you will not need additional bodywork to repair the dent.
How to Handle Scratches
Scratches are deep cuts that penetrate your vehicle's paint and can vary from small scuffs to something that reaches the bare metal of a body panel. In most cases, the depth and size of the scratch will determine whether or not you can repair the scratch on your own. So to help you, here are some basic steps you can take when dealing with a scratch on your car:
Wash & Dry the Car, Then Determine If the Scratch Can Be Easily Removed
The first step in repairing any scratch on your vehicle should be properly washing and drying the car. You might be able to wash away smaller scratches and scuffs without any special tools or chemicals. Washing your car will also give you a better look at the damage's severity to assess your next steps. So if you notice that the scratch is relatively large or deep, it would be best to go to a professional service to fix it.
Use a Scratch Removal Product
If not severe enough and you want to try to repair the scratch yourself, you can choose from various scratch removal products available at your local auto parts stores. These products are very easy to use and can usually be applied with a microfiber towel or buffing tool to remove the scratch. These work best for scratches in the clear coat that have not cut through the paint as they fill in the clear coat, evening out the surface for a "like-new" appearance. However, before using any scratch removal tool, always follow the manufacturer's guidelines in your owner's manual to ensure you do not damage your paint. 
Use Toothpaste
Another tip that seems too good to be true but using toothpaste is something that you could do quicker than running to an auto store if you want to remove a scratch. But how? Well, like a professionally made scratch removal product, you can use toothpaste to help fill in and sand away any imperfections on your vehicle. Just put a small amount of toothpaste on a cloth and rub the cloth on the scratch carefully until the scratch disappears. However, it's important to remember that while helpful in a pinch, this will not always work on every scratch.
Get Covered from Unexpected Car Breakdowns with Endurance
Scratches and dents are very common issues that any car owner can face, whether they have a brand new vehicle or an old, reliable vehicle they've had for years. And while you can't always stop unwanted damage, knowing how to handle minor or severe dents and scratches can help you be prepared for the unexpected, especially as these issues aren't included in a manufacturer's warranty or an extended warranty. 
But, while it may not be able to help with cosmetic damages like an auto insurance policy, getting comprehensive coverage from unexpected breakdowns with Endurance is the best way to give yourself peace of mind when it comes to expensive auto repair bills. Plus, each Endurance protection plan includes great perks, including 24/7 roadside assistance and towing, trip interruption coverage and rental car reimbursement to help ensure that no matter where you are, Endurance will have you covered. But that's not all, as you can even enjoy an entire year's worth of Endurance Elite Benefits, which you'll automatically be eligible for just by being an Endurance customer, including extra perks and savings like collision discounts, tire replacements or repairs, and more.
To learn more about how Endurance can help protect you and your vehicle any time of the year, call our award-winning customer care team directly at (800) 253-8203 or request a free quote. And by visiting the Endurance blog, you can find more articles on topics such as expert auto tips, DIY maintenance how-tos, vehicle buying guides, and more automotive topics. 
More like this
Extended Warranty

When driving on roadways around the world, the thing most car owners fear is being involved in an accident. However, mechanical breakdowns are the thing that every average driver should..

Read More

Extended Warranty

Every car owner knows how important it is to keep their vehicle in the best possible condition at all times. This means making sure that you are getting the proper..

Read More

Extended Warranty

Driving down the road only to experience an issue with your vehicle's steering capabilities is a terrifying experience, regardless of if you are driving a new vehicle or an old..

Read More