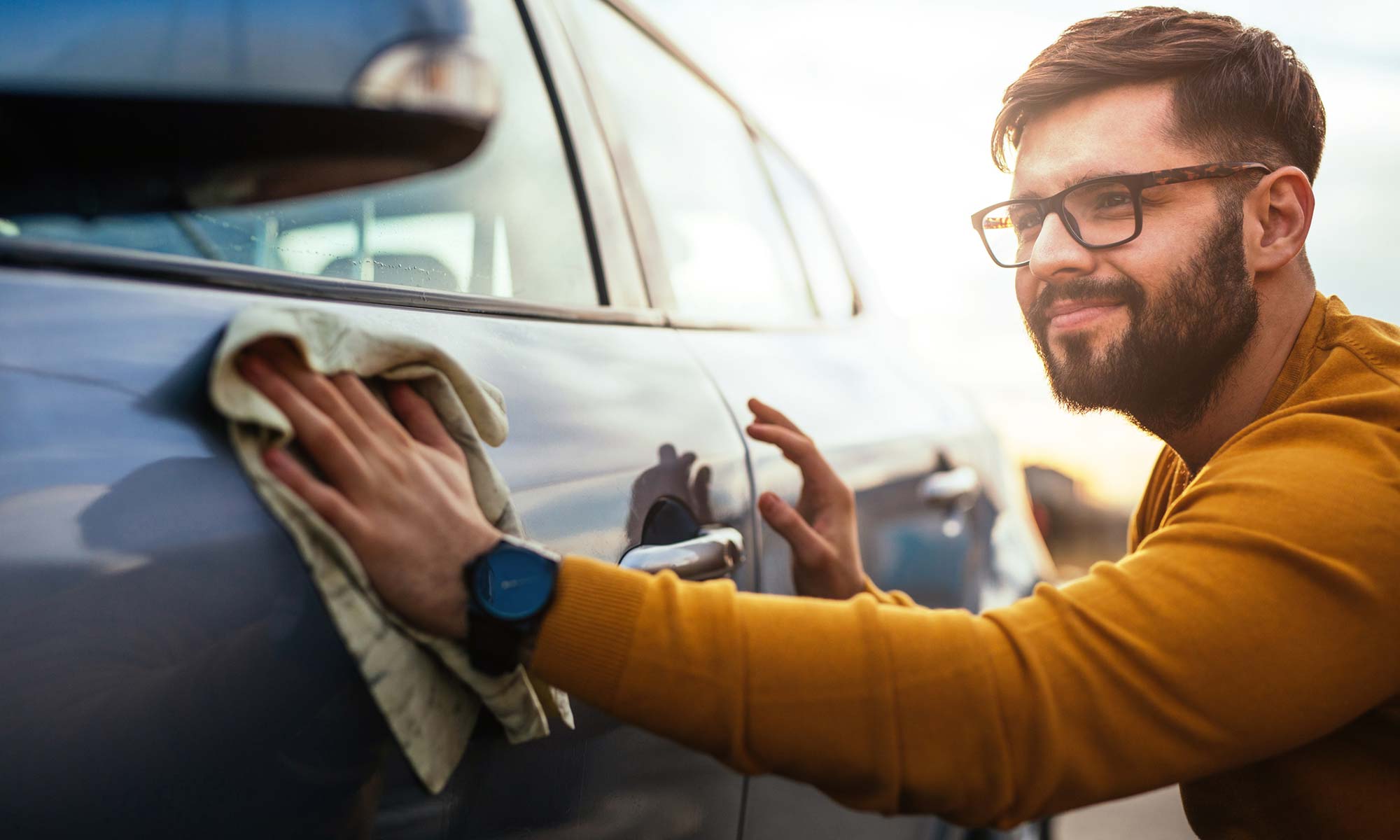 As a car owner, keeping your car clean can help it look brand long after you've driven off the dealership lot. Even used vehicles can look as good as new with good deep cleaning. But, while car washes can help keep any vehicle looking spick and span, they can also help to protect your vehicle's clear coat finish from damaging contaminants and road grime. 
But, while regularly washing your car can help to keep your car's clear coat intact to prevent oxidation and paint damage, you may not be quite clear on what clear coat is and if your car actually needs it.  
What Is Clear Coat?
No matter the type of vehicle you may have, it will have three separate layers of paint: the primer coat, the color coat and the clear coat. The clear coat is a layer of transparent paint used to protect the color coat and primer coat of paint from UV rays, oxidation, and damage from harmful contaminants such as acid rain, road tar, road salt and even bird droppings. A high-gloss clear coat also provides your paint with some glassiness. 
Without a layer of clear coat, your vehicle will have a dull or matte finish to it. Your car's clear coat can also start to fail and chip if it's not properly washed and waxed and will usually lead to the clear coat peeling, exposing your base coat of paint. 
A clear coat can also be wet sanded to remove oxidation or debris that has been embedded into the clear coat. However, this should be done by a professional body shop, as wet sanding or buffing the clear coat incorrectly can actually damage a layer of your car's paint. And as a paint job isn't covered in many typical auto insurance policies apart from some types of corrosion coverage, you'll be left paying to repaint your vehicle.
Along with not covering issues related to your car's clear coat paint, auto insurance policies and mechanical breakdown insurance (MBI) policies won't usually be able to help you when it comes to unexpected repairs and breakdowns. This is especially true if you don't have a brand new car, as MBIs are usually only available for vehicles that are less than a year old or have less than 15,000 miles. Instead, you can protect your vehicle and your wallet from the cost of unexpected and expensive auto repair bills with Endurance. 
Each Endurance protection plan will give you the peace of mind you need by helping you cover the cost of repairs with no out-of-pocket expenses from you while also helping to fit your exact needs and budget. You can even save up to $3,500 for your vehicle's maintenance needs, including engine diagnostic exams, tire rotations, alignment checks and more, with an Advantage protection plan.
Do Cars Need a Clear Coat?
Regardless of the type of vehicle you have, cars need a clear coat to protect their color coat and primer coats of paint and get that glossy finish you are looking for. But, while most newer vehicles will have a clear coat as part of their base features, many older vehicles won't. This means that you will be responsible for taking your car to a paint or auto body shop to get a layer of clear coat or to reapply it when it begins to fade or flake. 
Along with protecting your vehicle's clear coat finish, it's also important to protect yourself from unexpected repair bills. With an Endurance auto protection plan, you can take the worry out of expensive auto repair bills while also getting the extra benefit of 24/7 roadside assistance, trip interruption coverage and rental car reimbursements included for free. You'll even have the chance to enjoy a full year of Elite Benefits, including up to two tire replacements or repairs, key fob replacements, collision discounts and more. Simply purchase any Endurance plan, pay a small activation fee and enjoy your year of extra perks and savings.
Can I Apply A Clear Coat To My Car?
Like many major repairs or services, applying a new clear coat to your car is something that is best left to the professionals. However, clear coat can be applied using an off-the-shelf clear coat aerosol spray can, or it can be shot through an automotive paint gun. These sealants can be purchased at most local automotive or motorcycle paint shops or auto repair shops.
So, if you take it into your own hands and are trying to tackle this project yourself, there are a few tips and tricks to consider. 
These include:
Sand, Don't Pick
Trust us — we know that when clear coat is flaking off of your vehicle, it can be tempting to pick it off with your fingernails. But as tempting as it might be, you'll want to avoid doing this and instead sand the affected areas to minimize the issue. Sanding with 400-600 grit sandpaper will smooth out the excess layer before applying your new clear coat layer.
Don't Rush
When working with paint on metal body panels or plastic car body parts, you'll want to take your time to avoid damaging the vehicle. Paint and bodywork can be sensitive work, so you will want to use the right products and allow for adequate time to get it done correctly. Ensure you are following the manufacturer's recommendations when it comes to drying times between applications as laid out in your owner's manual.
Do Multiple Layers
When spraying clear coat from an aerosol spray can or paint gun, you will want to do multiple thin layers to get a nice, even coat. Spraying coats that are too heavy may result in puddling, or the clear coat or runs in the urethane finish. Spraying multiple thin layers will allow the clear coat to lay evenly to get a nice, smooth finish.
Wash Your Car Regularly
In order to keep your vehicle's clear coat looking its best and free of pollutants, you will need to ensure you are washing your vehicle at least once a month. Washing your car can clean off any pollutants, debris and harmful chemicals before it starts to eat away at your clear coat or paint.
Protecting Your Vehicle with Endurance
While washing your car can protect your vehicle's clear coat, you still need to protect it and your wallet from unexpected breakdowns. One of the best ways to do that is by making sure your vehicle is well maintained. And with an auto protection plan like Advantage, you can rest easy when it comes to both, thanks to industry-leading breakdown coverage and up to $3,500 in regular maintenance services. That includes essential tasks such as up to three oil and filter changes, tire rotations, alignment checks, state safety inspection services and more. 
Luxury vehicle owners can also get peace of mind when it comes to expensive repair bills with the Highline protection plan. This comprehensive exclusionary coverage package is designed to protect select luxury vehicles from several popular automakers, including Audi, BMW, Mercedes-Benz, Jaguar, Land Rover, Porsche and more. 
Endurance customers will also automatically receive 24/7 roadside assistance as well as rental care reimbursements and trip interruption coverage at no additional cost to you. You can also receive 1 year of Elite Benefits for just a small activation fee whenever you purchase an Endurance protection plan, giving you even more perks and savings. 
To learn more about how an Endurance protection plan can help protect your vehicle, request a free quote or call (800) 253-8203 to speak with one of our award-winning service representatives. You can also discover other insightful and informative articles on topics such as DIY maintenance how-tos, vehicle buying guides, expert auto tips and even more extended warranty comparison guides by visiting the Endurance blog.
More like this
Expert Auto Tips

With most states around the country getting colder, it's worth reminding yourself how to prepare your vehicle for the different seasons. Weather conditions play a major role in how a..

Read More

Expert Auto Tips

Being a car owner can be an incredibly rewarding experience, especially if you take pride in your vehicle's condition and performance. Cars that are well taken care of will generally..

Read More

Expert Auto Tips

No matter what kind of vehicle you own, staying on top of its care and maintenance should always be a top priority. Cars that are well taken care of and..

Read More