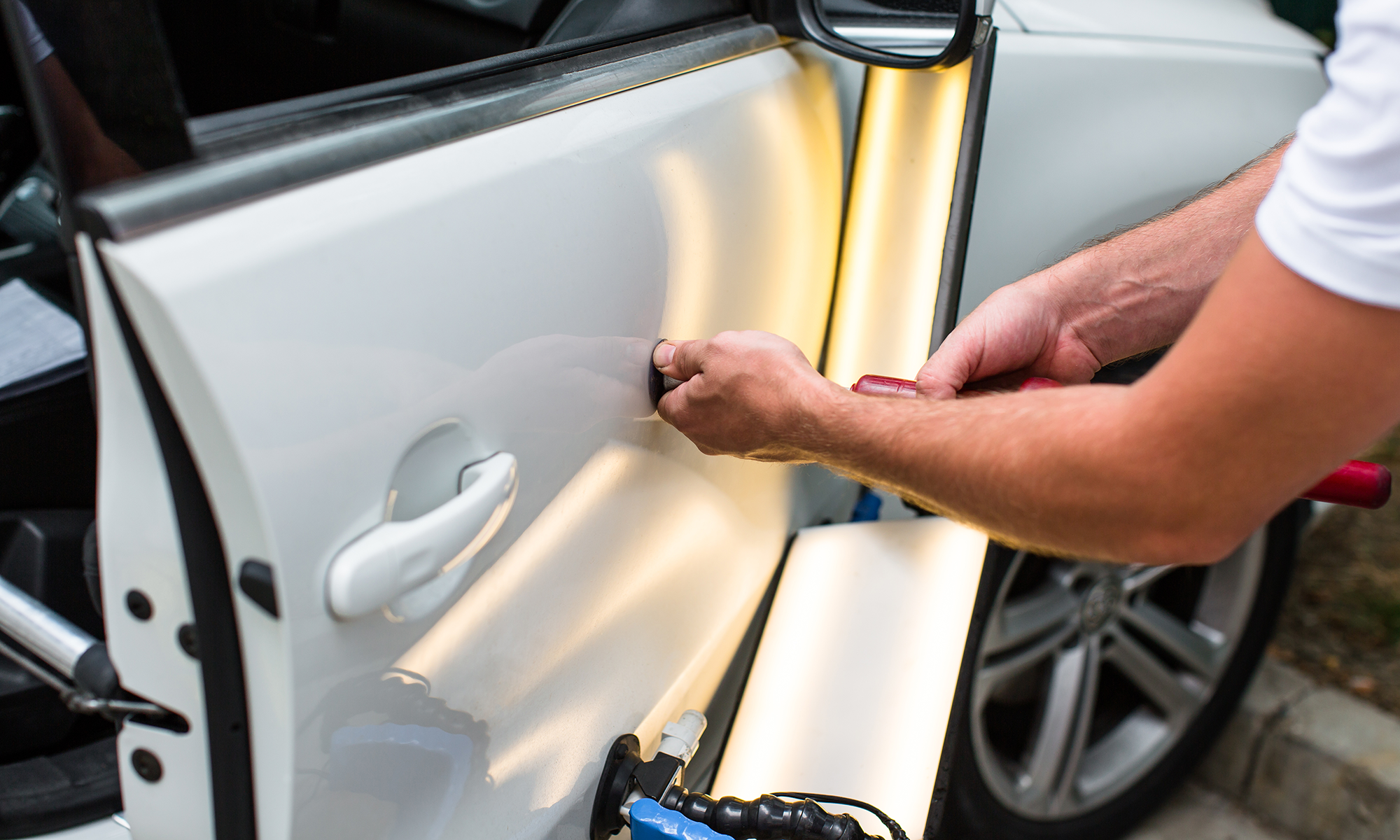 Even though more and more drivers will be on the road during the summer, vehicle damage can happen all year round. In fact, dings and dents can happen anywhere and at any time, whether it's in your garage, your driveway, or a parking lot.
Even when you're driving and have plenty of space between you and the nearest vehicle or hazard, small rocks and other debris can all cause dings or, worse, a large dent. But, while a dent or ding may seem like a big deal, most can be repaired fairly easily by yourself or by a professional paintless dent repair specialist. 
What Not to Do When Dealing with Dings & Dents
When searching for ways to repair a dent or a ding, you will encounter many different methods. But while many will claim that they work, it may not be the best solution for your specific type of damage or even your specific make or model of vehicle. 
Knowing what not to do when dealing with dings and dents can help ensure you're not risking further damage to your vehicle.
Don't Use Boiling Water
One well-known yet often wrong method suggests pouring boiling water on the dented area and immediately pouring cold water on the same spot. This is supposed to allow the metal or plastic to relax with the boiling water and then contract with the cold water, popping the dent back into place. While this may work in some situations, it is not recommended as it can harm yourself and damage other components of your car. Boiling water can cause the warping of plastic components and can cause discoloration of sensitive components. If your vehicle has been sitting in the cold air for a while, such as during the late fall or winter, you could risk even more damage, as the sudden change in temperature could cause your car's windows or windshield to crack.
Don't Use a Plunger
Apparently, to some, a plunger is not just for the bathroom. Many people on the internet suggest using a plunger to remove a large dent. This process requires you to pour hot water on the dent and affix the plunger to the dent and pull until it is removed. This is not suggested as the plunger may be too large for your dent, and it can actually cause the dent to pull too far out, making it worse.
Don't Use Glue & Wooden Dowels
This trick is one used by more experienced dent removal experts but is often attempted by amateur car owners. It requires you to glue wooden dowels to the dent with a hot glue gun to pull the dent out. In most cases, the glue will simply pop off when attempting to pull the dent out. If it does work, you will need to clean your vehicle with special chemicals to remove the glue. At worse, you risk damaging or even chipping your car's paint.
Don't Use a Hammer on the inside of the Panel
While this should go without saying, you should not attempt to use a hammer to beat the dent out from the inside. A dent must be massaged in a specific way to remove the dent without further damaging the vehicle, and hitting it with a hammer will only cause further damage to both plastic and metal surfaces. 
How To Remove Dings & Dents From Your Car
When it comes to larger or more complicated dents, you will need to visit a body shop to assess the damage and make the repair. However, there are a few safer and more effective ways to do it yourself for smaller ones. 
Use a Hair Dryer & Compressed Air
This is a safer version of the boiling water and cold water method as you will keep the heat centralized to one location. If your dent is a simple dent, meaning there aren't creases in it, you can heat up the dent with a hair dryer and then turn a can of compressed air upside down to "freeze" the damaged area. This essentially allows the metal to "relax" with the heat and the contract back to its normal state when cooled immediately. 
Use Dry Ice
Using dry ice to remove a dent will require the use of heavy-duty gloves to ensure you do not harm your hands. To start, leave your car in direct sunlight to heat up the dent, or use a hair dryer like the above method. Once heated, place the dry ice directly on the dent and cover it with a towel, keeping it in place. Move the dry ice around the area until the dent pops.
Use a Specialty Dent Removal Tool 
If you want to go with a more "professional" yet still DIY method, you can purchase a specialty dent removal kit or specialty tool online or at your local automotive store. These can be found in various designs and will be geared toward different dents. This will be one of the best ways to try to remove a dent or ding yourself.
Use a Professional Dent Removal Service
Without a doubt, the best way to remove a dent is by hiring a professional. Dents and dings can be very complicated and won't be as simple to repair as one of the above methods. Going to an auto body shop or a paintless dent removal business will be the best way to get a like-new result. These professionals have trained for years and have professional tools to remove even the most complicated dents.
Protect Your Vehicle's Vital Components with Endurance
As a vehicle owner, dents and dings are something you can expect to happen. From falling debris to door dings at the grocery store, most cars will get some type of dent over their lifetime. Knowing how to make the necessary repairs can help avoid further damage and save money by not having to visit an auto shop.
And while there are plenty of DIY ways you can fix a ding or a dent, when it comes to protecting your vehicle from an unexpected mechanical repair or breakdown, Endurance has you covered. Like a factory warranty or an extended warranty you'd get from your automaker, Endurance auto protection plans can help cover you from expensive repair bills for your vehicle's most vital components. 
So whether you have a relatively new car just past its factory coverage or one that you've had for years, Endurance can help. And with a plan like the industry-leading Advantage plan, you can get breakdown protection while receiving up to $3,500 in yearly maintenance services to help keep your vehicle running. This includes great services such as oil and filter changes, PSI checks, tire rotations, oil, and much more. 
Plus, regardless of your plan, as an Endurance customer, you'll receive even more peace of mind with complimentary 24/7 roadside assistance, trip interruption coverage, and rental car reimbursements. You'll even be able to take your vehicle to any ASE Certified mechanic or repair facility of choice, meaning wherever you are across the country, you can be sure you'll get the service you need. But that's not all, as Endurance customers are also automatically eligible to receive an entire year's worth of Endurance Elite Benefits, including tire replacements or repairs, collision discounts, key fob replacements, and even total loss protection.
Request a free, no-obligation quote or call the award-winning Endurance customer care team at (800) 253-8203 to learn more about how Endurance can help you and your vehicle. And to find more DIY car tips and other expert articles on topics like vehicle buying guides, extended warranty comparisons, and more, visit the Endurance blog.
More like this
How To

Modern vehicles come with all the bells and whistles regarding safety features, but one feature in particular is standard on all vehicles: the horn. A car horn on your steering..

Read More

How To

As vehicle technology advances, features become more convenient, and design becomes completely geared toward making things as easy as possible for you. Modern key fobs are an excellent example of..

Read More

How To

Ford may have recently decided to discontinue the Focus, but with over two decades since the first iteration was revealed to the world, you can bet plenty of them will..

Read More