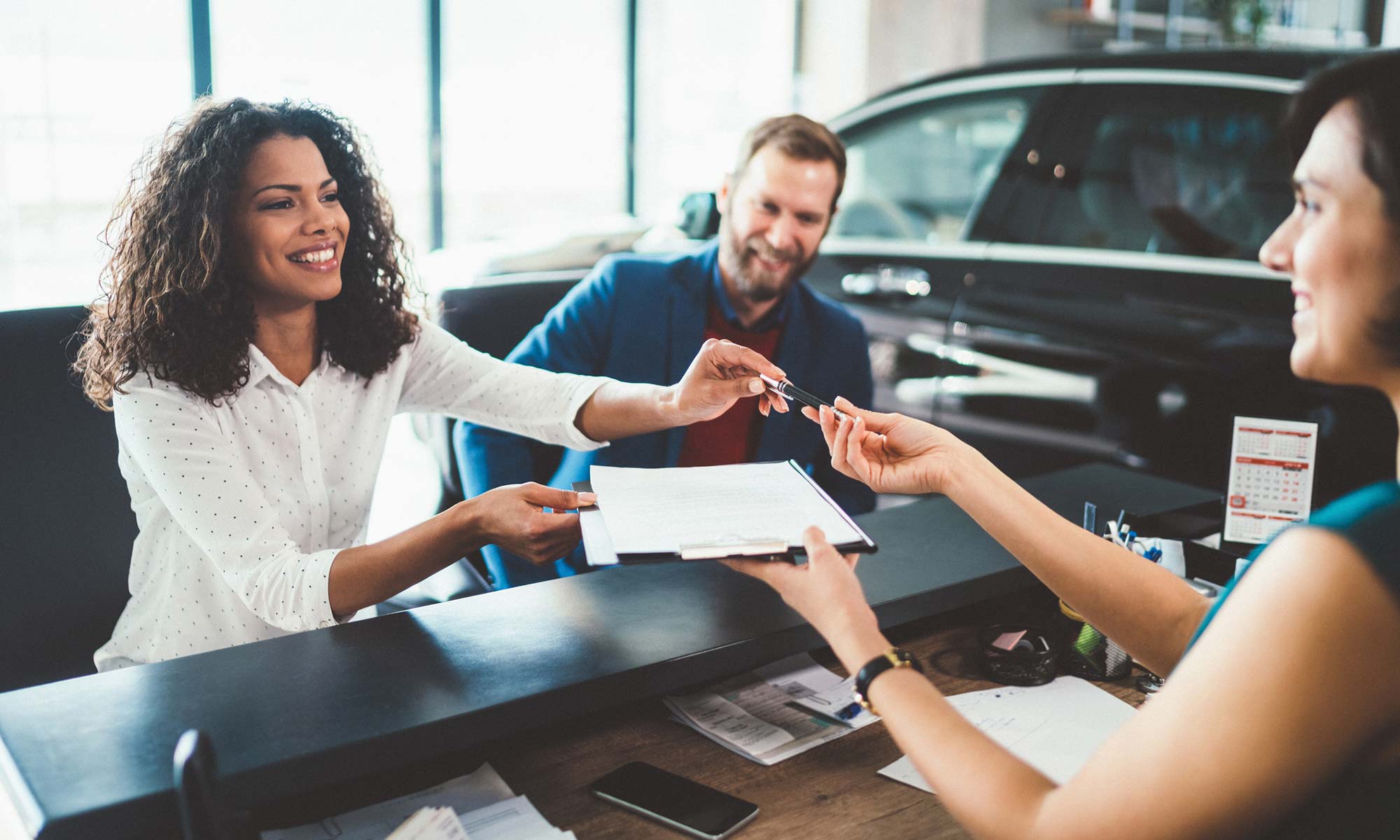 No matter the time of the year, there's nothing like the convenience and joy of owning a car. It can get you to where you need to go whenever you want. It can even help you stay cool in the summer, warm in the winter and dry during the rain or snow. But for those without a car, or those looking to upgrade their current vehicle, purchasing a car can be a challenge, especially with both used and new car prices at all-time highs. Even with the recent semiconductor shortage beginning to look up with the recently signed CHIPS Act, prices aren't expected to drop soon. 
That's why, if you can't wait for car prices to level out again, finding ways to save during the car buying process can help you get the right vehicle without breaking your budget.
Why Are Car Prices High?
Whether you're visiting a dealership or are searching for a car online, you've likely noticed that car prices are pretty high, whether you're looking at a brand new car or a used one. But why? Well, the primary cause of this price increase has been a semiconductor shortage in the auto industry due to the COVID-19 pandemic.
Mainly, with stay-at-home orders throughout the country and worldwide, many consumers began looking for new ways to stay entertained while stuck at home. This meant that devices such as phones, computers, game consoles and other electronic devices began seeing a rise in demand. These devices utilize the same type of semiconductors, aka microchips, to operate. Combined with people driving less and less, semiconductor manufacturers began putting a greater emphasis on at-home technology and less on the automotive industry. 
But chip manufacturers can't meet automakers' demand with the pandemic waning. And without semiconductors, fully constructed vehicles can't be sold as a vehicle's electrical system, air conditioning, and general connectivity will not work. However, hope is on the horizon with the new bipartisan bill signed by the U.S. President, which will invest billions into the research and production of semiconductors here in the United States.
That said, there is no way to know when semiconductor manufacturing will catch up to the auto industry's demand or when prices will start to drop, so learning how to save money during the car-buying process is a must-do.
Tips to Save Money Buying a New or Used Car
When looking for your next car, whether it's an old car, used car, or brand new vehicle, there are many ways to save. These methods range from negotiations with car dealers, finding the best purchase price from different sellers, to even finding help with an auto loan.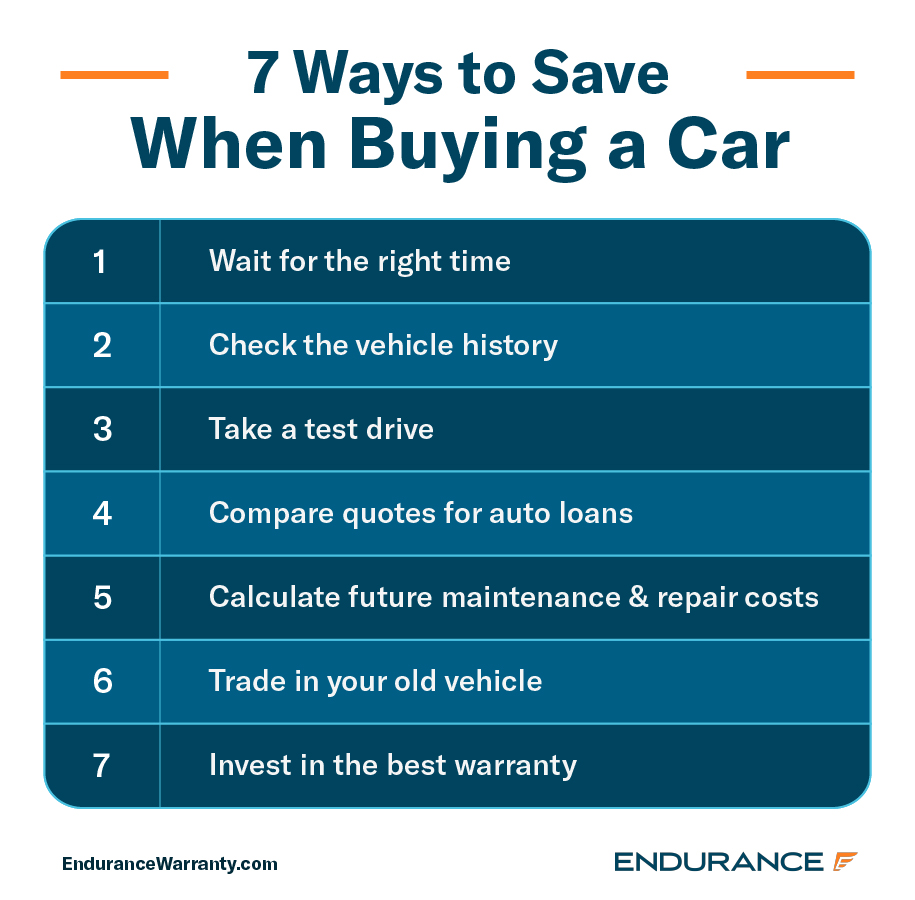 1. Wait for the Right Time
The holiday season is a great time to get a good deal on anything, even cars. More specifically, you can receive more favorable contract terms from dealerships or a car loan lender by waiting for the right time of year, whether it's the holidays or some time else. Whether it be a better interest rate, down payment, or all-around monthly payment, the holiday seasons are undoubtedly one of the best times to make a car purchase. 
Even months like October or November can be a great time to start your car buying process, as October tends to feature better auto loan terms. This is because many vehicle manufacturers announce the release of the following year's model. As a result, the current year's model enjoys a small discount on the price that can make a car payment more bearable. 
2. Check the Vehicle History
For a new car, look into reviews from previous customers to see if any significant complaints may stop you from wanting to make the purchase. For used cars, consider researching sources such as Consumer Reports, Edmunds, Kelley Blue Book (KBB) or Carfax to see if you can pull information on the vehicle.
You should also always ask for an in-depth history of a used vehicle when purchasing, including any prior damage or repairs that were necessary. Doing so can help you save money. 
3. Take a Test Drive
Think about your current car and all the small things you've noticed over time about how it drives on the road. If you could go back before you purchased the vehicle, would you still make that purchase based on how it drives? A big part of learning how to save money buying a new or used car is taking a test drive.
By simply trying out a vehicle before you buy it, you can identify any potential flaws that may cost you money in the future and give you an idea of just how well (or poorly) the vehicle handles. Inspect the car to see if there are any damages you may not notice if you glance at the car.
4. Compare Quotes for Auto Loans
If you're car shopping on a budget, taking out an auto loan, also known as a car loan, can help. But, when considering how to save money buying a car, it's essential not to settle for the first offer you receive for a loan. In fact, as you would for a car or any major purchase, it's recommended to take your time and compare the cost of a car loan from different providers before making a decision. But where to start? 
Well, car dealerships often offer their own financing, but if you're a car buyer looking to stick within a specific price range or have a less-than-ideal credit score, turning to a traditional bank, credit union, or online lender could be a better choice. But no matter which you consider, ask for a quote on an auto loan for the vehicle you wish to buy and compare it to other offers you have received to ensure you get the best price. 
However, if you are in the financial position to do so, paying cash for a vehicle can be an intelligent choice to avoid higher interest rates. 
5. Calculate Future Maintenance & Repair Costs
Monthly car payments are not the only vehicle cost you must consider when making a car purchase. For any vehicle, regardless if it's new or used or a particular make or model, regular maintenance is vital to keep it running for as long as possible. But that also means that long-term maintenance costs can quickly add up to the thousands if you're not careful, and a car that may be within your budget just by the sticker price may not be when you consider its maintenance needs. 
Use sources such as Edmund's five-year cost calculator or Kelly Blue Book to determine the common problems your vehicle may face and their associated costs. 
6. Trade In Your Old Vehicle
An often overlooked strategy for reducing the cost of purchasing a vehicle is looking into receiving trade-in credit for your current vehicle. Whether you are looking for trade-in credit or are simply trying to garner a few extra dollars toward your next purchase, getting rid of your old vehicle can help.
In fact, some dealerships may even accept a trade-in instead of a down payment, so be sure to ask your salesperson what options are available to you.
7. Invest in the Best Warranty
If you're buying a brand new car, you can rest assured that its factory warranty will help take care of any issues you may have for a certain number of years or miles driven. But once you've hit those limits, or if your next car is a used car without coverage, you'll be responsible for paying for any repairs that can pop up. And when it comes to issues due to maintenance or general breakdowns, your car insurance will not cover the items that your factory warranty protected you against. Still, the right extended warranty or vehicle service contract will. 
Some plans, such as our Advantage auto protection plan, can even help protect you by offering up to $3,500 in yearly maintenance services plus the extensive component protection you need to help protect your vehicle. Even cars with a salvaged or rebuilt title can get coverage with Endurance. You'll also receive extra benefits like complimentary 24/7 roadside assistance and towing, trip interruption coverage, and rental car reimbursements. Plus, just by being an Endurance customer, you'll also be eligible for even more perks and savings with a year's worth of Endurance Elite Benefits, including collision discounts, tire repairs or replacements, and more.
Protect Your Car & Your Wallet with Endurance
Taking the time to research and find ways to save on car purchases is more important now than ever, considering the all-time high prices consumers face. 
But regardless of whether you purchase a new or used car, ensuring that vehicle is protected from the unknown should be a top priority. Even if you are choosing to hold onto your current vehicle until prices begin to drop, the right extended warranty can help reduce the depletion of your savings account in the future. Some, like plans from Endurance, are even transferable, meaning you can use your car's comprehensive coverage to upsell it to potential car buyers whenever you'd like to sell it. 
Plus, along with helping you get coverage from unexpected and expensive auto repairs and breakdowns, each Endurance plan can also help you by providing roadside assistance and other standard benefits. Combined with your year's worth of Elite Benefits, like tire coverage and collision discounts, you can rest easy knowing that Endurance has you (and your wallet) covered.
Don't wait until you're stuck paying for expensive repairs; request a free, no-obligation quote today or call us at (800) 253-8203 to learn more about how Endurance can help you. Or, to find even more money-saving tips and other articles on topics like DIY maintenance, vehicle buying guides, extended warranty coverage comparisons and more, be sure to check out the Endurance blog. 
More like this
Finance

Calling the U.S. auto market of the past few years "unusual" is an understatement. The effects of the COVID-19 pandemic, manufacturing slow-downs, and low inventories have challenged car buyers. The..

Read More

Finance

For many car enthusiasts around the world, finally saving up enough money to purchase a luxury car is a huge goal in life. Whether that new car is manufactured by..

Read More

Finance

With the annual cost of car ownership only ever on the increase, it isn't surprising that so many drivers are investing in extended warranties. After all, why empty your wallet..

Read More