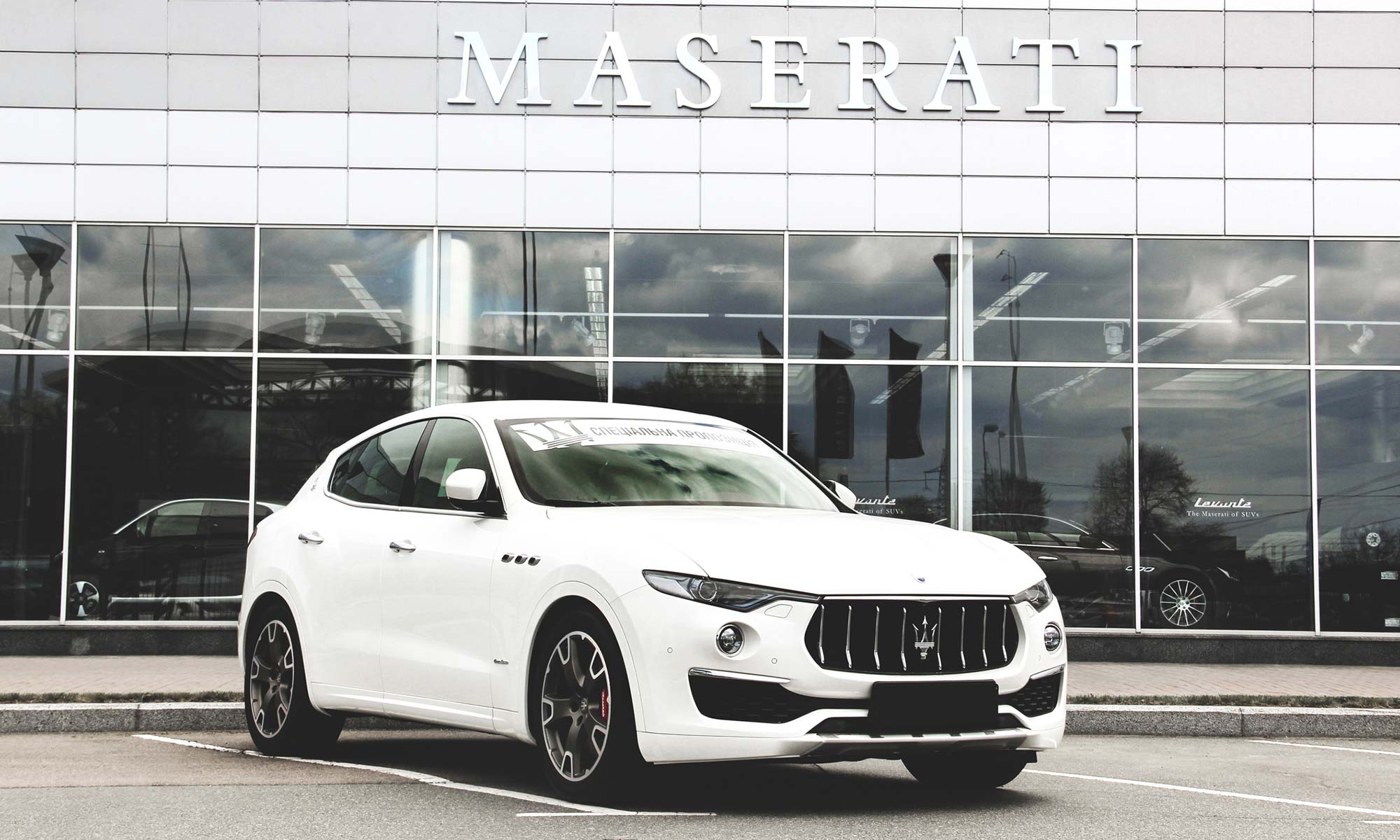 There is nothing quite like a luxury car with all the bells, whistles and power you could want. From an Audi RS5 to a Porsche 911 or a Jaguar XF, these vehicles are not only a blast to drive, but they are also fun to be in, even as a passenger, not to mention they're easy to look at. But with luxury vehicles come luxury prices, so when it comes to owning one, you are going to want to keep it protected from unexpected and albeit costly repairs. 
One of the best ways to do this is with regular preventative maintenance, just like any other car, truck or SUV you may have from automakers like Ford, Toyota or Honda. But, while both standard vehicles and luxury cars need maintenance and will have a recommended maintenance schedule, the type of maintenance and often they need to be done may not be the same. 
So to help you be more prepared when it comes to taking care of your luxury vehicles, it's important to learn whether or not they really do have a different maintenance schedule.
What Is A Maintenance Schedule For My Car?
A car's maintenance schedule is a to-do list of sorts for all the maintenance services your vehicle needs to operate efficiently and how often they should be done. By doing so, you'll be helping to keep your vehicle running at its best for as long as possible while replacing common wear components on your vehicle to help you avoid any unexpected breakdowns or other types of repair issues. 
So whether you are buying a new vehicle or are purchasing a used vehicle, staying up to date with its maintenance schedule is vital. Some of the most common regular maintenance services can include:
While most gas-powered vehicles will need many of the maintenance services discussed above, not all vehicles will need them. For example, electric vehicles will not require some of the more common maintenance services needed for other vehicles, such as oil changes or spark plugs. However, regardless if you have a gas-powered vehicle, a hybrid or an electric vehicle, you can if its suggested maintenance schedule can be found in your vehicle's owner's manual. If you do not have an owner's manual, you can check with your local dealership or search online for a downloadable or printable version of your car's maintenance schedule.
Remember, routine maintenance can reduce the overall maintenance cost of your vehicle when compared to vehicles that are not taken care of. Forgetting to change your engine oil can cause catastrophic damage to your engine, ultimately resulting in replacing it in extreme cases, which could cost you thousands, even without it being a luxury vehicle. Failure to maintain your automatic transmission or manual transmission fluid can cause your transmission to burn up, costing you even more in repair costs. 
Do Luxury Vehicles Have A Different Maintenance Schedule?
As a luxury car owner, you will need to be aware of the specific maintenance schedule set forth by your vehicle's manufacturer. Despite having many of the same components and types of maintenance needed for any other gas-powered vehicle, a luxury car can have more frequent services that will need to take place to maintain the expensive components found on these types of vehicles. So you will need to get very familiar with your owner's manual and vehicle maintenance schedule to ensure your car stays properly maintained. And due to the advanced features of these luxury vehicles, the maintenance costs can be much greater than a normal vehicle, sometimes by up to thousands of dollars, as the replacement costs and labor costs are more expensive.
For example, BMWs have a reputation for being very expensive to repair as they have high-quality parts and technologically advanced features. So if you have BMW M3 that ends up needing a new motor mount, a replacement will cost around $677 to $834, with the labor cost alone making up nearly $500-$600 of this cost. It's not just BMW, however, as replacing a windshield wiper motor for a Mercedes-Benz AMG can run you about $669 to $719, while a radiator replacement for a Porsche 911 will be a whopping $2,138 to $2,251! 
By keeping your vehicle properly maintained, such as ensuring your windshield wipers are operating smoothly, or any leaks are taken care of right away, you can help prevent these costly repairs. You can also find some help with these types of costly repairs by having an extended warranty, especially if you are well past your luxury vehicle's factory warranty coverage.  
Are There Luxury Car Warranties?
Depending on your automaker, you can most likely look at getting extended warranty coverage directly from them. After all, only they can truly "extend" your factory warranty coverage. You can also find coverage when it comes to unexpected repair costs with a third-party protection plan. Though technically vehicle services contracts (VSCs) and sometimes called a "warranty," these plans will help cover many of the same repairs and issues as any factory or extended warranty coverage. However, unlike many of the plans from automakers, third-party providers, such as us at Endurance, won't limit you to specific repair shops or dealerships for services. Instead, you can visit the certified repair facility or ASE Certified mechanic of your choice. 
Better still, unlike other third-party providers, even luxury vehicles can find coverage with Endurance's Highline protection plan. This comprehensive coverage can help protect select luxury vehicles from costly and unexpected repairs. This coverage will be available for eligible luxury vehicles from automakers such as Audi, BMW, Mercedes-Benz, Jaguar, Land Rover, Porsche, Maserati, and more up to 8 years old and have less than 80,000 miles. You'll even be able to view your coverage, check on your claims and even call for your complimentary roadside assistance and towing directly through the Endurance Mobile app. 
In total, Highline coverage is available for select models of vehicles from popular luxury automakers, including: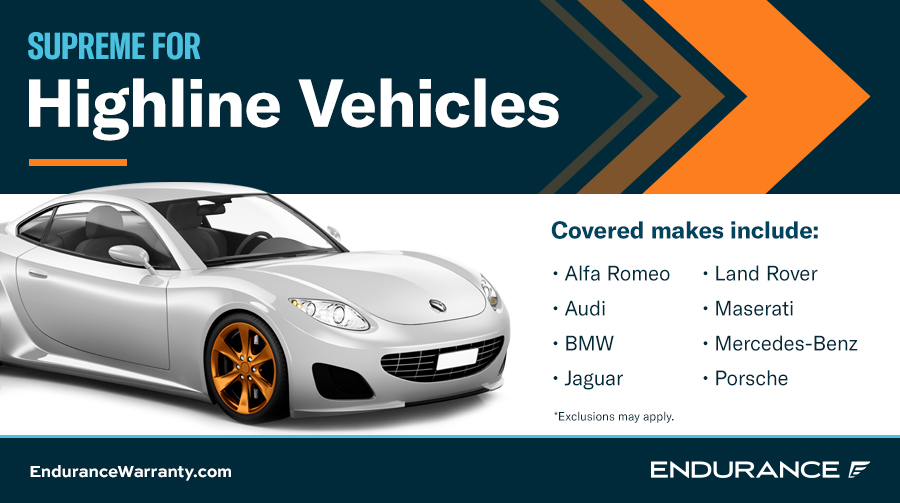 Keep Your Luxury Car Protected with Endurance
No matter how many more types of expensive components they may have, luxury cars will have maintenance schedules similar to regular vehicles. Still, they may differ depending on the manufacturer. Regardless, you can help keep your vehicle running by staying up-to-date on its maintenance as laid out by your automaker in your car's recommended maintenance schedule. But, while keeping your car maintained can help prevent unexpected repairs, it may not eliminate them completely, though there is help.
Regardless of whether you have a new car or a high-mileage used car, with the Highline auto protection plan from Endurance, you can get luxury car coverage and protection from unexpected repairs without having to pay luxury prices. And for those with non-luxury vehicles, the Advantage plan can be a great choice to give you comprehensive coverage while helping you save up to $3,500 on your vehicle's yearly maintenance needs. That includes essential services such as up to three oil and filter changes, tire rotations, alignment checks and more, including several special, one-time services. You'll even get the chance to save on your car's next state safety inspection! 
You'll also be able to enjoy 24/7 roadside assistance, trip interruption coverage and rental car reimbursements, as well as a 30-day money-back guarantee regardless of the plan they choose. Not only that, but you'll even be automatically eligible for a full year of Elite Benefits, including up to two tire replacements or repairs, collision discounts, key fob replacements and more for just a small activation fee.
To learn more about how an Endurance protection plan can help protect your vehicle, give our award-winning team a call at (800) 253-8203 or get started right away by requesting a free quote. You can also discover other insightful and informative articles on various automotive topics like expert auto tips, DIY maintenance how-tos, buying guides and more by visiting the Endurance blog.
More like this
Expert Auto Tips

With most states around the country getting colder, it's worth reminding yourself how to prepare your vehicle for the different seasons. Weather conditions play a major role in how a..

Read More

Expert Auto Tips

Being a car owner can be an incredibly rewarding experience, especially if you take pride in your vehicle's condition and performance. Cars that are well taken care of will generally..

Read More

Expert Auto Tips

No matter what kind of vehicle you own, staying on top of its care and maintenance should always be a top priority. Cars that are well taken care of and..

Read More