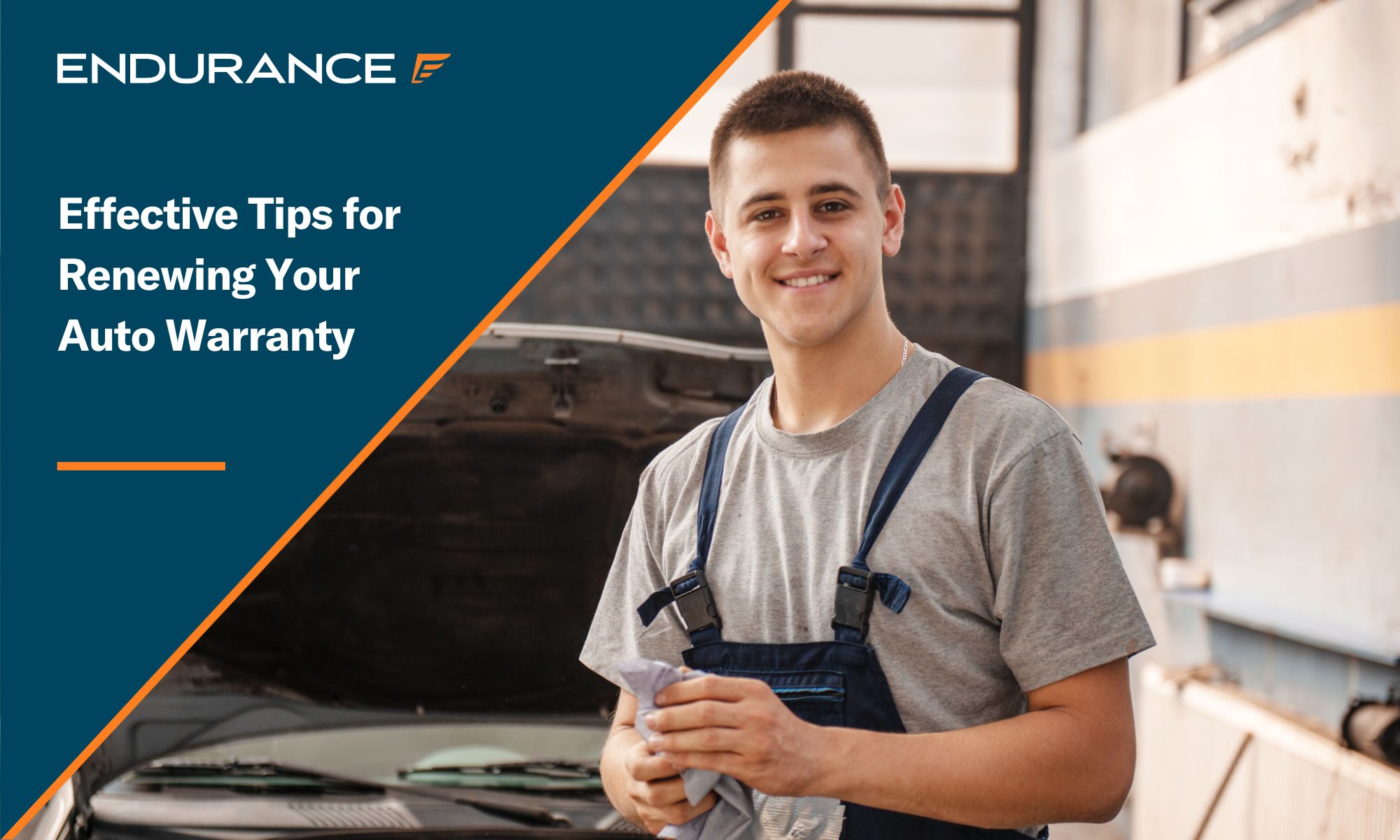 As a driver, the last thing you need is for your car to break down on you while you are out on the road. However, cars are nothing more than intricate pieces of machinery, and breakdowns are inevitable for both new cars and used cars. A vehicle protection plan or auto warranty can help a person cover the costs related to car repairs, maintenance, and more, but there are a number of different types of warranty available.
Learning everything there is to know about the different types of car warranties, along with beneficial tips to keep in mind when it's time to renew your warranty, can help you keep your vehicle running for years to come.
What Is an Auto Warranty?
At its core, an auto warranty is simply a contract between an organization and the driver of a vehicle. This contract states that the provider will cover the costs for repairs relating to parts that have broken due to issues with the manufacturer's design or defects. Additionally, auto warranty contracts typically offer financial coverage for general breakdowns that fall under the umbrella of the outlined coverage.
It's worth noting that people often confuse car insurance with a car warranty. Unlike insurance companies, an auto warranty will not cover damages resulting from an accident or natural disaster. Warranties only come into play when there has been a breakdown. There are two primary forms of auto warranty to consider.
Manufacturer Warranty
To those who have never dived deep into the world of auto warranties, you likely have only ever heard of a factory warranty being offered by a car dealership. In most cases, auto warranties provided by the manufacturer of a vehicle are bumper-to-bumper warranty packages (or comprehensive warranties) that expire after 36,000 miles or three years.
During this time, so long as you keep your vehicle properly maintained, most breakdowns will be covered under the warranty. In some cases, though not always, maintenance tasks like oil changes will be covered under the manufacturer's warranty. The majority of warranty services simply cover repairs.
Extended Warranty
The other form of auto warranty is an extended car warranty. This type of warranty is offered by a third-party provider and is typically purchased for a vehicle after a manufacturer warranty has expired, though many have both at the same time to fill in gaps. Sometimes called a vehicle service contract or auto protection plan, this form of auto warranty covers nearly the same items as a manufacturer warranty.
One of the primary differences between the two types of auto warranties, however, is that extended warranty providers typically offer multiple types of warranties. High mileage vehicle extended warranty, bumper-to-bumper warranty, and powertrain warranty are some common examples.
Do I Need an Extended Warranty for My Car?
Naturally, extended warranty packages are not free. While the cost for an extended warranty package is reasonable, many people still wonder if investing funds in such a warranty is even necessary for their vehicle, especially if that vehicle is still relatively new.
Having an extended warranty package provides a similar peace of mind to having car insurance. While it's entirely possible that your vehicle will never break down in a way where major repairs are required, having an extended warranty plan attached to your vehicle means you never need to worry about the cost associated with major repairs.
As your vehicle begins to age, the likelihood that breakdowns will occur will naturally start to increase, making an extended warranty plan all the more beneficial. However, regardless of whether you have a new or old vehicle, an extended warranty plan can give you peace of mind on the road.
4 Tips for Renewing Your Auto Warranty Plan
As you think about renewing your auto warranty plan or purchasing an extended warranty for the first time, there are a number of tips that can help you in your search.
1. Consider the needs of your vehicle.
Given that extended warranty packages can have varying levels of coverage, you need to evaluate the needs of your vehicle. If you have a new vehicle with a low level of problems, a basic extended warranty package is all you'll likely need. However, if you have a vehicle with a number of historical problems, a more comprehensive package should be one to consider.
2. Take into account the age of your vehicle.
Going one step further, you need to consider the age of your vehicle when choosing an auto warranty package. There are some specialized auto warranty packages designed for older vehicles that offer coverage for more niche repair tasks, which is why this tip is so important.
3. Set a budget for your warranty needs.
All drivers should set a budget when determining their warranty needs. As mentioned, an auto warranty is something that you may never need to take full advantage of if you never have a serious breakdown. To that end, it's important to strike a balance between what you can afford and what you need with a warranty.
4. Compare different providers to see who offers the most.
There are a number of different extended warranty providers. Compare all offers and packages to see who meets your needs best so that you make the best decision for your vehicle.
Endurance Protection and Benefits for Your Car
At Endurance, there are a number of extended warranty contracts that we offer to drivers, which provide varying levels of coverage. The three primary packages we offer include our Secure Plus, Superior, and Supreme plans – however, all Endurance customers have the opportunity to customize their coverage and costs based on their own needs.
Starting with our first, the Secure Plus extended auto warranty package offers competitive and affordable protection for the everyday driver. With the most vital components being protected, you can receive coverage for the engine, electrical components, air conditioning, and much more.
Going further, our Superior package offers high-level stated component coverage that goes beyond the Secure Plus plan. This car warranty covers additional high-tech options and offers coverage for components not covered under Secure Plus, such as the suspension, fuel system, and cooling system.
Finally, the Supreme plan offered by Endurance has the most coverage options out of all our plans and the fewest exclusions. Offering the closest coverage to manufacturer-level warranty, the Supreme plan covers everything the two former plans cover, in addition to offering coverage for smaller parts such as gaskets. Benefits such as roadside assistance and ASE repair shop partnerships with all Endurance plans make any choice a great one.
Utilize Endurance to Protect Your Vehicle
All car owners should strive to keep their vehicles operating at peak efficiency. However, some factors are out of your control, such as when breakdowns occur, and repair bills pile up. This is why having protection in the form of a comprehensive extended warranty with a low monthly payment is so important. With Endurance, you can have access to a number of different warranty plans that offer everything from low-level warranty coverage to near bumper-to-bumper coverage.
On top of this, all new Endurance customers can choose to activate a FREE year of Elite Benefits to help with unexpected repairs or breakdowns. These benefits offer bonus perks such as up to $500 in collision discount coverage, up to $1,000 in total loss protection, and reimbursements for up to two tires per year for covered causes. By combining the value of these benefits with your extended warranty contract, you can find yourself saving thousands of dollars yearly.
To learn more about how Endurance can benefit you and your vehicle, give our award-winning customer service team a call at (800) 253-8203 to request a FREE quote or shop online today.
For articles about warranty company comparisons, mechanical breakdown insurance in California, common repair costs, repair facility choices, and more, visit the Endurance Warranty blog.
More like this
Expert Auto Tips

Retired professional racecar driver Danica Patrick is a pioneer in the world of motorsports. Her breakthroughs include being the first woman to lead an Indianapolis 500 race (the 89th running..

Read More

Expert Auto Tips

Buying a new car can be incredibly exciting and can open up a whole new world of possibilities. There are so many vehicles on the market, and no matter what..

Read More

Expert Auto Tips

Changing your oil and keeping your tires at the correct PSI are two great ways to keep your car running smoothly and driving safely as the seasons change. Your vehicle's..

Read More