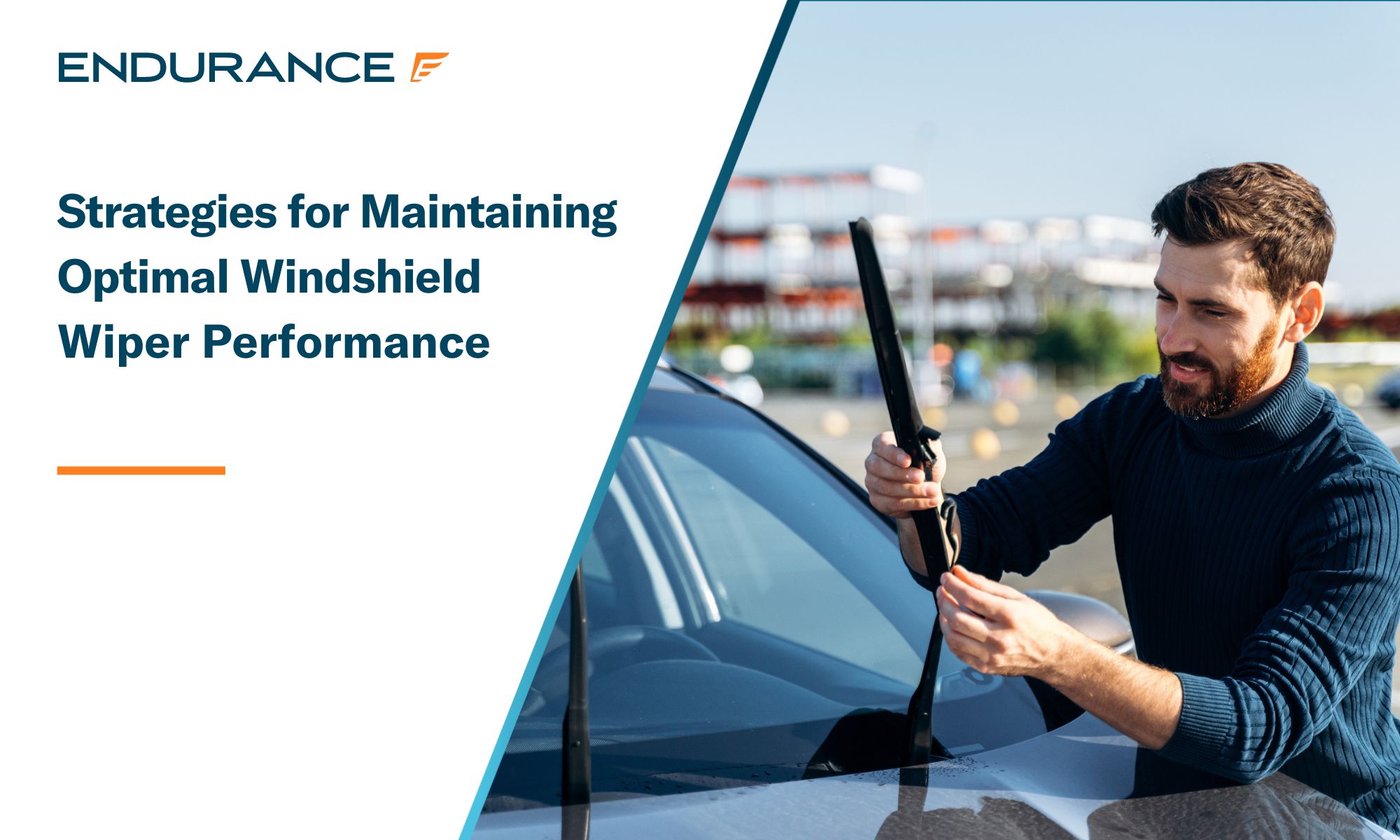 A small rainstorm can be a breath of fresh air in the heat of the summer, but if your windshield wipers aren't in good condition, it can cause a dangerous driving experience.
Since windshield wipers are not at the top of car owners' minds until they need to use them, it is very easy to let them become rotted, old, and inefficient. Here we'll give you six strategies for maintaining driving visibility and optimal windshield wiper performance.
The Role of Windshield Wipers in Safe Driving
Operational windshield wipers are crucial to safe driving, particularly during inclement weather. Clear visibility is essential for navigating roads safely, but rain, snow, and other forms of precipitation can obstruct a driver's view. Worn-out or malfunctioning wipers can exacerbate the situation and significantly impede driver safety.
For instance, they can leave streaks, smudges, or scratches on a windshield, creating glare or reducing a driver's ability to see. Regular maintenance and care, such as checking and changing wiper blades and ensuring proper fluid levels, is essential to ensure the reliability and effectiveness of this vital safety feature on any vehicle.
7 Practical Maintenance Tips for Windshield Wipers
1. Clean Your Wiper Blades Regularly
One effective way to keep your wiper blades in top condition is to clean them regularly. This can be done using a simple solution of warm water and mild soap. Gently wipe the blades with a soft cloth or sponge, not damaging the rubber material or the wiper arm. You can also use a specialized wiper cleaner or preservative to protect the rubber from drying out, cracking, and deteriorating. Your wiper blades should be checked and cleaned at least once every six months to ensure optimal performance and longevity.
2. Inspect Wiper Blades for Wear and Tear
Wipers that are worn or torn can cause visibility issues and lead to hazardous conditions on the road. To properly maintain your windshield wiper blades, it is essential to inspect them regularly for signs of wear and tear. This includes checking for cracks, splits, or missing chunks on the rubber blade. Additionally, the wiper arms should be checked for corrosion or other signs of damage.
Replacing wiper blades every 6-12 months or sooner is recommended if signs of wear and tear are present. By regularly inspecting and replacing wiper blades, you can ensure optimal visibility and safety while driving.
3. Clean and Lubricate Wiper Arms and Pivot Points
While replacing worn blades is necessary, maintaining and lubricating the wiper arms and pivot points can extend the lifespan of the blades, improving visibility during heavy rain or snowfall. Cleaning these areas with a damp cloth and removing debris can prevent dirt, grime, and rust from building up and causing damage. Additionally, lubricating the pivot points with a silicone-based lubricant can prevent squeaking and ensure smooth operation.
4. Use the Right Windshield Wiper Fluid
The right windshield wiper fluid is essential for maintaining clarity and road safety. Windshield wiper fluid not only helps to remove dirt and grime from the windshield but also prevents streaking and smearing that can impede visibility. By using a quality wiper fluid, you can avoid damage to wiper blades and the windshield itself.
When selecting a windshield wiper fluid, it's essential to consider the weather conditions you will be driving in. Different weather conditions require different fluid formulas. For instance, a winter-specific wiper fluid is formulated to prevent freezing during low temperatures. Summer-specific wiper fluids are formulated to withstand high heat without evaporating too quickly. Using the wrong fluid can cause the liquid to freeze, leave a greasy residue, or not clean the windshield effectively.
Before filling up the windshield wiper fluid reservoir, read the product label to know the recommended usage, mixing proportions, and storage recommendations. Remove the cap and use a funnel to avoid spills and overfilling when filling the reservoir. We recommend regularly checking the wiper fluid level and topping it up as necessary to keep the windshield clean and maintain visibility. In summary, choosing the proper windshield wiper fluid is not only a matter of safety but will also help you prolong the life of your wipers and keep your windshield clear and free from damage.
5. Ensure Proper Wiper Arm Tension
Ensuring proper wiper arm tension is paramount to the longevity and effectiveness of your windshield wipers. Proper tension ensures that the windshield wiper blades make adequate contact with your windshield, thereby removing debris and achieving the maximum clarity necessary for safe driving. Over time, the tension in wiper arms can become compromised, reducing functionality and potential damage to your windshield.
Adjusting the tension of wiper arms is a seemingly simple task but requires a delicate balance to correctly match the pressure of the blades to the windshield. Seeking professional assistance is always recommended to avoid causing further damage to your windshield, especially if you are unsure how to adjust the tension correctly. Ensuring proper wiper arm tension is essential in achieving optimal visibility and ensuring a safe driving experience.
6. Maximize Wiper Performance and Longevity
To maximize wiper performance and longevity, storing them properly during extreme weather conditions is essential. This means parking your vehicle indoors or covering it with a tarp during heavy snow and rain. Additionally, be careful when cleaning wiper blades, as harsh cleaning agents can damage them. Instead, use gentle soap and water to wipe them down. Lastly, prevent ice and snow buildup on wipers by clearing off your windshield or using an ice scraper in the winter months before operating them. These simple steps can significantly extend the life of your wipers and ensure clear visibility in inclement weather.
7. The Importance of Timely Wiper Replacement
Regularly changing your wiper blades may seem like a small and insignificant task in the grand scheme of vehicle maintenance. Still, it is actually a vitally important aspect of safe driving. Wiper blades are exposed to extreme temperatures, harsh elements, and heavy usage, so they naturally wear down over time, even more so in extreme weather conditions such as intense heat or high-powered rain. When your wiper blades become worn, cracked, or brittle, they can cause streaks, smears, and even become loose, resulting in an obstructed view of the road and putting you and other drivers at risk.
The importance of timely wiper replacement cannot be overstated. Research has shown that over 20% of all motor vehicle accidents are weather-related, and many of these accidents can be attributed to poor visibility due to worn-out wiper blades. Replacing your wiper blades at the appropriate frequency ensures you have a clean and clear view of the road, regardless of the weather conditions. This can be particularly important when visibility is limited during rainy, snowy, or icy conditions.
Experts typically recommend replacing your wiper blades every 6 to 12 months, depending on your usage level and exposure. By staying on top of this small maintenance task, you can keep yourself and your passengers safe, avoid accidents and ensure that your windshield wipers are always working at their best.
Keeping Your Car Maintained With Endurance
Routine wiper care and replacing your windshield wipers are vital to your vehicle maintenance schedule and proper auto care. Trying to use your wipers when they are damaged or cracked can cause your windshield to become smeared, disrupting your visibility of the road. This can increase the chance of an accident and keep you from seeing potential road hazards. With an auto protection plan from Endurance, you can maintain and repair your car when experiencing an unexpected breakdown.
Endurance offers a wide variety of insurance plans that cater to the unique needs of their customers. Whether you're looking for a pre-existing package or a tailored plan that meets your specific requirements and budget, Endurance has got you covered. What sets us apart from other insurance providers is our commitment to providing exceptional benefits that come with each plan, including a complimentary one-year subscription to Elite Benefits with a small activation fee.
These benefits cover a multitude of advantages, such as coverage for up to two tires per year due to road hazards, 24/7 roadside assistance, and up to $1,000 in total loss protection. Endurance allows you to enjoy peace of mind like never before, as our plans offer comprehensive protection for your vehicle, leaving you free from stress and anxiety.
Furthermore, our award-winning customer service team is always available to support you with any questions or concerns you may have. You can reach Endurance at (800) 253-8203 to conveniently request a FREE quote. To learn more about how Endurance can safeguard your vehicle while saving you valuable time and money, you can also shop for plans online.
Check out the Endurance blog for more automotive knowledge, car maintenance tips, how-to articles, auto expert recommendations, and more.
More like this
How To

In the event of a breakdown, having an extended warranty or vehicle service contract watching your back can be a total lifesaver. With some major repairs costing thousands of dollars,..

Read More

How To

Keeping a Hyundai Accent running for the foreseeable future is about more than simply being a safe driver on the road. While keeping your eyes peeled and attention on the..

Read More

How To

While reliability is always a factor when choosing a vehicle, many more considerations are involved when kids are in the picture. Safety, space, and comfort must also be part of..

Read More