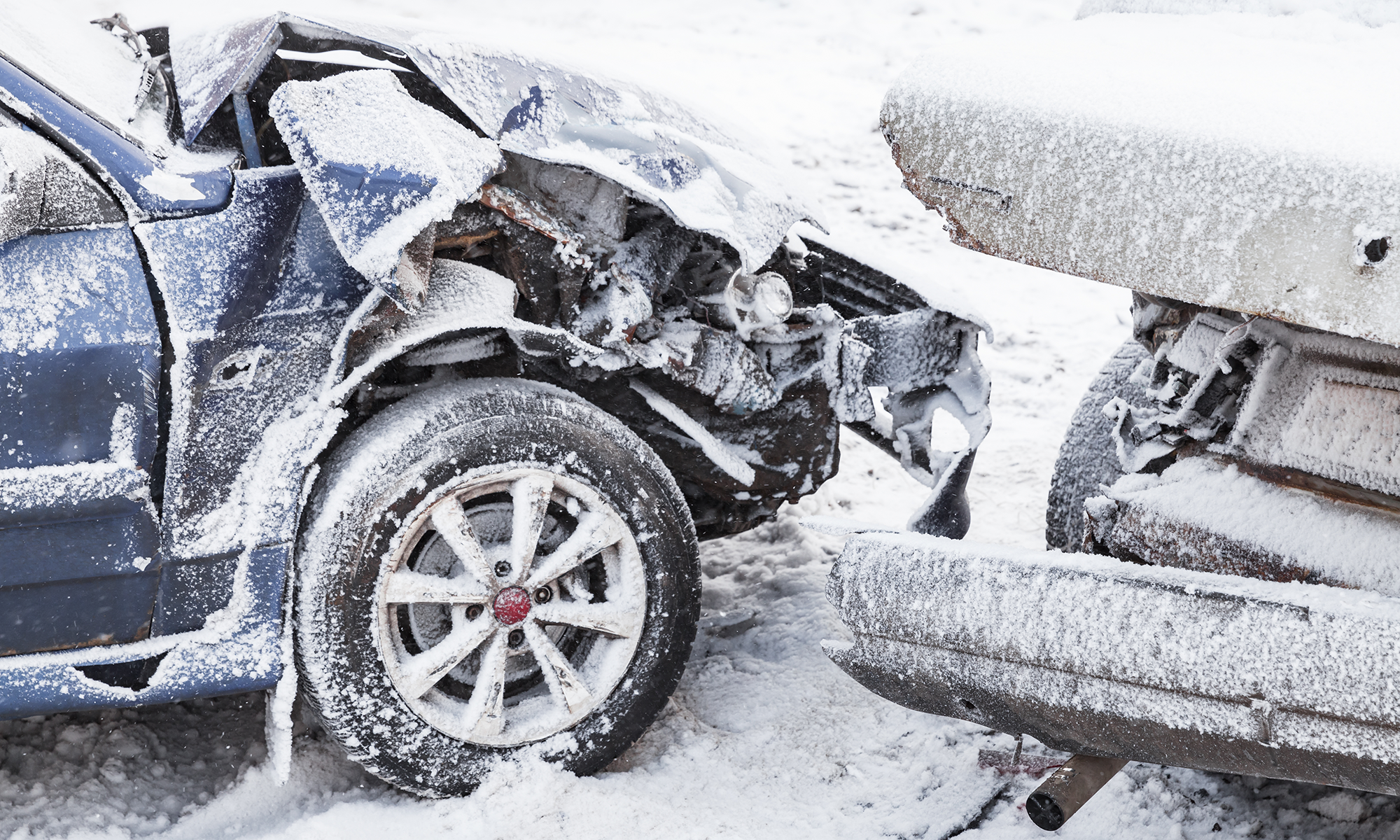 Whether you're on your way home, on a tropical getaway or hitting the slopes, you'll likely be hitting the open road during the holiday season, but driving during this time of year can come with surprises, like bad weather. So, now's an excellent time to review the dangers of winter driving. We'll cover potential hazards you might encounter during your journeys, from winter weather conditions to increased traffic, and provide essential tips for minimizing possible troubles. 
Even if you've spent years practicing safe driving tips and tricks, a winter driving refresher can only help for safer miles ahead. 
The Dangers of Winter Driving
Even without snow, ice, or other winter driving hazards, driving during the winter differs from other times of the year. Here's what you need to pay attention to.
Less Daylight
Fewer hours of daylight means other cars, pedestrians, and roadside obstacles will be harder to see. So, you'll need to be alert to what's outside the vehicle and want to turn on the exterior lights to be visible to others. According to the National Safety Council, most accidents during December and January occur from 4:00 p.m. to 7:59 p.m., hours with minimal or no sunlight.
Sun Glare
Shorter daylight hours also mean dealing with sunrises and sunsets during commuting hours. This glare creates a significant hazard as you struggle to see and are distracted from other driving responsibilities. 
Slick Roads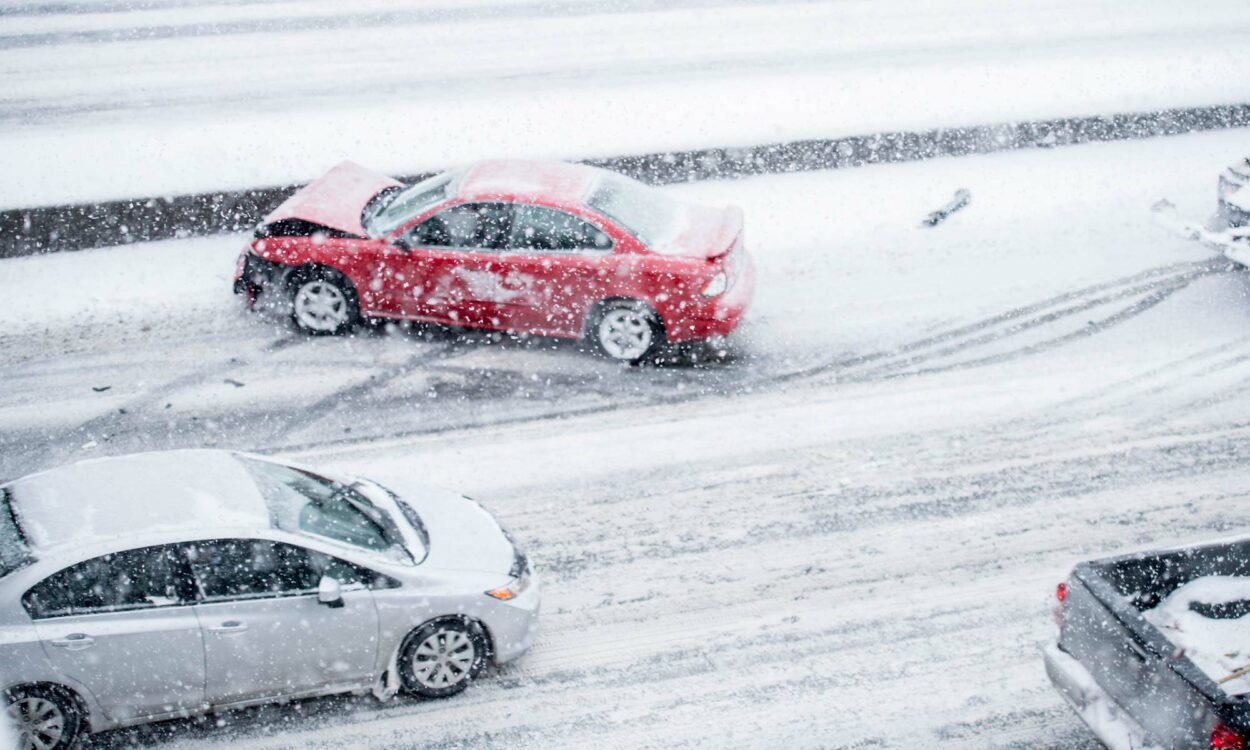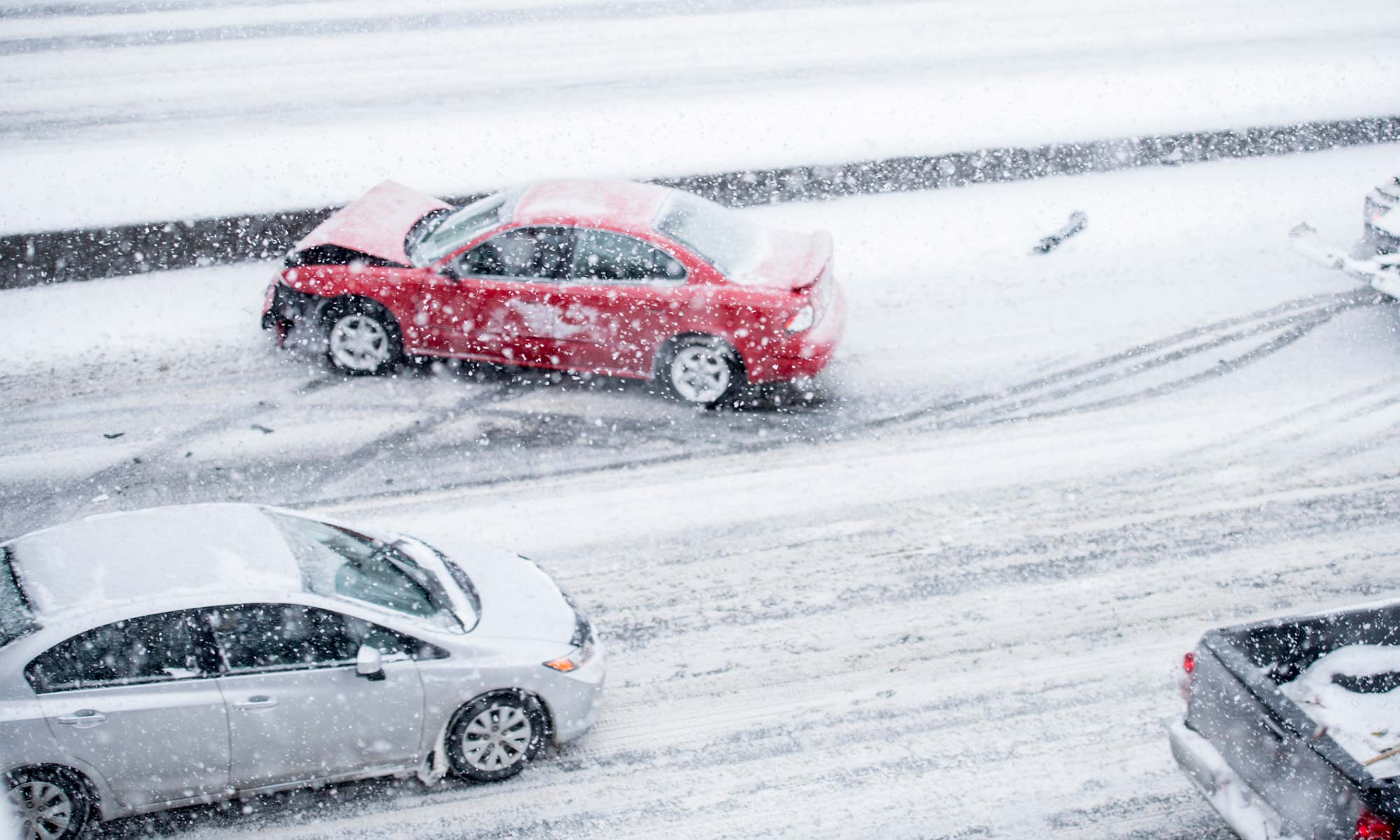 Winter conditions usually mean roads will be covered in snow and slush, with black ice being particularly treacherous. Trouble spots include bridges and raised road surfaces prone to freezing and less-traveled roads that don't receive treatment, so be cautious when driving in these areas. And remember, slick or icy roads mean your car will need more stopping distance (even with winter or snow tires), so give yourself some space between the vehicles in front of you.
Road Hazards
Winter weather can also bring damage and unexpected conditions to once-perfect roads. Along with bringing snowy or icy roads, fluctuating temperatures can cause potholes to develop, and snow plows are no friends to the streets and highways. The season can also see leaf and debris accumulations where you usually drive over. In other words, don't assume the flawless roads from summer and fall are the same after the temperature drops.
Inexperienced Drivers
There has to be a first time for everyone when it comes to wintertime driving. So don't be surprised to come across another motorist driving extra cautiously. Or, worse, an inexperienced driver throwing caution to the wind. Play it safe, and expect the unexpected from fellow drivers.
Snow/Ice Accumulations on Cars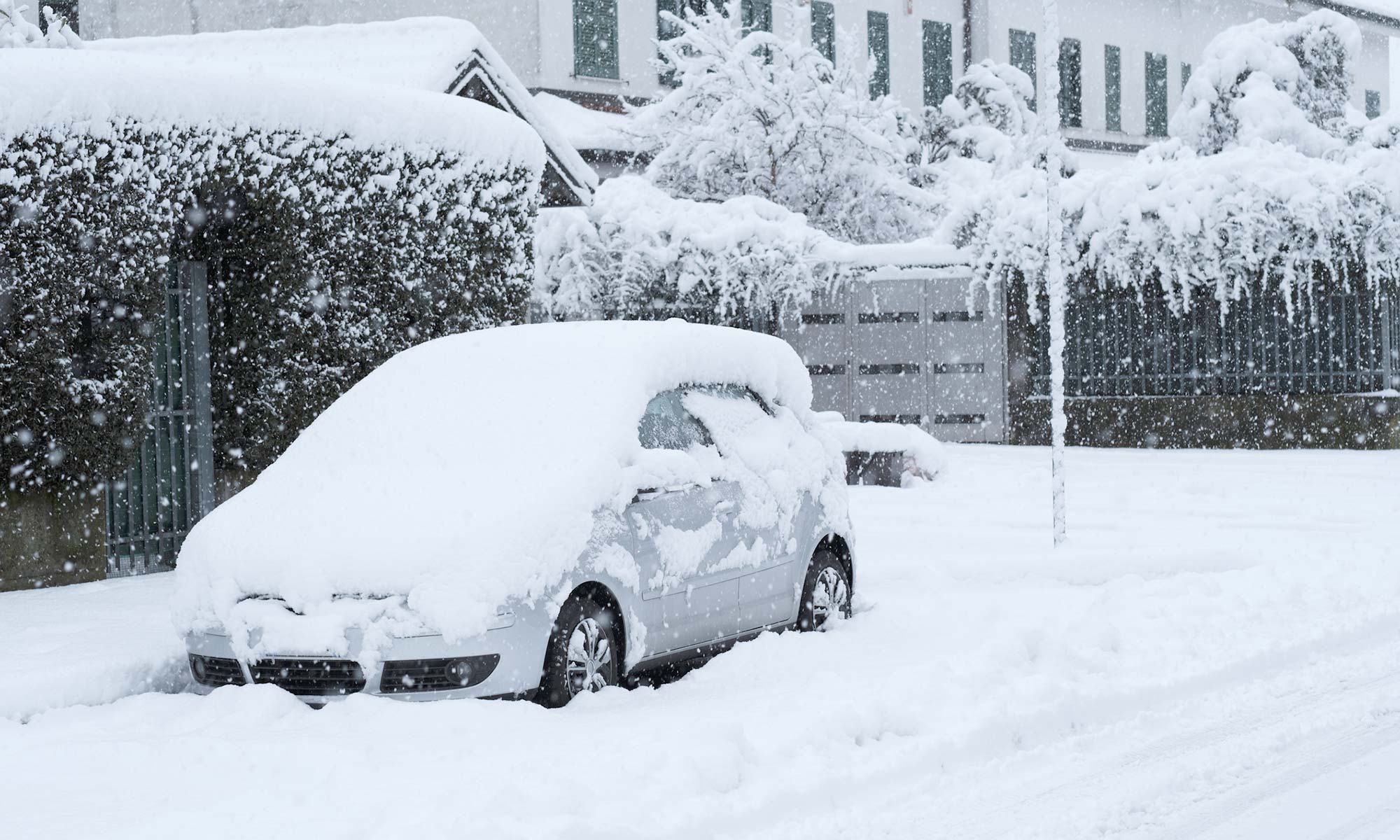 Snow and ice build-ups on cars present a significant hazard for other vehicles. These chunks of frozen stuff can break off and impact nearby cars. In these situations, startled drivers can steer or brake themselves into an accident. Flying snow and ice can also damage other vehicles. 
Reduced Visibility
Winter driving also involves fog and freezing precipitation (snow and sleet), which limits outward visibility. Slowing down in these situations is standard practice for safer winter driving.
Winter Driving Tips
Dealing with winter driving conditions is more than just ensuring your seat belt is buckled; it requires knowing how to handle specific situations to remain in control of your vehicle. Here's a helpful collection of tips to keep in mind for your cold-weather travels. 
Stay Home (If You Can)
While not necessarily "driving" advice, sometimes the best way to deal with winter roads is by not heading out in the first place. When possible, stay home instead of risking a drive in the middle of a snowstorm or on severely icy or snow-covered roads. 
Be Prepared
Getting stranded with a disabled car is a drag no matter the time of year, but it is especially so during the winter months. Be ready by leaving with a full gas tank (which helps with traction and the ability to run the car for heat), a charged cell phone, jumper cables, a shovel, a snow brush/ice scraper, something to help traction (like kitty litter), and an emergency kit. If you find yourself on the side of the road with the engine on, especially if you're stuck in a snow bank, look to crack a window slightly. This is in case your car's exhaust pipe becomes clogged with snow, which could lead to carbon monoxide poisoning.
Identify Roadside Assistance
Smart traveling involves having solutions ready before a problem; this includes knowing where to turn if your car breaks down or gets stuck. 24/7 roadside assistance is standard with every Endurance vehicle protection plan, a resource that can make all the difference when the unexpected happens. 
Perform Winter Maintenance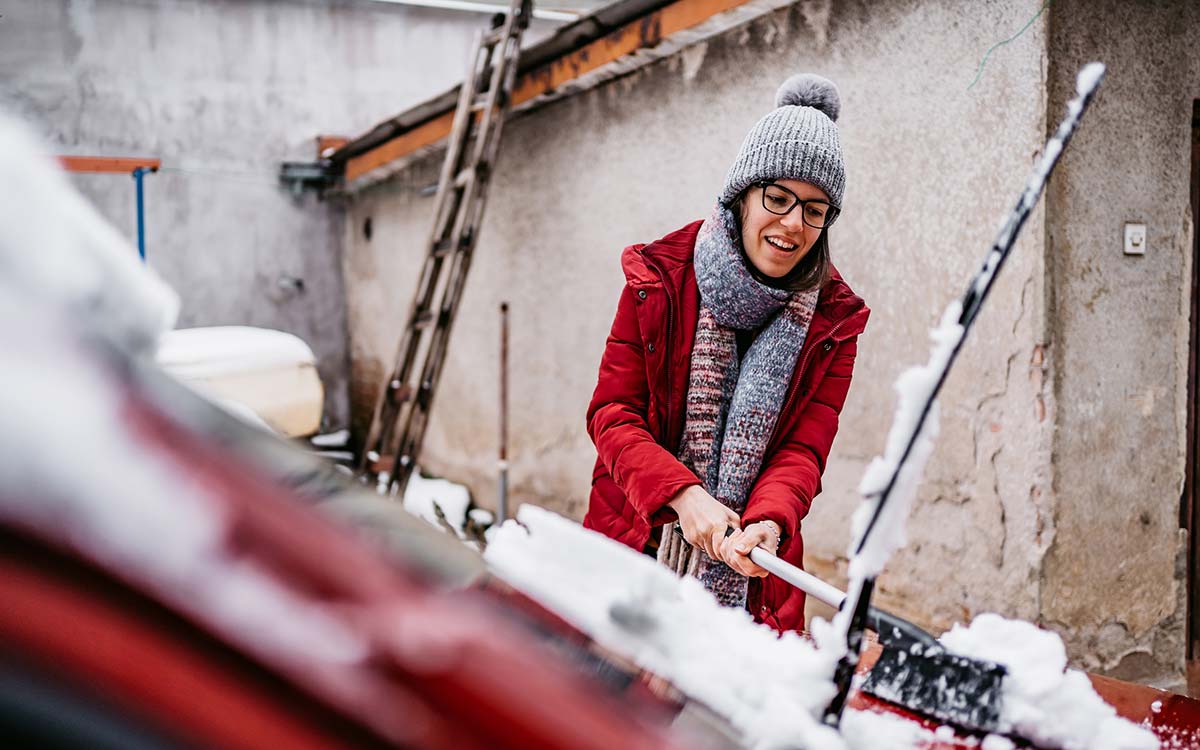 Having a vehicle in good condition means there's one less thing to worry about when driving in the winter. This involves ensuring your car's maintenance is up-to-date, including paying particular attention to the battery, as cold temperatures can zap a car battery faster than expected. You should also keep a close eye on your tires, especially the tire pressure and tire tread, regardless if you have winter tires or regular all-season tires. Even checking or changing out your car's wiper blades and ensuring your washer fluid has antifreeze can help ensure you have a clear line of sight while on the road.
Check the Weather Report
Road conditions can change instantly during the winter season, so before you head out, review weather forecasts to avoid surprises. Knowing what you might be driving into is best, as a clear road can quickly turn into a snow-covered mess.
Plan a Route
Whether the roads are less-than-ideal now or might be soon, don't assume a familiar route or shortcut is the best option. Instead, pick a course that's more likely to have treated and plowed roads, regardless if it involves driving a few more miles. 
Practice Winter Driving
If you're not familiar with driving on winter roads, or haven't done so in a while, get in some practice. Find a parking lot or spacious surface free of cars, people, light poles, trees, curbs, or other obstructions, and see how the car responds to the snow and ice. You'll want to carefully apply the brakes and take the same approach while steering. Don't go wild; just get familiar with how the car reacts in this situation. 
Drive Cautiously
Successful winter driving on snow and ice involves being gentle at the controls. It's a technique that requires gentle acceleration (to avoid spin-outs) and mild braking (to minimize skids). Slick roadways mean your car won't respond as it usually does, which is why these modified driving techniques are necessary.
Keep a Safe Distance
Cautious driving also includes keeping a safe distance from other vehicles. Under normal conditions, this involves maintaining a minimum three-second gap from the car in front of you. However, double the following space to six seconds when driving on slick roads. 
Look for Hills
Hilly streets and highways can be challenging when driving in the snow, regardless of your vehicle type. Gently accelerate before reaching the hill, so the extra forward movement propels the car up. Then, reduce the gas after reaching the crest of the hill. 
Embrace Visibility
Safe winter driving mandates that you see what's happening outside and that others see you. Keep the windows clean (especially useful for glare), replace old windshield wipers, fill the wiper fluid reservoir, and use defrosters and exterior lights as needed. 
Avoid Cruise Control
As convenient as cruise control is, it's something to skip when driving in abnormal conditions, like snow or ice. This technology isn't designed to respond like a human can when a car is slipping or skidding, so you'll have a bigger chance of losing control of your vehicle when faced with snowy or icy conditions.
Add a Vehicle Protection Plan
Winter's extreme conditions can exact a toll on a car. Be prepared with an auto protection plan from Endurance. It's the ideal way to be ready for unexpected breakdowns and surprise repair bills. Plus, there are extra benefits like roadside assistance and trip interruption support. 
Get Ready for Winter & Beyond with Endurance
Knowing how to handle winter driving is part of being a car owner, as is dealing with expensive repair bills. An Endurance vehicle protection plan can help protect your vehicle from these unplanned expenses, whether you have basic powertrain protection as low as just $79 a month or near-complete coverage.
Plus, there are other advantages to being an Endurance customer besides getting award-winning protection, like 24/7 roadside assistance, rental car reimbursement, and trip interruption protection. You'll also enjoy a 30-day money-back guarantee, easy payment options, and the choice of any ASE Certified mechanic for repairs. That's not all, as new customers are eligible for one year of FREE Endurance Elite Benefits, including key fob replacements, collision discounts, and more. 
Don't wait until you're left with an unexpected repair bill, and protect your car by calling us at (800) 253-8203 for a free, no-obligation quote or shop online today. You should also check out the Endurance blog for even more articles ranging from expert maintenance tips, vehicle buying guides, extended warranty coverage comparisons and more.
More like this
Expert Auto Tips

Retired professional racecar driver Danica Patrick is a pioneer in the world of motorsports. Her breakthroughs include being the first woman to lead an Indianapolis 500 race (the 89th running..

Read More

Expert Auto Tips

Buying a new car can be incredibly exciting and can open up a whole new world of possibilities. There are so many vehicles on the market, and no matter what..

Read More

Expert Auto Tips

Changing your oil and keeping your tires at the correct PSI are two great ways to keep your car running smoothly and driving safely as the seasons change. Your vehicle's..

Read More