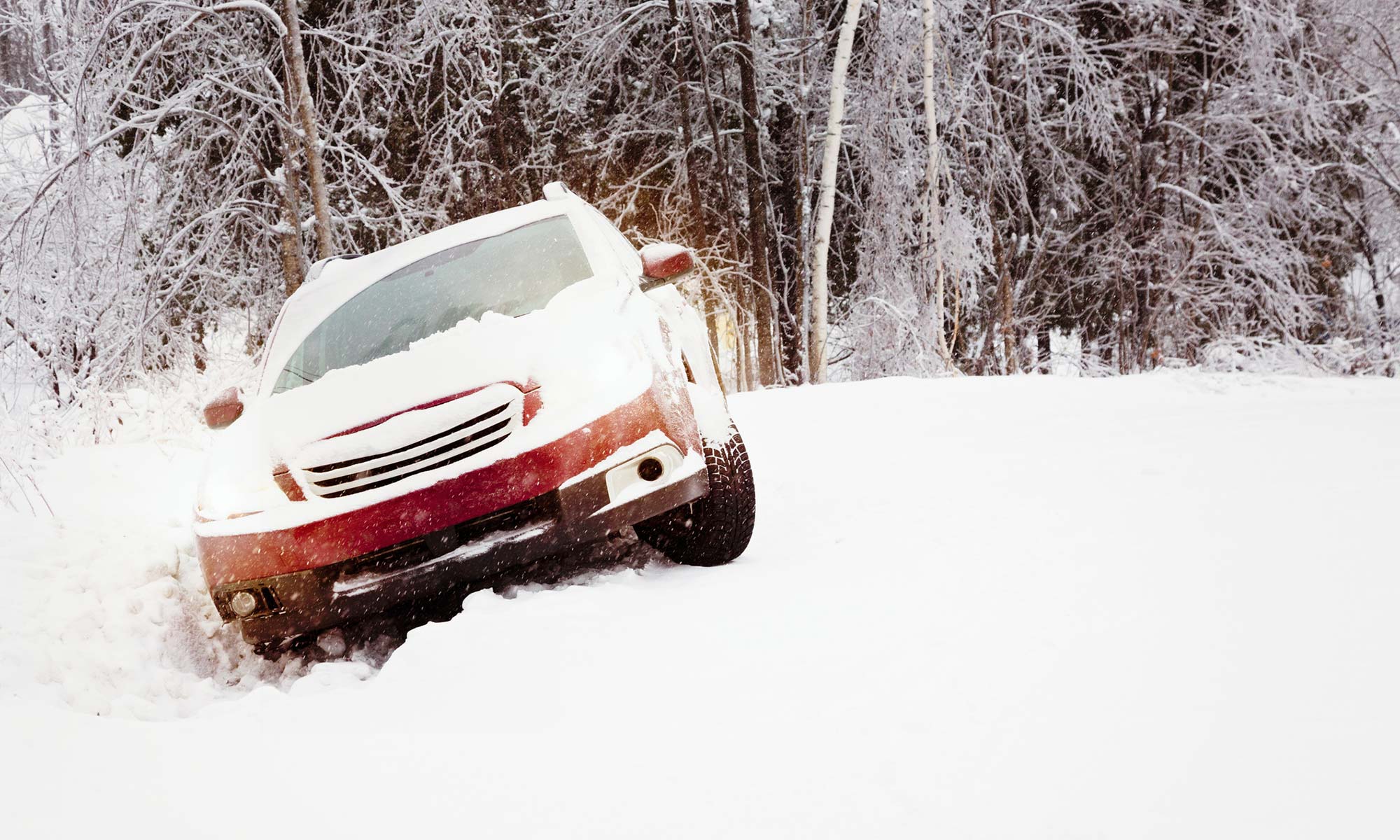 The wintertime can be one of the most exciting times of the year, regardless of the weather. From holiday parties, last-minute get-togethers, countless shopping deals or being able to get out and head to your favorite seasonal destinations — owning a vehicle during the winter months can open up a new world of opportunities. 
Owning a car, truck or SUV can allow you to go to and from the places you want to visit without having to deal with inclement weather, but there are still several things any driver needs to prepare for regarding this time of year apart from getting their vehicle ready for the winter weather. Keeping an active eye out for hazards such as ice, snow or other types of debris while driving is vital, as conditions like these cause nearly half a million accidents every winter.
While staying alert for these types of common winter driving hazards can help you stay safe, unexpected breakdowns and accidents can still occur, leaving you stuck on the side of the road. When this happens, having an updated winter emergency kit can help ensure you and your passengers are safe and secure no matter where you are or what the weather is like around you. 
Winter Driving Hazards
While road hazards can be present year-round, the wintertime can especially be dangerous for drivers due to snow, ice and the generally cold weather of the season. In fact, 24% of winter crashes occur in icy or snowy road conditions, which only demonstrates how vital it is to be safe and secure while on the roads during the winter. Even the best winter vehicles can struggle when faced with wintery conditions. 
Along with creating potentially hazardous road conditions, winter weather can also impact your vehicle, even when you're not driving. Unless you can properly store your vehicle during the winter months, weather conditions like heavy snowfall, hail, falling ice and torrential rain can all potentially lead to damages to your vehicle. 
To help prepare your vehicle for conditions like these, it's crucial to stay up-to-date on your vehicle's maintenance needs. By doing so, you can help ensure your vehicle is in the best shape possible to handle the winter weather. There are even some car accessories you can purchase and additional steps you can take to help truly winterize your vehicle, and having an updated winter emergency car kit is one of them.
Importance of a Winter Emergency Kit
While common maintenance tasks such as getting an oil change, rotating your tires or even regular car washes can all help prepare your vehicle for the cold weather, having a winter emergency kit should be at the top of your to-do list. By ensuring you have everything you need in case you're stuck on the side of the road during a winter storm, you can be sure you'll be safe and secure until towing or emergency services arrive. Even simply having a first aid kit, a small tool kit and a spare cell phone charger on hand can help make a difference when faced with an unexpected breakdown or an accident during the wintertime.
Apart from the vital items mentioned above, be sure to include other essential items in your winter emergency kit, such as:
Extra Clothes and Blankets
Regardless if you are in an accident, experience an unexpected breakdown or need to get out your spare tire due to a blowout, the freezing temperatures of winter can be dangerous. Keeping a fresh pair of warm clothes, such as mittens, hand warmers, hats and scarves in your vehicle will allow you to add more layers to help keep you warm, which can be especially vital should your car's heating fail to work.
The same logic applies to bringing extra blankets or even a sleeping bag. You can even use a little creativity by using a blanket or sleeping bag to help cover up any exposed windows or damaged windows to prevent additional snow or rain from entering the vehicle. 
Protect your car, truck or SUV's heating, cooling and other essential systems with an EnduranceAdvantage™ vehicle protection plan. Along with providing comprehensive breakdown protection for your vehicle's most vital components, each EnduranceAdvantage package also comes with up to $3,500 in regular maintenance coverages to help ensure your vehicle stays running for longer. You can also get access to a number of other special, one-time services such as cooling system maintenance for even more coverage and savings.
Road Flares
During a whiteout or a heavy winter storm, visibility can be extremely limited for drivers on the road. Should you become stranded, having road flares along with your vehicle's hazard lights can help keep you safe. If you're stuck in the middle of the road itself, placing flares down will allow oncoming traffic to see you well in advance, giving them enough time to slow down or change lanes to prevent a potentially dangerous accident. 
Additionally, placing the flare near the side embankment will help passing drivers, law enforcement, or other emergency services to see where you are located. Finally, if you absolutely need to leave your car, holding a flare will help ensure you are more easily spotted by passing vehicles or to emergency or towing services. This can be especially crucial if you do not have a reflective vest or highly reflective items in your winter emergency kit.
You can have even more peace of mind if you're stuck on the side of the road any time of the year with one year of Endurance Elite Benefits. Coming with the purchase of any Endurance protection plan and a small activation fee, you can get instant access to 24/7 roadside assistance, up to $1,000 in total loss coverage, and many other great perks.
Nonperishable Food and Drinking Water
Two of the most essential items you should include in your emergency kit are nonperishable foods and at least one gallon of drinking water. If you become stranded for any reason, there's the possibility that help won't be able to arrive for some time, depending on road conditions. 
If this is the case, having an emergency supply of nonperishable food and water can significantly enhance both your experience and odds of survival in the event you're stuck for an extended time. Some of the best types of food to include in your kit are dried fruits, nuts, granola or energy bars, bottled water or sports drinks, crackers, peanut butter and even miniature cereal boxes.
A Snow Brush and an Ice Scraper
A lack of visibility can be extremely dangerous when faced with the other hazards of winter driving. One of the biggest culprits is having your car's windshield covered in ice and snow. 
While most modern vehicles have built-in windshield defrosters, having a snow brush and an ice scraper can help you to clear off any excess snow or ice without having to wait for your vehicle to heat up. They will also help you protect your car's windshield and windows, as freezing temperatures can leave the glass on your vehicle more susceptible to potential damages. You should also never use hot water or other liquids to defrost your vehicle, as the sudden rise in temperature can cause your windshield or windows to crack or shatter.
You can also purchase various accessories, such as specially designed winter wiper blades, to help improve your overall visibility when on the road in winter weather. While acting similar to standard wipers, these are made with a reinforced rubber or silicone blade and a sturdier wiper arm, making them more equipped to handle packed snow and ice than regular wiper blades.
Jumper Cables
Did you know that at 32 degrees Fahrenheit your car battery could lose up to 35% of its power? It's true, and it could make the difference between you making it to your holiday destination or if you're stuck calling AAA or another towing service. 
This occurs due to the cold weather slowing down the chemical reaction needed for your car's battery to provide power to the vehicle. Should you become stranded with a dead car battery, having jumper cables (sometimes referred to as booster cables) will allow you to get your car started with the help of a passerby.
Protect Your Vehicle This Winter with Endurance
By keeping a winter emergency kit in your vehicle, you can be sure you have everything you need in case you find yourself stuck on the side of the road due to an accident or unexpected breakdown. Get even more peace of mind when it comes to protecting your vehicle during the winter months with the help of a vehicle protection plan from Endurance. 
Designed to fit your specific needs and budget, each Endurance plan can provide you with protection from unexpected breakdowns and repairs for your vehicle's most vital components, including your engine and transmission. You can also help to ensure you're meeting all of your car, truck or SUV's maintenance needs with the help of EnduranceAdvantage. Along with being the most comprehensive vehicle protection plan available, each EnduranceAdvantage plan also comes with up to $3,500 in regular maintenance coverage, including essential services like up to three oil and filter changes, alignment checks, engine diagnostic exams and more — at no additional cost to you. Additionally, you can take advantage of one year of Elite Benefits that come with the purchase of any Endurance protection plan and a small activation fee, including extra perks such as up to $500 in collision discounts, 24/7 roadside assistance, key fob replacements and much more. 
Give us a call directly at (800) 253-8203 or request a free quote to learn more about how Endurance can help protect you and your vehicle any time of the year. You can also find even more articles on DIY car maintenance tips, expert auto advice, vehicle buying guides and other informative topics by visiting our Learning Center. 
More like this
Expert Auto Tips

Being a car owner can be an incredibly rewarding experience, especially if you take pride in your vehicle's condition and performance. Cars that are well taken care of will generally..

Read More

Expert Auto Tips

No matter what kind of vehicle you own, staying on top of its care and maintenance should always be a top priority. Cars that are well taken care of and..

Read More

Expert Auto Tips

There is one integral system of your vehicle, which without it would result in your vehicle being nothing more than a paperweight. The fuel system keeps your vehicle moving down..

Read More