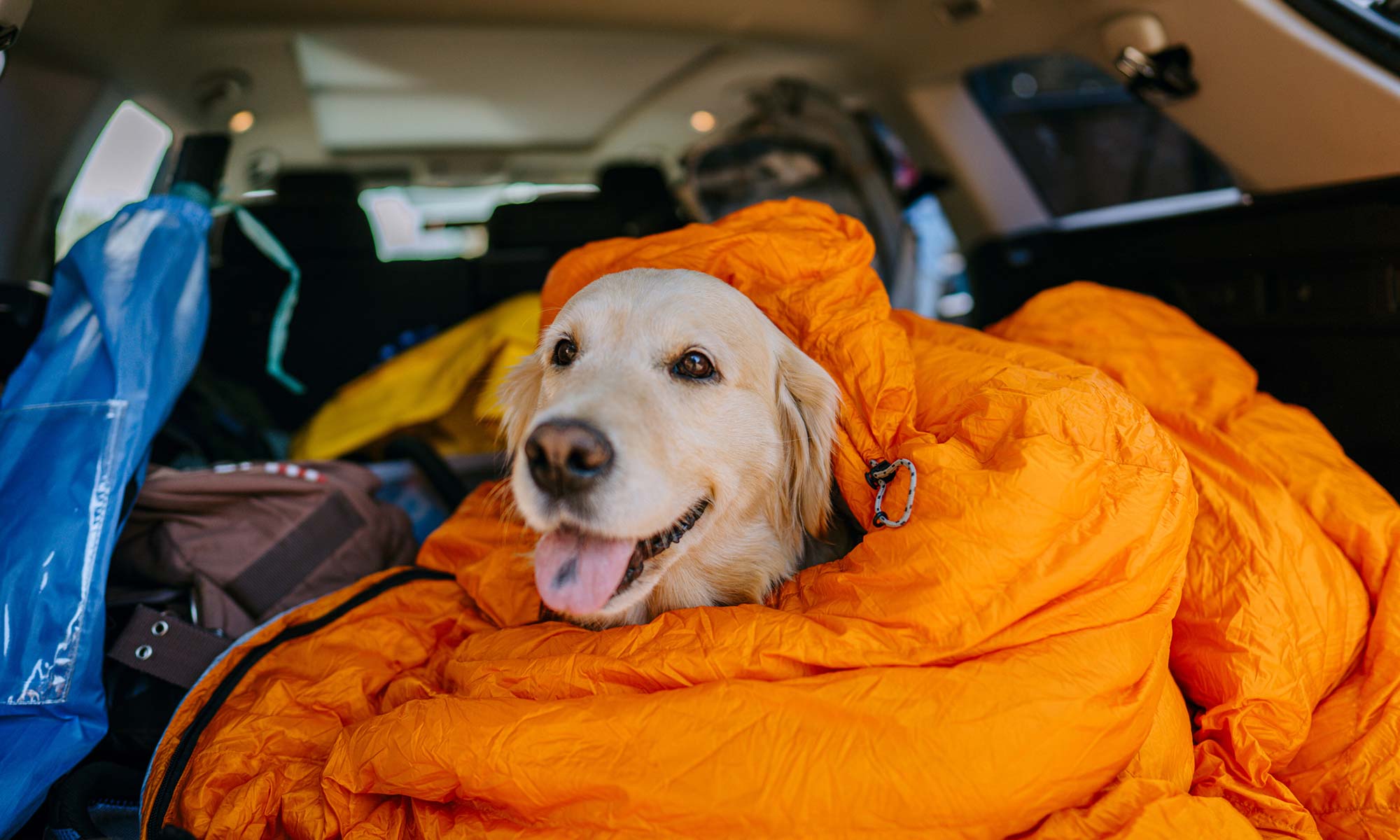 The wintertime can be a perfect time to get out and hit the open road. From heading up to your favorite skiing or ice-skating spots, checking out the latest gears or gadgets at the local mall, or visiting friends and family to celebrate the holiday season, there are plenty of reasons for drivers to hop in the car and go this time of year.
Before you head out on your next winter road trip, it's vital to understand what you can do to help prepare your vehicle for the challenges of winter driving. There are also several winter car accessories you can keep in your vehicle to help ensure you and your passengers are safe and secure no matter what you face this winter.
Why Winter Car Maintenance Is Needed
Regardless of the time of year, following your car, truck or SUV's recommended maintenance schedule is vital in ensuring it stays running properly for longer. Without regular maintenance, such as inspecting your car's battery, getting an oil change, or rotating your tires, you could be at risk of experiencing an unexpected breakdown or other costly repairs in the future. For those who live in areas with harsh winter weather, such as severe winter storms or freezing temperatures, regular maintenance is especially important in making sure your vehicle is ready for the dangers of winter driving. 
You can save when it comes to protecting and maintaining your vehicle year-round with an EnduranceAdvantage™ auto protection plan. Along with providing comprehensive breakdown protection for your vehicle's most vital components, each EnduranceAdvantage plan also comes with up to $3,500 in regular maintenance coverages. That means you can get essential services such as tire rotations, alignment checks, engine diagnostic exams and more covered to help ensure your vehicle is ready any time of the year.
Winter Car Accessories You Should Have
Just as you would put on a jacket, scarf, gloves and a hat before stepping out into the cold weather of winter, your vehicle can also benefit from having various winter "accessories." Having various items such as an updated winter emergency kit (which should always include a first aid kit), extra antifreeze and other items can help make sure you have everything you need if you're ever left stranded on the side of the road.
Some of the other must-have winter car accessories you should keep in your vehicle include:
A Snow Brush and Ice Scraper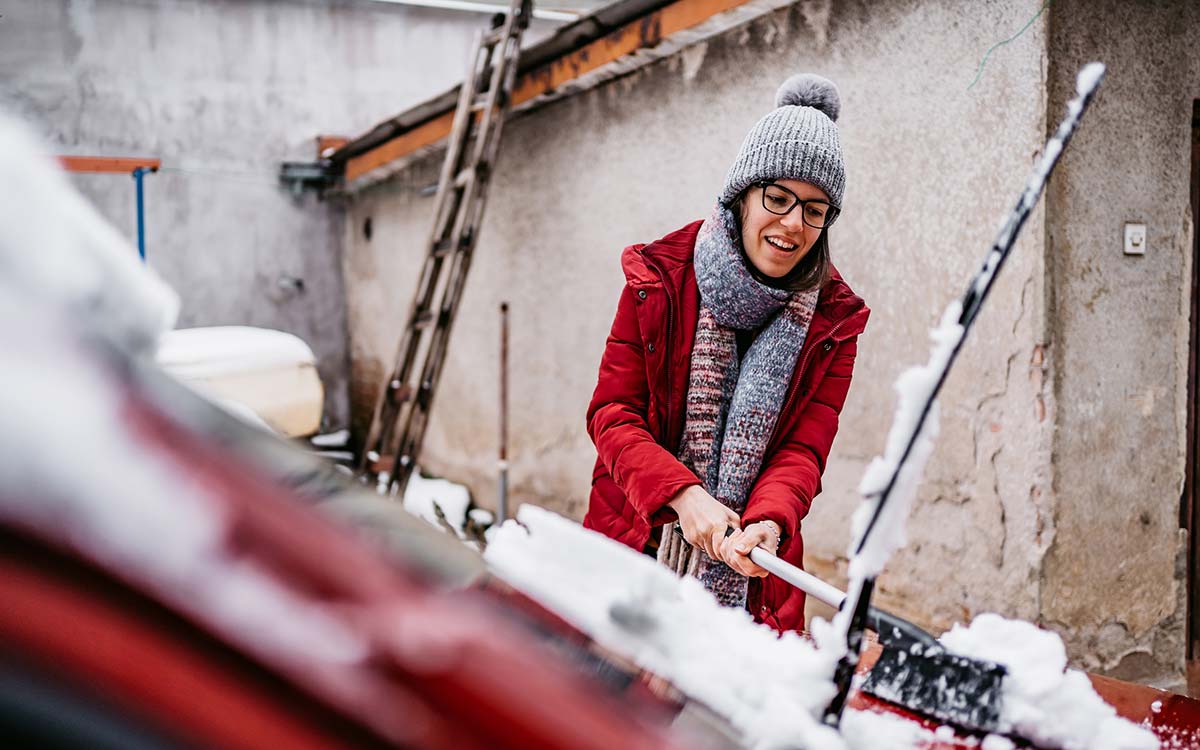 If you leave your vehicle parked outside for an extended period during the winter, chances are it will start to accumulate large amounts of snow. When this happens, your windshield will be more prone to icing over, making it impossible to safely see out of without properly defrosting it first. If this happens to you, having a snow brush on hand can help you save time by allowing you to clear off your windshield quickly, saving you time. A snow brush with a detachable ice scraper is even better as it allows you to scrape off any ice formed on the windshield. It can also help protect your wiper blades, as the blades themselves can become worn down or damaged when used over rough or icy surfaces, such as those of a frozen windshield.
With EnduranceAdvantage, you can save on your car's next front or rear wiper blade set replacement. You can also receive several other special, one-time services such as a battery replacement, a brake pad/shoe replacement and cooling system maintenance, along with up to $3,500 in regular maintenance services.  
A Windshield Snow Cover
If you want to prevent snow accumulation on your windshield altogether, a windshield snow cover is the best choice. These covers can be purchased at many automotive stores or online retailers such as Amazon and will attach directly to your car to protect your windshield from snow and other debris. Once you are ready to drive, take the cover off and your windshield is clean, clear and ready to go!
A Tire Chain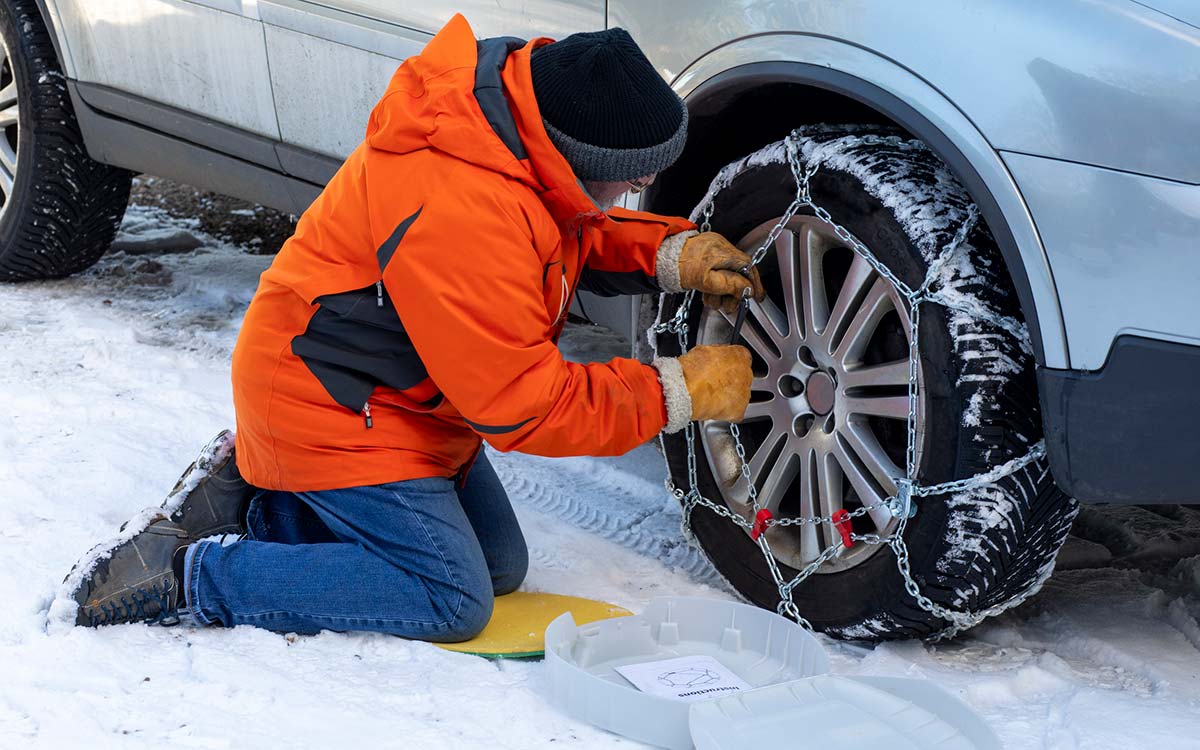 Even specially designed snow tires can benefit from having extra traction when faced with winter driving. One of the most popular ways to help with this is by using tire chains. Tire chains are specially designed metal chains that can attach to your car's wheels and tires to increase traction on snowy or icy terrains.
Kitty Litter for Traction
While not the ideal accessory many may have had in mind, kitty litter is something that can get you out of a pinch in the winter. Due to its coarse texture, the kitty litter works similarly to gravel or sand and can help you get unstuck in the snow. Just sprinkle the litter in front of your tires to help give you more traction on slick snow or icy surfaces, such as in your driveway after a snowstorm. Be sure to check your tire pressure (PSI) and tire tread as well as this can help with gaining traction.
Jumper Cables or a Spare Battery
Extreme weather can wreak havoc on your car's battery, and with bone-chilling temperatures, having a dead battery can be pretty dangerous if you are left stranded on the side of the road for an extended time in below-freezing temperatures. Keeping a set of high-quality jumper cables or a spare battery in your vehicle can help ensure you can get your back up and running again as soon as possible in the event your battery does die.
A Battery-Powered Heated Blanket
Along with having an emergency car kit and a first aid kit, it is vital to have various survival items on hand if your vehicle breaks down and you have to wait for help to arrive. One of the best things you can have to keep your body warm is a battery-powered heated blanket. While there are many 12 volt options that you can purchase, these will not work if your car battery dies. With a battery-powered blanket, you can be sure your blanket is still getting power even if the car battery is dead, helping you stay as warm as possible while waiting for any emergency or towing services.
You can rest easy this winter with the help of 24/7 roadside assistance as a part of your Endurance Elite Benefits that come with the purchase of any Endurance protection plan and a small activation fee. With these additional benefits, you can get access to one year of even more coverage and savings with the help of perks such as up to $1,000 in total loss protection, up to two replaced or repaired tires, key fob replacements and more.
Hand Warmers
Similar to having a heated blanket, another great tip for staying warm in the event of an unexpected breakdown are hand warmers. Hand warmers can be found relatively cheap at most gas stations and are small enough so you can keep plenty in your vehicle to ensure you have as many as you need. These are great if you have to make a quick repair on the side of the road or if your heater goes out in your vehicle.
A Spare Gas Can
A clean, empty gas can is highly recommended to keep in your vehicle any time of the year, but especially in the winter. If you happen to run out of gas and are within walking distance of a gas station, you can use your gas can to fill your car up just enough to make it to the pump. If you need to store a full gas tank in your vehicle, secure it to your roof or securely in a closed-off trunk to prevent gas fumes from entering your vehicle as they can be dangerous if you are exposed to them. 
A Flashlight
Like having a spare gas can, a flashlight should be in your vehicle no matter the season. If your vehicle breaks down at night or you need to see something in a dimly lit area, a flashlight will come in handy. You can even find small flashlights that can fit in your glove box or center console to help it take up less space inside your vehicle.
A Heavy-Duty Rubber Floor Mat
A heavy-duty rubber floor mat is a great accessory to have in any vehicle when the weather gets nasty. Carpeted floor mats can quickly become worn and dirty due to the excess rain, mud, and snow during the winter months. With rubber floor mats, you can easily take them out of your vehicle, rinse them off, and throw them back into your car without any issues, helping you save both time and money when it comes to cleaning your vehicle's interior.
Protect Your Vehicle Year-Round with Endurance
Whether you take advantage of many winter car accessories or not, staying up-to-date on your car's maintenance needs is vital in helping keep you and your passengers safe this or any winter. Purchasing a vehicle protection plan like EnduranceAdvantage can also help give you peace of mind any time of the year by offering comprehensive breakdown protection and up to $3,5000 in regular maintenance coverages. Endurance customers can also get access to even more great perks and savings with one year of Elite Benefits such as 24/7 roadside assistance of up to $1,000 in total loss protection with the purchase of any auto protection plan and a small activation fee, 
To learn more about how an Endurance protection plan can help protect you and your vehicle, request a free quote, or you can give us a call directly at (800) 253-8203. You can also visit our Learning Center to find more insightful articles on topics like expert auto tips, maintenance how-tos, extended warranty comparisons, and much more.
More like this
Expert Auto Tips

Being a car owner can be an incredibly rewarding experience, especially if you take pride in your vehicle's condition and performance. Cars that are well taken care of will generally..

Read More

Expert Auto Tips

No matter what kind of vehicle you own, staying on top of its care and maintenance should always be a top priority. Cars that are well taken care of and..

Read More

Expert Auto Tips

There is one integral system of your vehicle, which without it would result in your vehicle being nothing more than a paperweight. The fuel system keeps your vehicle moving down..

Read More