Protect your vehicle with custom coverage from Endurance.
Shop Now
Audi is seen by many car enthusiasts as the secret best German luxury brand. They operate at the same level as Mercedes-Benz and BMW but surprisingly tend to rank higher in terms of mileage and reliability.
However, as with every luxury brand, when they do break down, they are shockingly expensive to repair.
That is why even Audi owners should seriously consider an Audi extended warranty once the manufacturer's warranty has expired.
The automaker already provides an industry-leading factory warranty but because Audi cars and SUVs are so dependable, most owners probably aren't going to use their coverage while it's active. It is usually when the warranty runs out when Audi vehicles will need to be taken in for major repairs.
Audi drivers have more options than they realize when it comes to extended protection. One of them is a vehicle service contract – commonly referred to as an extended auto warranty. These protection plans from reputable third-party providers, like Endurance, can save Audi owners thousands on car repairs.
Want to Save THOUSANDS on Auto Repairs? Get Endurance!
FREE ONLINE QUOTE
In this article we will explore the following questions and topics:
Why Audi Vehicles Need an Extended Warranty?
The Audi Factory Warranty Limits
Audi Manufacturer's Warranty Expiration Dates.
How Much Will an Audi Extended Warranty Cost?
Which New and Used Audi Vehicles Qualify for Warranty Coverage?
Can You Get a Bumper to Bumper Audi Extended Warranty?
What to Know Before Buying Audi Extended Warranties.
Why You Should Purchase a Protection Plan for Your Audi From Endurance.
Audi vehicles are a class of vehicles all on their own, and they are arguably one of the best investment cars that buyers can make.
It is for that reason that a protection plan from Endurance can protect Audi owners' investment and ease the burden that comes with luxury vehicle ownership.
Why Audi Vehicles Need an Extended Warranty
Audi vehicles have a unique advantage over competitors like BMW and Mercedes, in that they don't require endless maintenance and service. They are more comparable to Volvo when measuring reliability and durability.
However, once an Audi goes through a few years and miles upon miles of driving, like every car they are increasingly vulnerable to breakdown.
Since Audi is a premium brand, when an Audi begins to have mechanical issues, the cost for repair and replacement of broken down parts are extremely high.
Audi drivers might have purchased their vehicle expecting excellent manufacturing, and that is why Audi provides every new vehicle with factory warranty coverage. But when this Audi warranty ends, Audi owners are left with paying out of pocket for expensive repairs.

Audi New Vehicle Limited Warranty – Audi Bumper-to-Bumper Warranty
Every new Audi car and SUV that rolls off the assembly line will come with a new LIMITED warranty. As is industry standard, the factory warranty is primarily made to help address and repair any issues or defects that may have occurred during the manufacturing process.
This Audi warranty is put into place because anything that may go wrong during the timeframe and mileage allotment is likely the fault of Audi, and they will take care of it. Most common mechanical and electrical breakdowns occur after this factory warranty has expired.
What is Covered by the Audi Manufacturer's Warranty?
4-years or 50,000-miles, whichever comes first.
Sometimes called referred to as comprehensive or exclusionary warranty.
This covers ALL components including wear and tear items and major powertrain components such as the engine.
Your first two maintenance visits are free including oil & filter changes.
Corrosion & detailing is complimentary for the first year of ownership.
Four years of access to 24/7 Roadside Assistance are complimentary.
None of this warranty coverage is available for used or certified pre-owned vehicles.
Which is extremely telling that Audi doesn't have a separate coverage term for the powertrain parts of a car like many other automakers do.
They prefer an inclusive "all in one" warranty. This could be read as Audi having total confidence in their cars. Or it could be read that they are ready to make money off of Audi owners who keep their cars longer than 4-years or 50,000-miles.
Regardless, once those four years are up, Audi owners will be paying for *everything* on their cars directly out of pocket.
Want to Save THOUSANDS on Auto Repairs? Get Endurance!
FREE ONLINE QUOTE
AUDI MANUFACTURER CAR WARRANTY EXPIRATION DATES:
If you want to know if and when your Audi warranty expires, follow our easy-to-use chart below. If you want to know a more precise date of expiration, replace the date "January 1," with the date that you purchased your new Audi sedan, crossover, or SUV.
Year Audi Purchased   –   Audi Manufacturer Car Warranty Expiration Dates
| | |
| --- | --- |
| January 1, 2018 | January 1, 2022 or 50,000-miles |
| January 1, 2017 | January 1, 2021 or 50,000-miles |
| January 1, 2016 | January 1, 2020 or 50,000-miles |
| January 1, 2015 | January 1, 2019 or 50,000-miles |
| January 1, 2014 | January 1, 2018 or 50,000-miles |
| January 1, 2013 | January 1, 2017 or 50,000-miles |
| January 1, 2012 | January 1, 2016 or 50,000-miles |
| January 1, 2011 | January 1, 2015 or 50,000-miles |
| January 1, 2010 | January 1, 2014 or 60,000-miles |
| January 1, 2009 | January 1, 2013 or 50,000-miles |
| January 1, 2008 | January 1, 2012 or 50,000-miles |
| January 1, 2007 | January 1, 2011 or 50,000-miles |
| January 1, 2006 | January 1, 2010 or 50,000-miles |
| January 1, 2005 | January 1, 2009 or 50,000-miles |
HOW MUCH DOES AN AUDI EXTENDED WARRANTY COST?
Audi dealers will often try to sell you their own extended warranties when you purchase a car. Oftentimes, they will expressly call it an Audi extended warranty and state it is a direct continuation of their factory warranty.
This is not the case, as many dealers supply their extended warranties from third-party providers and up-charge the sale of these to maximize dealership profits.
These policies usually come with restrictions such as only being able to use their facility for repairs or putting a cap on the amount of money that they will pay in repairs. And a lot of their providers won't even match their own very limited factory warranty.
Instead, Audi owners should consider buying directly from reputable third-party companies, like Endurance. Because Audi is a luxury brand, the price for even common repairs can really add up.
For an understanding of this take a look at the most common Audi repairs across all current models.
Most Common Audi Repair Costs:
Alternator replacement—$1,887 to $3,499
Water pump replacement—$2,853 to $4,735
Head gasket replacement—$2,731 to $4,866
Audi cars are some of the best-made in the world but that comes at a cost. The cost of keeping one on the road could wind up more expensive than simply buying another Audi if you don't have the proper vehicle protection to keep you covered.
CAN YOU GET A BUMPER TO BUMPER AUDI EXTENDED WARRANTY ON NEW AND USED VEHICLES?
Audi knows that the odds of new vehicle owners using the benefits of their factory warranty beyond the complimentary maintenance are slim. They have almost total confidence in the quality and dependability of their cars.
The truth is that Audi repairs tend to be required more often during the years after the limited factory warranty comes to an end.
In addition to cutting the cost of Audi repairs, here is what else you get with an Audi protection plan:
Peace of Mind—Audi issues tend to mostly occur after the manufacturer's warranty expires. The cost of repairing them is high and you will be left having to pay for them once that warranty ends. A protection plan can be the safety net that will give you peace of mind behind the wheel.
Long-Term Value— Audi vehicles are reliable and see only minor updates between model years. With the cost of Audi ownership adding up, extended protection makes it more affordable over time to maintain your vehicle without diminishing its value.
Increased Resale—Your Audi will cost less to maintain and repair, but an extended protection plan adds to the ultimate resale value of your car. You can offer the next Audi owner a level of protection that matches the fine automobile that Audi manufactured.
Additional Benefits— Audi only offers owners their complimentary 24/7 roadside assistance during the first 4 years of ownership. Whereas third-party protection plans will have their own roadside assistance program and more benefits included with all policies.
Want to Save THOUSANDS on Auto Repairs? Get Endurance!
FREE ONLINE QUOTE
WHAT TO KNOW BEFORE BUYING AUDI EXTENDED WARRANTIES:
Audi vehicle parts are heavily patented in ways, unlike any other luxury brand. That level of performance and reliability is difficult to master and costly to repair. That is why Audi would encourage owners to only ever take their cars to their service centers.
However, while this is convenient for Audi drivers who wish to stay "in brand," the truth is every licensed repair facility in America will have access to the genuine OEM (original equipment manufacturer) Audi parts.
Some shops will even offer them at a discount, or much lower than your local Audi dealership.
Audi dealers end up controlling prices for parts and labor and there's simply no "wiggle room" for negotiating breakdown repairs.
AVERAGE REPAIR COSTS FOR AN AUDI A4 (FROM REPAIR PAL, UPDATED AUGUST 2018):
| | |
| --- | --- |
| Water Pump Replacement | from $2173 to $3384 |
| Head Gasket Replacement | from $2242 to $3375 |
| Oil Pump Replacement | from $1795 to $2618 |
| Alternator Replacement | from $1867 to $2982 |
| Door Window Motor Replacement | from $892 to $964 |
| Starter Replacement | from $920 to $1078 |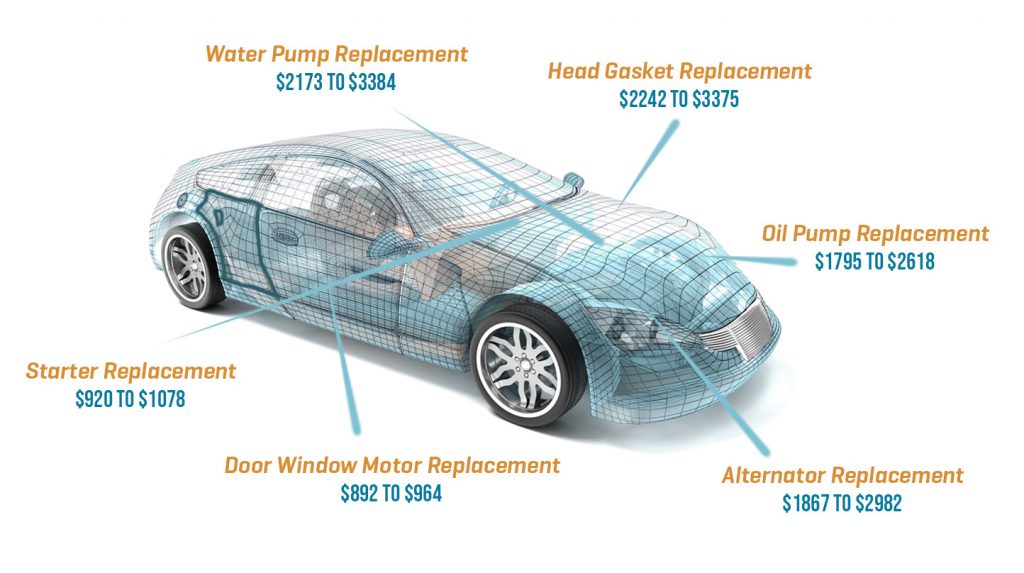 AUDI VEHICLES AVAILABLE FOR AUDI WARRANTY COVERAGE:
Audi rarely overhauls their lineup, because they found what works for them and they stick to it. What they instead, offer updates and slight variations to each of their models from year to year. Unfortunately, this means that parts for an Audi from two or three years ago, will be harder to find parts available on demand.
Endurance will continue to provide coverage for Audi vehicles and allow them to use any certified mechanic or repair facility. These establishments might have an easier time purchasing compatible OEM and aftermarket parts for older Audis outside the main Audi network. And oftentimes, for much cheaper.
Audi Models Qualified for Warranty Plans
| | | |
| --- | --- | --- |
| A1 | A2 | A3 |
| A4 | A5 | A6 |
| A7 | A8 | Q2 |
| Q3 | Q5 | Q7 |
| Q8 | | TT |
AUDI EXTENDED WARRANTY OR THIRD-PARTY VEHICLE PROTECTION?
The Audi factory warranty is incredibly LIMITED, especially compared to luxury competitors in the industry. Not only that, but their dealerships also overcharge customers for a service that is more limited than what their factory warranty covered initially.
To put things simply, not even protection plans from Audi dealerships can compare to the fully customizable third-party offerings.
Since Endurance is a direct and independent provider of vehicle service contracts, we try to offer ever Audi driver an affordable protection plan with competitive rates for the absolute longest coverage terms. We can fill a gap that Audi leaves in your vehicle's protection.
Coverage from Endurance can cover repairs for the following components:
Air Conditioner
Brake Systems
Cooling System
Drive Axle Assembly
Electronic Components
Engine
Front & Rear Suspension
Fuel System
Transfer Unit
Transmission
Turbocharger / Supercharger
WHAT ARE THE BENEFITS OF CHOOSING AUDI VEHICLE PROTECTION FROM ENDURANCE?
Endurance provides Audi vehicles with the benefits and coverage they need to keep their car on the road. And every Endurance vehicle protection plan comes with the following benefits:
Payment options for any budget.
Award-winning customer service.
Your choice of a licensed mechanic.
Claims paid directly to the repair centers.
A risk-free 30-day trial period with a money-back guarantee.
Endurance's services were conceived with long-term vehicle ownership in mind, which is a distinct advantage we have over every automaker.
We know most vehicle owners keep their car longer than 4-years or 50,000-miles, whichever comes first. With Audi Vehicles being able to last at a minimum an additional 6-years and up to 150,000-miles more past the factory warranty, many Audi drivers will be left unprotected for the majority of the life of their vehicle.
Want to Save THOUSANDS on Auto Repairs? Get Endurance!
FREE ONLINE QUOTE
More About the Audi Factory Warranty:
Audi's root in the German car industry is a fascinating story. Even cooler is how they ended up becoming the car for several Hollywood franchises such as The Transporter or the Marvel superhero movies.
Even more important than knowing the story of Audi is to make sure that owners are completely aware of the limits of their Audi manufacturer's warranty as well as their options to extend coverage. Use the following links below to guide your way through factory warranty information, news of defects and recalls, and more.
Audi Phone Number: 1-(888) 237-2834
Audi Website: AudiUSA.com
New/Used Audi Recalls: http://web.audiusa.com/recall/
General Recalls, Problems, and Defects: NHTSA.gov/Recalls
Audi Owner Reviews: ConsumerReports.org/Audi
FAQ's: Audi Extended Warranty
What makes Endurance different from the extended warranty offered by Audi?
Audi offers its Audi Bumper-to-Bumper warranty which covers up to 4-years or 50,000 miles, whichever comes first. Customers with used or certified pre-owned Audi vehicles are not qualified for the only warranty offered by Audi which puts them in a tough spot to receive coverage.
Endurance, on the other hand, accepts most vehicles up to 20 model years and up to 200,000 miles! We also provide additional benefits through our Elite Membership which includes up to 2 tires replacement, up to $5,000 in repair loans, and 24/7 roadside assistance.
Do I have to go to a certain repair facility to still be covered?
Unlike most extended warranties. Endurance Warranty plans are honored anywhere at licensed and authorized repair facilities. Even if you relocate to another state, your vehicle will still be covered by us! You get the peace of mind of knowing your auto warranty is honored nationwide.
How does Endurance Warranty pay claims?
Claims are paid upfront for ALL covered repairs which means no waiting for reimbursement or high out-of-pocket expenses paid. We're with you every step of the way so you can get back on the road in no time.
What types of charges would not be covered by Endurance?
We strive to provide the best protection to all of our customers. For a list of our exclusions, check out each plan we offer which also includes sample contracts with full details.
How do I get a quote for an extended car warranty?
You can request a quote at the Endurance homepage by easily filling out your vehicle information, phone number, and email to a get a free quote in as quick as minutes!
More like this
Make/Model

The 1960s was undoubtedly a golden era for the American automobile industry. Iconic cars like the Ford Mustang, Chevrolet Camaro, and Pontiac GTO came into existence during this decade, capturing..

Read More

Make/Model

Whether you're a passionate petrolhead or a casual commuter, everyone agrees that classic cars are special. From the iconic exteriors to the old-school engineering, their look, feel, and sound really..

Read More

Make/Model

When it comes to purchasing a used car, there are many factors as a consumer you need to keep in mind. Performance, condition, and style are all important considerations, but..

Read More