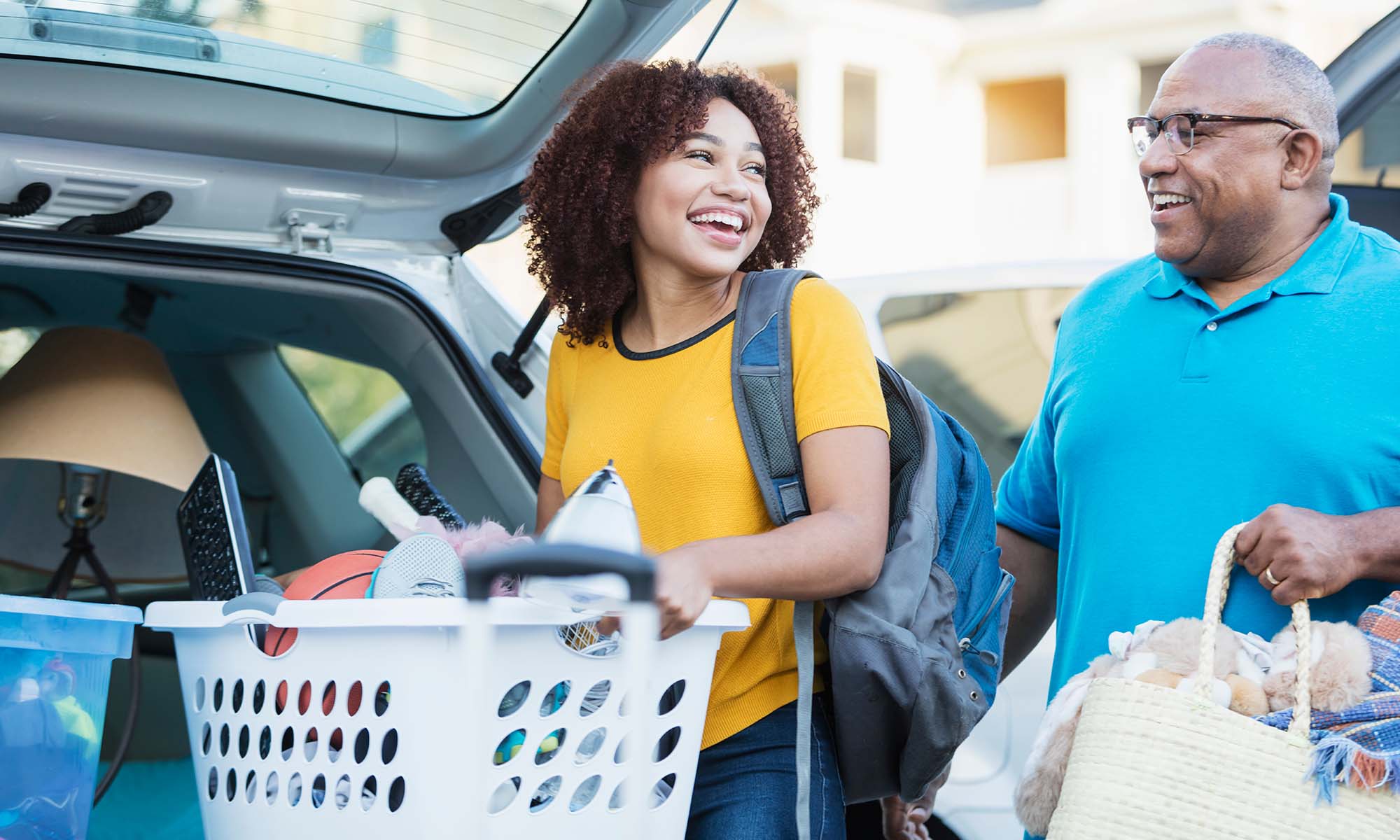 With summer winding down, college students all over the country are packing their bags and getting ready to move back to college. And whether you are a recent high school grad or in graduate school, transporting the countless items from your current location to your new dorm or house will be a challenge without the right vehicle.
From safety features to keep you and your stuff secure on the trip to having enough cargo space for everything, these are some of the best cars college students can have.
The Best Cars for Moving to College
Whether you are trying to move large boxes or furniture or are simply gearing up for a long college road trip, you'll need a reliable vehicle for your journey. The following five vehicles stand as some of the best options for vehicles that can handle your move:
2021 Toyota RAV4
Manufacturer's Suggested Retail Price (MSRP): $26,350 – $36,280
Seating Capacity: 5 Passengers
Cargo Capacity with All Seats in Place: 37.6 cubic feet 
Fuel Economy: 27 City/35 Highway/30 Combined MPG
Reliability Rating: 4.0/5.0
Yearly Maintenance Costs: $429
Whether a used car or a brand new car, it's hard to go against the reliability of a Toyota. And if you're a college student, the RAV4 can be a great car at school for daily commuting to and from class thanks to its high-reliability rating (3rd out of 26 compact SUVs according to RepairPal) and its average annual repair cost of just $429. You'll also know you'll be safe with the RAV4's pre-collision monitoring, blind-spot monitoring and lane departure warnings that come with steering assist.
Along with its great reliability and lower maintenance cost, it also features an eight-speed shiftable automatic transmission and an inline four-cylinder gas engine, meaning the RAV4 should be more than capable of handling a heavy load of boxes and small furniture. It can also help you save at the pump with its combined 30 mpg and 14.5-gallon fuel tank capacity. This vehicle also features a max towing capacity of 1,500 pounds (lbs.), which can make towing a moving trailer far easier than expected to help you bring even more things to school. And even with all the seats in place, the RAV4 still offers approximately 37.6 cubic feet of cargo capacity, making it one of the more spacious vehicles on this list. 
2022 Honda Odyssey
MSRP: $33,040 – $48,77
Seating Capacity: 8 Passengers
Cargo Capacity: 38.6 cubic feet
Fuel Economy: 19 City/28 Highway/22 Combined MPG
Reliability Rating: 3.5/5.0
Yearly Maintenance Costs: $547
If transporting the entire family and friends is the goal for your college move, the 2022 Honda is hard to beat Odyssey. And yes, while it may not be the sleekest or most stylish of vehicles, you'll have room for eight people sprawled across a car that's 205.2 inches long, 78.5 inches wide, and cargo space reaching up to 38.8 cubic feet with all the seats in place. 
But, while you may not get as much fuel economy as you would with a smaller vehicle, you'll be able to make up for it with a max towing capacity of 3,500 lbs. You also won't have to worry about repair costs, as it has just a $547 yearly average. Safety also won't be an issue depending on the trim level you pick. You'll have adaptive cruise control, lane keep assist, forward collision warnings with an emergency braking system, and more. It even has a 5-star safety rating from the National Highway Transportation Safety Administration (NHTSA).
2021 Subaru Crosstrek
MSRP: $22,245 – $35,345
Seating Capacity: 5 Passengers
Cargo Capacity: 20.8 cubic feet
Fuel Economy: 22 City/29 Highway/25 Combined MPG
Reliability Rating: 4.5/5.0
Yearly Maintenance Costs: $492
The 2021 Subaru Crosstrek is a great used vehicle that can be perfect for any smaller family moving a student into college. Overall, this all-wheel drive (AWD) hatchback features a 6-speed manual transmission, a fairly high amount of fuel economy and a class-leading reliability rating to go along with a yearly repair cost of just $492. You'll even enjoy safety features like rear cross-traffic alerts, lane keep assist, pre-collision braking and an overall 5-start NHTSA safety rating.
However, how much you can pack may be limited as the cargo capacity is smaller at only 20.8 cubic feet with all seats up. But, this can be increased to 55.3 cubic feet when the rear seats are put down, making this a better choice for smaller families or groups. However, if you're traveling light and want to bring along some friends or family, you can seat up to five. And if needed, you'll also have 1,500 lbs. of maximum towing capacity.
2022 Toyota Sienna
MSRP: $35,285 – $51,485
Seating Capacity: 8 Passengers
Cargo Capacity: 33.5 cubic feet
Fuel Economy: 36 City/36 Highway/36 Combined MPG
Reliability Rating: 3.5/5.0
Yearly Maintenance Costs: $554
As the second minivan and Toyota on this list, it's no wonder that (while still not stylish) the Sienna is another fantastic option, especially for larger groups or families. In fact, even though it is rated as just the 6th most reliable minivan out of eight in its class, the Sienna will only cost you $554 yearly in repairs. It also has an impressive 36 MPG across the board and a fuel tank that can hold 18 gallons of fuel, meaning you're sure to save at the pump. And like the RAV4, this Toyota can also have the same safety features.
But while all this is great, the 3,500-pound towing capacity and 33.5 cubic feet of cargo capacity make this one of the best choices when moving back to school. 
2022 Honda CR-V
MSRP: $26,800 – $36,600
Seating Capacity: 5 Passengers
Cargo Capacity: 39.2 cubic feet
Fuel Economy: 28 City/34 Highway/30 Combined MPG
Reliability Rating: 4.5/5.0
Yearly Maintenance Costs: $407
When it comes to class-leading vehicles, the Honda CR-V is one of them. Coming in with a stellar reliability rating, well-above-average fuel economy and just $407 in repairs yearly, it's a great entry-level vehicle for any new college student. 
But reliability and fuel economy aside, it's also a great choice to help move you into school with its 39.2 cubic feet of cargo space and 1,500 lbs. of max towing. It also comes with several safety features, including standard features like vehicle stability assist (with traction control), anti-lock brakes (ABS), lane keep assist, forward collision warning and much more.
Back to School Car Maintenance Essentials
Whether you own one of the cars on this list or another vehicle from an automaker like Ford, Nissan, Chevrolet, Land Rover and beyond, regular maintenance can help ensure that it stays running for longer and that it'll be ready for whatever trip you're taking. Some of the essential maintenance you should look to do before you head back to school should include:
Changing your oil:

Oil changes are essential for any gas-powered car, so be sure to change yours when recommended to ensure it runs smoothly.

Double-checking your tire pressure:

Your tires can expand and contract as the weather changes, so checking their tire pressure before a trip can ensure they're within a safe range. Be sure to watch for any excess

tread wear or damage

.

Looking at your vehicle's battery level:

Those living in extreme heat may find that their car battery dies sooner than other times of the year, and there's a reason. High temperatures will cause the battery fluid to evaporate at a higher rate, leaving your battery to lose its charge faster. And since most schools start back up around August or early September, temperatures still may be high, so the best way to prevent a battery issue is to always test it before you hit the road.

Ensuring your air conditioning system works:

In the summer months, checking

your vehicle's A/C unit

becomes crucial. Leaking coolant can damage this system, so inspect the ground around your car for fluids and be sure you don't hear any odd noises when turning the system on.
By handling just a few of these summer car care items, you can increase the odds of making it to your destination with minimal, ideally no, issues.
Keep Your Vehicle Protected with Endurance
Regardless of what type of vehicle you drive, ensuring it stays protected from unexpected and expensive repair bills should be a top priority. That's where the comprehensive coverage of an Endurance auto protection can help.
Whether it's basic powertrain coverage starting as low as just $79 per month or near factory-like protection, Endurance can take the worry out of car repairs. Especially for those of you purchasing used vehicles where the factory coverage has already gone away, Endurance coverage plans can help pick up where that coverage left off. We can even help give parents a little extra peace of mind with our complimentary 24/7 roadside assistance (with towing) to go along with our rental car and trip interruption coverages. Meaning no matter where your student may be, if they experience a sudden breakdown, Endurance will be there to help. Plus, if you activate your Endurance Elite Benefits, you can enjoy even more perks and savings, including collision discounts, key fob replacements and complete tire protection.
Don't wait; start protecting your vehicle today by requesting your free, no-obligation quote. Or, if you'd like to learn more about any Endurance protection plan, call our award-winning customer service time at (800) 253-8203. And don't forget the check out the Endurance blog, where you'll find even more vehicle buying guides/tips and other articles on topics ranging from road trip planning guides, DIY car care tips, answers to automotive FAQs and much more.
More like this
Make/Model

As the most rugged SUV Honda has ever offered, the Pilot offers a wide variety of benefits for those looking for an off-road capable SUV with adequate features. Like any..

Read More

Make/Model

As the world gradually transitions to renewable energy sources, the adoption of e-vehicles is on the rise, and Tesla has been leading the charge. Their range of electric cars is..

Read More

Make/Model

Originally formed from the remnants of the Henry Ford company, Cadillac is arguably the most quintessential American car brand in existence. Founded over 100 years ago, they were the first..

Read More