So what does pop superstar Taylor Swift have to do with motorsports? Well it's her new BFF! Kidding… sort of. Either way a fascinating development behind the scenes of the US Grand Prix has the two possibly working together to bring their Wildest Dreams to life. Forgive us for these awful puns, we're not Out of the Woods yet.
The US Grand prix has had its fair share of PR disasters, right now the race has been listed as "provisional" by the FIA (the governing body for motorsports around the world "Fédération Internationale de l'Automobile"). However now it seems like we in the US we are guaranteed our first ever 21-race season. The key was stirring up real enthusiasm for it and to do that officials needed a figure of tremendous hype.
Enter: Miss Swift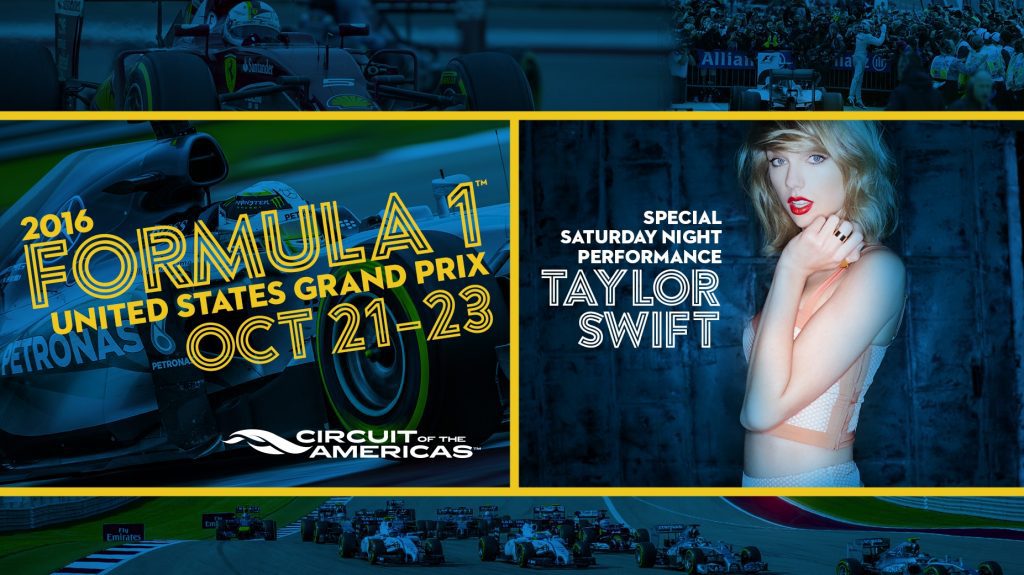 Circuit of the Americas (COTA) chairman Bobby Epstein has long been figuring out how to make the event work, and adding Taylor Swift to the F1 weekend's bill is at the center of his plan to really bring in new spectators and possibly sell out the event like she does her shows.
Epstein told Motorsport.com this:
"There were several hurdles that needed to be overcome and things that that need to come together in order to make this happen, It took this long to cross those milestones. It was everything from being comfortable with the state, to our local property tax, to whether we could get a way to make sure we can sell enough tickets, by securing Taylor. All that takes time."
Does this seem random? Well it shouldn't. The truth is the singer really resonates with Texas state officials, who knew? We knew of course, you'd be remiss to not hear at least one of us here in the Endurance offices listening to her jams. On a more serious not all that's left is for them to be convinced that this big plan for the event  is enough to justify the funding they are asking for.
Continuing Epstein's interview on Mototsport.com:
"The reimbursement programme hasn't changed, but we'll increase our impact, and we believe the state will be there for us. Hotel rooms will be full of more people, families will come…The state just wants more people to come from outside the state, bring their money in, and spend it. And this is a great way to do that."
So obviously Epstein believes Swift's appearance as an investment for the brand. His reasoning is that she will be the bridge to COTA and to F1 for people who would otherwise not make the trip.
His bigger hope is that an event like this will bring repeat audiences and hopefully they will be able to book headliners of Swift's caliber after:
"Really that is our goal, how to get new fans not just this year, but in the future. Until we bring them out, they have no reason to come out of just natural curiosity. So we're telling them to do it…"
We're looking forward to hearing if this plan works! As well as the acts that will follow up Taylor Swift. Either way the idea the American motorsports is driving to catch up with their international siblings is a good one. And if it takes a pop star's natural charisma to bring in new gear heads that why not? Crazier things have happened!
So will Taylor Swift have the positive effect on Motorsports the way she's endeared her millions of fans? Either way "Everything has Changed."
More like this
Motorsports

Being a safe driver doesn't just apply to cars or motorcycles—it includes motorists for every type of motor vehicle and any type of roadway. And with the rise in motorsport..

Read More

Motorsports

The summertime is the perfect time to hit the road for fun and adventure. And for the 2.93 million NASCAR fans across the country, heading off to catch one of..

Read More

Motorsports

One of the biggest names in modern motorsports Jeff Gordon left pretty big shoes to fill when he retired from racing, seemingly forever. Now he mostly provides commentary for NASCAR...

Read More