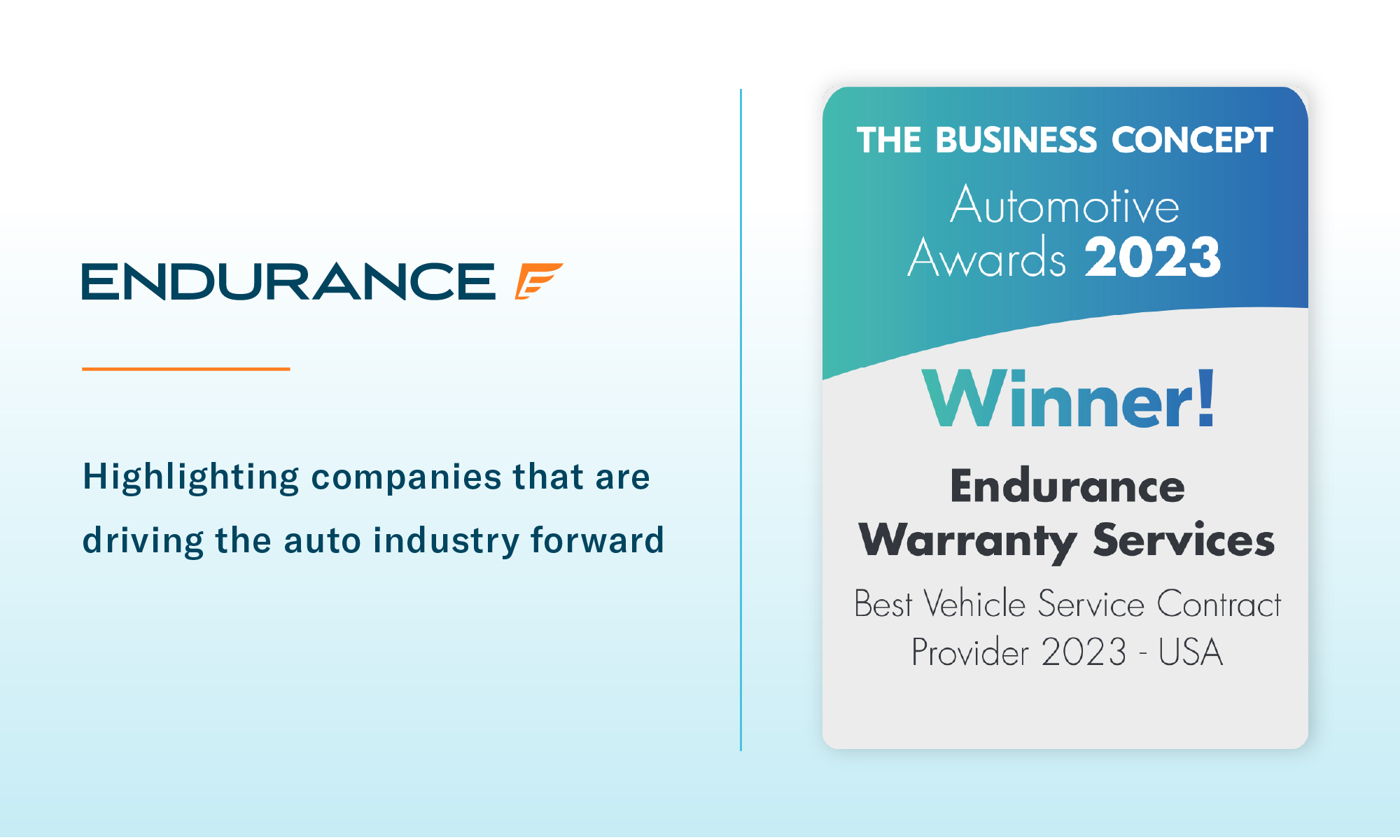 For the second consecutive year, the Automotive Awards have returned to spotlight a selection of award-winning businesses in this dynamic industry. Endurance Warranty Services, a leading provider of vehicle service contracts for drivers across the U.S., has been honored as the "Best Vehicle Service Contract Provider of 2023."
The Automotive Awards recognizes and celebrates the achievements of the best and brightest in the automotive world, from manufacturers and suppliers to dealers and service providers. The selection process for the program is straightforward: in addition to nominations, an expert in-house research team identifies, evaluates, and rewards businesses that they deem worthy of recognition for their achievements. This method ensures that, irrespective of industry or size, businesses can be assessed on an equal basis.
"It's an immense honor to receive this recognition from The Business Concept. Our company relentlessly focuses on delivering the best vehicle protection to our customers, and this award underscores our commitment to excellence," shared Endurance Chief Marketing Officer Colleen Sugarman. "I extend my gratitude to the Automotive Awards committee for acknowledging our efforts and to the entire Endurance family for making this possible."
Awards Coordinator, Jessie Wilson, commented on the success of the winners: "The 2023 Automotive Awards is home to a diverse mixture of solutions for vehicle ownership, management, and maintenance, ultimately ensuring we can each benefit from the power of our vehicles. I wish our winners all the best for the years ahead of them."
To learn more about these prestigious awards and the esteemed recipients, please visit https://www.thebusinessconcept.com/awards/automotive-awards/.
About Endurance Warranty Services
For the most comprehensive auto protection plans in the industry, drivers turn to Endurance. Endorsed by real customers, recommended by ASE Certified mechanics, and highly rated on consumer advocate websites, Endurance plans shield drivers from the high costs of parts and labor when an unexpected breakdown occurs. Since 2012, the company has paid over $355 million in claims, helping customers save thousands on vehicle repairs and Empowering Confidence for the Road Ahead™.
Endurance Warranty Services operates corporate headquarters in Northbrook, Ill. To learn more about Endurance, visit http://www.endurancewarranty.com.
About The Business Concept
Published quarterly, The Business Concept (https://www.thebusinessconcept.com/) strives to bring you the most up to date insights and features of businesses that have favored the digital space and have thrived in the cut-throat industry. The Business Concept covers all aspects of the business world and breaks down each part to analyze what businesses of all different sizes, from each part of the world need to encompass to reach new heights of success.
About AI Global Media
Since 2010 AI Global Media (https://www.aiglobalmedialtd.com/) has been committed to creating engaging B2B content that informs our readers and allows them to market their business to a global audience. We create content for and about firms across a range of industries.
Today, they have 14 unique brands, each of which serves a specific industry or region. Each brand covers the latest news in its sector and publishes a digital magazine and newsletter which is read by a global audience. Our flagship brand, Acquisition International, distributes a monthly digital magazine to a global circulation of 108,000, who are treated to a range of features and news pieces on the latest developments in the global corporate market.
More like this
Press

Endurance Warranty Services received the Business Intelligence Group's BIG Award for Business and was named Small Business of the Year. The organization's annual program was advertised as the "________ of..

Read More

Press

Endurance Vehicle Services, the leading vehicle protection provider serving both direct-to-consumer and auto dealerships nationwide, is pleased to announce the appointment of Justin C. Thomas as its new Chief Executive..

Read More

Press

Endurance Warranty Services celebrates its eighth year on the Inc. 5000, an annual list of the fastest-growing private companies in America. The prestigious ranking provides a data-driven look at the most..

Read More