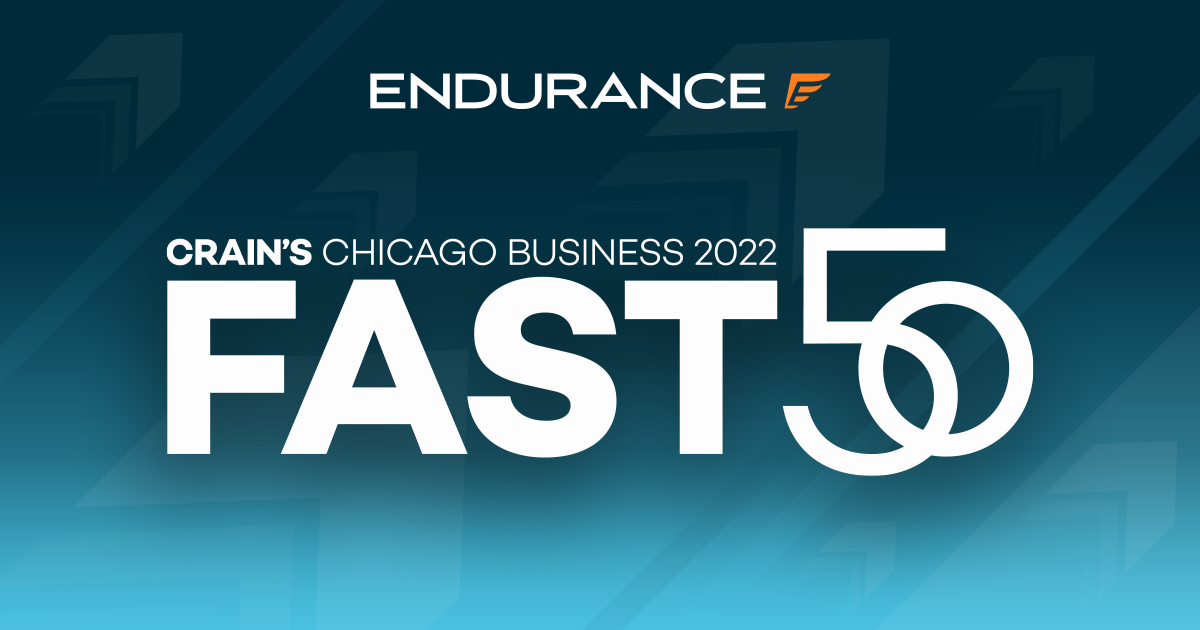 Despite economic uncertainty across the country, Chicagoland companies are thriving. Endurance Warranty Services, the #1 provider of direct-to-consumer auto protection plans, once again ranked on this year's Crain's "Fast 50" list for the top fastest-growing companies in Chicago.
Nearly 150 companies applied for Crain's annual Fast 50 award – the most applications submitted in at least ten years. Endurance ranked 30 on the list and has placed numerous times on Crain's list as one of Chicago's most rapidly growing companies since 2016.
Working with accounting firm Plante Moran, Crain's utilized a set of parameters to rank the area's fastest-growing companies:
Companies headquartered in the Chicago area, founded on or before Dec. 31, 2015
Excluded franchisees, regulated banks, utilities, real estate developers, real estate investment trusts, and some holding companies
Small companies (those reporting less than $15 million in 2021 revenue) were also not considered
Disqualified companies that had more than one drop in revenue from 2016 to 2021.
Plante Moran examined financial documents provided by the applicants for the years 2016 and 2021 and thus ranked the Crain's Fast 50 list for 2022.
"Following the pandemic, drivers are continuing to hold on to their cars longer due to less daily driving, lack of new car inventory, and financial reprioritization. An Endurance plan offers protection against breakdowns and shields drivers from the cost and stress that comes with them," shared Endurance Chief Executive Officer (CEO) Rich Holland. "The demand for reliable breakdown coverage, coupled with our expanding auto protection options, new partner initiatives, and positive consumer sentiment, have helped us grow exponentially over the last year," Holland added.
In January 2021, Endurance launched a revolutionary vehicle protection plan, Advantage, which includes breakdown protection and routine maintenance coverage. It also rolled out luxury car coverage, in February 2022, for brands like Audi, BMW, Mercedes-Benz, and Land Rover, with the Supreme for Highline vehicles add-on. Additionally, the company added 820 new dealers to the Endurance Dealer Services network and 30 new agency partners. Customer sentiment has also never been higher for the Endurance brand, receiving a 66.1 NPS score in April 2022 (a record high at the time).
About Endurance Warranty Services, LLC
For the most comprehensive auto protection plans in the industry, drivers turn to Endurance. Endorsed by real customers, recommended by auto experts, and highly rated on consumer advocate websites, Endurance plans shield drivers from the high costs of parts and labor when an unexpected breakdown occurs. Since 2012, the company has paid over $248 million in claims, helping customers save thousands on vehicle repairs and Empowering Confidence for the Road Ahead™.
Endurance Warranty Services, LLC, operates corporate headquarters in Northbrook, Ill., with additional offices in downtown Chicago and St. Louis, Mo. To learn more about Endurance vehicle protection plans and car maintenance packages, visit http://www.endurancewarranty.com.
More like this
Press

Endurance Warranty Services received the Business Intelligence Group's BIG Award for Business and was named Small Business of the Year. The organization's annual program was advertised as the "________ of..

Read More

Press

For the second consecutive year, the Automotive Awards have returned to spotlight a selection of award-winning businesses in this dynamic industry. Endurance Warranty Services, a leading provider of vehicle service..

Read More

Press

Endurance Vehicle Services, the leading vehicle protection provider serving both direct-to-consumer and auto dealerships nationwide, is pleased to announce the appointment of Justin C. Thomas as its new Chief Executive..

Read More