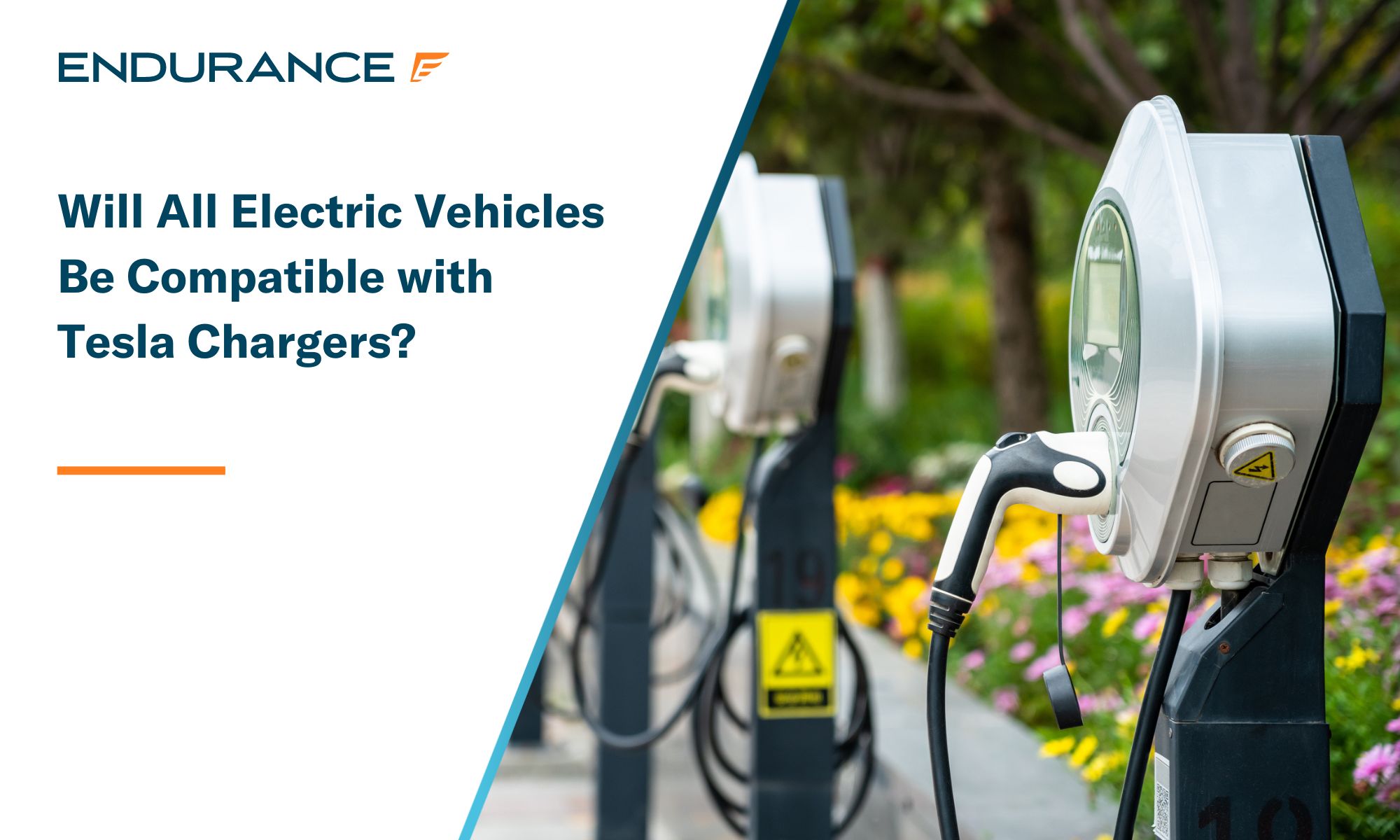 As we work towards a more environmentally conscious future, the electric vehicle market is booming. Many early adopters are already enjoying the benefits of battery-powered cars, but as more manufacturers launch their own variation of an EV, there's one word on everyone's lips: compatibility.
There's no doubt in anyone's mind that Tesla is the biggest name in the electric vehicle game, and as their Supercharger and Destination Charger networks grow, non-Tesla owners are rightly concerned that they may not be able to reap the benefits of the system.
So how do Tesla's charging terminals work? What's their stance on compatibility between brands? And what does the future look like for non-Tesla owners? Read on for the answers to all these questions and more.
A Closer Look at Tesla's Charging Systems
At present, Tesla has two main charging systems: Supercharger and Destination Charging.
With more than 45,000 chargers across the world, the Tesla Supercharger network is the largest global fast-charging network. Acting like a gas station for your EV, charging points are positioned along major routes near convenient amenities, ready to keep you topped up on juice whenever you're away from home. Superchargers can add an impressive 200 miles of range in just 15 minutes of charging time at a max charging rate of 250kw.
Destination Charging points are found at hotels, restaurants, and parking garages. With so many charging points (over 40,000) in both urban and rural areas, chances are that whenever you're out on a road trip, there'll be one at the end of your journey. Intended for longer charging sessions, you can plug in and leave your vehicle to refuel while you go out and enjoy your day or sleep overnight.
At present, both of these charging systems only accept a Tesla plug, but the company does have plans to open up some of the network to non-Tesla electric vehicles in the coming years. More on that later.
The Different EV Rapid Charging Standards
There are currently four different types of EV rapid charging standards in operation worldwide, with each battling it out for dominance in the industry. To make things even more complex, these are largely incompatible with one another.
CHAdeMO (Japanese)
CHAdeMO is the charging standard favored by Japanese automakers such as Nissan, Mitsubishi, and Toyota. It was the first rapid charging solution to see widespread application, and it can be found in popular EVs like the Nissan Leaf. The unusual name is short for "Charge de Move' (meaning 'move with charge').
CCS (European)
German manufacturers like Audi, BMW, and VW (as well as Ford) have adopted an alternative charging standard known as the Combo Charging System, aka CCS. This is a completely different system from CHAdeMo, with connectors designed so vehicles only need one socket for AC (slow and fast) and DC (rapid) charging. CCS cables and connectors are also much lighter and, arguably, easier to use.
GB/T (China)
To complicate the situation further, China has its own charging standard known as GB/T. Interestingly, while it's only used by Chinese manufacturers, there are more GB/T charging stations around the world than there are CHAdeMO, CCS, or Tesla. Almost two-thirds of the world's lithium batteries are manufactured in China, so it makes sense that they would have a good idea of how to charge them.
Tesla Supercharger
Finally, we have Tesla's proprietary charging standard: Supercharger. This is widely considered better than CCS or CHAdeMO as it can charge at a much more powerful 120kw. At this power, chargers can add a range of 300+ miles with just one hour of charge, compared to just 120 miles with CCS or CHAdeMO. The expansive Supercharger network is obviously a huge selling point for potential Tesla customers, but it sure doesn't help when it comes to establishing a standardized system.
What Tesla Says about Charger Compatibility
Back in 2021, Elon Musk tweeted that Tesla would be opening up the Supercharger network to other EVs later that year, but this never really materialized. With the recent announcement of the $7.5 billion earmarked for EV charging network expansion in the Bipartisan Infrastructure Law, Tesla must open up at least some of the Superchargers to qualify for a slice, and so they've promised to do this by the end of 2024. The plan is that 3,500 of the chargers opened to non-Tesla owners will be new and existing fast 250-kilowatt (kW) Superchargers along highways, while the rest will be the slower Destination Chargers found at schools, hotels, and restaurants.
Although progress has been slow, it does appear that compatibility has been on Tesla's conscience for quite some time. A couple of years ago, Reuters reported that the brand was in talks with Germany's transport minister to open the Supercharger network to electric vehicles made by German automakers. Sweden and Norway were also on the cards.
Potential Challenges in Making Tesla's Chargers Universally Compatible
Tesla's Superchargers use Tesla's proprietary charging plug—something that is ultimately incompatible with other electric vehicle brands. This is the first hurdle, but Elon and Co are already working on it. They've developed an adapter known as the 'Magic Dock,' which allows CCS (i.e., European) EVs to charge using the system. This covers the vast majority of electric vehicles found in the US, with the notable exception of the Nissan Leaf (which operates on the Japanese CHAdeMO). The Magic Dock is only available at a limited number of Supercharger stations at the moment, but it is being rolled out in the hope of securing some of that precious government funding.
Another unexpected hurdle is that Tesla's short charging cord, combined with the non-standardized placement of charger ports on EVs, can make using the Superchargers a struggle for some vehicle owners. Tesla acknowledges that this is a problem in its FAQs, saying, "Certain Supercharger site layouts may not be suitable for some cars. Please do not obstruct other cars by parking over the lines if the cable cannot comfortably reach your car." During a test by reporters at Consumer Reports, they also found that while using a Supercharger with a non-Tesla EV, the battery charged at a slower rate than they are claimed to be capable of charging on a DC fast charger.
While it's not a hurdle as such, Tesla has a good thing going with the Supercharger network and may want to preserve that for as long as possible. At present, the fact that it's exclusively available to Tesla owners is a huge selling point, directing potential EV buyers away from other brands. The more Supercharger points become open to electric vehicles from other manufacturers, the longer the queues will get.
Existing Initiatives for Charging Compatibility
Earlier this year (2023), the Biden-Harris administration announced the Bipartisan Infrastructure Law, which will invest $7.5 billion in EV charging, $10 billion in clean transportation, and over $7 billion in EV battery components, critical minerals, and materials. For companies to secure some of this funding, they must meet the Federal Highway Administration's new set of standards, which were introduced to ensure that:
Charging is a predictable and reliable experience: There will be consistent plug types, power levels, and a minimum number of chargers capable of supporting drivers' fast charging needs.
Chargers are working when drivers need them to: Equipment will have a 97% uptime reliability requirement.
Drivers can easily find a charger when they need to: By providing publicly accessible data on locations, price, availability, and accessibility through mapping applications.
Drivers do not need to use multiple apps and accounts to charge: It will be required that a single method of identification works across all chargers.
Chargers will support drivers' needs well into the future: They will need to be compatible with forward-looking capabilities like Plug and Charge.
EV Charging Compatibility FAQs
Do you still have questions about electric vehicle charging compatibility? We've answered some of your FAQs:
Will other EVs be able to use Tesla chargers?
Yes, and they already can at select Tesla charging stations. If your electric vehicle uses the CCS (European) charging system, you need to find a Tesla charging station that has a 'Magic Dock' adapter. To unlock the Magic Dock, you'll also need to download the Tesla app and sign up for an account. It's worth noting that the popular Nissan Leaf EV uses the CHAdeMO charging system and is, therefore, unable to use the Magic Dock.
Can all electric cars use the same chargers?
No. There are four different charging standards currently being implemented by manufacturers, with each having its own unique plug. Thankfully, with the exception of the Nissan Leaf, most EVs in the US use the Tesla Supercharger or CCS charging standards, and compatibility between the two is only ever improving.
Will Tesla chargers be compatible with other electric cars?
Yes. Thanks to Tesla's Magic Dock adapter, cars with the CCS charging standard can now use select Tesla Supercharger stations. Tesla plans to bring Magic Docks to 7,500 more chargers from its Supercharger and Destination Charger network by the end of 2024.
Top Tier Warranty Protection for Your Electric Vehicle
Not only are electric vehicles expensive to purchase, but they're expensive to repair too. High-tech components are as susceptible to wear and tear as anything else, so when one of them inevitably comes to the end of its lifespan, you'll be landed with an auto shop bill that might be beyond your financial means.
To protect themselves (and their wallets) from the cost of unexpected component failure, millions of Americans are taking out extended auto protection. Rated by experts as one of the top coverage providers in the country, Endurance has helped thousands of drivers save some serious money. And we're ready to help you too.
We have a wide range of vehicle protection plans to choose from, with options for daily commuters, rideshare drivers, and even select luxury vehicle owners. If our base plans aren't quite right, we'll be more than happy to customize a plan to meet your specific needs and budget, with membership starting at just $99 per month.
If that wasn't enough, we also throw in some of the best benefits in the business. 24/7 roadside assistance, towing, trip-interruption costs, and replacement travel reimbursement are included as standard with every Endurance plan. New customers also get a year's free access to our Elite Benefits package, adding on tire repair/replacement, total loss protection, key fob replacement, and more. Just pay a $29 activation fee, and you're all set.
Want to find out more about what we can do for you and your vehicle? Experience our award-winning customer service firsthand by calling our dedicated team at (800) 253-8203 to request a FREE quote. Alternatively, explore our online store for an instant price preview and shop with confidence.
If you'd like to do some more reading first, check out our extended warranty blog for more useful articles about all things automotive.
More like this
Research

In today's world of instant information and communication, it can be difficult to simply unplug, unwind and focus on your well-being. Being as busy as we all are can be..

Read More

Research

Owning a car and shopping for a new car both have their own sets of challenges. There are so many things to consider when making a car-related purchase, and making..

Read More

Research

It's that time of year again when the spirit of gift-giving is all around us, in brightly lit storefronts, commercials and even social media. Whether you're gifting someone or yourself,..

Read More