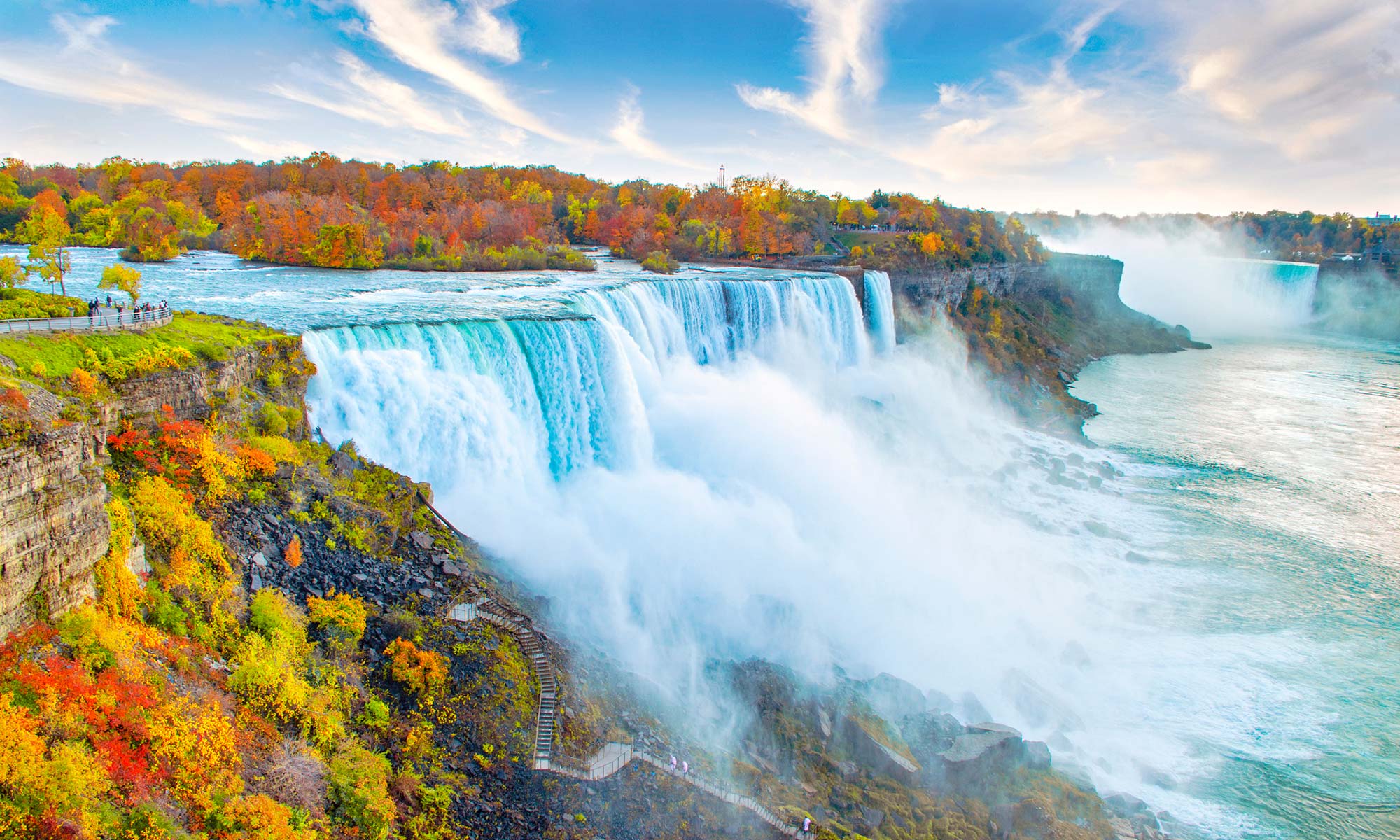 As the frigid temperatures and snowy weather of winter finally make way to sunshine and warmer weather of spring, you're most likely gearing up to get out and hit the open road. And if you happen to be in NYC or looking to visit the Big Apple soon, hop in your car and head north to enjoy the sights and sounds on this one-of-a-kind road trip to the beautiful Niagara Falls.
Scranton, PA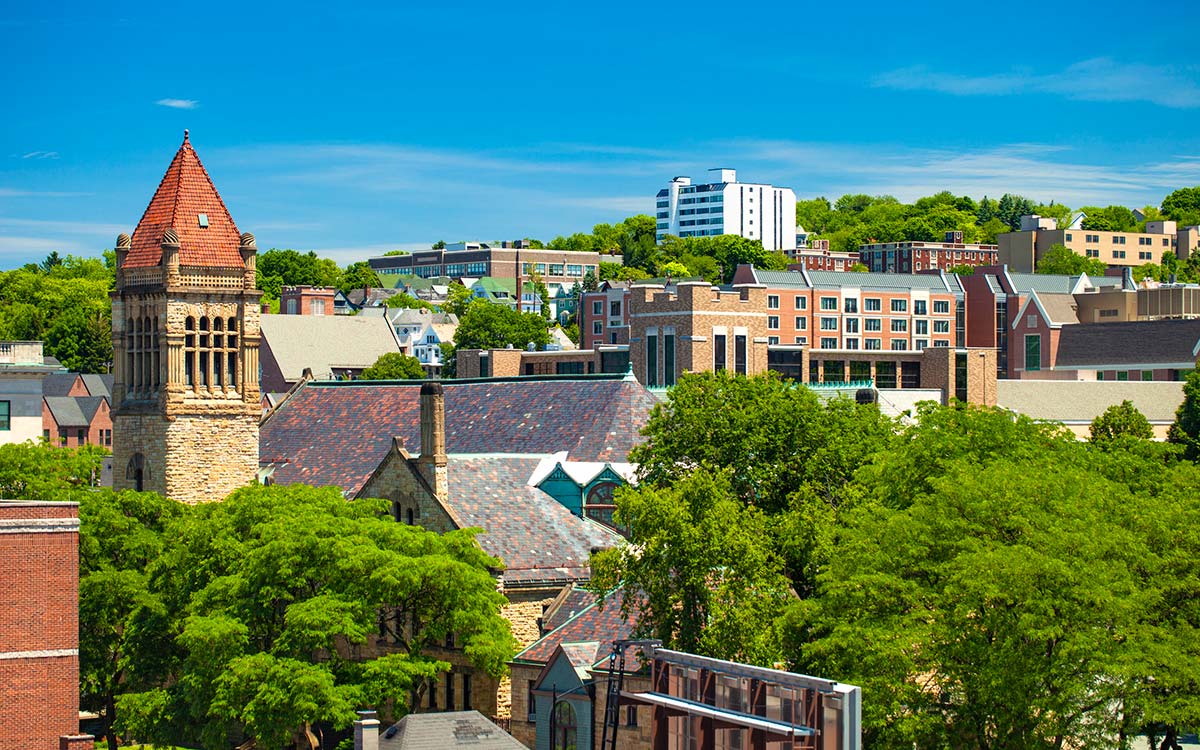 Once you've taken a stroll around the Big Apple, the first stop on this trip is about 123 miles northwest—Scranton, Pennsylvania. Yes, THAT Scranton, PA, home to Michael Scott, Jim Halpert, Pam Beasley, Dwight Schrute and the rest of the Dunder Mifflin gang from the hit TV show "The Office." But it also has other attractions that everyone will love. One of them is the Steamtown National Historic Site. 
Here you and the train-enthusiasts young and old on your trip can enjoy everything from becoming a Steamtown Junior Ranger, learning more about the history of steam locomotives or watching mechanics do some minor repairs at the Roundhouse. You can even go a step closer with the chance to ride a train! Check the park's alerts to make sure they're operating the day you're planning to visit. You could even check out the Electric City Trolley Station and Museum to learn more about trains if you haven't gotten your fill already!
The Pennsylvania Anthracite Heritage Museum is another stop you should add while in Scranton, where you can see how coal mining became an essential part of our culture. And finally, don't forget to check out the Lackawanna River Heritage Trail, which is full of history, great food and beautiful scenery!
Cooperstown, NY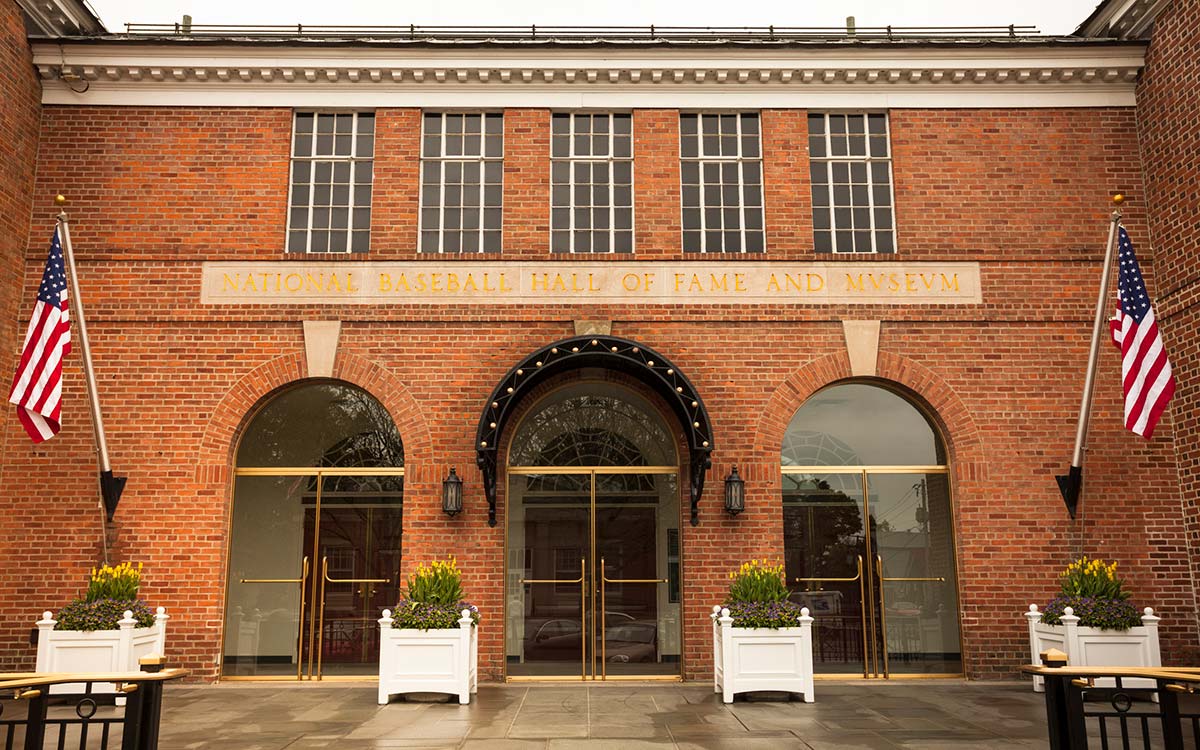 Heading north and back into New York state about 135 miles, you'll find a real "home run" of a stop, Cooperstown, New York—home to the National Baseball Hall of Fame and Museum. Here you can browse through the many exhibits highlighting the great players, managers, moments and individuals who have helped make baseball America's pastime. After all, there's a reason why it's as American as hot dogs, apple pies and Chevrolet, of course. 
If baseball isn't for you, don't worry, as there is still plenty to do in Cooperstown, such as visiting the Fenimore Art Museum. There you can enjoy the works of American Folk Art, American Fine Art and even the Thaw Collection of American Indian Art. You can also learn more about the family that helped shape the city's history in "The Coopers of Cooperstown" collection.  
Syracuse, NY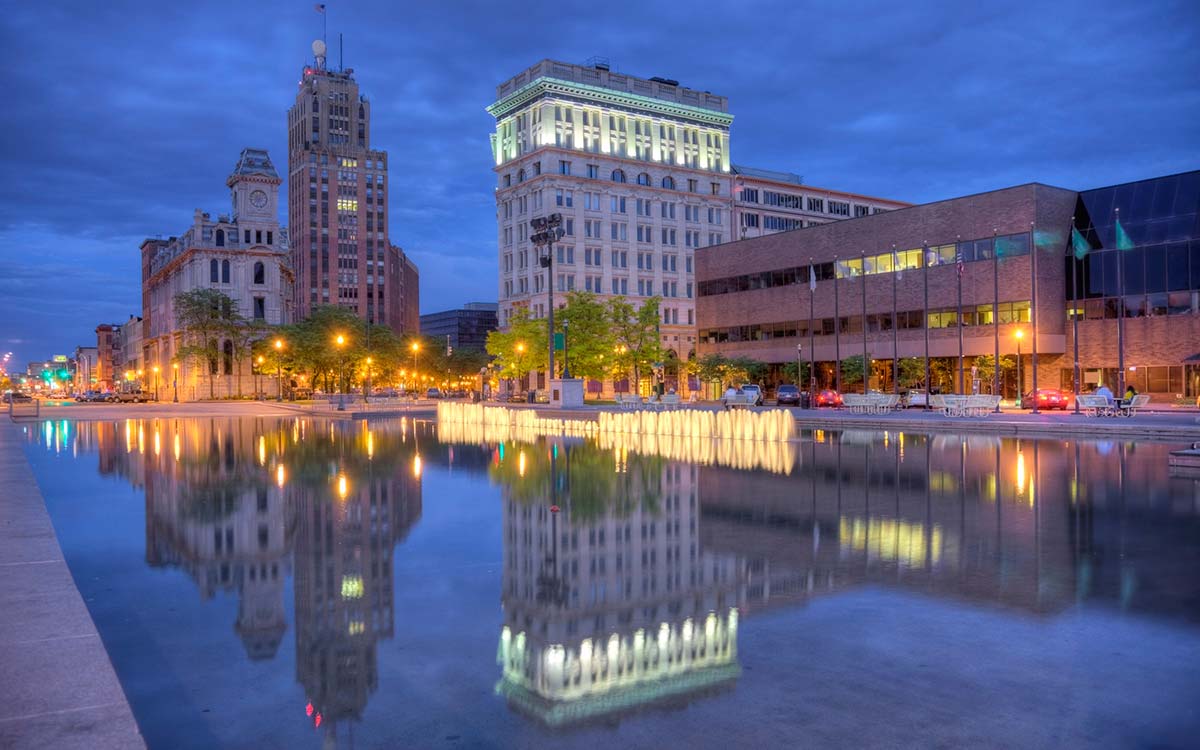 Next, about 71 miles northwest of Cooperstown, is the Green Lakes State Park in Fayetteville, NY, just outside Syracuse. Here, you can enjoy the stunning features of the park, including its two glacier-carved lakes surrounded by upland forest. The park also offers 18 holes of championship golf designed by Robert Trent Jones. 
For those looking to stay more in civilization or if you're looking to take a break from the great outdoors, Syracuse itself is just 10 miles or so from Green Lakes. Here, you'll find the Museum of Science & Technology, featuring a learning center with an IMAX theater and exhibits that explore the human body, fossils and space. And just a few more minutes away is the Rosamond Gifford Zoo, where you can visit the indoor aquarium and several outdoor enclosures featuring penguins and tigers!
Rochester, NY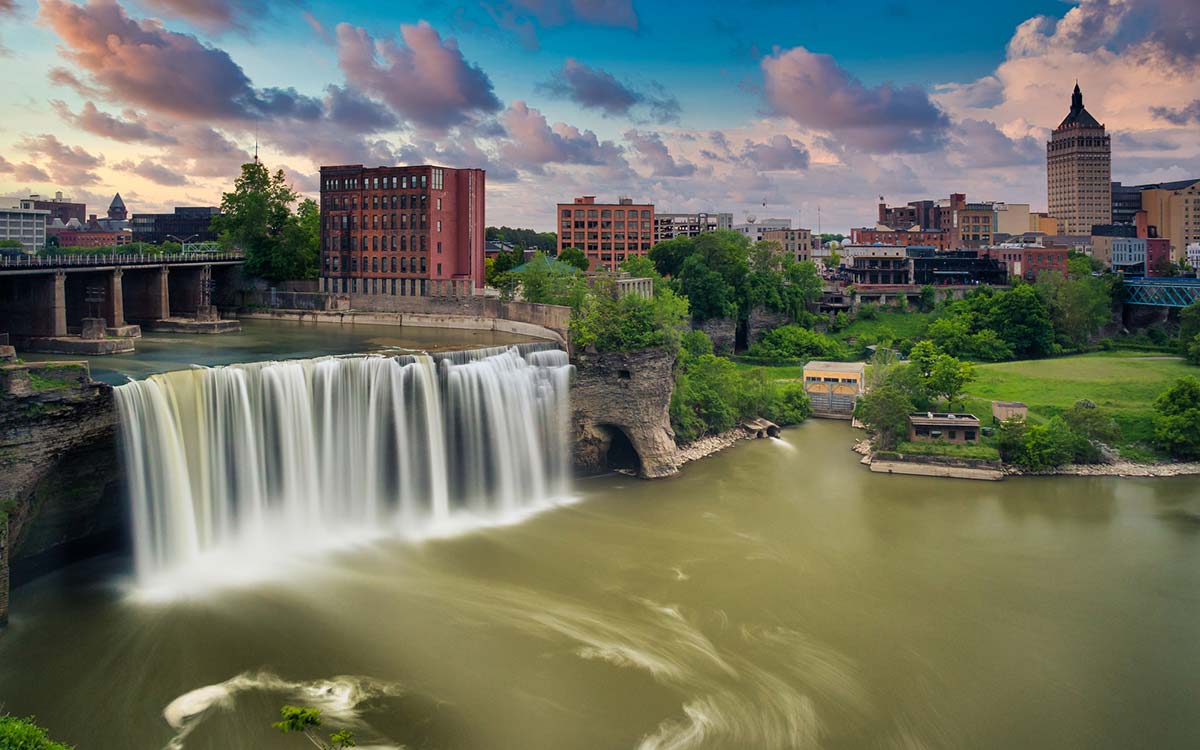 Another 87 miles or so west is the city of Rochester, New York. Located on beautiful Lake Ontario, there is something here for everyone. First, you can visit the George Eastman Museum situated on the estate of the legendary George Eastman, a pioneer in photography and film. Here, you can see at least three separate exhibitions on photography and film, catch a screening at the 500-seat Dryden Theatre, take a walk through Eastman's historic mansion and gardens, and more. After that, you can make your way to the Seneca Park Zoo to see elephants, red pandas, penguins and more. Or the Strong National Museum of Play features a massive collection of toys and dolls that are sure to be of interest to any collector or youngster on your road trip. You can also learn more about women's history by visiting the Susan B. Anthony Museum & House, located in her former home and the site of her 1872 arrest. 
If you visit during the summer, you can stop by the Seabreeze Amusement Park for a good time right on the lake or simply make your way to the High Falls district to get a look at the aptly named High Falls, one of three waterfalls that you can find across the city.
Buffalo, NY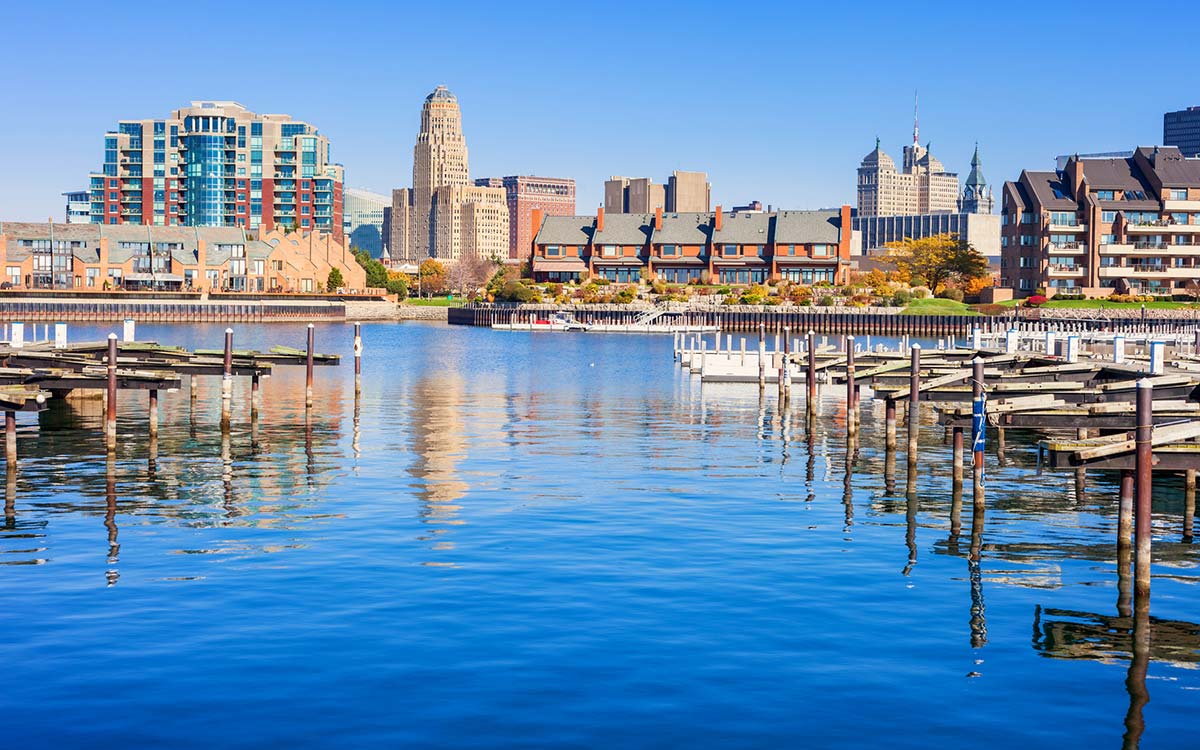 If you've built up an appetite on the first few stops of your road trip, then this next place, some 74 miles west, is the place for you. Of course, we're talking about the birthplace of the legendary buffalo wing, Buffalo, New York. So be sure to stop into almost any local restaurant like the Anchor Bar and fill up before seeing the sights. After all, Buffalo is the second-largest city in New York and is nestled right up against Lake Erie. 
Once you've finished your wings and used a towelette or two, visit the Buffalo Zoo and check out the third oldest zoo in America! It is home to various reptiles, birds and even an entire Tiger Exhibit. You can have hours of fun with the various animals housed at the zoo. 
The Buffalo Museum of Science is another place to see, where it features a 700,000 specimen collection that focuses on the area's natural history. MLK Jr. Park features a giant wading pool and plenty of history right around the corner. At the same time, the Theodore Roosevelt Inaugural National Historic Site is the location of Roosevelt's oath of office and has a museum and art to explore. 
Niagara Falls (Pictured Above)
A short 25-minute drive north will get you to our final destination on this road trip, Niagara Falls. Here you can explore and enjoy some 400 acres of gorgeous views, including 15 miles of hiking trails! You can also get up close and personal with a ride on the Maid of the Mist. Or, if you're looking to stay dry, you can enjoy a meal overlooking the views at the Top of the Falls Restaurant. For the history buffs in your group, visit the Schoellkopf power plant ruins site, where the station came to a permanent halt in 1956 after cracks caused over two-thirds (2/3) of the plant to collapse. If that wasn't enough, you can also visit the Observation Tower at Prospect Point or visit the Aquarium of Niagra. Really, no matter what you choose, you will have a great time at this amazing wonder of nature.
Get Your Car Ready for the Open Road with Endurance
If you're taking a road trip soon, chances are you want to make sure your vehicle will be up for the journey too. So whether you're heading up to Niagara Falls, down to Disneyworld or out for a blast in Las Vegas, an Advantage auto protection plan from Endurance can help ensure your vehicle is road-trip-ready any time of the year.
Along with providing comprehensive breakdown protection, each Endurance package includes up to $3,500 in regular maintenance coverage, including road trip essential services, such as up to three oil and filter changes, alignment checks, tire rotations and tire pressure checks. You'll even be able to save on engine diagnostic exams and your vehicle's next state safety inspection, helping you get your vehicle ready for the roads ahead. Not only that, but each Advantage plan also comes with various one-time services for even more coverage and savings, such as a front or rear wiper blade set replacement, a battery replacement, a brake pad/shoe replacement and more.
Additionally, Endurance customers who purchase any Endurance plan can also enjoy complimentary 24/7 roadside assistance, trip interruption coverage and even rental car reimbursements to help in case of a breakdown any time while on the road. And for just a small $29 activation fee, you can also enjoy a full year of Endurance Elite Benefits, including extra perks and savings such as up to two tire replacements or repairs, key fob replacements, collision discounts and more.  
To learn more about any of our vehicle protection plans, request a free quote or contact us at (800) 253-8203 to talk with a member of our award-winning team to find the Endurance plan that is right for you and your vehicle. You can also find even more road trip suggestions, expert auto advice, DIY maintenance tips, vehicle buying guides and more by visiting the Endurance blog.  
More like this
Travel

With the cooler months creeping in, it's the perfect time to begin planning a fall road trip to enjoy the best of what the season brings. However, weather conditions during..

Read More

Travel

In the warmer weather of summer, many people plan off-road excursions and road trips with the entire family. The only thing that can ruin these outdoor adventures is an unexpected..

Read More

Travel

Thanksgiving is fast approaching, and if you're like many across the country, you're probably gearing up to head home (or somewhere) to spend quality time with loved ones and enjoy..

Read More