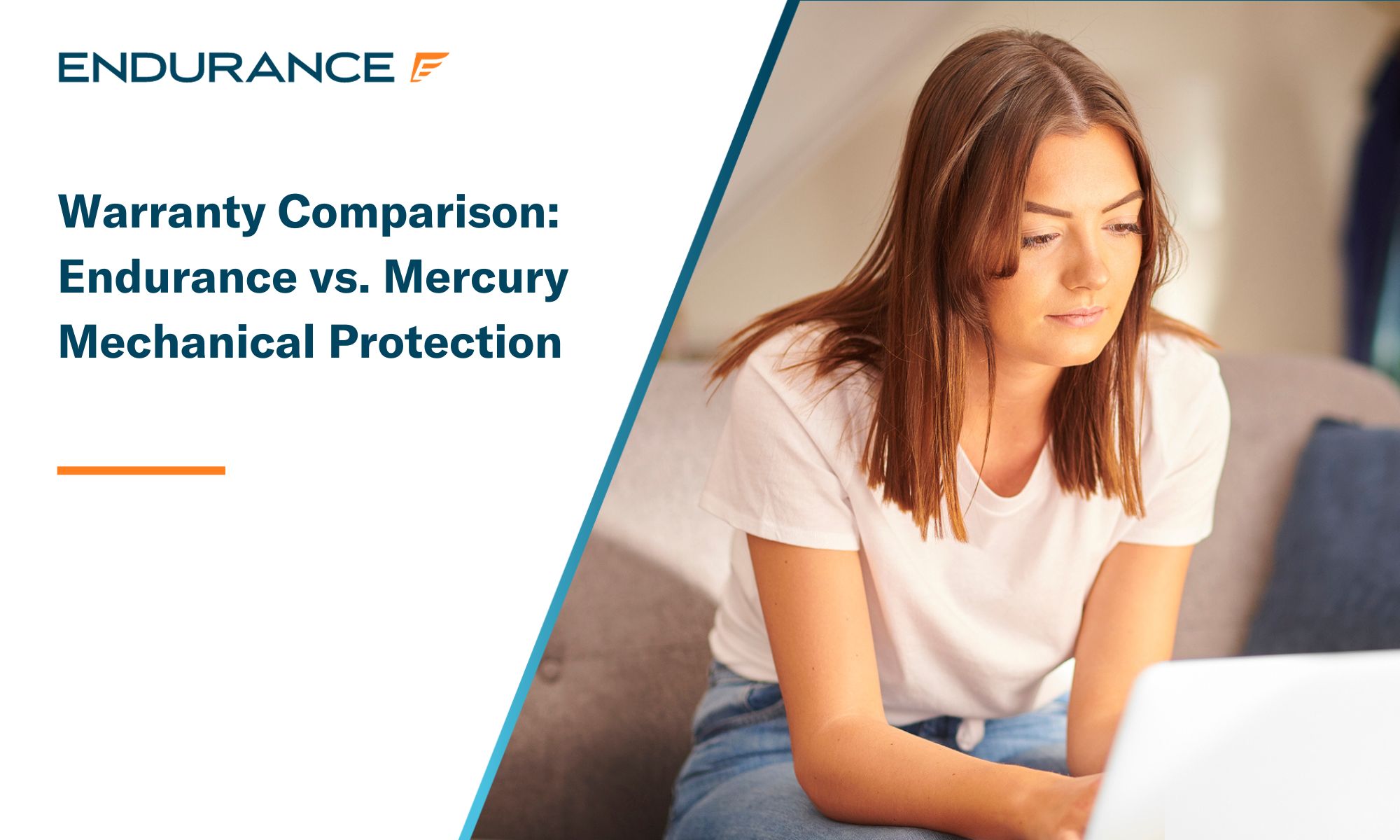 Owning a car is incredibly liberating, but unfortunately, that freedom comes at a significant cost. Not only is it expensive to purchase a vehicle, but the cost of annual repairs and maintenance is only ever getting higher. As a result, drivers across America are understandably looking for ways to protect their bank accounts.
An extended warranty, also known as an auto protection plan or vehicle service contract, is by far the best way to defend your finances from the cost of unexpected repair bills. However, there are so many options available that settling on one is easier said than done. To help you make an informed decision, our ongoing comparison series puts two of the biggest providers head to head, weighing up the pros and cons so you don't have to.
Below, we compare Endurance with Mercury Mechanical Protection to see who offers the best bang for your buck.
Why Take Out an Extended Warranty?
To put it simply, getting an extended car warranty can seriously reduce the amount you spend on the cost of car ownership. But to give you the whole picture, let's start with what a warranty actually is and all the good things that come with one.
When a vehicle rolls off the assembly line, it comes with what's known as a factory warranty or car manufacturer's warranty. This is basically the automaker's promise to fix or replace any parts that fail due to fault within a certain number of years or miles (whichever comes first). How long a factory warranty lasts depends on your manufacturer and vehicle model, but once it expires, you're fully responsible for any future repair bills.
Thankfully, there are a couple of ways to keep this protection going, with the first being traditional extended warranty coverage. You can usually purchase one of these from the manufacturer themselves or via an authorized dealer. Unfortunately, however, they come with one major catch: you'll need to sign up while your factory warranty is still active. Miss that deadline by even a day, and you'll no longer be eligible.
If you miss the opportunity, or for those who own an older used car with no factory warranty to speak of, your best bet is a vehicle service contract from a third-party provider. These are actually such great value for money that even people who qualify for a traditional extended car warranty usually opt for a vehicle service contract instead. Providers are incentivized to offer almost as comprehensive coverage at an even better price point, often throwing in some additional perks to sweeten the deal. On top of that, vehicle service contracts give you the freedom to have repairs carried out at any certified repair facility rather than tying you to dealerships like extended warranties do.
It's worth pointing out that extended warranties, vehicle service contracts, and auto insurance are not the same thing. While they're both great for saving you money, a warranty is all about covering repair bills from unexpected breakdowns, while auto insurance tackles costs from collisions or other mishaps. Thankfully, the two work great in tandem, so it's a smart move to take out both and cover all your bases.
The Companies
So, now you know just how useful an extended warranty can be, which provider will you choose? Let's take a top-level look at our two contenders:
Endurance Warranty Overview
Established more than 15 years ago in Northbrook, IL, Endurance has earned a reputation as one of the most reliable auto warranty providers in the United States. Since our inception, we've assisted thousands of drivers in safeguarding themselves against unexpected breakdown expenses. Our wide range of plans offers unparalleled flexibility, eligibility, and affordability, with packages starting from as low as $99 per month. Better yet, our 30-day money-back guarantee gives you plenty of time to be certain you've chosen the right protection for your needs.
But the savings don't stop at repair costs. Every one of our plans comes with a suite of incredible benefits as standard, including 24/7 roadside assistance, compensation for travel disruptions, and replacement travel reimbursement. New Endurance customers also receive a complimentary one-year subscription to our Elite Benefits package, providing added advantages like tire repair, total loss protection, and more. Just pay a small $20 activation fee, and the perks are all yours.
What sets us apart from most other providers is that we're the direct administrator of our plans, eliminating the need to deal with intermediaries should you need to file a claim. Our award-winning customer service team is always available to help whenever you might need it, and our handy Endurance Mobile app puts all of the important information at your fingertips.
Endurance offers a range of claim deductibles, anywhere from $0 to $500, depending on your budget. Drivers can choose any ASE Certified mechanic or shop of their choice. And, if that wasn't enough, all Endurance plans are fully transferable, potentially boosting the value of your vehicle if you decide to sell it.
Mercury Mechanical Protection Overview
Mercury Insurance Company was formed in 1961 to provide U.S. customers with coverage options for auto, home, condo, renters, and business insurance, as well as auto warranty protection. They appear to have a relatively positive reputation online, but their Better Business Bureau accredited (BBB) page highlights just a 1.14/5 rating based on 87 customer reviews.
They offer four key vehicle service contract plans, ranging from Bronze, Silver, and Gold stated component plans up to a Platinum exclusionary plan. Additional perks are included, such as roadside assistance, rental vehicle assistance, and trip interruption coverage. Plans are also transferable if you choose to sell your vehicle.
When it comes to having your vehicle repaired, Mercury has selected a network of "Mercury authorized repair shops" that they recommend you use. You aren't required to, but they will guarantee any work carried out by one for as long as you own the vehicle.
The Plans
Endurance and Mercury Mechanical Protection both have their own range of plans, from fully comprehensive down to a basic powertrain plan:
Endurance Warranty Plans
Supreme
The Supreme plan is an all-inclusive option that's as close to factory warranty coverage as you're likely to find. Practically every part, system, and component in your vehicle is protected with this plan, including seals, gaskets, and even some of the more high-tech components that other providers avoid. If you come across Titanium or Diamond plans elsewhere, you can be confident that Supreme either matches or surpasses them.
Supreme For Highline Vehicles
Luxury cars might look the business, but their reliability isn't quite on par. These high-priced vehicles also have higher repair costs, but no need to fret. Supreme For Highline Vehicles is specially designed for specific luxury vehicles that are under 8 years old and with fewer than 80,000 miles on the odometer.
Superior
The Superior plan is a stated component coverage plan, protecting an extensive list of named parts. Perfect for everyday commuters or anyone who enjoys the occasional road trip, a number of electrical parts are included, with the option to add on other high-tech components at any time.
Select Premier
Getting coverage for high-mileage vehicles can be challenging, so our Select Premier plan is tailored for just that. Vehicles with up to 150,000 miles on the clock qualify, covering select lubricated engine components, transmission, and drive axle assembly components, plus your cooling system, fuel system, and certain air conditioning/electrical parts.
Secure
For those who just want to protect the key elements of their engine, the Secure plan has your back. This basic coverage looks out for essential powertrain components, with pricing starting at a budget-friendly $99 per month.
Secure Plus
Secure Plus covers all Secure plan components plus a little extra. Added covered components include brakes, air conditioning, steering, and select electrical parts.
Advantage
At Endurance, we're always ahead of the curve, and Advantage is a prime example. Not only does this top-tier plan offer exceptional coverage in the face of unexpected component failure, but it's also the only protection program on the market to include $3,500 in annual maintenance costs.
Mercury Mechanical Protection Plans
Bronze
The base plan from Mercury is essentially a powertrain plan and covers a limited number of components. These include the engine, transmission, drive axle, brakes, air con, and some electrical components.
Silver
The Silver plan covers everything from the Bronze plan plus the fuel system, suspension, and steering.
Gold
Gold is the highest level of stated component coverage offered by Mercury, adding on audio equipment and other hardware.
Platinum
The Platinum offering is an exclusionary plan covering a wide range of components. Though a list of exclusions isn't publicly available, it can be assumed that this plan is comprehensive.
Other Benefits
Vehicle service providers often include extra perks for customers to enjoy. Both Endurance and Mercury Mechanical Protection offer their own added benefits, which include:
Endurance Warranty Benefits
Around-the-clock roadside assistance: Getting stuck at the roadside due to a breakdown is a huge hassle. That's why 24/7 roadside assistance and towing come with every Endurance plan.
Trip-interruption costs: A breakdown shouldn't ruin your plans. If you're far from home and facing car trouble, we'll help cover the costs of getting back on track.
Replacement travel reimbursement: Sometimes car repairs take time, but we won't leave you stranded. We'll help with the cost of a rental car.
Endurance Elite Benefits: Elite Benefits bring an extra set of benefits, such as tire repair, total loss protection, key fob replacement, and more. New Endurance members get one year of free access (with a small activation fee).
Mercury Mechanical Protection Benefits
Roadside assistance: Like Endurance, Mercury Mechanical Protection includes roadside recovery to help you get to an auto shop after a breakdown.
Trip-interruption costs: Mercury also offers trip-interruption coverage to allow you to continue your journey even if your vehicle is out of action.
Replacement travel reimbursement: Mercury will cover the costs of a rental car if you require one while your own vehicle is being worked on.
Road hazard tire protection: Like Endurance's add-on for Elite Benefits, Mercury repairs or replaces tires damaged by road hazards such as potholes and dangerous debris.
Endurance Warranty vs. Mercury Mechanical Protection: Pros & Cons
Let's finish by comparing the pros and cons of each provider:
Endurance Warranty pros:
Years of customer service and business growth awards
Direct administrator of most plans
Unrivaled eligibility, flexibility, and affordability
Fully transferable coverage
Wide range of added benefits
Free year of Endurance Elite for new customers
Handy mobile app available
Offers specialized mechanical breakdown insurance (MBI) for California drivers
America's most trusted service contract provider
Endurance Warranty cons:
Only available within the U.S.
Mercury Mechanical Protection pros:
Over 60 years in business
Extra protection on "Mercury authorized repair shop" work
Useful added benefits
Mercury Mechanical Protection cons:
Limited information available without directly contacting an advisor
Limited range of plans to choose from
Less-than-positive BBB rating
Plans aren't as flexible as other warranty providers
No coverage options for maintenance
If You're Looking for Quality Coverage, Choose Endurance
Major motoring publications agree that Endurance is the number one choice for extended auto warranties in America. You don't just have to take their word for it either, we also have thousands of 5-star reviews from our happy customers.
Ready to choose us to protect your vehicle? Then we're ready to help. Get in touch with our award-winning customer service team for a FREE quote at (800) 253-8203. You can also shop online to preview your price now.
We've plenty of other useful resources, like more comparisons with CARCHEX and CarShield, available on our extended warranty blog. Feel free to take a look if you'd like to explore more before committing to a vehicle service contract provider.
More like this
Comparisons

Drivers generally know that staying on top of a car's service schedule and needed repairs are essential parts of vehicle ownership. Making repairs as soon as they come up will..

Read More

Comparisons

Buying a used car can have a lot of benefits and is a great way to save money while still getting a quality vehicle. When purchasing a used vehicle, though,..

Read More

Comparisons

There's no getting around the fact that car ownership can be expensive. With the cost of annual repairs and maintenance only ever on the rise, it's no surprise that vehicle..

Read More