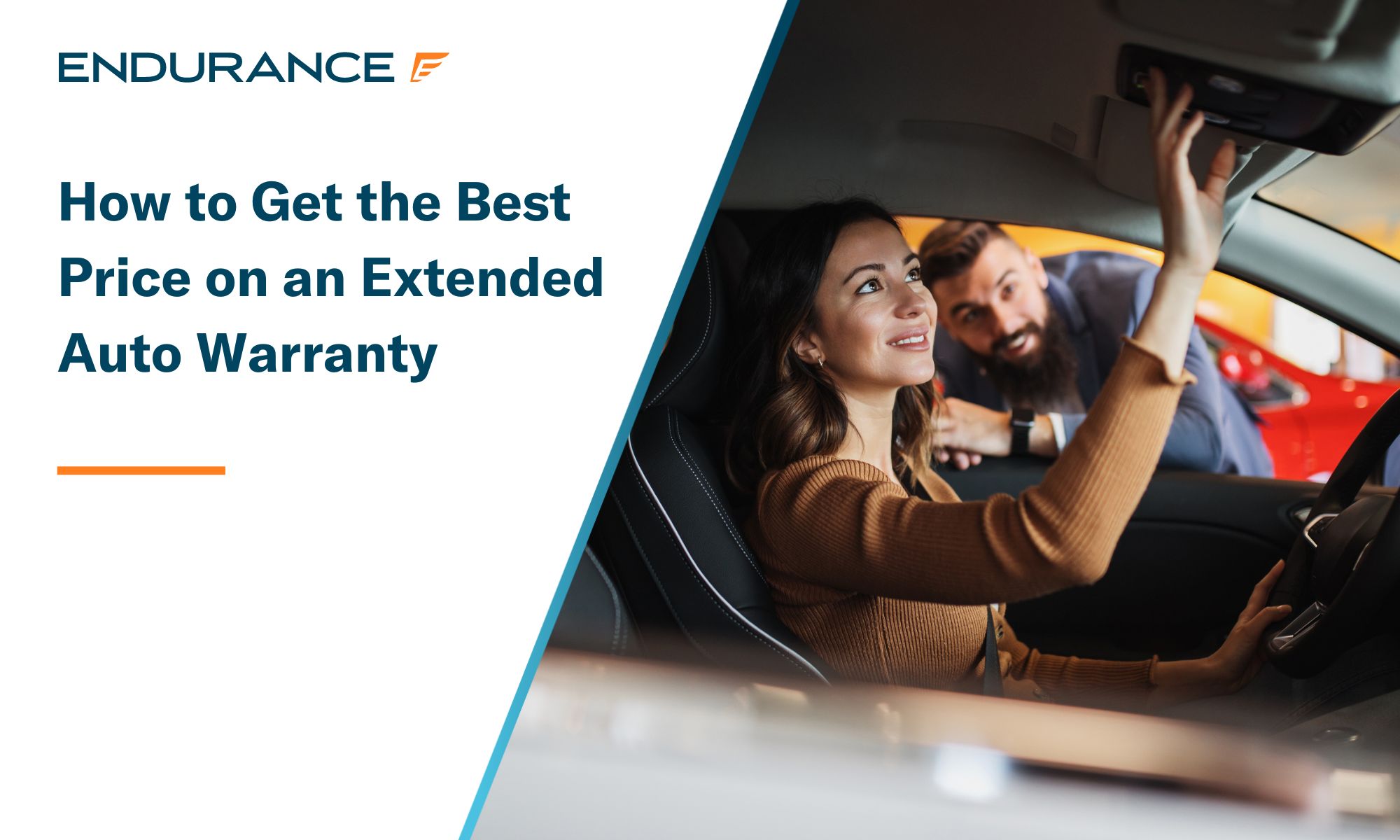 One thing nearly all car shoppers have in common is wanting a reliable vehicle. Buying a new vehicle with a bumper-to-bumper warranty is an attractive option for many drivers. But, unfortunately, buying a new car isn't always budget-friendly.
The good news is that you can get the protection you want from a vehicle warranty, even if you choose to buy a used car, by shopping around for an extended auto warranty. However, every extended warranty provider is different, with a wide range of vehicle coverage options and prices. We'll help you get the best price when buying an extended warranty.
Understand Your Vehicle's Needs
You should understand your vehicle's needs before searching for the right auto protection plan. Every budget, car, and driving style is different. Therefore, having a better idea of your vehicle's needs is vital to get the best price and avoid being taken advantage of.
Gather Vehicle Information
First, start by assessing your vehicle's make, model, age, mileage, and reliability history. These factors can affect an extended auto warranty's coverage type and cost. Different warranty companies offer different levels of coverage with varying benefits, even for older cars and high-mileage vehicles, but they also have exclusions, limitations, and restrictions. Assessing your car's condition will help you find the best extended car warranty to suit your needs.
Additionally, although extended car warranty providers offer coverage plans even after manufacturer warranties have expired, auto warranty prices can increase further out of the vehicle's factory warranty.
Determine Necessary Coverage and Duration Needs
Once you've gathered your basic information, such as the make, model, and year of your vehicle, mileage, and current condition, you'll want to explore coverage options to determine the necessary level of coverage for your car. When choosing the right coverage, consider the type and frequency of repairs it may need.
Consider the level of coverage you prefer and the monthly payment you can afford. For example, while basic powertrain coverage plans are less expensive, the covered repairs are limited to those listed in the powertrain warranty. Therefore, you'd need to pay for some vehicle repairs out of pocket. Alternatively, comprehensive coverage options are pricier but more inclusive, like the bumper-to-bumper protection of the factory warranty offered by the dealership or auto manufacturer. Some plans even include coverage for routine maintenance.
Additionally, consider how long you'd like vehicle protection coverage through an extended car warranty. Weigh how much wear and tear you put on your vehicle and how long you plan to keep it. Different plans offer coverage for various term lengths, ranging from a few months to several years. If you plan to drive your vehicle until the wheels fall off, a more extended plan may suit your needs. However, if you like to upgrade your ride every few years, a shorter warranty term or a transferable car warranty may be the best option.
Research Multiple Providers
Before you commit to one provider, shopping around and comparing quotes from multiple extended warranty companies is important. However, it is essential to consider not just the coverage each provider offers but also their reputation and customer service. While there are many well-known and reputable auto warranty companies, be wary of companies that may be more trouble than they are worth. Here are a few tips to avoid an expensive mistake:
Identify Reputable Extended Auto Warranty Providers
Look for providers with a good reputation and offer various coverage options. Use word-of-mouth testimonials from your friends, families, co-workers, and neighbors. Read online resources to research companies. Before you commit to buying a vehicle service contract, spend some time reading reviews from past customers. You can also read industry publications and review websites like Trustpilot and the Better Business Bureau to find third-party providers with good ratings.
Consider Plan Use and Overal Customer Satisfaction
Extended warranty plans are only good if you're able to use them when you need them. You should have peace of mind that your vehicle repair bill is covered in case of a mechanical breakdown, knowing that you'll be able to get help with claims and car repairs quickly and easily. Before purchasing an extended warranty, consider the provider's responsiveness, claims process, and overall customer service to ensure your repair costs are covered when you need them.
Request Multiple Quotes
Once you've narrowed down potential car warranty providers, it's time to compare auto extended warranty costs. Get the best extended auto warranty price for the coverage you need by gathering and comparing quotes from your selected providers.
Provide Accurate Information
Providing accurate information about your vehicle and desired coverage is vital to ensure you get the right policy. Misrepresenting your needs accidentally or intentionally can leave you stranded with an ineffective policy and an unexpectedly expensive bill at the repair shop. In addition, being honest about mileage and vehicle condition will ensure your vehicle is covered and avoid claim denials.
Read the Fine Print
Although referred to as an extended car warranty, unless purchased from an automaker directly, all auto warranties initiated after the factory warranty expires are technically vehicle service contracts or VSCs. As with any contract, it is a legal agreement between two parties. In this case, the auto protection plan provider agrees to financially cover part or all of the approved repairs in return for a monthly payment.
Every provider and policy is unique, so it is essential to thoroughly read the fine print with every car warranty quote before you decide. Be wary of outrageous, too-good-to-be-true offers, which can leave you making monthly payments without real protection. Instead, look at what the warranty covers and doesn't and the plan's cost. Understanding the terms and conditions can help you make an informed decision to ensure you get the most value for your money.
Consider Deductibles, Fees, and Payment Options
When comparing quotes, it is vital to consider the overall cost. The monthly payment, as well as any deductibles and fees, all play a factor when considering budget-friendly car warranties.
Deductibles, Fees, and the Overall Cost
The deductible (sometimes called a service fee) is the amount you'll have to pay out of pocket for car repairs before the warranty kicks in and takes over. For example, if the car repair bill is $1,500 and your auto protection plan requires a $100 deductible, you would pay $100 while the provider would pay the remaining $1,400.
When budget is a concern, wanting the lowest possible deductible makes sense. That way, you have minimal expenses when an unexpected mechanical breakdown occurs. However, the lower the deductible, the higher the cost of the extended auto warranty. Conversely, the higher the deductible, the lower the overall price of the car warranty, which means lower monthly payments.
It's also important to factor in any additional fees associated with the plan. These costs can add up quickly and offset any savings you expect. Other expenses to consider when finding the best price on an extended auto warranty include the following:
Cancellation fees
Transfer fees
Processing fees
Late charges
Explore Payment Plans
Car warranty quotes often include the total price of the coverage, which may last several years. Many extended car warranty companies have flexible payment plans. You can pay the total amount of the extended warranty in full upfront, monthly, or even annually. Generally speaking, making the full payment upfront is more cost-effective than paying it in installments. However, that isn't always in the budget.
Not only do providers have flexible payment plans, but the payment terms may also not match up to the coverage terms. For example, while your vehicle may be protected for five years, the payment plan may end in three, which means you'll have coverage for two additional years without making any other payments.
Balance Costs and Savings
Ultimately, you'll need to consider the upfront costs of the auto protection plan compared with your long-term savings. For example, if you opt for an installment plan, you should review the contract details and ensure the coverage will extend beyond the pay-off date or how long you plan to own the vehicle. Ultimately, making the right decision for your budget and lifestyle should be the priority.
Negotiate the Terms
Find a plan that fits your budget and provides the coverage you need. Don't hesitate to ask questions and negotiate terms with providers for the best deal. If you've gotten multiple quotes, you can leverage any competitive quotes to negotiate better deals with a more reputable warranty provider.
Research Customizable Coverage Options
One way to save money while getting the coverage you need for your vehicle is to explore customizable vehicle protection plans. These plans allow you to select the coverage you need, so you don't have to pay for unnecessary or unwanted coverage. This will enable you to tailor your coverage to your specific needs while still getting the protection you need at a cost that fits your budget. Furthermore, many of these plans offer discounts and other incentives that can help you save even more money.
Weigh Additional Benefits and Incentives
Many third-party providers offer additional benefits that are not available with a manufacturer's extended car warranty. These extra incentives can provide a significant boost to your overall savings. For example, every Endurance Warranty plan has a suite of additional perks, including 24/7 roadside assistance and towing, rental car reimbursement, trip interruption coverage, and more.
Every Endurance customer can save even more when they activate a year's worth of FREE Endurance Elite Benefits. For a low, $29 activation fee, Endurance Elite offers free tire repairs or replacements, key fob replacements, and more.
Check for Discounts and Special Offers
You should inquire about potential discounts if you're searching for cost-effective extended car warranty options. But first, it's worth checking out the current deals and offers available in the market. You can consult the customer service representative for loyalty discounts or bundled policies. Moreover, some companies extend affiliation-based discounts to military personnel and first responders.
Get a Customized Auto Protection Plan Quote
The exceptional customer service team at Endurance is ready to assist you and answer any questions. Call us at (800) 253-8203 to request a FREE quote. You can also quickly check your price online today!
More like this
Cost and Price

If one thing's true about car ownership, it's that it doesn't come cheap. No matter what vehicle you own, whether a used or new car, maintenance fees and unexpected repairs..

Read More

Cost and Price

An extended car warranty provides new and used car buyers with a financial safety net against expensive car repairs due to mechanical breakdowns after a factory warranty expires. However, every..

Read More

Cost and Price

Today, many car owners are having difficulty paying for unexpected and expensive car repairs. Recent reports indicate that less than half of Americans can pay for more than $1,000 in..

Read More