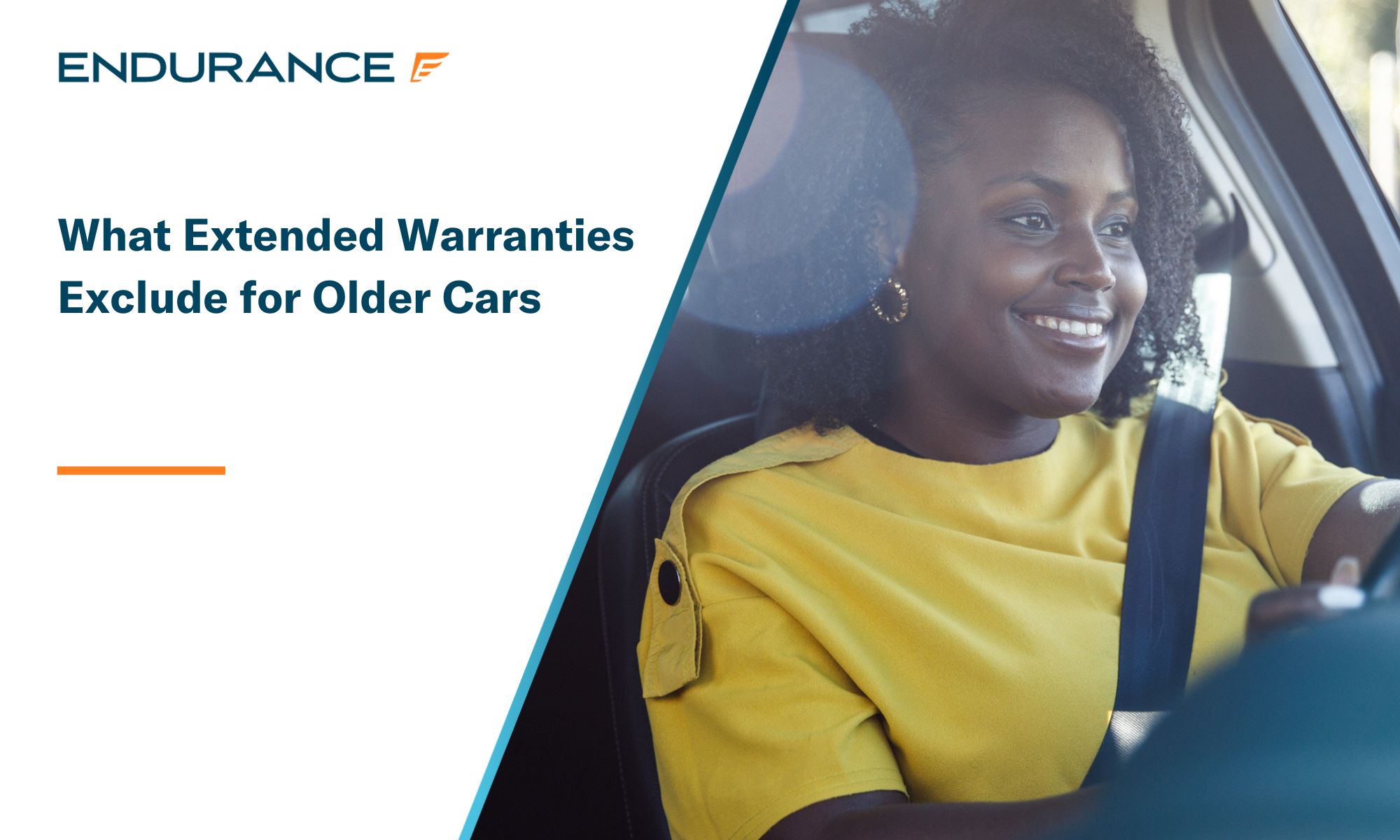 Your vehicle is one of your most important investments as it provides reliable transportation to and from your job, family, and essential stores. As our car ages, the reliability of your vehicle can start to fade as parts get older and start to wear out. Since most older vehicles no longer have a manufacturer's warranty, an extended warranty is highly recommended to protect your vehicle from unexpected repairs.
While many people often choose to get an extended warranty on a newer, pre-owned vehicle, there are many coverage options for older vehicles with higher mileage. You will need to look for specific exclusions when shopping for an extended warranty on older vehicles. Today, we will examine some of the most common exclusions on older vehicle extended warranties.
The Basic Nature of Extended Warranties
An extended car warranty, or a vehicle service contract, is an additional warranty that provides coverage for your vehicle after your factory warranty has expired. When purchasing a newer, used car, you are going to have coverage if a part breaks on your vehicle due to poor quality or defects. This factory warranty from the dealership typically covers 3-5 years from the purchase date of the new vehicle, giving you years of protection from expensive repairs. Some of the most popular vehicle manufacturer warranties are the bumper-to-bumper warranty and the powertrain warranty, which cover most of the most expensive repair costs on new vehicles.
Once this factory vehicle warranty expires, you will be responsible for any repair bills once covered by the factory warranty. You can expect to pay several thousands of dollars out of pocket without coverage for large car repairs such as a transmission replacement.
With an extended warranty, you can get factory warranty-like vehicle protection for years after your original expired warranty. If you have a repair that needs to be done that is covered by your extended warranty, you will only be responsible for paying the deductible and not the entire repair. Like any warranty, an extended warranty will come with inclusions and exclusions that you must be aware of.
Age and Mileage Restrictions
When purchasing a used vehicle, an extended warranty should always be considered if the car you have chosen does not have a factory warranty or does not have the specific coverages you need. There are certain restrictions that you should be aware of when it comes to choosing an extended warranty, such as the age of the vehicle and the number of miles that are on it. Let's examine how each of these restrictions will affect an extended warranty.
Age of Vehicle
The age of a vehicle plays a vital role in whether or not you can get coverage from an extended warranty. Since vehicles are more susceptible to needing repairs as they age, most extended warranty companies will cap how old a vehicle can be to get an extended warranty. This will vary from provider to provider, but with Endurance as an example, you can get coverage on vehicles up to 20 years old.
Vehicle Mileage
Much like the age of a car, the mileage can affect what type of coverage you can get with an extended warranty. While they may seem to go hand in hand, some vehicles get driven more than others, so they might be over the mileage restriction even if they are within the age qualification. Many extended warranties will cover high-mileage vehicles up to 150,000-200,000 miles, depending on the carrier. Much like the age of the vehicle, the amount of miles a vehicle has will greatly affect how long parts will last. As a vehicle gets more miles, parts will inevitably break down quickly.
Pre-Existing Conditions
An extended warranty is designed to cover future issues that you may have with your vehicle. An extended warranty will not cover any pre-existing conditions with your vehicle. When purchasing an extended warranty, you must understand that the benefits will not cover conditions that have shown to exist before the effective date of the contract.
When you file a claim with your extended warranty company, an inspector will be sent out to the repair shop to ensure that the repair will be covered and if the part failed recently or has happened over time. Some extended warranty companies might inspect your vehicle to determine any pre-existing conditions before offering you coverage.
This is why it is essential to have the vehicle you plan on purchasing thoroughly inspected by a reputable repair facility. This will allow you to find out if there are any issues with the vehicle that could be denied in a warranty claim later down the road and have peace of mind that you are getting a good vehicle.
Regular Wear and Tear
When shopping for an extended warranty, knowing exactly what is covered is important so you are not surprised by an unapproved claim. Most extended warranties will clearly define inclusions and exclusions in your service contract, so you must review them to ensure you get the appropriate vehicle coverage.
One of the most common questions regarding extended warranties is whether or not they cover normal wear and tear items and what items are considered wear and tear. Vehicle wear and tear is usually defined as damage or deterioration from normal use and exposure. This can include vehicle repairs such as rips in seat upholstery, sun-faded paint, carpet wear, and paint scratches. Since these items are not the manufacturer's fault, they are usually not covered under standard extended warranties.
However, there are unique coverages offered by warranty providers such as Endurance that cover repairs normally considered wear and tear. These might have to be purchased separately or as part of a higher-tier plan, so be sure to check over the service contract to ensure you are getting the exact warranty coverage you need for your vehicle.
Maintenance-Related Exclusions
Another exclusion you should be aware of when shopping for extended warranties is maintenance-related exclusions. Maintenance-related exclusions will refer to the items that are part of your regular maintenance schedule. This can include wiper blades, tires, brake pads, oil changes, and other items that are supposed to be changed as they wear out.
A list of exclusions, including maintenance items, should be listed in your service contract to define what is clearly and isn't covered. Some companies, such as Endurance, will offer specific coverages, including yearly allowances for certain maintenance jobs to maintain your vehicle properly.
Many extended warranty companies deny claims if your vehicle has not been properly maintained. If you have a claim that resulted from poor maintenance, your claim may be denied due to the negligence of the vehicle owner. This is why keeping your vehicle properly maintained and following a strict routine maintenance schedule as outlined in your vehicle manual is important.
Modified or Non-Standard Components
Much like a factory warranty, an extended auto warranty will restrict any aftermarket modifications or non-standard components you add to your vehicle. When purchasing an extended warranty, the company provides coverage on your vehicle as it was designed from the factory. Additional modifications, whether installed by a professional or not, can hurt other components on your vehicle.
As a car owner, many people like to add non-standard components such as different wheels, lift kits, performance modifications, and exterior upgrades. While these might give your vehicle a better look and help improve performance, they can cause a warranty claim to be denied if it can be proven that the addition of the part caused the malfunction you need a repair on.
Depending on the company, there might be certain exceptions to this, so you must review your service contract and ask your agent about any modification your vehicle may have or parts you plan on installing to ensure you will not be hit with any surprises when you need to file a claim.
Environmental Damage
Another exclusion you should be aware of regarding extended warranties is environmental damage and Acts of God. Acts of God will include lightning strikes, hail damage, or other damage caused by natural storms. Damages obtained by these scenarios will not be covered by your extended warranty but could be covered by your vehicle insurance company. You will need to check with your insurance company or look over your insurance policy for inclusion on repairs due to Acts of God.
Regarding environmental damage, some extended warranties will not cover damages such as rust or corrosion that can be attributed to environmental issues. This can include rust and corrosion from poor maintenance, roadways being salted during the winter, or neglect in regions susceptible to saltwater exposure.
Damage from this type of exposure can be prevented with proper vehicle maintenance, but it is always a good idea to check with your provider or review your service contract for coverage restrictions on environmental damages. If your rust or corrosion can be traced back to a defect in the vehicle's manufacturing process, you could be covered by your extended warranty.
Consequential Damages
The last thing you will want to check for in your extended warranty service contract is a clause about consequential damages. Consequential damage exclusions usually state that only the failed part will be covered under your warranty and not any damage its failure has caused to other components. For example, if your transmission fails and causes your u-joint to go out, only your transmission will be covered and not your u-joint.
However, some extended warranty providers will provide coverage for consequential damages, which you will want to review in your service contract. Put simply, car warranty companies are only responsible for the components that they are providing coverage.
Making the Right Decision for Your Older Car
Now that we have looked at some of the most common exclusions for older vehicles, you should have a better idea of what to expect when choosing extended warranty coverage for your older or high-mileage car.
At Endurance, we offer extended warranty coverage for vehicles up to 20 years old and over 200,000 miles – with monthly payments starting as low as $99. This allows you to get protection for components with a high repair cost, saving you money over the years of ownership.
You will also get great benefits such as roadside assistance, towing, trip interruption, and rental car reimbursement. For a small activation fee, you can get one year of Elite Benefits, which includes perks like key fob replacement, tire replacement/repair, up to $500 in collision discounts, and up to $1,000 in total loss replacement.
Experience Endurance's award-winning customer service by giving our dedicated team a call at (800) 253-8203 or request a FREE quote. You can also shop with confidence using our online store to get an instant price review.
Learn more about all things automotive by visiting our blog. Read articles on provider comparisons of CarShield and CARCHEX, what a warranty covers, mechanical breakdown insurance, auto FAQs, and more.
More like this
Expert Auto Tips

With most states around the country getting colder, it's worth reminding yourself how to prepare your vehicle for the different seasons. Weather conditions play a major role in how a..

Read More

Extended Warranty

The advantages of having an extended warranty can't be overstated when a surprise car repair pops up. Coverage can make a difference during a breakdown, thanks to protection against expensive..

Read More

Expert Auto Tips

Being a car owner can be an incredibly rewarding experience, especially if you take pride in your vehicle's condition and performance. Cars that are well taken care of will generally..

Read More