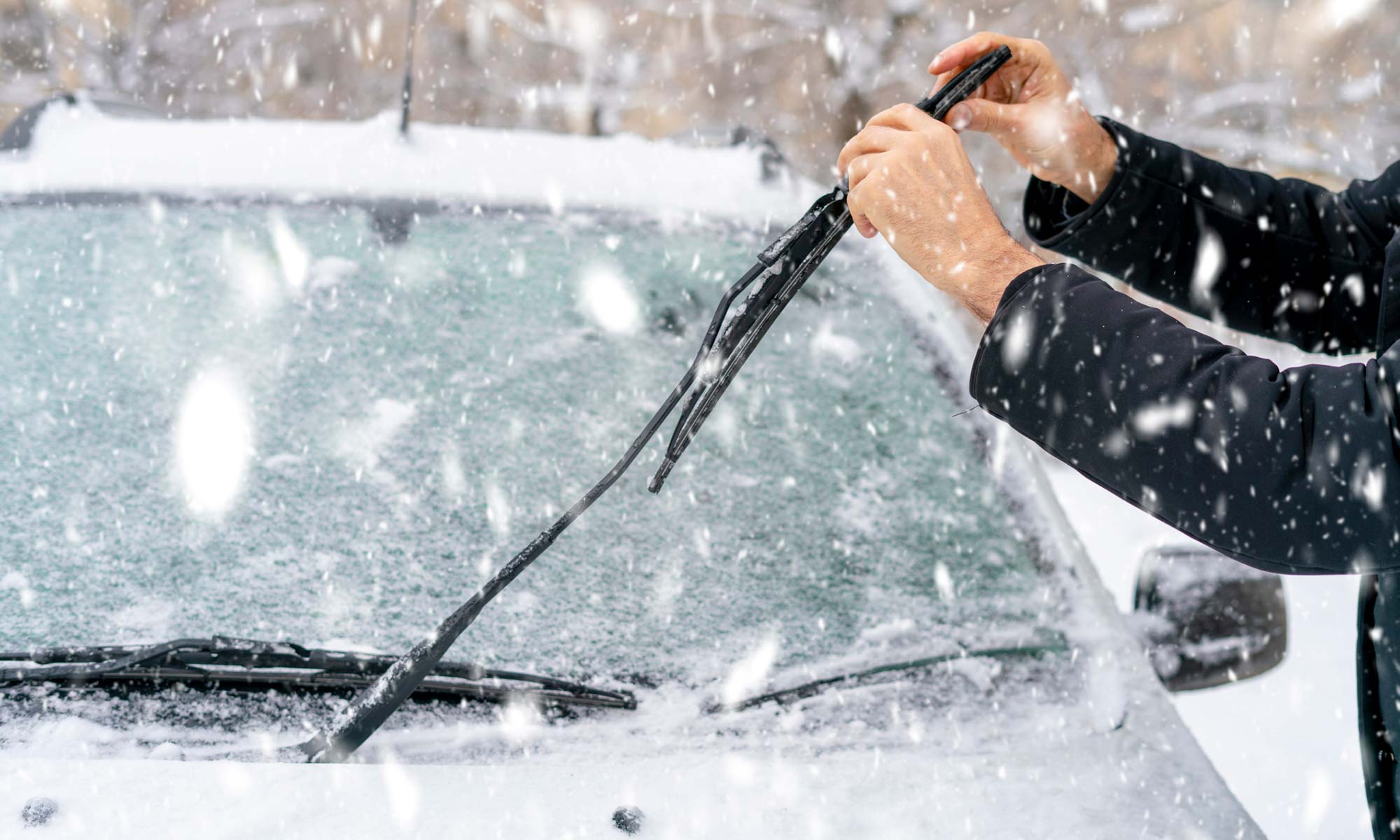 Despite the cold weather, the wintertime is still an excellent time to hit the road. There is always somewhere to go or something to do from going on ski trips, shopping sprees, or just visiting friends and family. But even if you own a late model vehicle with the latest safety features or one specifically designed to handle wintertime conditions, there are still some things you should do to help winterize any vehicle. Simple maintenance tasks such as getting an oil change before winter, checking your spark plugs or updating your car's winter emergency kit can help you stay safe and secure while on the road.
One minor task, however, is one often left up to debate among everyday car owners — should you leave your windshield wiper blades up or down during the winter?
The Case FOR Leaving Your Windshield Wipers up in Snow
Some blade manufacturers, car dealers, and drivers advocate for leaving your wiper blades up in snowstorms. The reason is that leaving wiper blades up will help to make it easier to clear off snow and ice from your windshield without causing any damage to your wipers. 
Additionally, as temperatures drop drastically during the winter, your wipers could end up frozen to your windshield. Keeping them up will save time and money on a replacement pair and ensure your wipers are safe. This can also reduce the risk of damage to the wiper motor. If you leave your wipers on when you turn the engine and your wipers blades are frozen to the windshield, you can strain and damage the motor that drives the wipers the next time you turn on your vehicle.
The Case AGAINST Leaving Your Windshield Wipers up in Snow
While many drivers and auto experts believe leaving your wiper blades up during the winter is ideal, others still think it's unnecessary to lift your windshield wipers in snow. This is because while leaving your wipers up means they won't have a chance to get stuck to your windshield, they can still ice over. If this happens, it can often be even more challenging to de-ice than to unstick the blades from your windshield. 
For drivers who live in areas with heavy snowfall, such as those in the midwest, you run the risk of having your wipers break from falling snow or debris in storms. If too much pressure is applied and they suddenly get knocked down, they can even chip or crack your windshield. Plus, if you lift the blades a bit too much, you can overstress and damage the springs that help pressure the blades to keep them in place against the windshield.
Should You Leave Your Windshield Wipers up in the Snow?
While both have various advantages and disadvantages, it may be best to leave your wiper blades down during the wintertime. This is because most modern cars have an auto-start, so you can defrost without even getting cold. De-icer will help free the wipers from the windshield should they remain stuck. You also have other options that are preferable to leaving the blades up.
Overall, I suggest leaving them down. The extra effort and time de-icing wipers that are frozen to the windshield are far outweighed by the potential costs of damage to the wipers or windshield if they were to freeze over and crack. Plus, there are better ways to protect both your wipers and windshield.
How You Can Protect Your Wiper Blades and Windshield
Purchasing a windshield cover or a cover for the whole car can help you say time during frigid winter mornings. Using a cover prevents the windshield and wipers from freezing in most cases while also helping it be easier to clear snow off. Even without windshield covers, you can purchase various blade covers if you don't want to deal with them getting frozen. You even use socks for a last-minute protective cover! Be sure to add de-icer to your windshield washer liquid, but be sure you free the blades from the windshield first if they're frozen, so you don't harm the motor.
Finally, consider investing in some quality winter-grade wipers. With an EnduranceAdvantage™ auto protection plan, you'll be covered for the replacement of one set of front or rear windshield wiper blades in addition to having comprehensive breakdown protection. Each EnduranceAdvantage plan also comes with up to $3,500 in regular maintenance services, including up to three oil and filter changes, tire rotations, alignment checks, engine diagnostic exams and more. You can also receive several other special, one-time services to go along with your front or rear wiper blade set replacement, such as a battery change, brake pad or shoe replacements and more.
Frequently Asked Questions: Windshield Wipers Maintenance
Is it wrong to leave your windshield wipers up?
Leaving your wipers up in snowy conditions can leave you open to risks. These can include getting covered in ice, being damaged from strong winds or heavy snowfall, and even potentially damaging your windshield. 
Can leaving your windshield wipers on drain your battery?
When you turn the engine off, leaving your wipers on shouldn't drain your car battery unless you leave the key in the start position. Despite this, it is still recommended to never leave your wiper blades in the "on" position when turning off your vehicle. If your wiper blades do freeze to your windshield, leaving the blade motor running when you turn on your vehicle can cause damage to the wiper motor.
What should you do if your blades get frozen to the windshield?
Brush any snow or debris off. Then spray de-icer on the affected areas and wait for it to begin to work. Once able, rubber ice scraper to release the blades. Using de-icer in the windshield washer fluid can also help clear the last bit of frost on the blades and windshield if they become frozen.
Can you use hot water to clear ice from the windshield and wipers?
Never use hot water to clear ice from your windshield, as the sudden temperature shock could shatter the glass. This is also true for your side-view mirrors or any standard window on your car, truck or SUV.
Save Thousands on Auto Repairs with Endurance
Protect your vehicle this winter, or any time of the year, with an Endurance auto protection plan. Each Endurance plan is designed to fit your needs and budget while providing comprehensive breakdown protection for your vehicle's most vital components. You can also help stay up-to-date on your car's essential maintenance needs with EnduranceAdvantage and up to $3,500 in regular maintenance coverage. That includes services such as oil and filter changes, tire rotations, and more. Endurance customers will also have access to one year of Elite Benefits with the purchase of ANY auto protection plan and a small activation fee. These benefits include 24/7 roadside assistance, up to two tire repairs or replacements, and other great perks for even more coverage and savings. 
To learn more about how Endurance can help protect you and your vehicle any time of the year, give us a call directly at (800) 253-8203 or request a free quote. You can also find more articles on expert auto advice, DIY maintenance tips, vehicle buying guides and more automotive topics by visiting the Learning Center. 
More like this
Expert Auto Tips

Being a car owner can be an incredibly rewarding experience, especially if you take pride in your vehicle's condition and performance. Cars that are well taken care of will generally..

Read More

Expert Auto Tips

No matter what kind of vehicle you own, staying on top of its care and maintenance should always be a top priority. Cars that are well taken care of and..

Read More

Expert Auto Tips

There is one integral system of your vehicle, which without it would result in your vehicle being nothing more than a paperweight. The fuel system keeps your vehicle moving down..

Read More