Protect your vehicle with custom coverage from Endurance.
Shop Now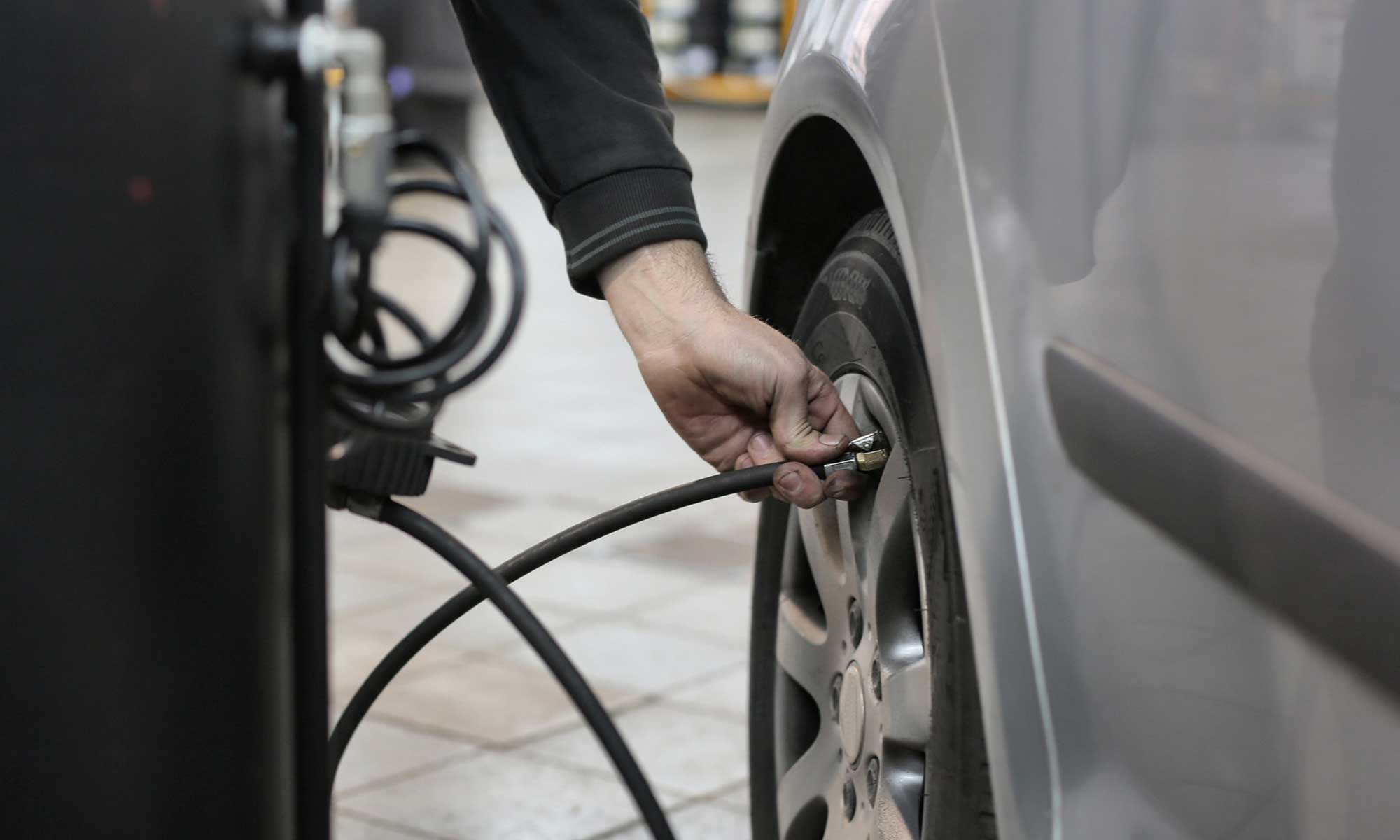 Maintaining your vehicle—and doing what you can to ensure years of smooth running, maximum performance, and minimum repairs—starts with having the right tools and knowing when to do what. Every vehicle requires regular maintenance and depending on its age and mileage, yours might need more or less than the average. 
While ASE-certified technicians can handle more significant tasks, like changing worn-out brake pads, you can still take care of your vehicle at home so long as you have the right tools. Here are five essentials you can purchase to start your maintenance toolbox today that can make checking your vehicle a breeze, no matter your level of experience handling vehicles.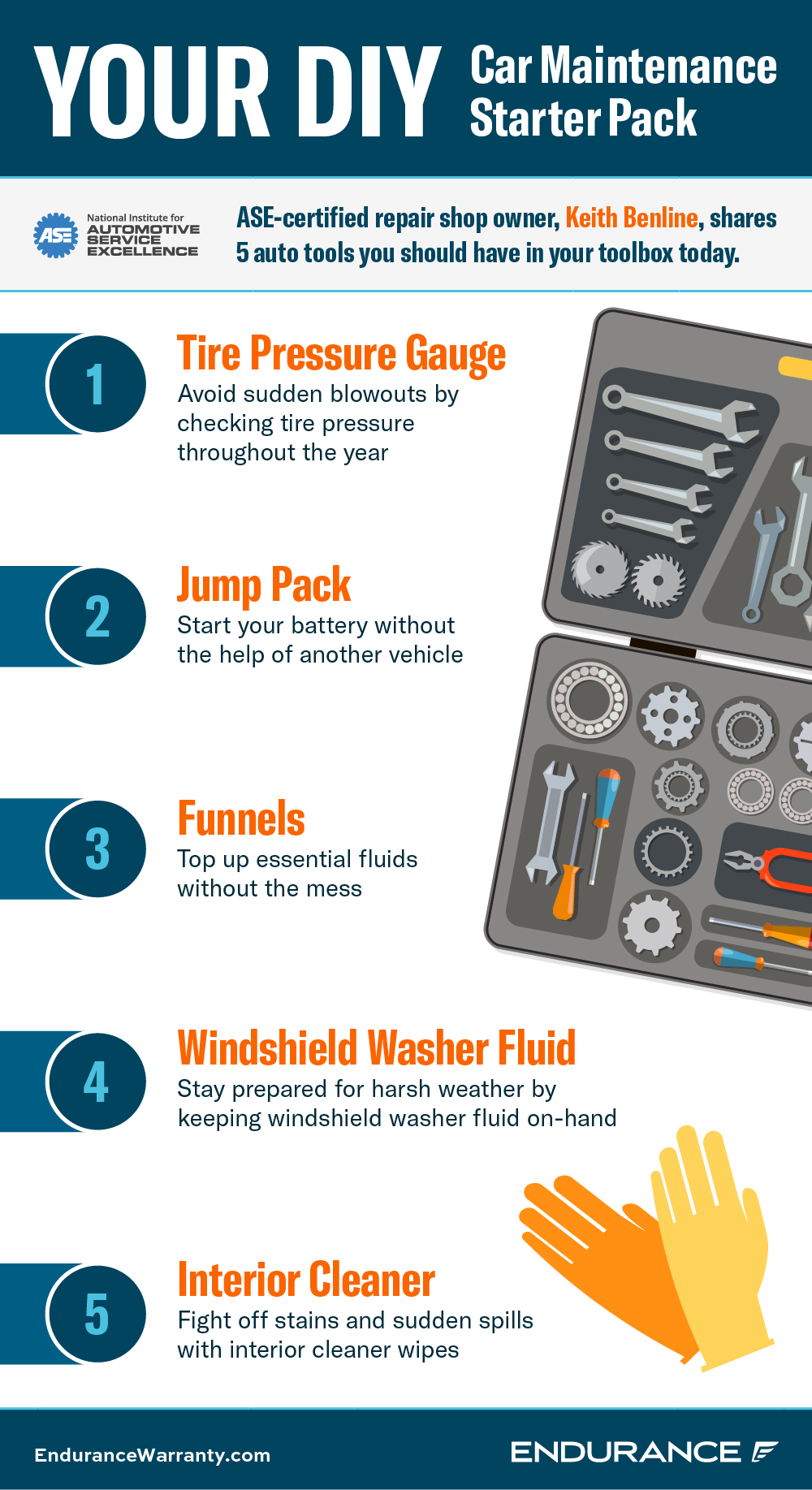 What Car Repairs Should You Do Yourself?
Replacing your wiper blades or cleaning your vehicle's interior can be done at home in minutes without voiding your factory warranty.  
However, a professional mechanic should handle complex repairs and maintenance such as oil changes, tire rotations, and battery replacements. Especially now that Endurance offers maintenance coverage with Endurance Advantage™, you can still save on expenses while utilizing professional mechanics to do the job. 

Factors to Consider Before Buying Auto Repair Tools
Consider the following factors before visiting your local repair shop. Like many, saving on auto repair tools is possible, but it's important to know what to look for and planning how you'll use the tool.
Quality – Various retailers offer maintenance tools at an affordable price, but that can cost you more in the long run. When shopping for certain tools, you can do some research online and read online reviews to see what people are saying before purchasing.
Need – Doing car maintenance at home can be calming for many, but having a set list of tools before hitting the store can help you avoid overspending on tools you may not use over time.
Available Discounts – The easiest way to save on repair tools is by searching for online promotions or in-store discounts. With Endurance Elite, drivers are offered everyday driving perks that can help them save at popular retailers like AutoZone. Visit My Digital Vehicle Rewards to start saving today.
Top 5 Auto Tools to Have in Your Auto Repair Tool Kit
1. Tire Pressure Gauge and Inflator
Why you need it:
Good tire care matters. Not just for your safety and the performance of the vehicle but to avoid unnecessary tire replacements for punctures and excessive early wear. Tire pressure fluctuates throughout the year due to various reasons, like dropping temperatures, so actively checking can help you avoid sudden blowouts.
To get an accurate measure of the tire's psi (pounds per square inch), you need to check it when the tire is cold (parked for at least 3 hours). If you need to drive to a garage to check your tire pressure, your reading won't be as accurate so you could end up a bit out with the psi you fill to. Tire inflators, which are compact air compressors, are available that are light and simple to use, meaning they're easy to store and get out to top up the tire pressure when you need to.
Which jobs:
Accurately measuring tire pressure
Inflating tires
2. Jump Pack
Why you need it:
A portable jump starter can save you if you're stranded with a dead battery, which can happen in very cold conditions or if you've left the lights on. Having your own jump pack means you don't have to find someone with jump leads to help. It'll need to be charged every now and again, and you'll need to learn how to use it, but then it's simple and on hand to help you when you need it. You can even get ones as small as your smartphone.
If you experience battery failure in the middle of a trip, Endurance helps get you back on the road with trip interruption coverage which covers both food and lodging.

Which jobs:
Jump-starting a dead battery
3. Funnels
Why you need it:
For not much money, you can get a set of different-sized funnels you can have in the trunk or in your garage ready to top up any of your vehicle's essential fluids. At the very least, get yourself just one funnel so you can add fluid safely without spills.
Which jobs:
Topping up oil, windshield washer fluid, brake fluid, coolant, transmission fluid, power steering fluid.
4. Windshield Washer Fluid
Why you need it:
Impaired visibility is a big safety hazard when you're driving, and keeping your windshield washer fluid topped up is absolutely essential. Every driver should keep some spare fluid in the trunk ready to top up regularly, choosing the appropriate fluid for the seasonal temperatures.
Which jobs:
Topping up your windshield washer to clean your windshield
5. Interior Cleaner
Why you need it:
If you want your vehicle to feel new and hold its value, cleaning the interior should be a regular maintenance job. It's also the surest way to deter pests. You don't need much—a brush to use on the upholstery, a couple of clothes, and a suitable car fabric shampoo.
Which jobs:
Keeping your vehicle's interior in good condition
Save Thousands on Repairs and Essential Maintenance
Keeping up with your essential maintenance schedule is crucial if you want to avoid costly repairs. Unfortunately, when you own a vehicle, repairs are inevitable but the good news is, if you have the right coverage, you won't be too inconvenienced or left too out of pocket.
Endurance extended warranties offer the most comprehensive packages on the market and cater to different budgets and needs. Whichever one of the plans you choose, you'll be able to relax and drive confidently knowing you have a team by your side.
An investment now in an extended warranty can end up turning into big savings, especially if you plan on keeping your vehicle for a few years. In addition, you'll enjoy lots more everyday driver benefits with the one-year's free Endurance Elite membership that comes with every plan. Request a free, no-obligation quote today to get started.
More like this
Expert Auto Tips

In the summer season, many families get excited about heading outdoors and taking a vacation to get away in the warm weather. As this gets increasingly closer, a large majority..

Read More

Expert Auto Tips

As a driver, the last thing you need is for your car to break down on you while you are out on the road. However, cars are nothing more than..

Read More

Expert Auto Tips

Your car can be an excellent expression of who you are and what is important to you. This is especially true if you care about things like performance, speed, and..

Read More