The American car is back…and they're good again!
Thanks to the power of modern engineering, American horsepower continues to be a force to be reckoned with. With a bit of research, we've put together 5 of the most juiced-up muscle machines born in the USA.
2018 Dodge Challenger SRT Demon: 808 hp
We've talked about this hellish entity, but we can't praise The Demon enough. This beast is so mighty that even several automotive publications (which we shall not name) have been labeled blasphemy. Thankfully, the chants of devoted muscle car worshipers keep outnumbering those heretics. This hellspawn comes fully stocked with drag radials, a transmission brake system, just one seat and beats with a supercharged 6.2-liter V8 that makes 808 hp. One devilish little detail is that the Demon also takes 100 octane race gas that bumps it up to 840 hp. Tremble.
 Dodge Challenger/Charger SRT Hellcat: 707 hp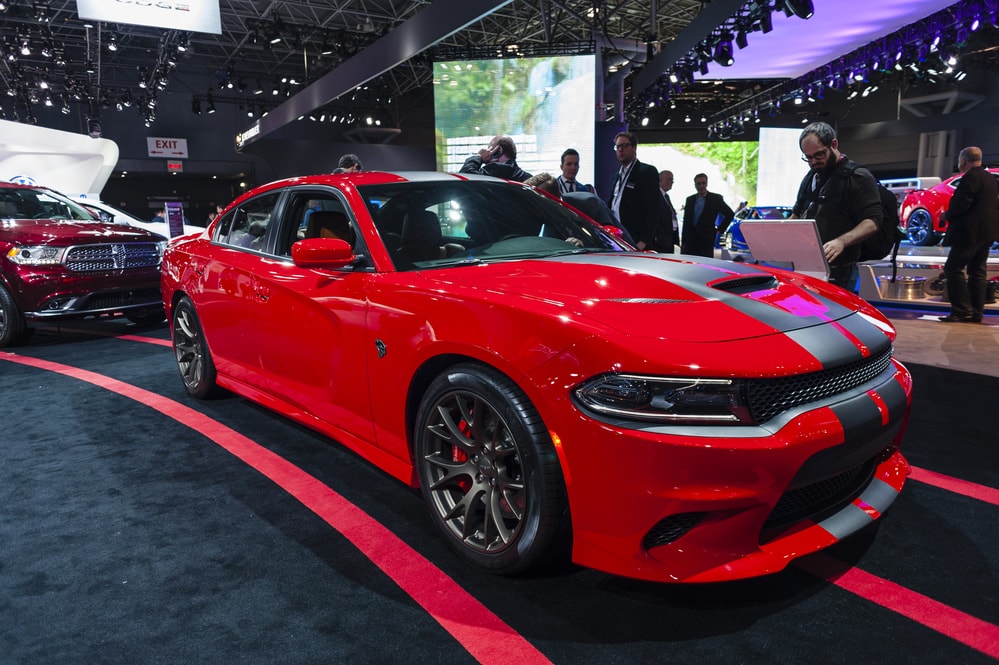 Dodge's Hellcat may not be the terrifying force of nature that the Demon is, but that doesn't make it any less potent.  The Hellcat trim comes available on both the Challenger and the Charger but take note: the Challenger can hit 199 mph, the Charger's slightly more aerodynamic body is good for 204 mph.
2018 Jeep Grand Cherokee Trackhawk: 707 hp
Jeep made the most powerful SUV in the world. This is because it has the same demonic heart as the Hellcats. However, the Trackhawk's size leaves it with only 645 lb-ft of torque compared to the Hellcats' 650 lb-ft rating. However, it's trump card is that unlike its muscle car siblings, it uses an all-wheel-drive system that won't send this beast in a hail of tire smoke
2014 Ford Mustang Shelby GT500: 662 hp (Pictured Above)
Once upon a time, the last model Shelby GT500 was the most-powerful American car ever. These days it doesn't quite hit those highs. Which is probably why it's hotly-anticipated that we could be seeing a new model of it soon?  However, its robust 5.8-liter supercharged V8 that pumps a top speed of 202 mph is still a worthy vehicle by any standard.
2018 Chevrolet Camaro Z06/Corvette ZL1: 650 hp
BEHOLD:
Chevrolet
rounds out our list with not one but TWO high-performance cars equipped with a 6.2-liter supercharged V8. This is a tie. However, it should be noted that the power outputs of these two are identical, their engines do stand apart. The Corvette's utilizes a dry-sump oiling system that's better for track days, while the Camaro ZL1 uses a tried and true wet sump design. The Corvette also edges out the Camaro on manual transmission gear count 7 to 6. However, the Camaro ZL1 automatic comes back strong with an all-new 10-speed automatic, while the one in the Z06 makes do with just eight. Talk about choices!
America was the birthplace of the automobile, but the US automakers often tend to struggle to keep pace with their international rivals. Any one of these 5 mean machines stands as a testament to American muscle, and darn it, it feels good to be a little patriotic.
More like this
Rewind

Can you feel it? There's a big change coming in the American automotive landscape. For the past couple of years we've seen the steady increase of sales in trucks and..

Read More

Rewind

Ever-increasing numbers of cup holders large enough to accommodate super-sized jugs  and an expanding suite of electronic features and entertainment invade our vehicles. However, there comes a time where we..

Read More

Rewind

The Corvette is not just an "American classic," it's one of the most famous cars around. There are so many models and variations that every fan probably has a favorite...

Read More