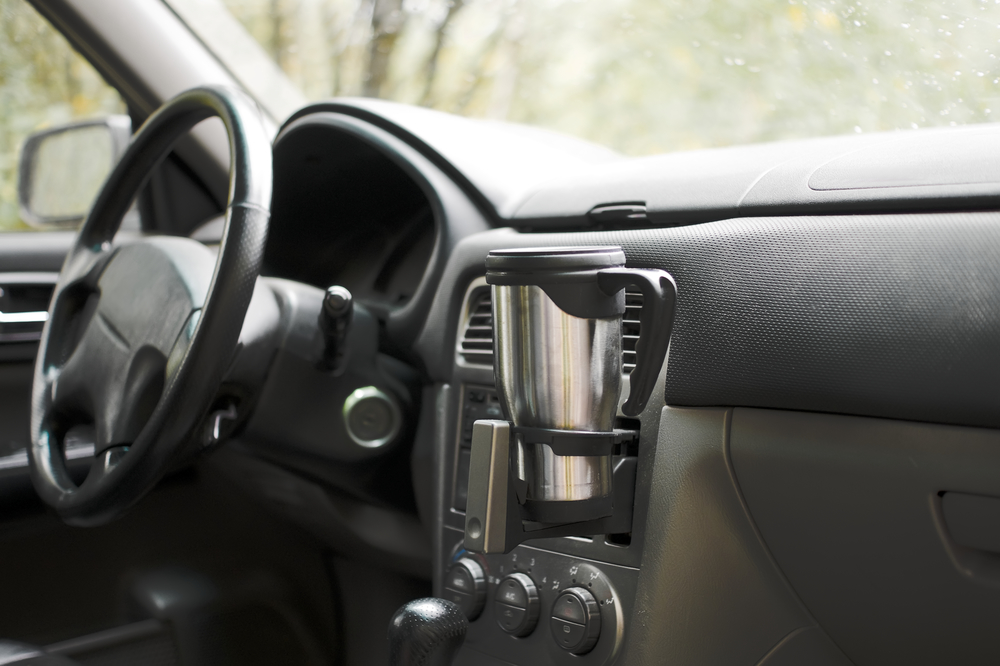 While most modern vehicles come standard with their own built-in assortment of gadgets and peripherals for your safety, convenience, security, or entertainment there are still plenty of other interesting and useful things out there for drivers. Ranging from toys, convenient add-ons, and essential tools for your car, here are 10 of the more interesting accessories that vehicle owners might have always wanted but never knew existed:
Auto-Mixing Travel Mug with Tornado Action
An acrylic tumbler that uses two AAA batteries to mix up coffee, sports drinks, baby formula, or any kind of blended beverage in an instant. Just press a button, and the mug's "tornado action mixer" whirs to life, turning mere ingredients into true roadside refreshment. The tumbler's leak-proof cap keeps the liquids safely inside while they blend. Forget waiting in the drive-thru at Starbucks, now you can make your own frappes without having to open your car window.
CG Seat Belt Lock
The CG-Lock (CG stands for center of gravity) easily clips onto the tongue of your vehicle's seat belt (the part that the webbing passes through and you push into the buckle). Once installed, you pull up on the shoulder harness of your seat belt, and the lap belt portion gets "racing harness tight" and stays as tight as you want until you release it.
CG-Lock will provide two important benefits of a full racing harness in your daily driver: it holds your spine against the lumbar support of the seat. You can drive for hours with less fatigue and back pain at the end of the day – a great improvement for long distance drivers and their passengers. And there is still more: the CG-Lock is very effective at holding an infant seat in place — no sliding around or tipping over. Your hips are your body's center of gravity and tightly held hips provide the first two of the three benefits of a full harness as described above.
Golink Cable
This cable links your vehicle's On-Board Diagnostic System to your smartphone. Find out why that troubling "Check Engine Light" is lit up, and diagnose the problem yourself, you'll know whether your vehicle needs a DIY fix (like tightening a loose gas cap) or a trip to the mechanic – where you'll be armed with knowledge to prevent fraud.
The included software will even diagnose stored trouble codes before indicators light up on your dash, so you can fix problems early to lengthen the life of your vehicle. You'll also be notified of vehicle recalls, service bulletins, and the severity of any Check Engine Light diagnosis. Automatic firmware updates keep the latest information at your fingertips. The cable even charges your mobile device while it's scanning your car's computer.
12-Volt Oven and Pizza Maker
This handy-dandy appliance that plugs right into your cigarette lighter. Just bring along oven-safe cookware, and you can prepare "pizza, hamburgers, roasts, baked potatoes and more," before you even get home from work. The power cord is 5 feet long, too, so even back-seat passengers can test out their auto culinary skills.
However, riding down the road with a 310-degree box on the floorboard does require some caution. The makers warn that the oven should be kept on a "flat, level surface," away from any flammable liquids or vinyl.
AutoSport Console Cushion
Made with a memory-foam top and a polyurethane bottom, this removable cushion provides "soft comfort" for your center console while still allowing access to the lint-covered change and stale Cheetos inside the box. Worried about ruining your in-car pillow with an ill-timed latte mishap? The microfiber cover can be removed for washing. If you're the creative type, you also can use the cushion for a variety of other purposes, such as lunch-hour naps, a Barbie doll bed or a stress ball.
Ram Drink Cup Mount
Okay, the mixing mug cup is great for on the go beverages, but it's pretty useless if you need an extra cup holder. Ram Mounts makes one of these articulated mounts adaptable to virtually any vehicle and any device you might need ready at hand.
Cobra iRadar
Cobra has made a series of radar/laser/camera detection systems designed to integrate with the smart phones. Using Bluetooth wireless technology, iRadar enables you to view radar alerts, control settings, log alert history, and receive warnings of upcoming speed and red-light cameras, known speed traps, and dangerous intersections with consistently updated information via Wi-Fi or your phone's data plan.
Steering Wheel Laptop/Eating Tray
This clips right to the wheel of your car for an instant table on the go. A built-in cup holder keeps your drink steady even as you careen down the freeway at top speed. Its sturdy plastic construction enables it to hold up to 20 pounds, which means the tray can support a laptop, a small stack of encyclopedias, or several foot-long sub sandwiches without sagging. Whether you'll be able to safely steer the car and reach the pedals while in use is something to consider.
Stanley Portable Battery Jump-Starter
Stop worrying about dead batteries and low tire pressure. With 500 amps of continuous power (and up to 1000 amps of peak power), the Stanley J5C09 Jump Starter can get your car, truck, boat, or RV back in service. You can even inflate your tires with the built-in 120-psi air compressor, and a powerful LED illuminates the dark spaces where batteries typically reside. This jump-starter includes a 120-volt AC charger that lets you recharge from a standard household extension cord.
Minikit Neo by Parrot
These days, whether you like it or not, your car is an extension of your office. At least make things more manageable when you're at the wheel with this voice-activated phone-call controller.
So there you have it, grown-up toys for the everyday driver. Though it'd be odd, not to mention impractical for any vehicle owner to have every possible gizmo for their car, some of these might be ready to address a want or need that they may never have thought of before. If there's any neat, interesting or "out there" gadget for your car, comment below and let us know.
More like this
Tech

Artificial intelligence (AI) is everywhere at the moment. With the rise of Midjourney and ChatGPT, it's been dominating the headlines for the last year or so, but these applications are..

Read More

Tech

Technology has changed many aspects of people's daily lives. Things like phonebooks and VCRs have given way to devices and systems that make accessing information quicker and more convenient. Artificial..

Read More

News

Since the early days of the automobile, carmakers have sought to introduce ever-increasing levels of automotive technology to their offerings. General Motors gets credit for the first automatic transmission in..

Read More