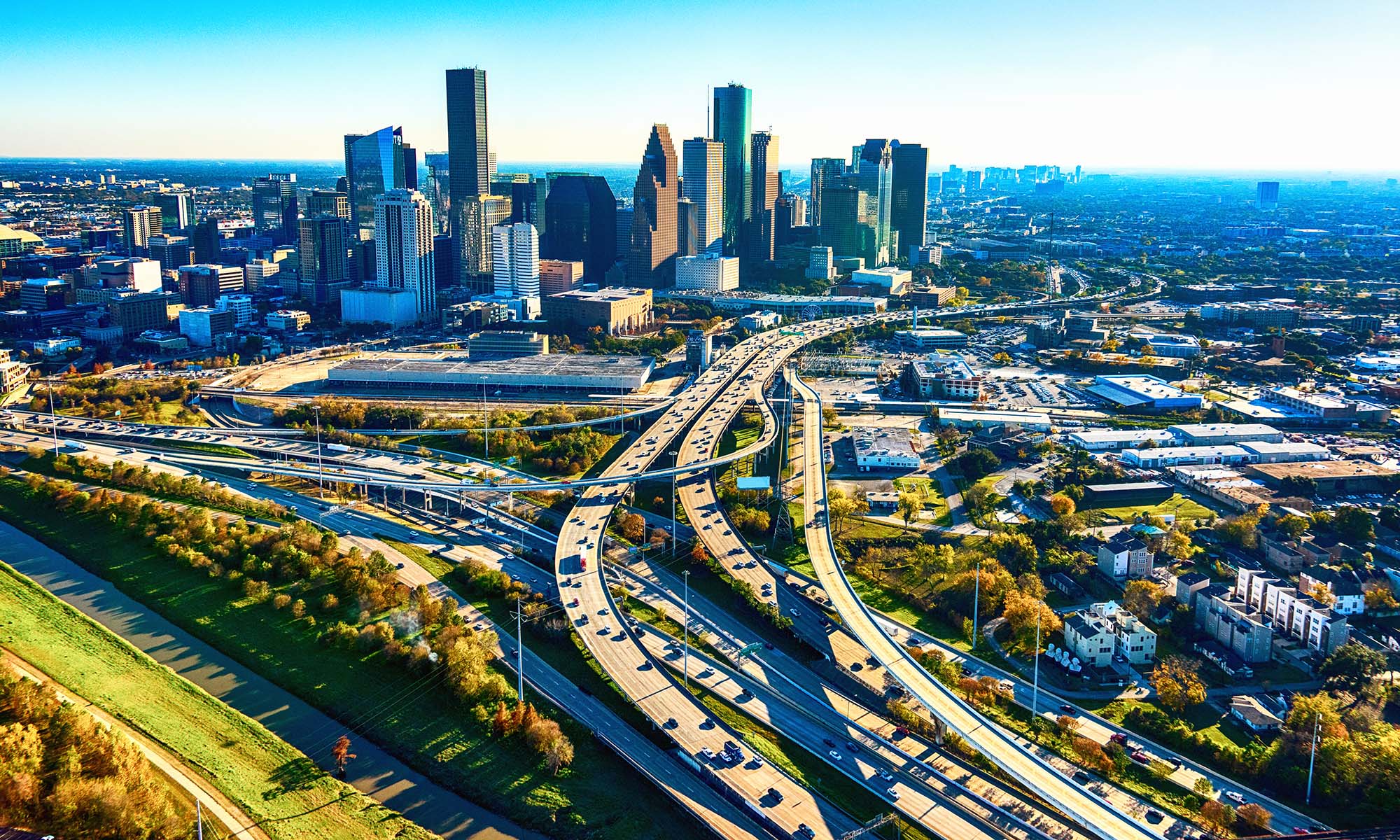 While temperatures have been slowly creeping higher and higher since spring, for many, June is the "official" start of the summer and, of course, road trip season. But as with any road trip, whether it's across the country or a quick day trip to a small town or a state park, you should be planning ahead and thinking about where you want to go and what you'll want to see. 
A Texas road trip can be the perfect plan for those in the southwest of the country, thanks to the state's unique blend of scenic drives and hidden getaways. Or, for the more adventurous, you can try your hand at kayaking or tackling one of the many hiking trails in the state. You can even simply enjoy the sights and sounds of small towns full of boutiques and other shops or big cities bustling with live music, world-class BBQ and everything else you could want. 
So whether you're in west Texas or east Texas, you can find yourself driving for hours without even leaving the state, meaning that you and the whole family can take in the best that the lone star state has to offer.
Dallas
As part of Texas' largest metropolitan area (the Dallas-Fort Worth Metroplex), Dallas is a can't miss location for entertainment and more.
Dallas Museum of Art
Opened in 1903, the Dallas Museum of Art is a significant cultural outlet in the Metroplex. Inside, you'll discover a wide range of permanent and temporary exhibits. These showcases range from Texas artwork to collections from around the globe. It's also not a bad place to cool off when the summer sun gets too much.
Sixth Floor Museum at Dealey Plaza
Beyond looking at a fateful day in the American story—November 22, 1963—the Sixth Floor Museum explores the life and career of our 35th president, John F. Kennedy. Step off the elevator, and you'll be transported to a history-changing locale that captures a unique era in our country's history.
Dallas Arboretum and Botanical Garden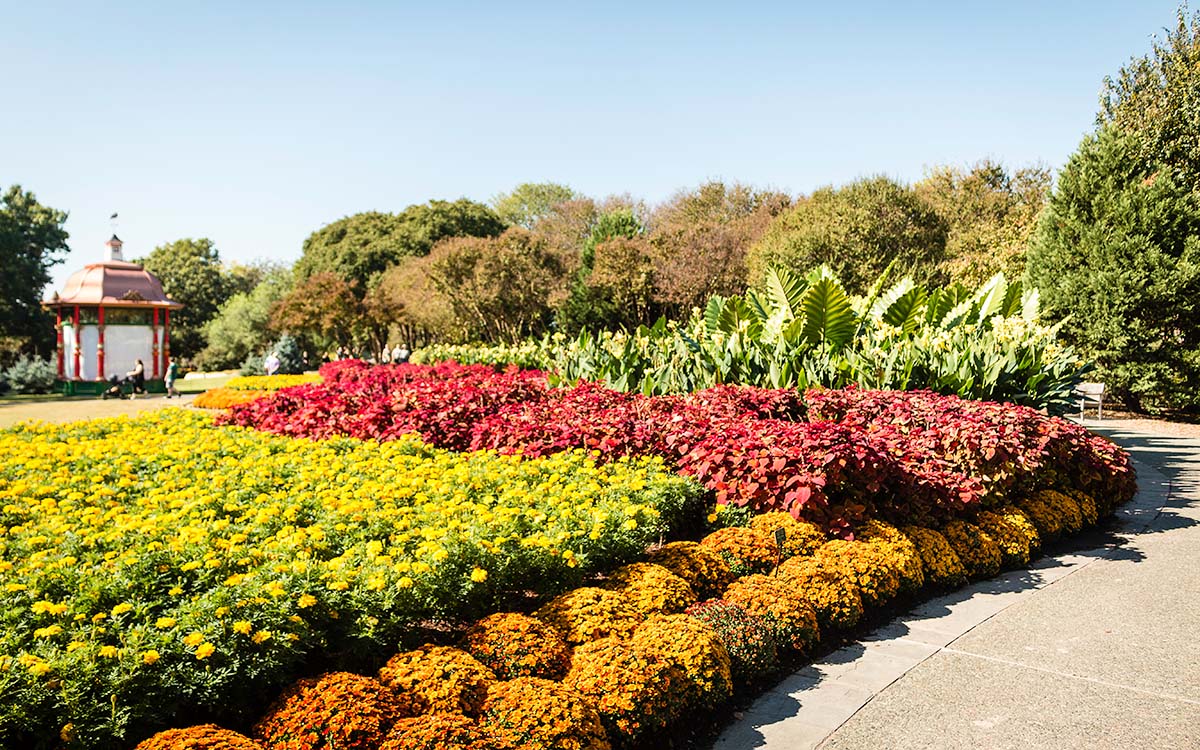 The Dallas Arboretum and Botanical Garden is the ideal spot for a tranquil outdoor experience. This 66-acre treasure is located in east Dallas and rests on the shores of White Rock Lake. Meticulously manicured landscapes and artful sculptures offer something of interest from every angle, and numerous children's activities provide an activity for every family member.
Fort Worth
Fort Worth locals prefer to think of their city as distinct from Dallas. And with so much to do here, you'll want to make a separate outing to take it all in.
Fort Worth Water Gardens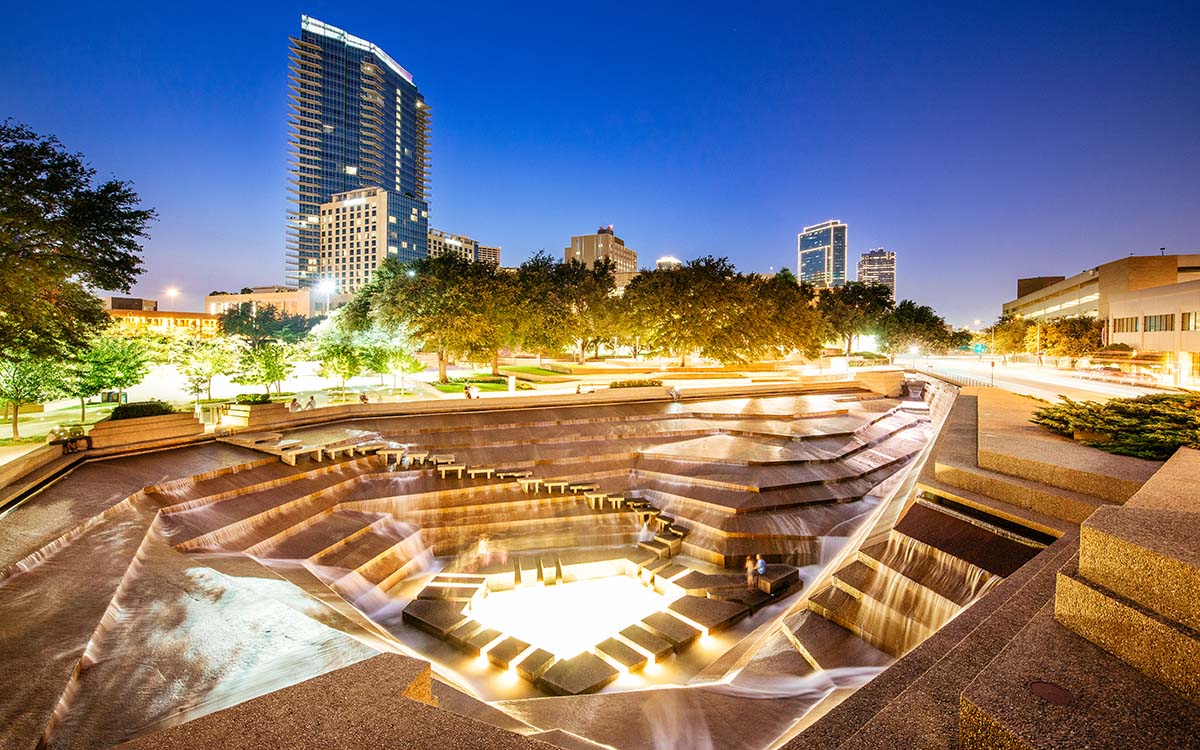 The Fort Worth Water Gardens have been part of the local scene for almost 50 years. The hardscape structures are perfectly balanced by the gracious flow of waterfalls and fountains. There's no better spot for a quiet respite. But leave your bathing suit in the suitcase, because there's no swimming or wading here.
The Fort Worth Stockyards
Nothing says Texas more than cowboys and cattle (and horses, too). The Fort Worth Stockyards lets you take it all in to commemorate the region's early days and culture. The Stockyards is a 98-acre district on the National Register of Historic Places, where you'll find numerous restaurants, museums, and entertainment venues. Be sure to check out the rodeo and daily cattle drives too!
Amon Carter Museum of American Art
The Amon Carter Museum is one of the country's leading repositories of American paintings and sculptures. It's home to noted works from Georgia O'Keeffe, Winslow Homer, and other significant artists. First opened in 1961, the museum's distinctive building was designed by noted architect Philip Johnson, who also created the Fort Worth Water Gardens.
Houston (Pictured Above)
America's fourth-largest city is a bustling urban center adjacent to the Gulf of Mexico. There is a multitude of road trip ideas from Houston to check out.
Space Center Houston
There are few opportunities to get up close and personal with spaceships (unless you're an astronaut), but Space Center Houston offers just that. It also houses the world's largest collection of moon rocks and lunar samples, making it the perfect stop for astronomers and stargazers or just those looking for a unique experience that is quite literally "out of this world." A less-known fact is that the experts at Walt Disney Co. helped design the building to ensure an entertaining and enjoyable visitor experience.
Houston Museum District
If you love learning about history but don't like to spend hours at a single museum, then the Houston Museum District is a perfect alternative. It's a grouping of 19 museums, galleries, and other cultural resources, all within a conveniently located cluster. Four distinct walking zones minimize the need for a vehicle. 
Cockrell Butterfly Center
Located next to the Houston Museum of Natural Science, the Cockrell Butterfly Center is a remarkable oasis right in the middle of a major city. The three-story glass structure centers around a stunning 50-ft waterfall set within a tropical rainforest that houses over 60 different butterfly species.
San Antonio
There's an age-old adage that says everything is bigger in Texas. And when it comes to cities, that saying isn't wrong. In fact, many visitors don't realize that San Antonio is the seventh-largest U.S. city. As such, there are many attractions to enjoy.
San Antonio River Walk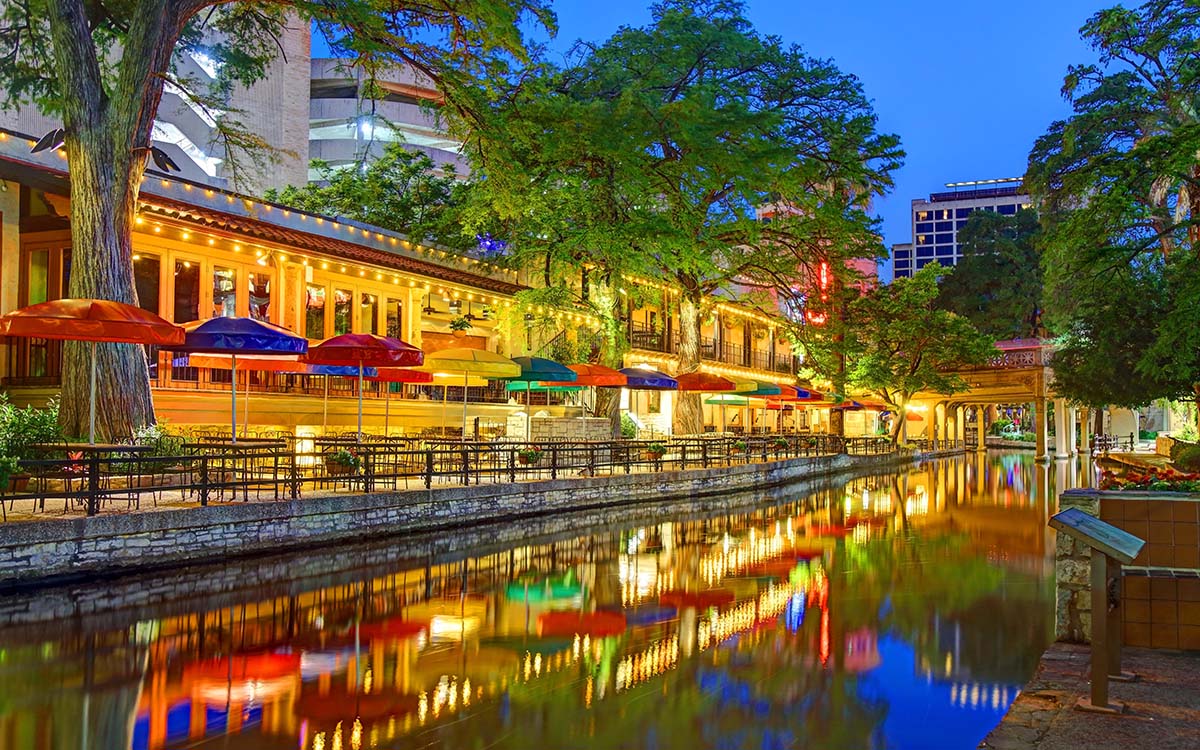 A trip to south-central Texas should include a stop at the San Antonio River Walk. And despite its picturesque views, it's a public park, so there's no admission fee! Here, you'll find 15 miles of flowing waters, including five miles of manicured paths that meander through downtown San Antonio. If you're not just looking for a stroll in the park, there's still plenty to do, including for-hire boat rides, regular cultural events, and numerous dining options. Stay at an adjacent hotel and forget about time behind the wheel (for a while, at least).
The Alamo 
The Alamo is a great stop for any history buff on your trip. Even as the building (the Mission) was constructed in 1718, it still gives visitors a memorable look at Mexican and Spanish architecture. And of course, the structure is also the site of the ill-fated 1836 battle of the Texas Revolution where the phrase "Remember the Alamo" became one to remember.
Natural Bridge Caverns
Escape the summer heat and still enjoy the outdoors (sort of) when you go subterranean at Natural Bridge Caverns. Texas' largest network of caves is about 20 miles from San Antonio but worth the drive. Choose from various tours that will have you as far down as 180 feet below the surface. There's even an option for genuine spelunking in undeveloped areas of the caverns if you're feeling extra adventurous!
Austin
While many state capitals have a reputation for being sleepy cities, Austin has developed into a world-class metropolis with a wide range of activities and events to take in. Plus, it's only about an hour's drive from San Antonio, so while you're here, you can check out the city's distinct neighborhoods or one of the many other great stops.
Circuit of the Americas
The Circuit of the Americas racetrack is a multi-activity venue that's the current base for the Formula 1 United States Grand Prix (which occurs in October). Beyond sanctioned race events (including NASCAR contests), there are numerous concerts throughout the summer and a karting track (for drivers as young as 12). 
LBJ Presidential Library
The LBJ Presidential Library looks beyond partisan politics to explore the legacy of America's 36th president. While Johnson had a reputation for being fairly blunt, his political skills helped usher the historic Civil Rights Act into law. The Library also delves into the role of LBJ's wife, Lady Bird Johnson, at The White House.
Bullock Texas State History Museum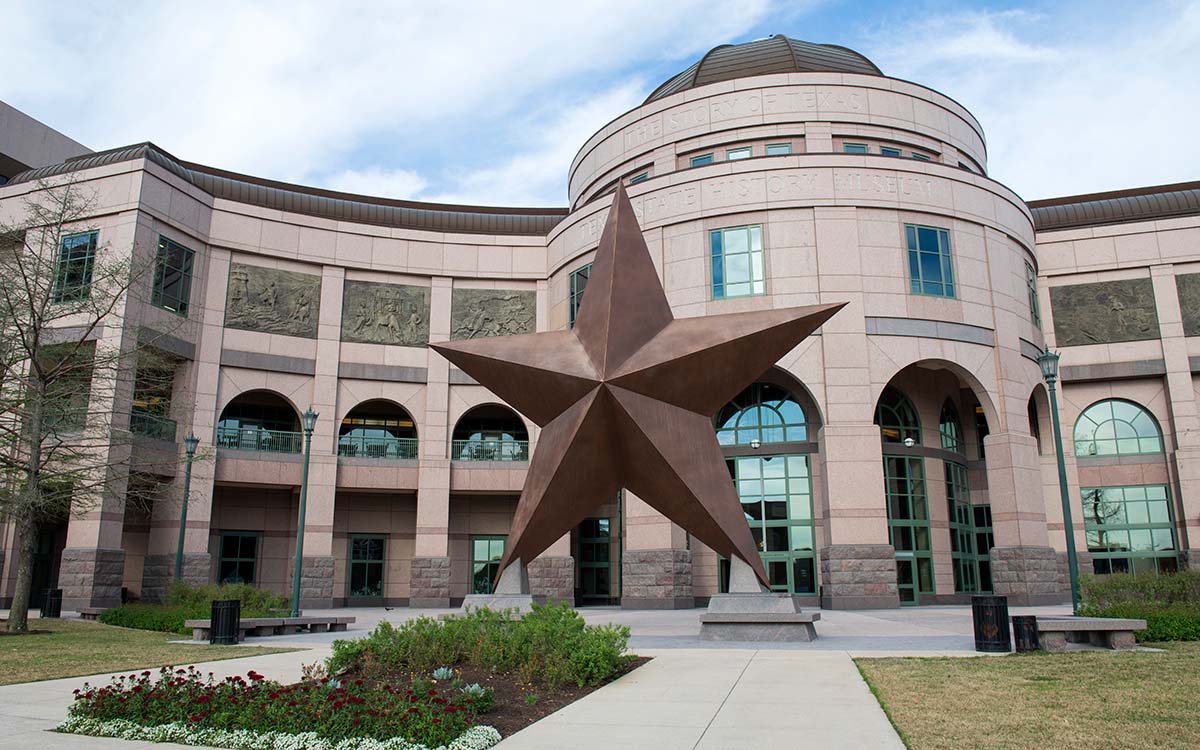 You don't have to be from Texas to be curious about America's 28th state. The Bullock Texas State History Museum offers an in-depth look at Texas' origins, including how the oil industry helped shape the state. A few hours is all you need to get the complete story, and there's plenty of time to head off to the city's nightlife or any other stop you'd like to take while in the lone star state.
Hit the Road with Confidence When You Have Endurance
No matter if you're making your way across Texas or any other part of the country, don't let your road trip plans get cut short by an unexpected breakdown and costly repair bills. Instead, get peace of mind knowing you have an Endurance auto protection plan to have your back. You'll even automatically receive the help of having 24/7 roadside assistance (and towing), trip interruption coverage and rental car reimbursement to help you get back on the road fast no matter where you are on your road trip. 
You can even combine your breakdown protection with savings of up to $3,500 in yearly maintenance services, including tire rotations, alignment checks, engine diagnostic exams and more, to help your vehicle be ready for your next road trip. Plus, whether you have Advantage or any other Endurance plan, you'll be accepted at any certified repair facility or ASE Certified mechanic, so you can be confident that your car will be taken care of.
For more information about how Endurance can protect your vehicle, give our award-winning customer care team a call at (800) 253-8203. Or you can get started in protecting your vehicle today by requesting a free, no-obligation quote. Also, don't forget to stop by the Endurance blog to find more car care tips, DIY maintenance how-tos, extended warranty resources, and other fun and informative articles. 
More like this
Travel

With the cooler months creeping in, it's the perfect time to begin planning a fall road trip to enjoy the best of what the season brings. However, weather conditions during..

Read More

Travel

In the warmer weather of summer, many people plan off-road excursions and road trips with the entire family. The only thing that can ruin these outdoor adventures is an unexpected..

Read More

Travel

Thanksgiving is fast approaching, and if you're like many across the country, you're probably gearing up to head home (or somewhere) to spend quality time with loved ones and enjoy..

Read More