How to Shop for Extended Auto Warranties: Compare Prices and Coverage to Get the Best Deal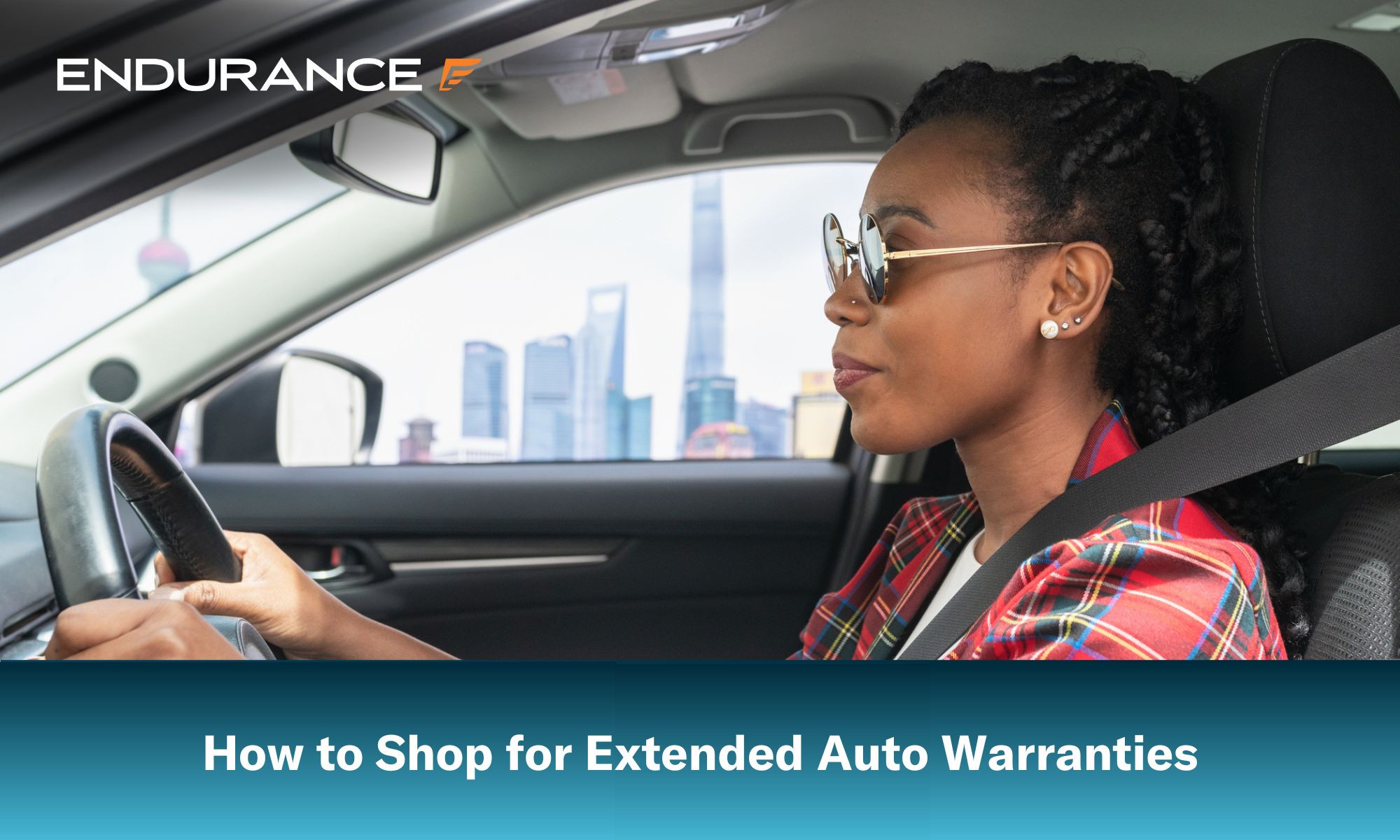 Today, many car owners are having difficulty paying for unexpected and expensive car repairs. Recent reports indicate that less than half of Americans can pay for more than $1,000 in surprise repair costs. To make matters worse, 69% of car owners put off routine car maintenance due to financial constraints. However, most of the population depends on their vehicles for daily life, such as going to work, buying groceries, or attending medical appointments. Therefore, a damaged vehicle needing repairs would hinder or even incapacitate essential daily activities.
The good news is if the manufacturer's warranty still covers the vehicle, you'll have the peace of mind of a bumper-to-bumper warranty that will repair or replace any broken car parts. However, these only provide financial protection for a limited time, and once the factory warranty expires, car owners are left to pay out-of-pocket for repair costs. An extended auto warranty can help. We'll help you learn to compare prices and get a great deal on an extended car warranty.
Is an Extended Auto Warranty Worth It?
An extended car warranty isn't the right solution for everyone. However, understanding how they can be helpful can help you determine whether or not an auto protection plan is worth the investment.
Limitations of a Manufacturer's Warranty
Even with the most reliable vehicles, mechanical breakdowns are simply a part of car ownership. Through daily wear and tear, parts eventually wear out and break, especially the older the vehicle gets. However, when you buy a new or used car, you pay a higher price in return for the peace of mind that parts are less likely to break. Then, if something does happen, the manufacturer guarantees their quality and will repair or replace the part at no additional cost.
However, all auto manufacturer warranties do expire eventually. Depending on the manufacturer, bumper-to-bumper warranties typically last between 3 years/36,000 miles or five years/60,000 miles. Powertrain warranties can extend up to 10 years/100,000 miles. Ultimately, the length of a factory warranty depends on your car manufacturer. Still, it can be prolonged with a limited extended car warranty with the car dealership or directly from the automaker.
Unfortunately, most original car warranties do not include replacing or repairing parts that break or fail due to normal wear and tear. For example, replacing the car battery every three to five years is expected. Therefore, the warranty will not be effective if your battery dies after three years, depending on where you live. However, if your car battery dies after one year and you didn't leave the lights on, there may be an issue, and the dealership should replace the battery and investigate the cause at no cost to you.
Additionally, there are a few limitations to consider. If you do any of the following, your factory warranty could be voided, or your claim may be denied:
Change car parts (lift kits, flat tires, exhaust pipes, etc.)
Use the vehicle other than its intended use (racing, off-roading, heavy-towing, etc.)
Fail to keep up with the recommended maintenance schedule
Benefits of Extended Auto Warranties
Unfortunately, the factory car warranty does eventually expire. Also, the older the vehicle gets, and the higher the mileage, the higher the likelihood of expensive car repairs. But, as we mentioned, more than half of car owners today cannot afford a surprise car repair bill, let alone one that costs thousands of dollars, such as a transmission or engine replacement. In these cases, an extended auto warranty can be worth it.
Commonly referred to as an extended car warranty, an auto protection plan is a vehicle service contract between the issuing company and the car owner. In return for a monthly payment, the provider agrees to financially assist with any expensive repairs in case of a mechanical breakdown. How they help varies based on policy and provider, and we encourage you to read the fine print of any vehicle service contract. Still, it generally includes the provider repairing or replacing included parts at little or no cost to the car owner.
Technically speaking, only a vehicle manufacturer can "extend" the original warranty. Unfortunately, when a dealership provides extended warranty coverage, they generally include substantial limitations, restrictions, and fees compared to the original. Therefore, many car owners seek alternative solutions with vehicle service contracts (VSC) through third-party car warranty providers.
When you choose to purchase an aftermarket vehicle protection agreement with a third party, such as extended warranty providers like Endurance Warranty, Carchex, or CarShield, you become eligible for a host of additional benefits the manufacturers cannot offer, such as:
Coverage for a broader range of vehicles and driving styles (high-mileage, high-end luxury vehicles, vehicles used for work, Canadian Grey market vehicles, salvage titles, etc.)
Customizable coverage and payment plans
Choosing where to take your car for repairs (an ASE-certified technician, repair shop, or dealership)
Aftermarket parts coverage
Replacement of parts that break down for wear and tear
Payments for routine maintenance
24/7 roadside assistance and towing
Trip interruption coverage
Rental car reimbursement
Factors to Consider When Determining the Need for Coverage
Ultimately, it is up to the consumer to determine if an extended vehicle warranty is helpful for them. However, we can provide a few pointers to help you weigh the pros and cons.
Intended Length of Ownership
Buying a new vehicle every few years may be fine without an extended vehicle service agreement. This is because more recent models are less likely to break down, and when they do, the factory warranty will step in to help cover the repair costs. However, suppose you plan to keep the vehicle for over a few years. In that case, a vehicle warranty can help reduce or even eliminate inevitable repair costs as your car ages. Additionally, some third-party warranty providers offer transferable car warranties, which can increase your vehicle's resale value when you decide it's time to upgrade.
Financial Need
Suppose your vehicle were to have a catastrophic engine failure today, and you can replace the engine and any other affected parts without putting a financial strain on your daily life. In that case, an extended car warranty may not be for you.
However, suppose you are like most Americans, and thousands of dollars for an unexpected repair bill would create financial hardship. In that case, a vehicle protection plan can give you peace of mind that your car repairs will be taken care of with a low monthly payment.
Likelihood of Usage
No one likes the idea of adding an additional monthly payment. However, much like car insurance, it provides relief in having a financial safety net if and when something happens.
An auto protection plan is only helpful if it's being used. Otherwise, you're making a substantial financial commitment without any real benefits. Therefore, you must weigh the likelihood of filing a claim when a mechanical breakdown occurs. If you like to do it yourself when it comes to auto repairs, you may find less benefit than someone who would rather have an ASE-certified mechanic or repair shop fix it.
Of course, with customizable coverage plans, you can always find an extended car warranty that financially covers the parts you'd rather someone else repair. For example, you may choose a basic powertrain warranty to cover expensive engine repairs or transmission replacements, or if there are just a few parts you'd rather not deal with yourself, we can help you find a plan that includes everything you need and nothing you don't.
6 Tips on How to Shop for Extended Auto Warranties
Deciding whether an extended warranty plan is suitable for your vehicle and driving style depends on various factors, including the cost and coverage. We'll give you some tips to get the best price on the vehicle protection you need.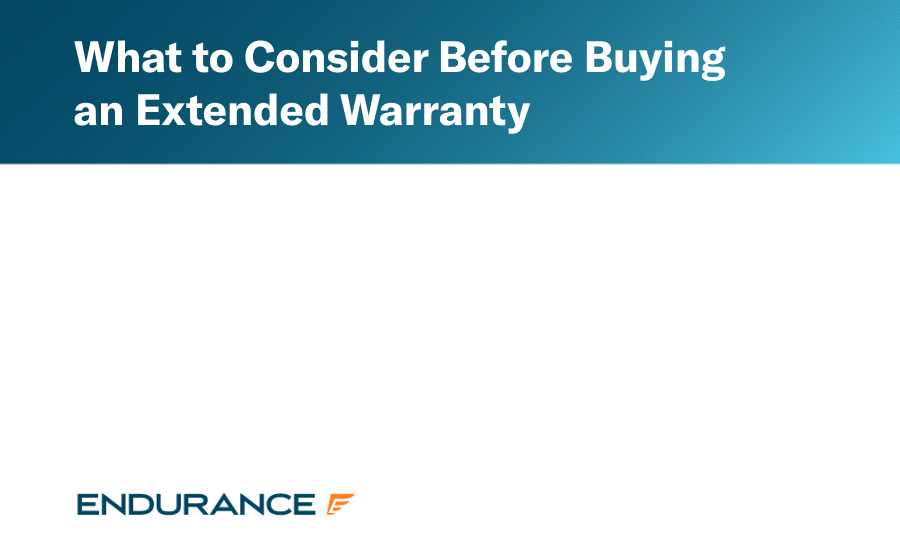 1. Research and Identify Reputable Providers
First, start by finding a reliable provider. You can look for reputable car warranty providers through online resources, such as reading customer reviews and industry publications. You can also read recommendations from trusted sources, like TrustPilot, to narrow down providers with excellent reliability and customer service. Then, use these resources to evaluate providers' reputations and track records to narrow down viable options. To get you started, some of the top-rated warranty companies on the market today are Endurance, CarShield, and CARCHEX.
Also, research the customer support and claim process for each provider. After all, the last thing you want during an emergency is added stress. Next, evaluate the provider's customer support services. You should also understand the claim process and turnaround times to have realistic expectations before trouble arises. Finally, assess the provider's reputation for responsiveness and efficient claims handling.
2. Compare Coverage Options
After you narrow down a few reputable car warranty providers, you'll want to compare the different coverage plans. Every warranty provider provides other coverage plans to suit a variety of vehicles, budgets, and driving styles. The cost of extended car warranties can vary. However, the average cost of car warranty plans range from a few hundred to a few thousand dollars, depending on a variety of factors.
Before requesting warranty quotes, gather basic information about your vehicle, such as the make, model, age, and mileage. These factors can all influence the overall cost of an extended car warranty. Additional factors influencing a monthly payment include the length and type of coverage. Here are a few typical coverage terms to help you determine the level of coverage and the right car warranty coverage for you:
Basic Powertrain Warranty
A powertrain warranty is a limited guarantee that covers the expenses associated with repairing or replacing major components of the powertrain, such as the engine, drive axle, and transmission. As these are some of a car's most intricate and fundamental elements, they can be the most expensive to repair.
Bumper-to-Bumper Car Warranty
A comprehensive coverage warranty, commonly called a bumper-to-bumper warranty, is typically included with a new car purchase and covers most of the components between the front and back bumpers, hence "bumper-to-bumper" coverage. The dealership typically offers such warranties for 3 or 5 years, but third-party providers can offer similar coverage once the original factory warranty has expired.
Exclusionary Warranty
When a manufacturer's warranty no longer covers a vehicle, it may qualify for Exclusionary Coverage, the highest level of protection available. This coverage will cover most vehicle components, though a few listed items will be excluded.
Inclusionary Car Warranty
An inclusionary car warranty outlines what components of a vehicle are covered. These warranties are simpler than others but provide less coverage and are less costly.
3. Request and Evaluate Multiple Quotes
After determining what kind of coverage you'd like, shop around and gather quotes from a few extended car warranty companies. When requesting quotes, provide accurate information to provide the best possible quote for your vehicle and lifestyle. Misrepresentation of data can result in an unexpected denial of claims at the repair shop or even a cancellation of coverage.
When comparing quotes, we encourage you to read the fine print. No two policies are the same, so be sure to analyze any restrictions and limitations as well as the comprehensiveness of the coverage to ensure you're getting a fair price. You'll also want to compare associated costs, like any necessary deductibles, or additional service fees, like transfers or cancellations, as these can also make a difference in how much you pay.
4. Consider Deductibles and Exclusions
When weighing your options, consider the impact of the deductibles and exclusions on both the plan's usefulness and their impact on the overall cost. As with car insurance, the deductible is the amount you must pay upfront for the repair before the coverage takes over. This price is significantly less for most third-party providers than you would pay for the repair.
You can also choose a policy based on a deductible you feel comfortable paying. However, the lower the deductible, the higher the monthly premium. If you'd prefer a lower monthly payment, you can pay a higher deductible when you need to make a repair. Different coverage options may also refer to deductibles due "per visit" or "per repair."
You should also consider exclusions and limitations in the warranty contract, weighing any potential savings against the possible out-of-pocket expenses.
5. Negotiate the Terms
As with any contract, extended auto warranties are negotiable. Feel free to negotiate the terms and conditions before signing the vehicle service contract. Use competitive quotes with other providers to give you leverage and negotiate better deals. You can also ask for additional discounts, such as multi-car discounts, affiliate discounts (military, law enforcement, etc.), safe driver discounts, and other hidden offers.
6. Customize Your Plan with Bonus Perks
Many third-party warranty providers offer customizable vehicle coverage plans. If you still need to find the right one, inquire about customizable options and additional perks. For example, Endurance Warranty offers customizable plans plus a host of bonus perks, such as 24/7 roadside assistance and towing, rental reimbursement, and trip reimbursement coverage that come with every plan. Plus, customers can activate additional savings with the Endurance Elite Benefits plan. For a small, $29 activation fee, customers can enjoy a free year of tire repairs, key fob replacement, and more.
Ask Questions and Make an Informed Decision
Before you sign any contracts, ask questions you need clarification on. Clarify any ambiguities in the warranty contract so you know what you're signing up for. For example, you should understand or ask about any covered repairs or additional fees or taxes that may be charged. In addition, it's essential to know if you're expected to pay for labor costs or if the warranty company covers them. Finally, you should also ask what the process is to submit a claim in case of a breakdown. Knowing the policy and what's expected of you will help you make an informed decision when purchasing a warranty.
Take time to read the fine print of any extended auto warranty you are considering. Ensure you understand the coverage details, including any exclusions or special terms, and ask questions if you need clarification. It's also essential to understand the company's reputation and customer service record and ensure you are comfortable with the warranty company's process for filing a claim.
It is wise to thoroughly evaluate all extended auto warranty quotes before committing. First, look at the service provider's overall value, cost, and trustworthiness. After that, weigh the coverage you require and your budget limits to determine the best extended car warranty option for you.
Get a Customized Extended Auto Warranty Quote
Ready to protect your vehicle with confidence? Don't wait for unexpected repairs to drain your wallet. Get an auto protection plan from Endurance Warranty today and enjoy peace of mind on the road. With comprehensive coverage options, flexible payment plans, and excellent customer service, Endurance has you covered. Get a free quote now and experience worry-free driving with Endurance Warranty by your side.
More like this
Cost and Price

If one thing's true about car ownership, it's that it doesn't come cheap. No matter what vehicle you own, whether a used or new car, maintenance fees and unexpected repairs..

Read More

Cost and Price

An extended car warranty provides new and used car buyers with a financial safety net against expensive car repairs due to mechanical breakdowns after a factory warranty expires. However, every..

Read More

Cost and Price

One thing nearly all car shoppers have in common is wanting a reliable vehicle. Buying a new vehicle with a bumper-to-bumper warranty is an attractive option for many drivers. But,..

Read More