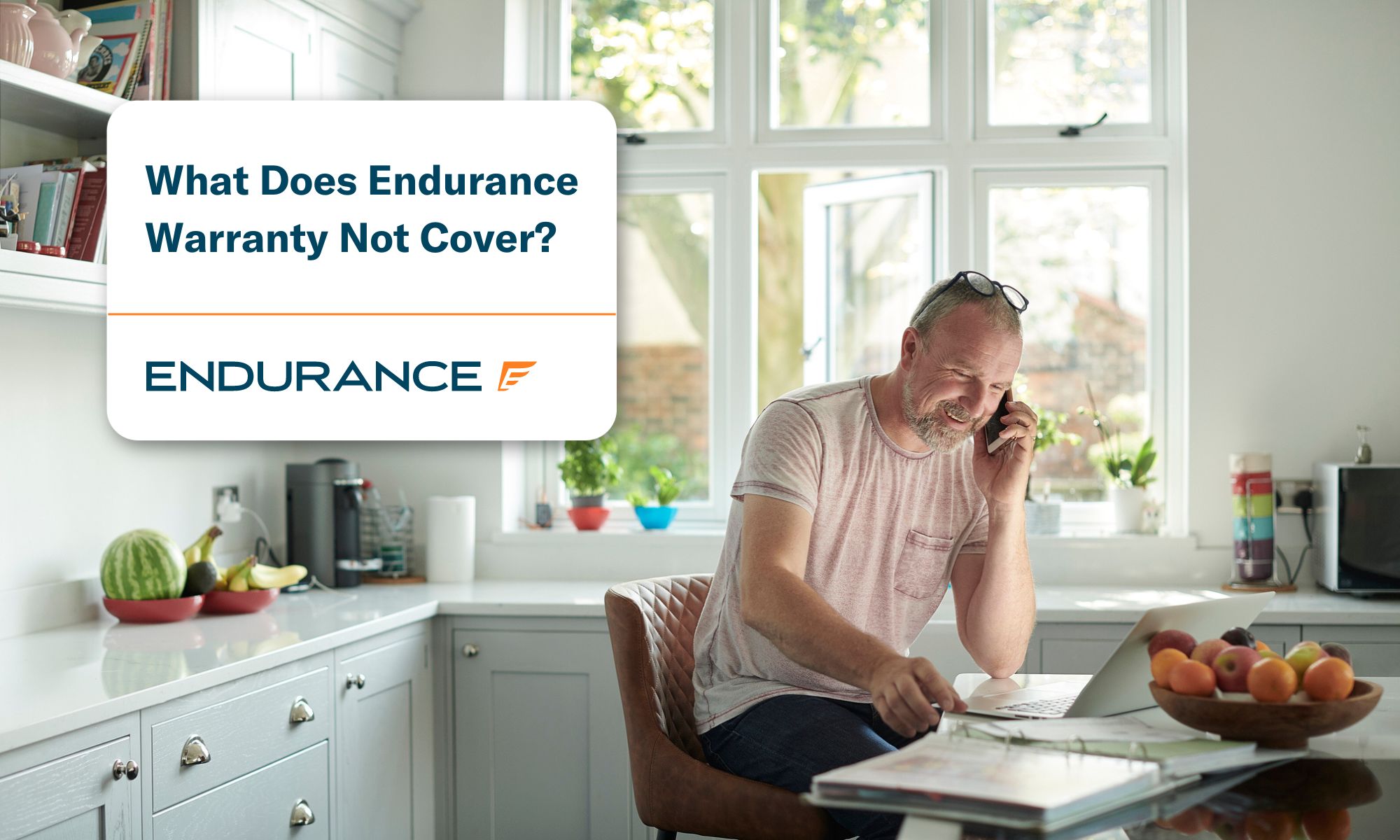 An extended warranty is a great way to protect your used car after your expired factory warranty. With great coverage options, affordable deductibles, and an easy claims process, Endurance leads the pack as one of the best vehicle service contract (VSC) providers in the industry.
Choose from various coverage plans, commonly known as extended warranties, from standard powertrain coverage to fully comprehensive coverage, similar to factory warranty coverage. Each Endurance auto warranty plan comes with 24/7 roadside assistance, rental car reimbursement, and trip interruption coverage to give you peace of mind during an unexpected mechanical breakdown.
While there are many things that Endurance Warranty will cover, it is essential to know what may not be covered within your contract. Your contract may have a list of exclusions stating what will not be covered in your Endurance extended car warranty. Whether you are still researching us as your provider or are already an existing customer, we have compiled a list of what might not covered by your Endurance plan.
Types of Warranty Coverages Offered by Endurance
Before we get into the exclusions of Endurance extended warranties (or what we don't cover), let's first take a quick look at the types of coverage plans you can choose from:
Secure Plus
Endurance's Secure Plus plan offers affordable coverage that is designed for older cars or high-mileage vehicles. It is going to give you protection for the most important components of your vehicle, including:
Engine
Transmission
A/C
And More
Supreme
Endurance's Supreme warranty will give you the most comprehensive coverage available. This warranty is the closest to a new manufacturer's warranty you can get. It will include the same coverage as the Secure Plus plan but with the addition of:
Fuel System
Electrical
High-Tech Options
Seals/Gaskets
Cooling System
Transfer Case
Drive Axle
Ane More
Superior
Endurance's Supreme plan gives you extensive coverage that protects a wide range of components. You will get protection for most common parts that break down over time, including:
Engine
Transmission
A/C
Fuel System
Electrical
High-Tech Options
And More
What Does Endurance Not Cover?
General Exclusions
General exclusions in an extended warranty contract typically refer to specific situations, components, or scenarios not covered by the warranty. While these exclusions will vary from company to company, you can find a list of the following exclusions in your vehicle service contract.
Common examples of general exclusions might include:
Pre-existing Conditions
Regular Maintenance
Cosmetic Wear and Tear
Misuse or Neglect
Environmental Damage
Accidents and Collisions
Commercial Use
High-Performance Modifications
Towing and Rental Costs
Non-Covered Components
Gradual Deterioration
Damage from Improper Repairs
Acts of War or Terrorism
Non-Factory Equipment
Voiding Manufacturer's Warranty
Specific Component Exclusions
Specific component exclusions include particular parts, systems, or components of a vehicle that are explicitly listed as not covered by an extended warranty. These exclusions delineate what items will not be included in the warranty coverage.
Common examples of specific exclusions might include:
Wear and Tear Items
Audio and Entertainment Systems
Exhaust System
Suspension and Steering Components
Wipers and Bulbs
Batteries
Regular Maintenance Items
Interior and Exterior Trim
Body and Frame
Seals and Gaskets
High-Performance Parts
Damage from Environmental Factors
Specific Electronics
Conversion Kits
Situational Exclusions
Situational exclusions in extended warranties are specific instances or events excluded from coverage. These exclusions are related to particular situations rather than components or general categories. Common examples of specific exclusions might include:
Off-Road Usage
Racing or Competitive Events
Reckless Driving
Unauthorized Repairs or Modifications
Neglecting Recall Notices
Failure to Follow the Maintenance Schedule
Use of Non-Approved Fluids
Overloading
Use of Improper Fuel
Improper Storage
Lack of Documentation
Acts of Vandalism
Theft or Burglary
Natural Wear and Tear
Acts of Nature
Limitations on Repairs
Unlike factory warranties, an Endurance warranty will give you the freedom to have your vehicle repaired at any ASE Certified repair facility. While this does broaden your selection of who can correct your car, you must ensure that the facility you are having it repaired at is licensed and approved by Endurance for the repairs. You will also need the service manager to contact Endurance to authorize the claim.
When replacing parts on your vehicle, you must ensure the warranty provider approves the parts used. With Endurance, replacement of eligible components may be made with original equipment manufacturer parts, non-original equipment, manufacturer parts, re-manufactured parts, or used parts at the administrator's discretion.
Policyholder Responsibilities
Each Endurance contract will include a section outlining the policyholder's responsibilities in case a claim needs to be filed. Policyholder responsibilities in an extended warranty contract are obligations and actions that the vehicle's owner must fulfill to ensure the validity of the warranty coverage and make the warranty process smooth and effective. These responsibilities help both the policyholder and the warranty provider maintain a clear understanding of their respective roles.
For Endurance car warranty plans, you have three responsibilities:
Duty to Provide Accurate Information – You are required to provide accurate information regarding your vehicle in any claim.
Duty to Maintain Vehicle and Records – You must maintain your vehicle correctly per the manufacturer's recommendations outlined in your owner's manual.
Duty to Cooperate – You will be responsible for cooperating with any claim or action under this contract.
Failure to abide by these responsibilities can result in your extended auto warranty claim being denied.
Coverage Limits and Caps
Coverage limits and caps, commonly called limits of liability, are the maximum amount or extent to which the warranty prover covers repair costs and related expenses.
For Secure and Secure Plus Coverage: Our maximum Limit of Liability per covered Vehicle for all covered repairs and benefits under this contract shall not exceed the lesser of a total dollar amount of ten thousand dollars ($10,000) or the NADA average trade-in value at the time of covered repair and/or benefits.
For Superior, Supreme, and Supreme Wrap Coverage: Our maximum limit of liability per covered vehicle for all covered repairs and benefits under this contract shall not exceed the NADA average trade-in value during covered repair and/or gifts.
Once the combined maximum Limit of Liability has been reached, as defined above, this contract and its transfer and cancellation rights may terminate. See your specific contract for details.
Choose Endurance for Your Extended Warranty Needs
Now that you know what is not included in your Endurance vehicle protection plan, you should better understand how we compare to your standard dealership's extended car warranty or another warranty company. One of the most significant advantages of an Endurance plan is convenience.
Our comprehensive plans allow you to take your vehicle to any licensed auto repair shop for warranty work. Many other extended auto warranties will only allow you to have your car replaced at a specific network of repair facilities.
As a bonus, all new Endurance customers can choose to receive one free year of Endurance Elite Benefits (with a small activation fee) with their extended warranty plan. These benefits include two tire repairs/replacements per year, key fob replacements if yours are lost or stolen, battery jump assistance, and flat tire assistance if you experience a blowout on the road.
Try our 30-day money-back guarantee and see which plan is right for you by calling (800) 253-8203, or you can request a FREE quote. In addition, you can explore our online store for an instant price preview and shop confidently.
Visit the Endurance Warranty Services blog for more articles on coverage comparisons like CarShield and CARCHEX, Endurance Warranty reviews, automotive how-to's, DIY oil changes, FAQs, and more!
More like this
Endurance Info

Owning a car is like owning freedom. Nothing beats knowing that at any given moment, you can grab your keys and go almost anywhere you want. Unfortunately, however, vehicle ownership..

Read More

Endurance Info

No matter how you count it, $300 million is a lot of money. But this figure is even more significant when talking about extended car warranties. This amount is the..

Read More

Endurance Info

An extended car warranty (aka vehicle service contract) is a highly recommended investment for any used car owner. The cost of vehicle ownership is only ever on the rise, and..

Read More