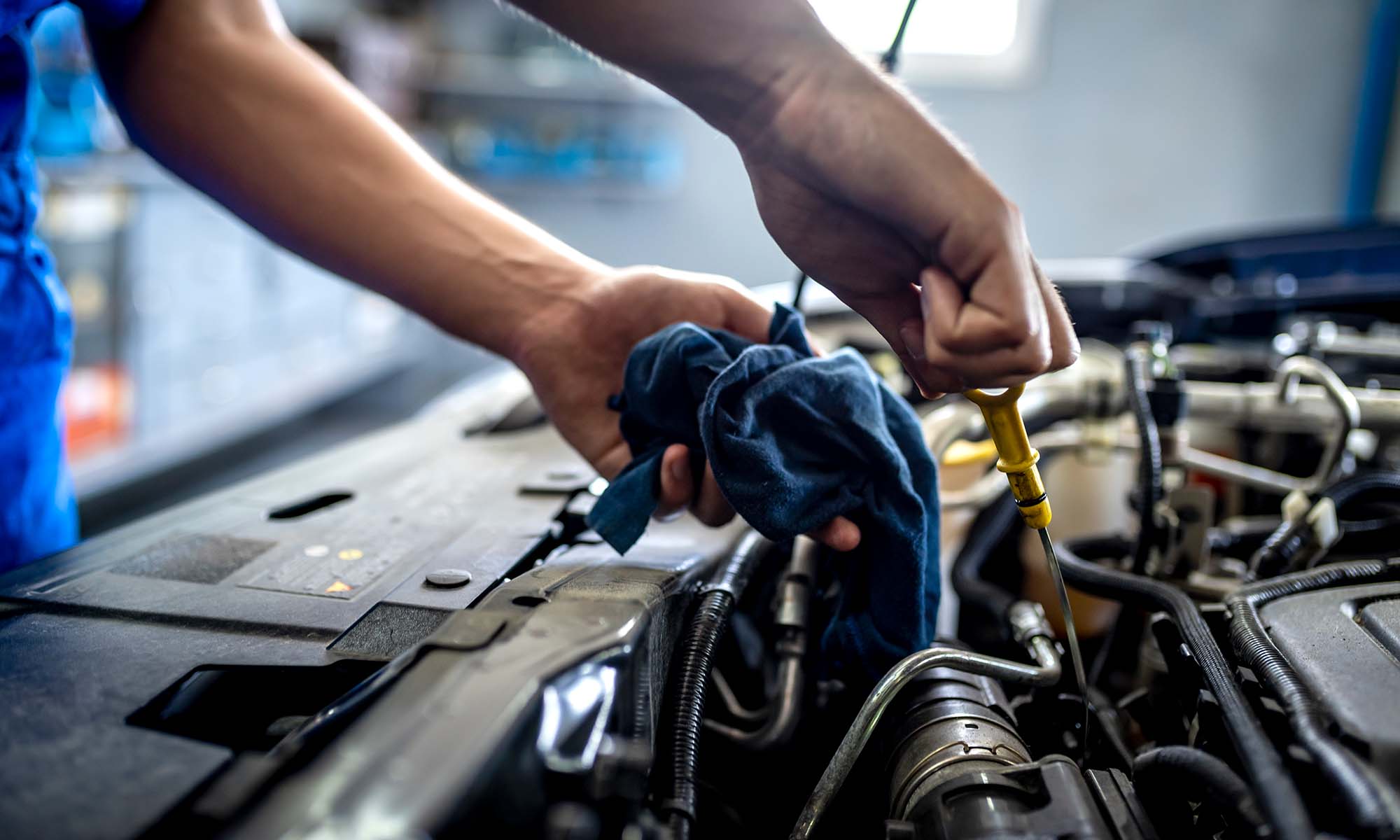 Whether you're getting yourself and your car ready for the fall, winter, spring or summer, there are some basic car maintenance tasks you need to do year-round to help keep your car running. For example, one type of maintenance every gas-powered vehicle needs, including hybrid vehicles, is a simple oil change.
And while knowing when to get an oil change can be as easy as looking at your dashboard warning lights or the sticker the automotive service center gave you, not every car owner knows why they need an oil change. Even more, many car owners might not even know that checking their car's oil can be done right at home and as little as just a few steps.
Why Do I Need To Check My Car's Oil?
Cars are complex machines with hundreds of moving parts. And without proper lubrication, those parts would destroy each other and, ultimately, your vehicle. And because a car's engine also generates extreme heat to operate, proper lubrication is a must—which is where oil comes in.
The oil in your engine acts as a lubricant to allow the metal internal engine components to operate smoothly. It also helps to cool these components down as the friction between the metal components creates high heat within your engine. But while all gas-powered cars need oil, not all oil is the same. For example, high-end luxury and sportscars, like various BMW models, need specially designed engine oil due to the sophisticated internal components of the engine. This is why taking the time to read your vehicle's owner's manual and learn what kind of oil your car needs is vital. 
However, while the type of oil may differ, most cars need an oil change every 3,000 miles or every 3 months, whichever occurs first. Still, it is recommended to check the oil a few times between oil changes to ensure engine oil levels are correct, especially during the high temperatures of summer or the freezing weather in winter. Still, regardless of the time of year, if your vehicle's engine runs low on oil or you miss an oil change, the internal components can wear out and cause catastrophic damage to your engine. That's why checking your car's oil at home can help ensure you're never putting your engine and wallet at risk. After all, replacing an engine isn't cheap, as it can cost anywhere from $4,000 to $10,000 without the right warranty coverage. 
How To Check Your Car's Oil
Checking your vehicle's oil is a straightforward car maintenance task that you can do in under five minutes and in just five steps. 
1. Get Your Vehicle Ready
The first thing you will want to do is get your car ready to check your oil. However, you may need to refer to your vehicle's owner's manual to find out the exact location of your oil dipstick. For example, in automatic transmission vehicles, the transmission dipstick may get confused with the oil dipstick. The oil dipstick in most vehicles will have a yellow pull-ring to indicate that it is for the engine oil. But once you know where to look, you can begin by parking the vehicle on level ground and allowing the engine to cool down completely before opening the hood. The oil in your engine can reach extreme temperatures, which can cause extensive burns if mishandled, so wait at least 15 minutes before moving on to step two.
2. Pop Your Hood & Locate the Dipstick
Next, you will want to pop your hood and locate the oil dipstick. Ensure that the hood is secured correctly inane upright position to work under the hood safely. Then, locate the dipstick and pull it out of the dipstick tube, making sure not to drip oil in your engine bay.
3. Wipe the Dipstick off with a Clean Rag & Reinsert
While it may seem counterintuitive, you'll want to clean off the dipstick before checking the oil. This is a pro-tip to get an accurate reading of the exact oil level, as driving could cause the oil to slosh around and reach higher up on the dipstick. So, using a clean rag, wipe the oil off of the end of the dipstick and reinsert it into the dipstick tube. 
4. Pull Dipstick & Check Oil Level
Let the dipstick sit for 5 seconds, and then pull the dipstick out again to check the car's oil level. Most dipsticks have a set of hash marks on the end of the dipstick to indicate a minimum and maximum level that your oil should be at. Look closely to determine the oil level to determine if you need to add oil to top it off at the recommended level.
This is also a good time to check the color of your oil. Fresh oil is a golden/amber color and starts to turn a dark brown once it starts to wear down and needs to be replaced. If your oil is very dark, it may be time to have your oil changed.
5. Reinsert Dipstick & Add Oil Accordingly
Once you have inspected the dipstick, reinsert it into your dipstick tube and add additional oil if needed. If you cannot see any oil on your dipstick, do not drive your car any further. Your car may be out of oil and must be towed to a trusted mechanic; otherwise, you risk severe damage to the engine.
Can My Extended Warranty Help with an Oil Change?
Whether or not your car can get covered for oil changes with an active factory warranty will ultimately come down to your automaker. Overall, the cost of an oil change can vary from car to car, with luxury vehicles and sportscars often costing more than your standard Ford, Honda or Toyota. Still, according to RepairPal, in August 2022, you could pay between $137 and $151 for an oil change. And while that may not seem like a lot, that cost can add up after a few years, and having an extended warranty that includes yearly automotive services like oil changes can help you save hundreds or thousands by owning your vehicle. 
However, while an extended warranty or even a vehicle service contract can help cover costly repairs due to breakdowns, most don't include oil changes as a covered service—but Endurance does. With the award-winning Advantage auto protection plan from Endurance, you can enjoy up to $3,500 in great maintenance benefits like oil and filter changes, alignment checks, and more, on top of the comprehensive automotive coverage you expect from an auto protection plan. 
Each Endurance plan also includes complimentary services like 24/7 roadside assistance and towing, trip interruption coverage, and even rental car reimbursements. You can also enjoy even more coverage and savings by activating an entire year's worth of Endurance Elite Benefits, including help replacing or repairing your car's tires and other great perks and savings.
Save on Repairs with Endurance Warranty
Following your vehicle's maintenance schedule, including getting regular oil changes, is the best way to keep it running at its best. This extends your car's life and helps prevent unexpected breakdowns. But while maintenance, like checking your oil and keeping your vehicle's tires at the correct PSI, is great for protecting your car, even the most well-maintained can experience a breakdown. That is where having an Endurance vehicle protection plan can help.
Like a car's factory warranty coverage, Endurance offers compressive coverage for your vehicle's most vital components. But unlike factory warranties or plans from other providers, only Endurance can help you save on repairs while helping you maintain your vehicle with the Advantage auto protection plan. This industry-leading coverage plan is designed to give you breakdown protection while providing you with up to $3,500 in regular maintenance coverage. This includes great maintenance services such as oil and filter changes, PSI checks, tire rotations, engine diagnostic exams, and more. And regardless of the plan you choose, as an Endurance customer, you'll automatically receive 24/7 roadside assistance, towing, trip interruption and even rental car coverage. Plus, you'll also be eligible for a full year of  Elite Benefits, including tire repairs/replacements, collision discounts, and much more.
To learn more about how Endurance can help you, call us at (800) 253-8203 or request a free, no-obligation quote. You can also find even more articles on all things automotive, including DIY car tips, auto expert buying guides, extended warranty coverage comparisons and more, by visiting the Endurance blog.
More like this
How To

As vehicle technology advances, features become more convenient, and design becomes completely geared toward making things as easy as possible for you. Modern key fobs are an excellent example of..

Read More

How To

Ford may have recently decided to discontinue the Focus, but with over two decades since the first iteration was revealed to the world, you can bet plenty of them will..

Read More

How To

It is no surprise that autumn is a favorite season for car owners all across the United States. With pops of color and long shadows, there is so much beauty..

Read More