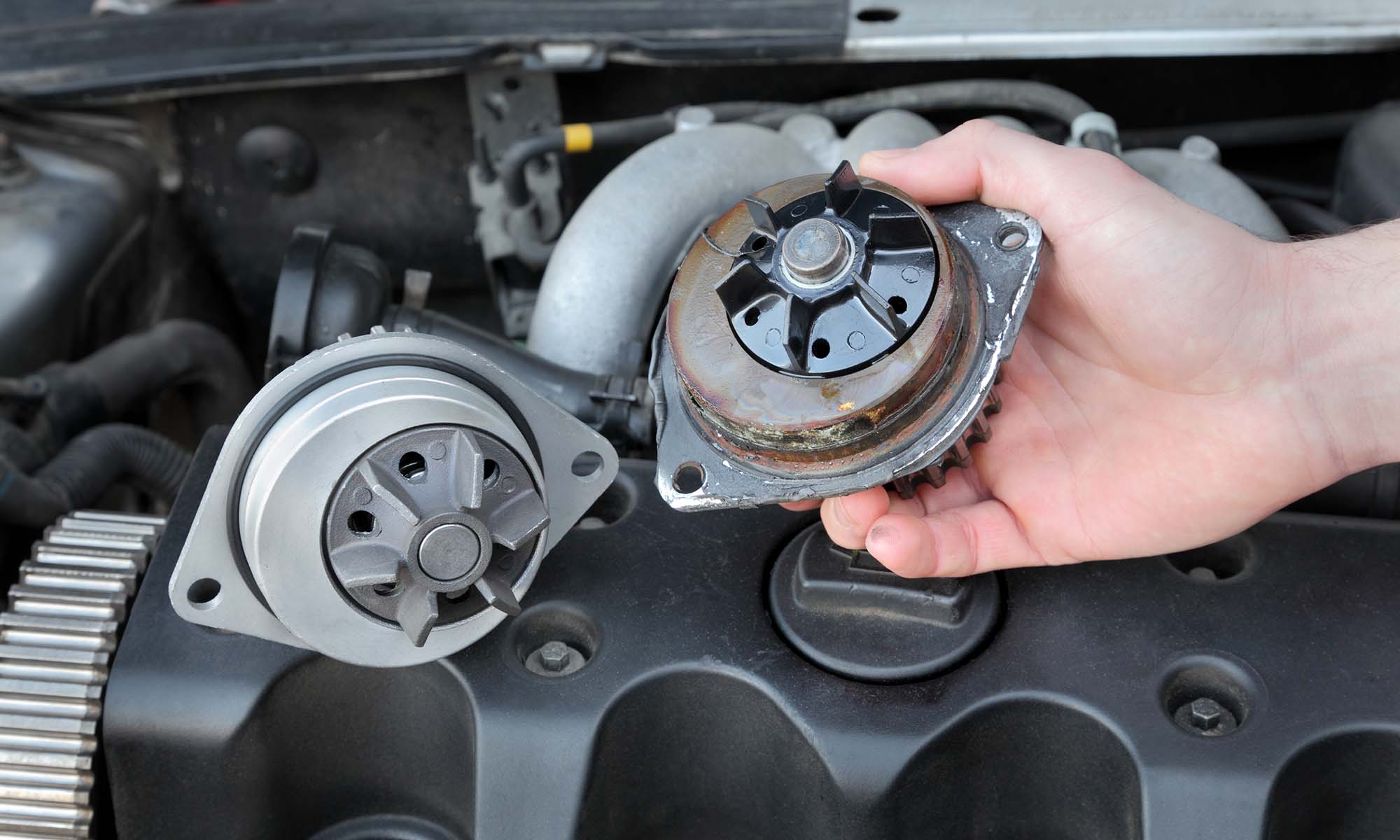 Regardless of its make or model, or whether it's a coupe, minivan, pick-up or anything in between, every car has many different parts that work simultaneously to keep it running efficiently. But, while car owners are often familiar with at least a few of these components, like the car's brakes, engine, tires and so on, there are still hundreds of components that many do not know about, such as a water pump. 
While a vital part of a vehicle, a water pump is not something drivers routinely think about until it's too late. That's why understanding more about this component, including what it does, the signs that you may have a faulty water pump, and if it's covered under your car's warranty, can help you avoid potentially costly repairs.
What Does a Water Pump Do?
A water pump is a component of your engine that helps to move coolant through the cooling system. Specifically, the water pump is typically mounted on the engine and is a part of your accessory drive or timing chain drive. To operate, your timing chain or serpentine belt spins a pulley on the water pump, turning an internal impeller that moves fluid through your car's engine, hoses, and radiator. 
Depending on your specific vehicle, your water pump may be in a different location than most. For rear-wheel-drive (RWD) vehicles, the water pump is usually located toward the front of the engine bay and mounted on the engine. On front-wheel drive (FWD) vehicles, the water pump is usually mounted on the side of the engine, in line with your other engine accessories. In special instances, some vehicles have the water pump mounted internally as part of the timing chain or timing belt system. But no matter where they are located, they all function similarly in pushing coolant through your cooling system.
Signs Of a Faulty Water Pump
A faulty water pump is usually pretty easy to detect as many have built-in weep holes that leak once they start to go out. Since they are a part of your car's cooling system, many common cooling issues can be traced back to a failing or faulty water pump.
Some of the other signs of a bad water pump can include:
Overheating:

If your

water pump

is damaged or starting to deteriorate, it will not be able to circulate coolant as efficiently, resulting in your

engine temperature

getting too high. This can lead to an

overheated engine

as it won't be able to cool itself properly.

Coolant Leaks:

A coolant leak is one of the most common symptoms of a

faulty water pump

. You may notice

engine coolant

pooled up under your vehicle or a sweet smell coming from your engine bay. Check around your

water pump

for signs of leaking coolant near the

weep hole

and

gasket

.

Corrosion in or on Water Pump:

If you notice

corrosion

in or on your

water pump

, it may be time to replace it before things worsen.

Corrosion

can quickly lead to a

failing water pump

.

Whining Noises:

If your

water pump's

 

pulley

is starting to fail, you might hear a

whining noise

while your engine is running. You will want to replace this as soon as possible to reduce the chances of your entire accessory drive failing.
Replacing a water pump can be a simple or technical job, depending on where it is in your vehicle. For example, if your water pump is an easy-to-access location, such as a Chevrolet Silverado, you can expect to pay between $829 and $1053. But if you have a vehicle that has an internal water pump, this can increase almost twice as much. For example, a new water pump on a Ford Flex is anywhere from $1460 to $1718. 
Is a Water Pump Covered In a Warranty?
Since a water pump is a part that tends to need replacing more often in vehicles around the 100,000-mile mark, most car owners will not have the option to use their factory warranty to repair it, as it will be expired. Instead, you will need an extended warranty to get the same great coverage and keep you covered if your water pump goes wrong. But as some automakers can limit you to only purchasing extended coverage while your factory coverage is still active, a plan from a third-party provider such as Endurance can help. 
Like your factory coverage, each Endurance protection plan will help cover your vehicle's most vital and often most expensive components—including the water pump. And if you have the Advantage plan, you can get peace of mind knowing your water pump and other components are covered while also receiving up to $3,500 in yearly maintenance services to help keep your car running smoothly. That even includes several special, single-use services like a brake pad/shoe replacement, a battery replacement and even cooling system maintenance. You'll also get 24/7 roadside assistance (plus towing), rental car coverage and trip interruption coverage for free, regardless of your Endurance plan. Plus, if you activate your year's worth of Endurance Elite Benefits, you'll get even more coverage and savings, key fob replacements, collision discounts, total loss protection and even tire replacements or repairs. 
Keep Your Vehicle Protected with Endurance
As comprehensive as your car's factory warranty may be, chances are your car's water pump isn't a component that you'll end up repairing or replacing with your coverage. Instead, having the coverage of an Endurance auto protection plan can give you peace of mind when it comes to unexpected breakdowns and repairs once your factory warranty expires—including covering your car's water pump. You'll even be able to enjoy complimentary services like 24/7 roadside assistance, rental car coverage and more just by being an Endurance customer. And for even more perks and savings, including complete tire coverage and collision discounts, be sure to activate your year's worth of Elite Benefits.
Get started protecting your vehicle today by requesting your free, no-obligation quote. Or, give our award-winning customer care team a call at (800) 253-8203 to learn more about how Endurance can help protect your vehicle, including how you can find coverage starting as low as just $79/month. By visiting the Endurance blog, you can find even more answers to your biggest auto FAQs and articles on topics like DIY car care tips, vehicle buying guides, and much more.
More like this
Expert Auto Tips

With most states around the country getting colder, it's worth reminding yourself how to prepare your vehicle for the different seasons. Weather conditions play a major role in how a..

Read More

Expert Auto Tips

Being a car owner can be an incredibly rewarding experience, especially if you take pride in your vehicle's condition and performance. Cars that are well taken care of will generally..

Read More

Expert Auto Tips

No matter what kind of vehicle you own, staying on top of its care and maintenance should always be a top priority. Cars that are well taken care of and..

Read More