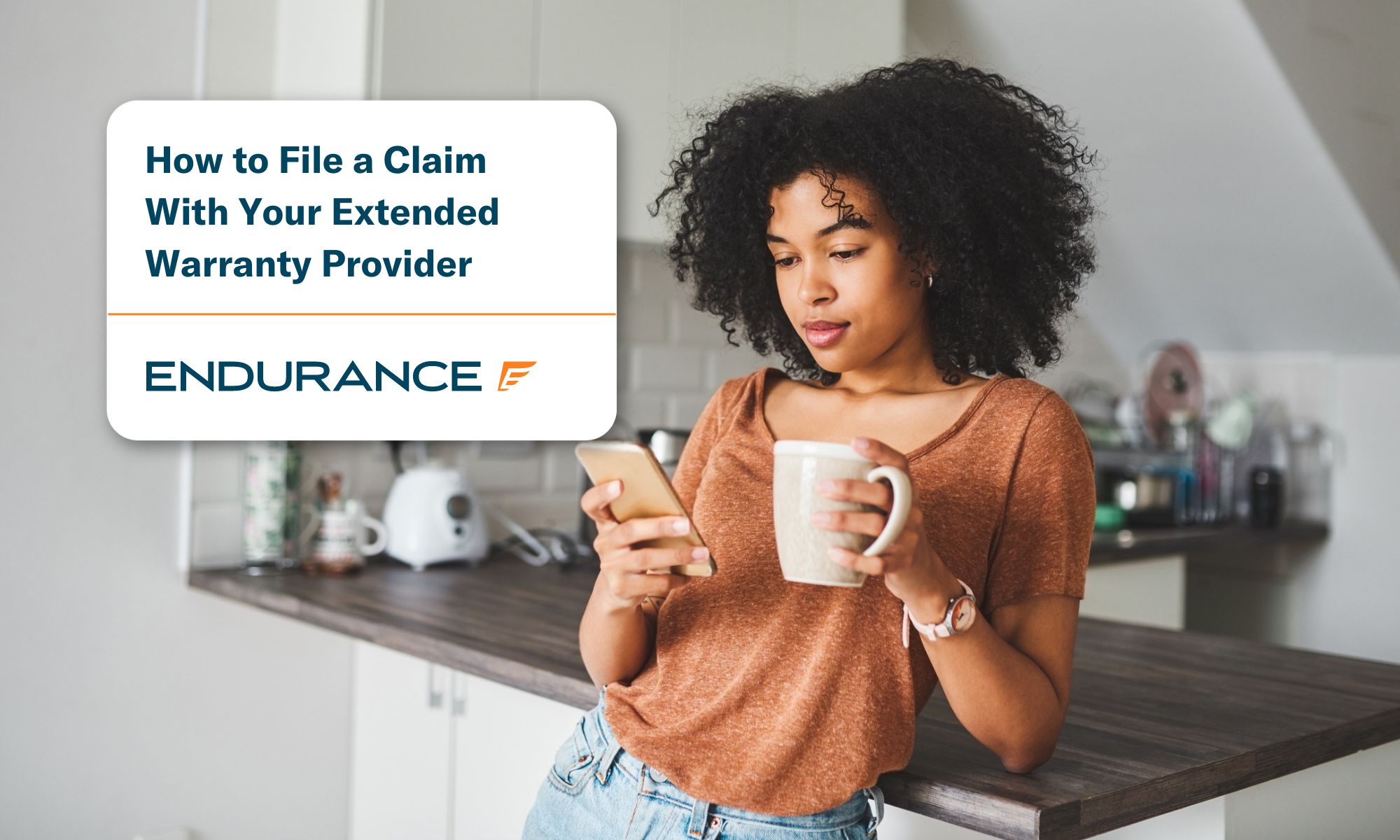 In the event of a breakdown, having an extended warranty or vehicle service contract watching your back can be a total lifesaver. With some major repairs costing thousands of dollars, by making sure you have a protection plan in place, you can save yourself some serious money (not to mention stress).
But when the worst happens, how do you make a claim? We've put together a full breakdown of the Endurance claims process, as well as the processes for our closest competitors: CarShield and CARCHEX. Keep reading for everything you need to know.
Preparing to Make a Claim
So you've suffered unexpected component failure, and your used car is at the auto shop. If you have a valid extended warranty or vehicle service contract and the component in question is covered under your plan, your warranty company or provider will foot the bill on your behalf. But there are a few things you need to do before you can make a claim:
Check that your repair coverage is active.
It may seem obvious, but the first step is to make sure that your policy is currently active. While good providers will ensure you're regularly reminded of expiration/renewal dates, if you don't keep on top of them, you could be caught out.
Review the terms of your contract.
Your contract has all the info you need on the specific components that are covered by your vehicle protection plan. Double-check those affected features in your list of approved repairs before you attempt to make a claim.
Gather the necessary documents.
Don't contact your provider empty-handed. Make sure to have your policy number and service records available, as you may need to present both. It's recommended that you store all relevant documents somewhere in your vehicle so they're always nearby when you need them.
How to File a Claim with Endurance Warranty Services
Filing a claim with Endurance Warranty couldn't be simpler. Just follow these steps, and you'll be back on the road in no time.
1. Prevent further damage.
By using your 24/7 roadside assistance and towing perks, you can get your vehicle to the auto shop pronto—preventing further damage and making the claims process as smooth as possible.
2. Take your vehicle to a licensed repair facility.
Unlike traditional extended warranties that tie you to dealerships miles away, we allow our customers to take their vehicle to the nearest licensed auto shop or ASE Certified mechanic of their choice.
3. Service manager obtains authorization.
Instruct the service manager at the repair facility to contact us for authorization.
4. Authorize tear-down and/or inspection.
You may need to authorize the facility to tear down or inspect your vehicle to find the cause and cost of the repair.
5. Review your warranty coverage.
The service manager will review your Endurance coverage plan with you to ensure the repairs are covered.
6. Pay any applicable deductible.
If your plan includes a deductible, now is the time to pay it.
7. Keep all forms of documentation during this time.
It's always better to be safe than sorry until things are fully confirmed.
8. Sit back and relax while your car is getting repaired.
You're all set. You can keep track of your claim's progress in the handy Endurance Mobile app or give our award-winning customer service team a call at (866) 432-4443 if you ever have any questions.
How to File a Claim with CarShield
Moving on to Carshield, info on their claims process is a little thin on the ground:
1. Call the roadside assistance of your claims administrator.
Unlike Endurance, Carshield is not the direct administrator of their plans. You'll need to find out who your claims administrator is, as well as the contact details for their roadside assistance service.
2. Head to your dealer or an ASE Certified auto shop.
It's standard practice for vehicle service contract providers to allow customers to take their vehicle to any licensed auto shop.
3. Authorize tear-down and/or inspection.
Sometimes, the cause and cost of the repair won't be immediately obvious without further investigation.
4. Give your warranty contract to the service manager.
They'll contact your claims administrator to seek authorization for the required repairs.
5. Pay any applicable deductible.
Before Carshield releases the funds for the auto shop, you'll need to pay any applicable deductibles.
How to File a Claim with CARCHEX
Another major vehicle service contract provider, the CARCHEX claims process is as follows:
1. Prevent further damage.
Use the roadside assistance number in your contract to get your vehicle to safety ASAP.
2. Take your vehicle to a licensed repair shop.
Like Endurance, CARCHEX also allows customers to take their vehicle to any licensed repair facility.
3. Authorize tear-down and/or inspection.
To get to the root of the problem, the mechanic may need you to authorize tear-down or inspection.
4. Find out your claims administrator's contact details.
CARCHEX is not the direct administrator of their plans, so you'll need to figure out which claims administrator you're with and what their contact details are.
5. Have the repair facility contact the claims department for approval.
Then, it's over to the repair facility to acquire authorization for your claim.
6. Pick up your vehicle and pay any applicable deductible.
You won't be able to collect your vehicle before any applicable deductibles are settled in full.
Comparing the Claims Processes
The three claims processes are broadly similar, but there are some key differences that really set them apart. To compare them better, let's put them side by side:
| | | | |
| --- | --- | --- | --- |
| | Endurance | CarShield | CARCHEX |
| Detailed claim process with information readily available | ✔ | ✘ | ✔ |
| Take your vehicle to any licensed repair facility | ✔ | ✔ | ✔ |
| Direct administrator of most plans | ✔ | ✘ | ✘ |
| Award-winning customer service team | ✔ | ✘ | ✘ |
| Track claims on a handy smartphone app | ✔ | ✘ | ✘ |
What to Do After a Claim Approval
Once your provider has given the mechanic the green light, this is usually when you'll need to pay any applicable deductible. If you aren't sure whether you have a deductible, or you know you have one but don't quite know how much it is, take a look at your contract and keep the number in mind to prevent any nasty surprises.
With that settled, your provider can take one of two routes. The simplest for you as the customer is for the auto shop to send the bill to your provider, who will then pay them directly. This is how we do things at Endurance. The second method is for you to foot the bill and submit the relevant paperwork to your provider for reimbursement. This route is obviously more cumbersome and means you're out of pocket for as long as it takes to process.
When covered repairs are complete, all that's left is to do is pick up your vehicle.
Common Reasons for Claim Denials and How to Avoid Them
Unfortunately, every once in a while, warranty providers are unable to authorize a claim. While we can't speak to the reasons that other car warranty companies deny claims, we can assure you that Endurance would never do so without a very valid reason.
The most common reason for a claim being denied is because a policy has been misinterpreted. For example, some policyholders may only have powertrain coverage but believe that this warranty covers all components within their vehicle. When they come to claim for a component that isn't part of their plan, this will be denied.
The best way to avoid this is to read and re-read your contract, familiarize yourself with what's covered, and upgrade your coverage ahead of time if you'd like something more comprehensive. Despite policy misunderstandings, we're committed to helping with repair bills or collaborating on future payment arrangements.
Pre-existing conditions are another reason that vehicle service contract claims might be denied. Unless it's fresh off the production line, most cars will have something wrong with them when a warranty is purchased. However, any repairs resulting from these issues will not be covered by your plan.
Whether they were unknown or purposely not mentioned at the point of the warranty purchase, your mechanic will be able to determine if they were pre-existing or not. For this reason, we always suggest that you purchase a policy sooner rather than later.
Preventing Future Claims
While they're always a recommended investment, the best kind of vehicle service contract is one you don't have to use. Even when a repair is covered by your provider, breaking down and going through the claims process can be a stressful ordeal, so it's worth avoiding it completely if you can.
The best way to prolong the life of your vehicle's components and prevent future claims is to stay on top of regular maintenance. This includes basic everyday tasks like keeping tires at the right PSI and ensuring fluids are topped up, as well as oil changes and other jobs you'd most likely need to visit a mechanic for.
Almost every vehicle service contract provider stipulates that your manufacturer's recommended maintenance plan must be followed to the letter as a matter of course, so it's something you should be doing whatever the case in order to keep your coverage valid.
Quality Mechanical Breakdown Coverage from the Country's Top Provider
Across the web, experts agree that Endurance is America's top choice for extended auto protection. But don't just take their word for it! Check out our 5-star reviews from thousands of happy customers.
Not only do we offer high-quality coverage for peace of mind, but we also throw in some of the best benefits in the business. Every Endurance plan comes with 24/7 roadside assistance, trip-interruption costs, and replacement travel reimbursement as standard.
And if that wasn't enough, every new Endurance customer also gets a year's free access to our Elite Benefits package, opening up tire repair/replacement, key fob replacement, total loss protection, and much more.
If you want to find out what we can do to protect you from unexpected repair bills, contact our phone number at (800) 253-8203 for a FREE quote, or shop online today. We also have tons of helpful resources and FAQs on our extended auto warranty blog, so make sure to head on over before you leave.
More like this
How To

Keeping a Hyundai Accent running for the foreseeable future is about more than simply being a safe driver on the road. While keeping your eyes peeled and attention on the..

Read More

How To

While reliability is always a factor when choosing a vehicle, many more considerations are involved when kids are in the picture. Safety, space, and comfort must also be part of..

Read More

Finance

For many car enthusiasts around the world, finally saving up enough money to purchase a luxury car is a huge goal in life. Whether that new car is manufactured by..

Read More