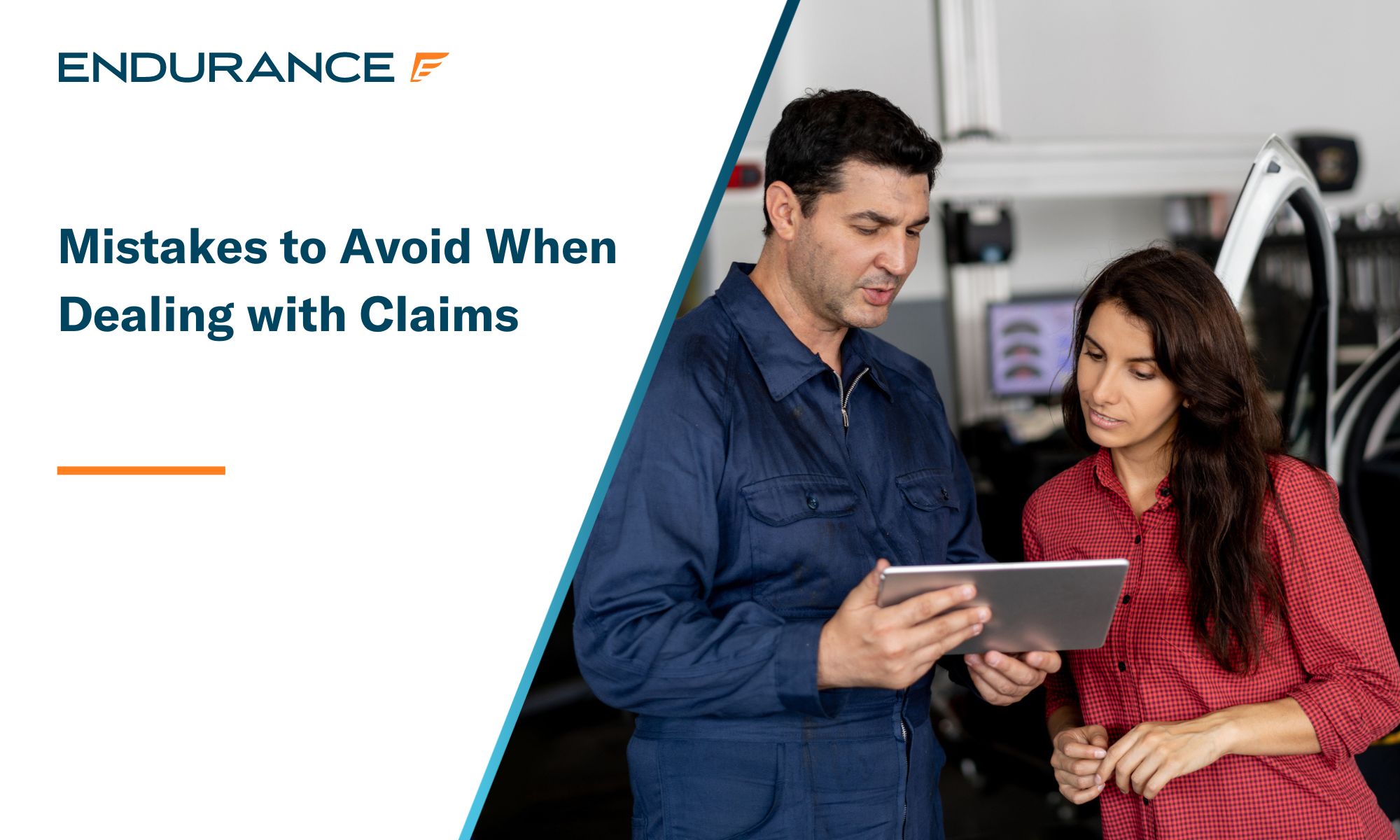 Owning a new car that you love is one of the greatest joys in life. Getting behind the wheel and looking for adventure is a fantastic way to experience the world around you and can lead to some great times. If you love your vehicle and want to keep it in the best possible condition, an extended car warranty, more accurately called a vehicle service contract (or VSC), is an excellent option. Knowing that you can get the help you need when an issue arises with your vehicle can help give you peace of mind whenever you set off on your next road trip or commute.
Having a VSC is your best bet for getting help paying for repairs on your treasured new or used car, truck, or SUV. If you are going to make the most of your coverage, you need to know how to file a claim for your repairs properly. Many people make mistakes when they file a claim, which can present issues when paying for service. Understanding some of these common mistakes and knowing how to avoid them will ensure that the process goes smoothly for you and that you can get back on the road.
Understanding Your Extended Warranty Coverage
Before you have to use your VSC coverage, you must understand it and know what it includes. Not all coverage plans are the same, and you want to be sure that you know the terms and conditions of your plan. Knowing the fine print of your specific coverage is your best bet when you want to take your car in for service or repair. This way, you can be certain that the procedure will be covered.
When looking at your VSC, check and see what components are covered. Depending on the level of coverage you have purchased, some components may not be included with your policy. You also want to be certain that your vehicle is still within your particular coverage plan's age and mileage restrictions. As long as your car and the repair are in compliance with the terms of your coverage, you should have no problem filing your claim.
Mistake #1: Failing to Maintain Proper Records
One of the biggest mistakes drivers make regarding their vehicle's upkeep and maintenance is keeping proper records. Having documentation for things like oil changes, warranty information, and other services can be a big help when the time comes to file a claim of any kind. Some VSC providers want to be sure that you have kept up with your vehicle's maintenance and that the issue you are getting repaired isn't the result of negligence on your part.
The best thing you can do to keep yourself and your documents organized is to have a designated file just for your car's documentation. In this file, keep receipts for your oil changes, tire rotations, and alignments, and ensure they have a date and odometer reading on them. You should also keep your warranty contract in there so you have everything in the same place. This will make accessing this information easier when you have to file a claim.
Mistake #2: Delaying Reporting the Issue
When you must file a claim with your VSC provider, time is essential. You do not want to wait until after the repair has been made to try and file your claim. The best thing you can do is work with the mechanic and your VSC provider at the same time so everyone is on the same page. This way, you can be certain that the repair will be covered, and you won't be doing any guesswork. The warranty company will also be able to communicate with the repair shop and make sure that they are getting paid on time.
When you or your mechanic waits to file a claim with your VSC provider, you risk getting the claim denied. No matter what provider you have, there is a possibility that a late claim will not be valid as per your contract. As soon as you encounter an issue with your car, contact your VSC provider and find out your options. They will guide you through the process and ensure you are doing everything correctly so your claim has the best possible chance of acceptance.
Mistake #3: Attempting Unauthorized Repairs
Every VSC provider will have their own sets of qualifications and requirements for covered repairs. You want to be certain that the car repair you need falls under their covered procedures and that it will be approved when you file the claim. Some providers require you to get pre-approved for any repairs you want to make to your vehicle. Be sure that you have done your due diligence before attempting to get any repair done on your vehicle.
Knowing your warranty terms will be your best bet if you want to make sure that a repair is authorized. By having a good understanding of the proper procedures, you can give yourself the best possible odds of having your claim accepted. If you have any questions, be sure to communicate with your VSC provider and the repair facility, and they will be able to tell you what steps you should be taking.
Mistake #4: Assuming All Repairs Are Covered
Assuming that your vehicle's repair costs will be covered no matter what is never a good idea. Every VSC plan will have exclusions and limits on what repairs are covered and what procedures will be taken care of. Depending on your plan type and the amount of coverage you pay for, some repairs may not be included in your policy.
Identifying any repairs you know will not be covered in your VSC plan before you do anything else is a good idea. Look at your contract and find the list of covered components. This will give you an idea of anything that might not be included so you can be prepared if one of those components fails or breaks. This will help you know what to expect when something goes wrong with your vehicle.
Mistake #5: Overlooking Deductibles and Copays
Every VSC provider will have deductibles and copays that you have to be aware of when you take your vehicle in for repair. In some cases, you can pay extra for a lower deductible or copay, but generally, you will have some level of financial responsibility and out-of-pocket expenses, even with the most comprehensive coverage. Knowing your deductibles or copays will help you be ready when you have to pay them.
It is a good idea for any car owner to set up an emergency fund in case something needs to be repaired. While this is especially true for those without VSC coverage, even covered vehicle owners should have room in their budget for their copays and anything under their deductible. This way, you know that you will be able to take care of your end of the bargain and that your vehicle can get the repair it needs.
Mistake #6: Disregarding the Inspection Requirements
When you sign on with a VSC provider, your car may have to get inspected before your coverage kicks in. This will tell the provider how much of a liability your vehicle is and how likely it is to need a repair. Make sure that you have gone through this inspection and that everything has been approved before you decide to get your vehicle repaired.
In some cases, you may also have to get your vehicle periodically inspected in order to keep your coverage active. Be sure to know the requirements for your particular coverage and do everything you have to do to keep it valid. This is also where keeping your documentation organized will come in handy. Knowing when you have gotten your inspections and routine maintenance will help you be sure that you have kept up with your coverage requirements.
Mistake #7: Ignoring the Claims Process Guidelines
Every VSC provider will have their own process for filing a claim. It is your responsibility to know the steps and how you should get your claim accepted. In some cases, you will have to file the claim before the repair is made; in others, you file it afterward. Understanding the process and how you should go about it will give you the best chance at getting everything approved.
Almost every VSC provider will require you to give accurate and detailed information regarding the reason for the repair, the components being replaced or fixed, and where you are taking the vehicle. Be sure to get documentation and receipts for everything so you can present them to your VSC provider when the time comes.
Mistake #8: Giving Up Too Easily on Denied Claims
Sometimes, even if you do everything you are supposed to do, a VSC provider may deny your claim. When this happens, it is important to remember that you have recourse. Don't give up on the first try; do everything you can to appeal the denial and get your claim accepted. Many providers have an appeals process, and knowing your options will help you reverse the denial.
Having all your documentation, including maintenance records, will be a big help during the appeals process for your claim. Speak with your VSC provider's customer service team and determine what steps you should take and what documentation you must present. If necessary, seek help from consumer advocacy groups like the Bureau of Consumer Protection and state consumer protection offices.
Make Your Claims Process as Easy as Possible With Endurance
Getting the help you need when your used vehicle breaks down can be a major relief. If you want to make sure that your claim is approved and processed, it is important to do everything right. Knowing some common mistakes and how to avoid them will give you the best possible chance at getting your claim approved so you can get your car back on the road.
If you want the best customer service and the most comprehensive auto protection plans for your vehicle, Endurance is here for you. With over $300 million in paid claims since 2012, our award-winning customer service team will make sure that you get the assistance you need to process your claim. Plus, you get the added benefit of the Endurance mobile app for easy access and the ability to take your vehicle to any ASE Certified mechanic.
With everything from the most basic powertrain plans starting at $99 per month all the way up to coverage for your high-end luxury vehicle, Endurance has something for everyone. There are even plans for vehicles that other providers won't cover, like Canadian Gray Market vehicles, cars with a rebuilt or salvage title, and vehicles used for commercial purposes like rideshare or delivery. Every Endurance customer also gets access to standard benefits like 24/7 roadside assistance, towing, trip interruption coverage, and rental car coverage. Plus, for a small activation fee, every Endurance customer can get one year of free Elite Benefits, which include even more perks and benefits like tire repair and replacement, total loss protection, and more.
If you'd like to know more about how Endurance can help keep you safe on the road, get in touch with our award-winning customer service team at (800) 253-8203 or request a FREE, no-obligation quote.
Continue learning about all things automotive, including articles on mechanical breakdown insurance, expert auto tips, car warranty company comparisons, manufacturer's warranty specifics, and more, over on the Endurance Warranty blog.
More like this
Extended Warranty

When driving on roadways around the world, the thing most car owners fear is being involved in an accident. However, mechanical breakdowns are the thing that every average driver should..

Read More

Extended Warranty

Every car owner knows how important it is to keep their vehicle in the best possible condition at all times. This means making sure that you are getting the proper..

Read More

Extended Warranty

Driving down the road only to experience an issue with your vehicle's steering capabilities is a terrifying experience, regardless of if you are driving a new vehicle or an old..

Read More