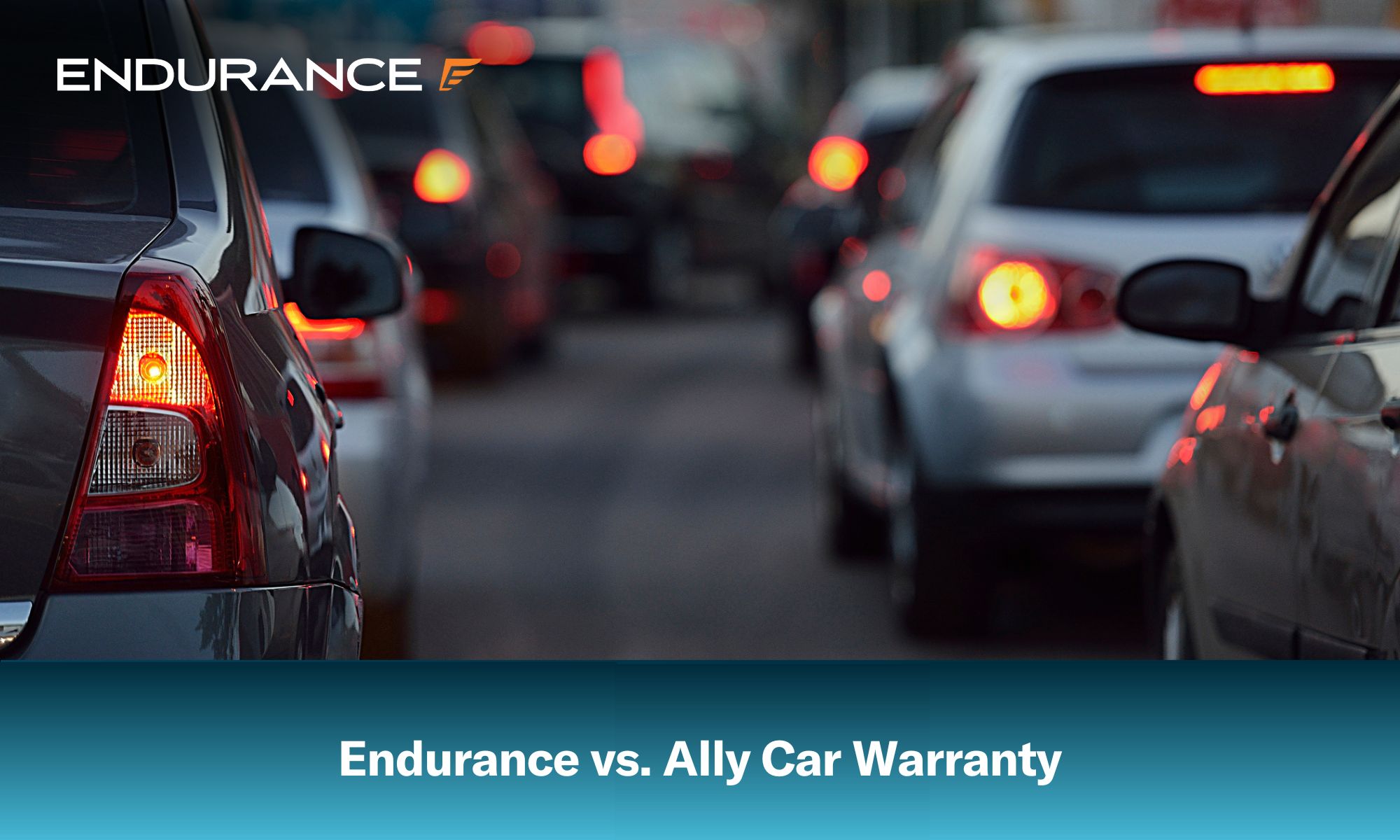 There's no getting around the fact that car ownership can be expensive. With the cost of annual repairs and maintenance only ever on the rise, it's no surprise that vehicle owners across America are looking for ways to protect their wallets. When it comes to saving money, an extended warranty is one of the best investments you can make, but there are so many providers to choose from that deciding on one can be tough.
In our comparison series, we put two of the country's major extended warranty providers side by side, weighing up the pros and cons so you don't have to. Here, we'll be pitting Endurance Warranty against Ally Car Warranty, so keep reading to see who comes out on top.
Why Purchase an Extended Car Warranty?
To put it as simply as possible, an extended warranty can save you serious money on the cost of vehicle ownership. But to give you the whole picture, we should start with what a warranty is and the benefits you get from having one.
When a vehicle rolls off the production line, it comes with what's known as a factory warranty or a manufacturer's warranty. This warranty acts as the automaker's promise to replace or repair any components that fail due to manufacturer fault within a predetermined number of years/miles traveled (whichever comes first). The length of your factory warranty will completely depend on your manufacturer, but whenever that expiry date comes, you, as the owner, are fully responsible for any future vehicle repair bills.
There are a couple of ways to extend this protection — the first being traditional warranty coverage from an extended warranty company. You can usually purchase one of these from your manufacturer themselves or via an authorized dealership. However, the big catch with this kind of extended warranty is that you have to purchase them while your factory warranty is still active. Miss the deadline by a single day, and you'll unfortunately no longer qualify.
For anyone who misses the sign-up date, or if you own a used vehicle, a vehicle service contract from a third-party provider is your best option. In fact, they're such great value that even people eligible for a traditional extended warranty often opt for a vehicle service contract instead. Third-party providers are incentivized to offer almost as comprehensive coverage at a more affordable price point, usually throwing in some added perks to sweeten the deal. On top of that, vehicle service contracts also give you the freedom to have covered repairs carried out at any ASE Certified repair shop rather than tying you to dealerships like extended warranties do.
It's worth us clarifying that an extended warranty/vehicle service contract and auto insurance are totally different types of coverage. While they're both great at saving you money, a warranty specifically covers repair bills as a result of unexpected mechanical breakdowns, whereas auto insurance protects you from repair bills due to a collision or other such incidents. The good news is that they work great together, so it's recommended that you take out both and have all bases covered.
The Extended Warranty Companies
Now that you understand just how useful an extended warranty can be, it's time to decide on a provider. Let's take a look at our two competing companies:
About Endurance Warranty
Founded over 15 years ago in Northbrook, Illinois, Endurance is widely considered one of America's most trusted vehicle service contract (VSC) providers. Since opening our doors, we've helped thousands of drivers protect themselves from unexpected costs, offering a broad range of plans with unrivaled flexibility, eligibility, and affordability. Coverage starts at just $99 per month, and with our 30-day money-back guarantee, you have all the time you need to be certain you've picked the right protection.
The money-saving doesn't stop at repair bills. All of our plans include a suite of great benefits as standard, including 24/7 roadside assistance, towing, travel interruption costs, and replacement travel reimbursement. Better yet, all new Endurance customers get a year's free access to our Elite benefits package, adding on extra perks such as tire repair, total loss protection, and more. Just pay a $29 activation fee, and you're good to go.
Unlike most other providers, we're also the direct administrator of our plans, so there are no pesky middlemen to deal with when it comes to making a claim. Whenever you need a hand, our award-winning customer service team is always around, and the Endurance app puts all the most important information in your pocket. If that wasn't enough, all Endurance plans are fully transferable, potentially raising the value of your vehicle should you decide to sell it.
About Ally Premier Protection
Ally Financial Inc. is a financial services company based in Michigan. They offer a wide range of banking services, such as savings accounts, personal loans, mortgages, and vehicle service contracts (known as Ally Premier Protection). Strangely, the business isn't Better Business Bureau accredited, and their BBB page has 1.06 stars out of 5 based on 547 customer reviews (as of August 2023).
The company offers four key extended warranty plans, including a fully comprehensive plan as well as a plan specifically for tech and safety systems. Additional benefits include roadside assistance, towing, trip-interruption protections, and alternate transportation, though their website states that interruption and locksmith/key services aren't available in Kansas.
Somewhat unusually, they also offer a separate product for maintenance coverage. This includes engine oil changes (plus oil filter), chassis lubrication, tire rotations, and fluid top-offs, which must be performed at your selling dealership.
Based on the information provided on their website, Ally vehicle service contracts are only available for purchase via a dealer rather than from Ally directly.
The Extended Warranty Plans
Endurance and Ally Premier Protection both offer a range of plans, from fully comprehensive to something a little more basic:
Endurance Warranty
Supreme
Supreme is an exclusionary plan that's as close to a factory warranty or bumper-to-bumper coverage as you're likely to get. Almost every component, part, and system in your vehicle is protected under this plan, including seals, gaskets, and even high-tech components that other providers won't touch. If you find Titanium or Diamond plans elsewhere, you can bet that Supreme is at least as good, if not better.
Supreme For Highline Vehicles
Luxury vehicles may look great, but unfortunately, they aren't so reliable. These expensive cars are even more expensive to repair but don't worry. Supreme For Highline Vehicles is specially designed to cover specific luxury cars under eight years old and with fewer than 80,000 miles on the clock.
Superior
Superior is a stated component plan that covers an extensive list of named parts. It's ideal for anyone who uses their vehicle daily or those who enjoy a long road trip occasionally. Coverage also includes a number of electronics, with the option to add other high-tech components if you'd like to.
Select Premier
Finding a provider who'll cover high-mileage vehicles can be tough, but our Select Premier plan is specifically for them. Cars with up to 150,000 miles on the odometer are eligible, with select lubricated engine components, transmission, and drive axle assembly components all included, plus your cooling system, fuel system, and some air conditioning/electrical parts.
Advantage
We like to do things differently at Endurance, and Advantage is one example. Not only does this market-leading plan offer incredible coverage in the event of unexpected component failure, but it's the only protection program on the market to include $3,500 in annual maintenance costs — saving you even more money on the cost of car ownership with oil changes and more included.
Secure
If you only want to protect the most important parts of your engine, check out our Secure plan. This basic coverage looks out for those essential powertrain components, with prices starting at just $99 per month.
Secure Plus
Secure Plus covers everything from Secure, plus a little extra. Additional covered components include brakes, air conditioning, steering, and select electrical parts too.
Ally Premier Protection
Major Guard
Ally's most comprehensive plan, Major Guard, covers a list of stated components ranging from major essentials like your powertrain to more intricate electricals such as front and backup camera systems/sensors.
Major Guard EV
A comprehensive plan for EV owners, tweaking the list of covered components to include the electric drive unit, propulsion battery pack, liquid thermal battery management system, and more.
Essential Guard
The closest thing Ally offers to a powertrain plan, with additional fuel delivery, electrical, steering, and climate control components covered.
Feature Guard
Unlike the other plans provided by Ally, Feature Guard only protects your specialized tech and safety components, such as keyless entry, heads-up display, and GPS/navigation hardware. For this reason, it feels more like an add-on than anything else.
Ally Auto Care
Ally Auto Care isn't a vehicle service contract but a separate maintenance coverage plan. There's no deductible, cars up to 20 years old are eligible, and coverage is transferable if you decide to sell. Services include engine oil changes (plus oil filter), chassis lubrication, tire rotations, and fluid top-offs.
Other Benefits
Vehicle service providers often throw in extra perks. Both Endurance and Ally Premier Protection offer their own additional benefits, including:
Endurance Warranty
24/7 roadside assistance: No one wants to be stranded at the roadside after a breakdown, so 24/7 roadside assistance and towing is standard with every Endurance plan.
Trip interruption costs: Breaking down shouldn't get in the way of your plans. If you're far from home when the worst happens, we'll help with the costs of getting back on track.
Replacement travel reimbursement: Sometimes car repairs take a while, but we don't want you stuck without a ride. To get you back on the road ASAP, we'll reimburse you for replacement travel.
Endurance Elite: Elite is an additional suite of benefits that grants you access to tire repair, total loss protection, key fob replacement, and more. New Endurance members get a year's free access (a $29 activation fee applies).
Ally Premier Protection
Roadside assistance: Just like Endurance, Ally Premier Protection includes roadside recovery to help you get to an auto shop after a breakdown.
Trip interruption costs: Again, Ally also offers trip-interruption coverage to allow you to continue your journey even if your used car is out of action.
Replacement travel reimbursement: Ally will cover the costs of a rental car if you require one while your own vehicle is being worked on.
Endurance Warranty vs Ally Premier Protection: Pros & Cons
To round things off, let's compare the pros and cons of each provider:
Endurance Warranty pros:
Award-winning customer service team
The direct administrator of all plans
Unbeaten in eligibility, flexibility, and affordability
All plans are transferable
Excellent added benefits
New customers receive a free year of Endurance Elite
Mobile app available for download
America's most trusted service contract provider
Endurance Warranty cons:
Only available within the U.S.
Ally Premier Protection pros:
Coverage for vehicles up to 20 years old
Coverage options for maintenance
Useful added benefits
Ally Premier Protection cons:
Only available via dealerships
Bad BBB rating
Not as flexible as some other providers
When It Comes to Quality Coverage, There Is No Competition
Countless industry experts agree that Endurance is your top choice for an extended auto warranty. And if you don't believe the experts, our customers feel the same way.
If you'd like to choose us to protect your vehicle from the cost of unexpected breakdowns and gain peace of mind, our team is more than happy to help. Experience our award-winning customer service firsthand by calling our dedicated team at (800) 253-8203 to request a FREE quote. You can also explore our online store for an instant price preview and shop with confidence.
If you'd like to keep reading for now, we have plenty more useful content just like this over on our extended warranty blog. Explore our FAQs, other provider comparisons with CarShield and CARCHEX, common repair costs, and more.
More like this
Comparisons

Owning a car is incredibly liberating, but unfortunately, that freedom comes at a significant cost. Not only is it expensive to purchase a vehicle, but the cost of annual repairs..

Read More

Comparisons

Drivers generally know that staying on top of a car's service schedule and needed repairs are essential parts of vehicle ownership. Making repairs as soon as they come up will..

Read More

Comparisons

Buying a used car can have a lot of benefits and is a great way to save money while still getting a quality vehicle. When purchasing a used vehicle, though,..

Read More