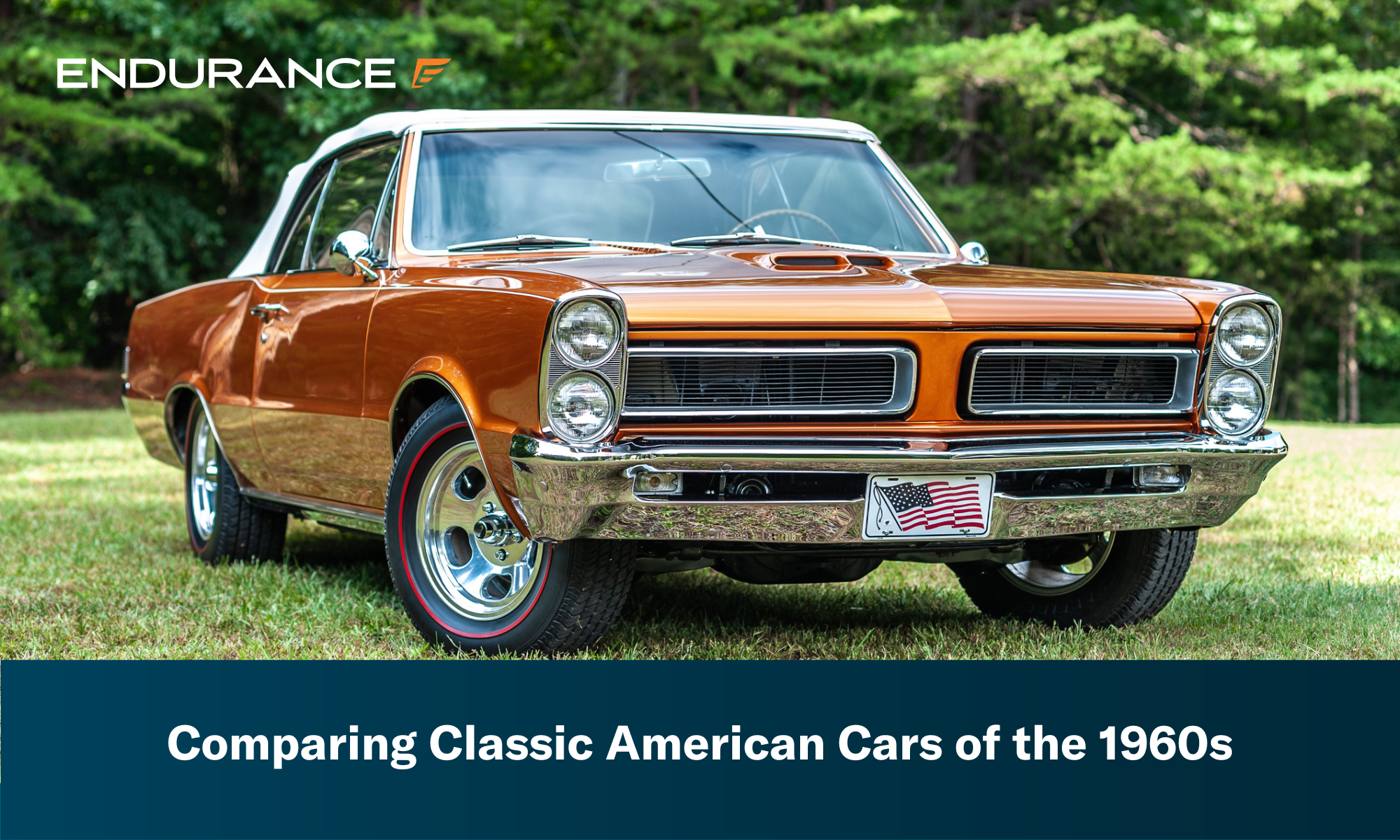 The 1960s was undoubtedly a golden era for the American automobile industry. Iconic cars like the Ford Mustang, Chevrolet Camaro, and Pontiac GTO came into existence during this decade, capturing the hearts of car enthusiasts around the world. They were fast, powerful, and had a unique style that set them apart from the classic cars of the 1950s.
No wonder the demand for classic American cars of the 1960s is still high among collectors and vintage car enthusiasts. In this blog, we will compare some of the most popular cars of the 1960s and delve into their history, design, and performance. So, buckle up and get ready to take a trip down memory lane with us!
1969 Plymouth Roadrunner
The 1969 Plymouth Roadrunner is a legendary muscle car that gained a reputation for its speed and power. This car was built to cater to those who wanted a high-performance vehicle. It was first introduced in 1968 with a 383 cubic inch V8 engine that produced 335 horsepower. The following year, its engine was upgraded to a 440 cubic inch or even 426 "Hemi" engine. These engines produced a staggering 425 horsepower, making the Roadrunner one of the fastest cars on the road.
Apart from its impressive engine, the Roadrunner had a unique, aggressive look, featuring a distinctive grille and a hood with a functional air-grabber scoop. This gave it a menacing appearance that turned heads wherever it went. In addition, the car's interior was designed with sporty seats, high-quality carpets, and attractive gauges that added to its overall appeal.
Overall, the 1969 Plymouth Roadrunner was a legendary car that set a high standard for muscle cars. Its combination of power, speed, and iconic design ensured its place in automotive history. Today, the Roadrunner remains a classic car that continues to inspire car enthusiasts all over the world.
1967 Corvette Sting Ray Convertible
The 1967 Chevrolet Corvette Sting Ray Convertible is a classic car that is highly sought after by car enthusiasts and collectors. It was produced during the second generation of Corvette production and came with a number of exciting features that made it stand out from other sports cars of its time. Some even consider the Sting Ray one of the most popular sports cars in 1960s America.
One of the most notable features of the '67 Chevy Corvette Sting Ray Convertible was its sleek and sexy exterior design. Its low, wide stance made it look aggressive and powerful, and its long front end and short rear end gave it a distinct muscular look. The convertible top was also a standout feature that allowed drivers to enjoy the open road and feel the wind in their hair.
Looking at the powerplant, the 1967 Corvette Sting Ray Convertible was equipped with a powerful V8 engine that provided impressive performance and speed. It was capable of producing up to 435 horsepower and could go from 0-60 mph in less than 6 seconds, depending on the engine you chose. Additionally, it had a top speed of 150 mph, making it one of the fastest sports cars of its time.
Inside, the 67 Corvette Sting Ray Convertible was just as impressive as its exterior and performance capabilities. It had a stylish and modern interior that was comfortable and luxurious, with plush seating and a range of convenient features. These included power windows, air conditioning, and a powerful sound system that allowed drivers to enjoy their favorite tunes as they drove.
The 1967 Corvette Sting Ray Convertible was an iconic car that significantly impacted the automotive industry. Its striking design, powerful performance, and luxurious features made it a true classic that continues to be admired and loved by car enthusiasts today.
1967 Ford Shelby GT500
The 1967 Shelby GT500, also known as the Shelby Cobra GT500, is a powerful muscle car that was manufactured by Shelby American from 1967 to 1970. The GT500 was designed by Carroll Shelby himself, and he made several modifications to the original
Ford
Mustang body, including a larger hood, revised front fascia, and a new grill to give the pony car an aggressive new look.
The car was powered by a massive 7.0-liter V8 engine, which produced 355 horsepower and 420 lb-ft of torque, making it one of the most powerful production cars of its time. The GT500 was equipped with a four-speed manual transmission and a limited-slip differential, providing exceptional driving performance on the track and on the street. In addition to its impressive performance capabilities, the 1967 Shelby GT500 was also a visual masterpiece, featuring a sleek and muscular body design, distinctive racing stripes, and unique Shelby badging. The car was a true engineering marvel of its time and has since become an iconic symbol of American automotive heritage. You might remember this vehicle from the popular film Gone In 60 Seconds if you're a movie buff.
1963 Lincoln Continental Convertible
The 1963 Lincoln Continental convertible was a luxury car produced by the American automaker Lincoln. It was one of the most stylish and innovative cars of its time, featuring a sleek design, clean lines, and a formal appearance. One of its notable features was its rear grille design, which helped distinguish the Continental from other cars in its class.
Under the hood, the 1963 Continental was powered by a 7.0L V8 engine, which produced a whopping 320 horsepower. Thanks to its air suspension system and power steering, the car had a smooth and comfortable ride. Additionally, the Continental was equipped with many luxurious features, including power windows, power locks, and a power top for the convertible version.
Overall, the 1963 Lincoln Continental convertible truly represented American ingenuity and style from the 1960s. It was a popular choice among the rich and famous, including President John F. Kennedy, who was often seen riding in a customized version of the car. To this day, the 1963 Lincoln Continental convertible remains a highly sought-after classic car among collectors and enthusiasts alike.
1962 Ford Galaxie 500
The 1962
Ford
Galaxie 500 was a top-of-the-line full-size car from the American automaker. The Galaxie was introduced in 1959 and named after the "Space Race" between the U.S. and the Soviet Union that began that same year. The 1962 model was a refresh of the 1961 design, featuring a new grill, tail lights, and updated interior and exterior trim. The Galaxie 500 was available in a variety of body styles, including a two-door hardtop, a four-door sedan, and a convertible.
Under the hood, the Galaxie 500 was available with several engine options, starting with the base 223 cubic inch inline six-cylinder and ranging up to the high-performance 406 cubic inch V8. The most popular engine option was the 292 cubic inch V8, which produced 170 horsepower. The Galaxie 500 was also available with a three-speed manual or a two-speed automatic transmission.
Overall, the 1962 Ford Galaxie 500 was a stylish and powerful full-size car that appealed to a wide range of buyers. Its sleek design, various engine options, and spacious interior made it a popular choice for families and car enthusiasts.
1960s Volkswagen Beetle
The 1960s Volkswagen Beetle is a classic car that has become a symbol of the era's counterculture and rebellion. This car, also known as the "Type 1," was first introduced in Germany in the late 1930s but did not become popular until the 1960s in the United States. The Beetle was a small and affordable car that was beloved for its simplicity, durability, and fuel efficiency.
In the 1960s, the Volkswagen Beetle became a cultural icon with its association to the "hippie" movement and was often decorated with various flowers and symbols of peace. It was also widely used as a "surfer" car, especially in California, where its compact size and maneuverability made it ideal for navigating crowded streets and parking lots.
The Beetle underwent several design changes over the decade, including the addition of larger windows, a more powerful engine, and a curved windshield. In 1968, a new version of the Beetle was introduced with a larger engine and less rounded shape, which was known as the Super Beetle.
The 1960s Volkswagen Beetle remains a classic car that is beloved for its iconic shape and cultural significance. It represents a simpler time of automotive design and innovation and has left a lasting impact on popular culture.
Unlimited Mileage Coverage With Endurance
With the broad and comprehensive coverage provided by Endurance's auto protection plans, you can rest assured that your car and your wallet are both taken care of. We offer top-notch breakdown protection and serve vehicles up to 20 years old and over 200,000 miles.
For those looking for basic powertrain protection on their vehicles, Endurance has got you covered with plans starting at a low monthly cost of only $79. With Endurance, you will not only be able to protect your vehicle and your finances, but you'll also receive an array of benefits regardless of your coverage plan. From 24/7 roadside assistance to rental car reimbursements and trip interruption coverage – this package has got you covered. Additionally, you can enjoy a 30-day money-back guarantee, assuring you of their commitment to customer satisfaction.
Get started today by requesting your free quote at (800) 253-8203, or shop online for coverage now. You can also find even more great articles on topics ranging from expert automotive tips, answers to extended warranty FAQs, vehicle buying guides, and much more by visiting the Endurance blog.
More like this
Make/Model

As the most rugged SUV Honda has ever offered, the Pilot offers a wide variety of benefits for those looking for an off-road capable SUV with adequate features. Like any..

Read More

Make/Model

As the world gradually transitions to renewable energy sources, the adoption of e-vehicles is on the rise, and Tesla has been leading the charge. Their range of electric cars is..

Read More

Make/Model

Originally formed from the remnants of the Henry Ford company, Cadillac is arguably the most quintessential American car brand in existence. Founded over 100 years ago, they were the first..

Read More