Protect your vehicle with custom coverage from Endurance.
Shop Now
Each decade produces cars that truly stand apart from the rest. Every ten years, numerous vehicles encapsulate their era, whether it's due to performance, sleek design, or pop-culture appeal. And the 1950s are no exception. 
From Ford to Chevy to Porsche, let's take a trip down memory lane and review the top cars of the "Golden Age of Capitalism."
1955 Chevy Bel Air (Pictured Above)
The 1955 Chevrolet Bel Air is considered a classic car by today's standards. As the second generation of Bel Air's, this Chevrolet had a few different features than the previous model years, such as two-speed electric windshield wipers. The '55 Bel Air also had an optional V-shaped chrome grille, which wouldn't become standard until 1959, along with many other minor changes from the first generation models.
The 1955 Bel Air was initially introduced as a "faster, sleeker, and more modern" model over previous ones. 

It featured an all-new design that would eventually become Chevy's hallmark in years to come! 

The car weighed about 3,150 lbs. (base model) and featured a new wraparound windshield.
1957 Ford Thunderbird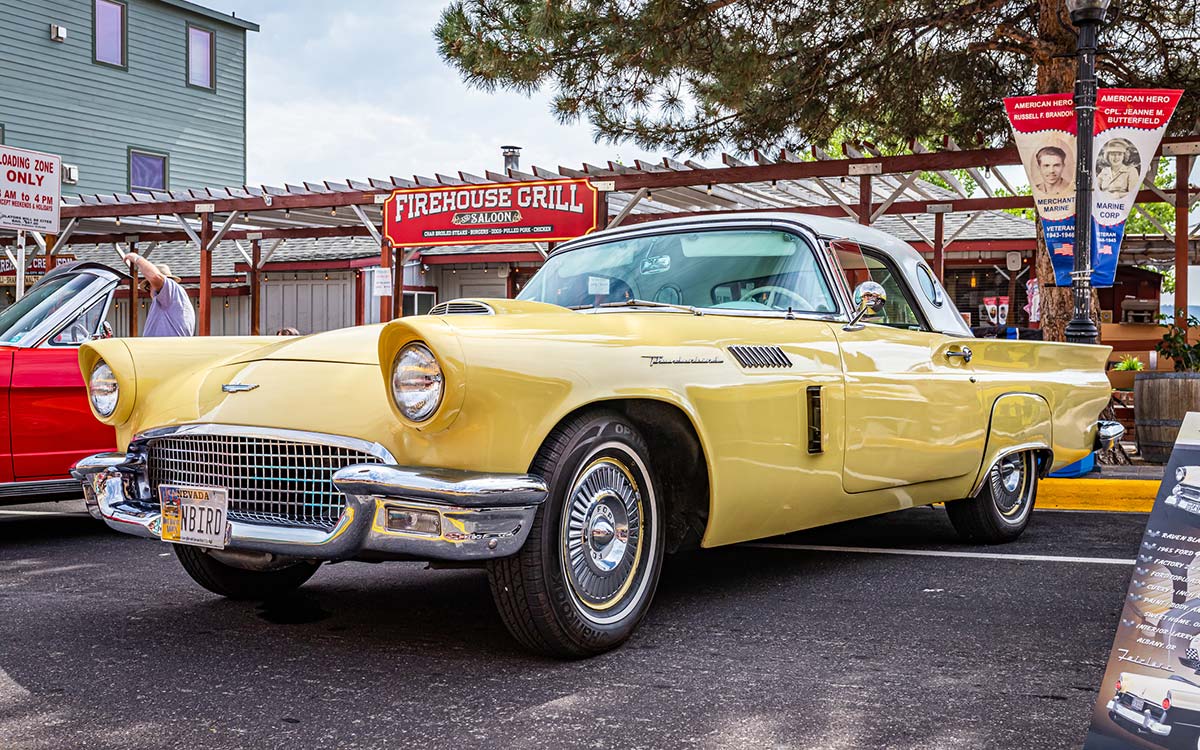 The '50s was a time of great innovation for the automotive industry, and the 1957 Ford Thunderbird is truly an example of this. Ford had greatly improved the design over its predecessor, and it cost only about $200 more than other cars on the market at that time! As a result, it quickly became one of the most popular cars of the decade. 
Ford upgraded the engine to a 312 cubic inch Y-block V-type that could produce around 250 horsepower, giving it enough power to hit 60 mph in under 11 seconds! In addition, it featured styling very different from other cars with its sharp angles and tailfins, which would later become standard for years after the first model year of the Thunderbird.
The Thunderbird had an automatic transmission with overdrive, which gave it better gas mileage than other cars on the market at that time (about 20 mpg)!

This luxury sports car cost over $4,000 when it was initially released in the 50s, but its popularity made prices drop to around $3,400 later.

The car weighed about 3,850 lbs. and had a 12-gallon gas tank! 

It featured very different styling than other cars of that era with sharp angles and tailfins. 
1955 Porsche 550 Spyder
The death of legendary actor James Dean made this vehicle iconic overnight. Since then, the Porsche Spyder has also been driven by many celebrities over the years, including the King himself — Elvis Presley. Nowadays, you can see this stunning vehicle at various automotive shows across America, showcasing its sleek design and movie-star quality looks.
While also sleek to look at, the 550 Spyder also featured a flat-four cylinder engine capable of reaching up to 100 mph. The car also had an impressive weight-to-power ratio, providing about 24 horsepower per 1,000 lbs. of the vehicle. Along with this capability, the Spyder also only weighed 1,350 lbs. and had a fuel tank that could hold up to 16 gallons of gas. With these features and performance capabilities, the 500 Spyder was truly ahead of the game for sports cars of the era.
The Porsche 550 Spyder was initially developed for racing purposes. 

It has a Type 550 chassis with an engine similar to the four-camshaft, double-overhead camshafts found in Formula One cars! 

This vehicle has appeared in many movies, including the iconic

Rebel Without a Cause

(1955).
1959 Cadillac Coupe de Ville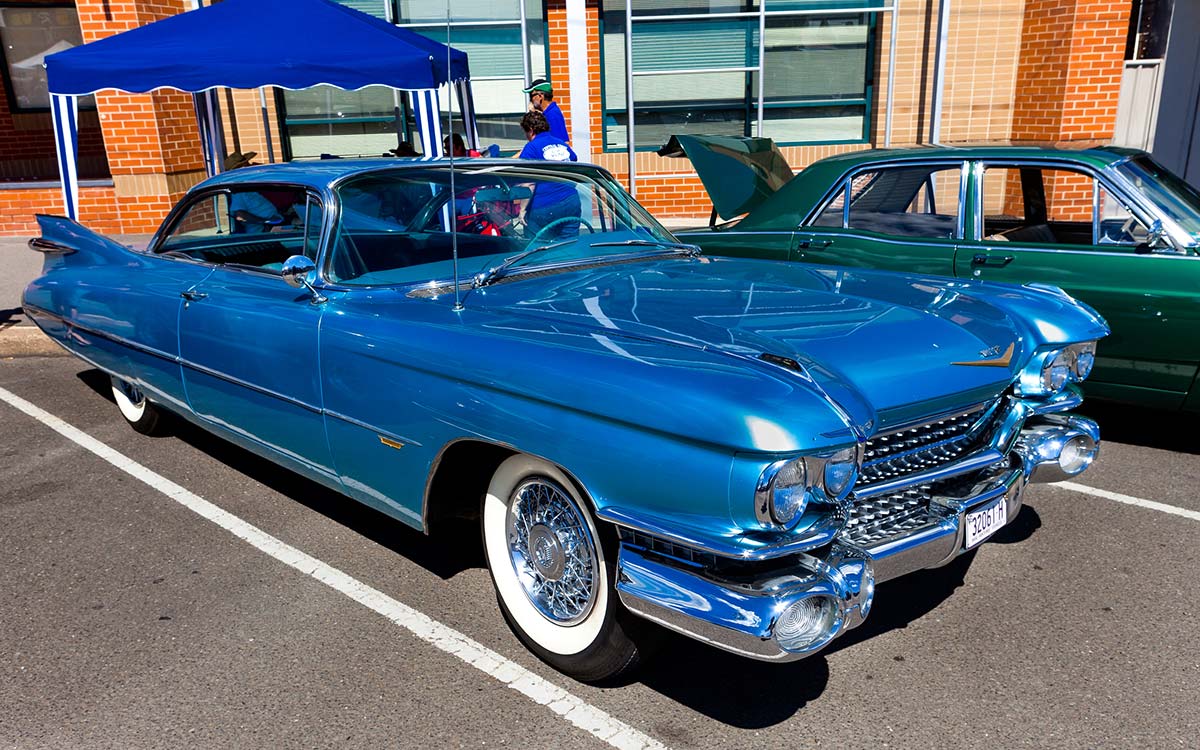 This car was initially named the Series 62 when it first came out in 1949, but it changed to Coupe de Ville after a few years. Since then, the Coupe de Ville has been called one of the most beautiful cars ever made and is often the go-to vehicle people imagine when thinking of the era! The 1959 model is something you will want if you look for luxury and comfort on the road.
It weighed just over 5,000 lbs., but its engine gave it an impressive fuel economy of 19 mpg at its peak. 

The Coupe de Ville features the popular '

tail fins' that were very common with other cars of the era.

Many celebrities have driven this vehicle over the years, including Elvis Presley, John Lennon, Paul McCartney, Michael Jackson, Britney Spears, and many more!
1953 Buick Skylark
The Buick Skylark has been a favorite of many car enthusiasts over the years, thanks to its ability to turn heads with its sharp angles and unique styling! 
It wasn't just all looks, either. The Skylark had an engine capable of producing up to 180 horsepower and reaching speeds of about 90 mph when cruising down the highway. Performance like this helped make the Skylar a stylish option that also could be great for families. This is a vehicle you would want to add to your bucket list if you are looking for a classic car that can get up and go when needed!
This car weighed about 4,400 lbs. and had a fuel tank that could hold up to 30 gallons of gas!

It featured sharp angles with wraparound windshields, which was very different from other cars on the market at that time! Additionally, the design features made it look like a rocket ship from the future!

The Skylark was a part of Buick's 50th Anniversary celebration.
1956 Chevrolet Corvette
The 1956 Chevrolet Corvette is a vehicle that many people recognize as one of the most iconic cars ever made. In only its third year of production, the 1956 Corvette underwent some changes from its first model years that helped pave the way for the subsequent iterations of the car's iconic looks over the years following. The vehicle was also one of the most advanced of its time, featuring a 265-cubic-unch V8 engine capable of 225 horsepower and up to 270 lbs. of torque. It is something you would want if you are looking for an American classic with high-performance capabilities at your fingertips.
The Corvette was initially named after a warship. 

Despite its high-performance abilities, the 1956 Corvette only weighed about 2,980 lbs., putting it well under the weight of some of the other classics on our list!

The engine allowed it to reach speeds of up to 104 mph when cruising down the highway.
Protect Your Vehicle with Endurance
When it comes to newer vehicles or ones with high mileage, protect yourself from costly repair bills and unexpected breakdowns with a vehicle protection plan like EnduranceAdvantage™. As the most comprehensive protection plan available on the market, you can also receive breakdown protection for your car's vital components and up to $3,500 in regular maintenance coverage. That means essential maintenance services such as oil changes, tire rotations, and more are all covered at no additional cost to you. 
Each of our protection plans also comes with a free year of Elite Benefits for even more perks and savings, like 24/7 roadside assistance, tire repair/replacement, key fob replacement, and more. Ensure your vehicle stays on the road for longer with Endurance.
Request a free quote to learn more about any Endurance auto protection plan. You can also find other informative articles on road trip tips, make/model comparisons, and auto expert Q&As by visiting our Learning Center.
More like this
Make/Model

The 1960s was undoubtedly a golden era for the American automobile industry. Iconic cars like the Ford Mustang, Chevrolet Camaro, and Pontiac GTO came into existence during this decade, capturing..

Read More

Make/Model

Whether you're a passionate petrolhead or a casual commuter, everyone agrees that classic cars are special. From the iconic exteriors to the old-school engineering, their look, feel, and sound really..

Read More

Make/Model

When it comes to purchasing a used car, there are many factors as a consumer you need to keep in mind. Performance, condition, and style are all important considerations, but..

Read More