When someone tells you to think about "the classics," chances are your mind may wander to the 1940s, the '50s or the '60s. Or, maybe you think about the 1970s, the 1980s, or another period. But, surprisingly enough, the 2000s are well enough in the rearview mirror to be considered classics today, like the Porsche 911 Turbo S, Ford Mustang, Dodge Charger, and Nissan 350Z. 
Or maybe you remember the first time you saw the groundbreaking Toyota Prius or heard about the whopping $1.2 million price of the Bugatti Veyron. Either way, let's take a ride down memory lane with some of the most memorable and popular cars of the 2000s.
2009 Bugatti Veyron 16.4 Grand Sport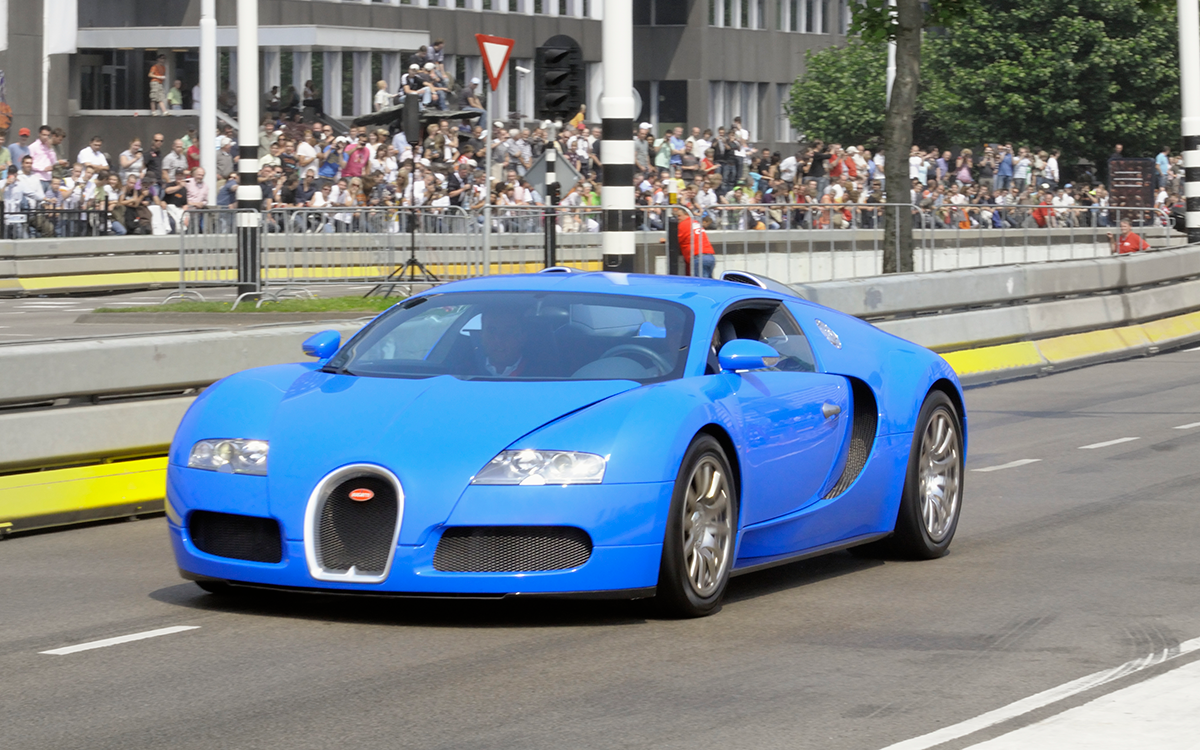 The Bugatti Veyron burst onto the scene in 2005, yet for some reason, its four-figure horsepower didn't seem to fit the "supercar" label. In fact, it needed a new name to encapsulate the power behind this vehicle, which is where the rise of the "hypercar" began.
Today's Bugatti is known for each successive vehicle being more outrageous than the last, like the Bugatti Bolide and its 1,800 horsepower and a top speed of over 300 miles per hour! But, like most things, Bugatti's rise to producing world-renowned hypercars had to walk before it could run, and that started with the Veyron, though it's hard to say that a 252 mph top speed is "walking." And what's more over-the-top than the original Veyron? A Grand Sport version of the Veyron with a removable glass roof and a quad-turbocharged 8.0-liter 16-cylinder engine capable of 1,001 horsepower.
All that power is good for a

top speed

of 252 miles per hour, or 229 mph without the roof. The Grand Sport can hit 62 mph from a standstill in 2.7 seconds.

Production of the Grand Sport edition ended after 2015. Bugatti built only 150 examples, with the first 50 reserved for those who already owned a Bugatti. 

The first Veyron Grand Sport sold for more than $3 million at a 2008 Pebble Beach auction.
2005 Chevrolet Corvette (Pictured Above)
There are few vehicles as iconic as the Chevrolet Corvette, let alone being as iconic as it has been for the last 70 years. In fact, this singular sports car helped define the American spirit of individualism and independence. And one of the main reasons for the Chevy Corvette's longevity is that each generation has offered the ideal blend of performance and value. 
2005, in particular, marked the first model year of the C6 (sixth-generation) Corvette and the first to be launched in the 21st century and came with an LS2 engine. This 6.0-liter V8 was capable of reaching 400 horsepower and providing 400 lb-ft of torque, which was a greater output than the Ferrari 360 Modena of the same model year. 
Starting price for the 2005

Corvette

was $43,710, about $66,300 in today's money.

Buyers of the 2005

Corvette

could choose from a hardtop

coupe

with a removable roof panel or a convertible.

2005

Corvettes

were the first to have exposed headlights since 1962.
2005 Chrysler 300
While it may no longer be produced in 2023, the Chrysler 300 is a must for any list of the coolest-looking and subtly-powerful luxury vehicles of the 2000s. And while the 300 badge had adorned Chryslers as far back as the 1950s, the company sought to rewrite the script for a full-sized premium sedan. That's when jaws dropped and heads turned when the automaker revealed the 300 concept car at the 2003 New York Auto Show.  
The stretched hood and lowered roofline were a tribute to the elegant Chryslers of the past, while the front end borrowed design cues from Bentleys. 
The SRT-8 version of the

Chrysler

300 came with a 6.1-liter Hemi V8 making 425

horsepower

and 420 lb-ft of torque. With a 0-60 mph time of

4.9 seconds

, it was just as fast as the 2005

Chevy

Corvette

.

When the revamped 300 was launched,

Chrysler

was owned by Daimler-Benz (the parent of

Mercedes-Benz

). 

The 300 proved wildly popular; sales

 figures

show more than

144,000 examples

were sold in 2005 in the U.S. alone.

Chrysler

had factories in Canada, Austria, and China to keep up with global demand.
2005 Ford GT
If you list the "top cars" of any era, odds are you'll have a Ford or two on there. And for this list, we're going with the 2005 Ford GT, which came about because Ford sought to commemorate its centennial anniversary (in 2003) by hearkening back to its racing successes. The company had sprinted to victory with its GT40 racer, beating Ferrari and others during the 24 Hours of Le Mans competitions in the late 1960s. It was such a spectacle that you've likely seen a retelling of this story in the 2019 film Ford v Ferrari. It was this GT40 race that inspired the GT concept car, which was first revealed at the 2002 Detroit Auto Show. And what a show that was, too, as crowds were stunned, as Ford was better known for the legendary F-150 and Explorers at the time.
GT production began with the 2005 model year, as Ford engineers stuffed a supercharged 5.4-liter V8 behind the cabin. But while this version was an homage to the classic GT50 race, Ford's unresolved trademark dispute with another company meant using just the GT moniker instead.
Ford

had planned to build 4,500 examples of the GT between 2004 and 2006, but only 4,038 left the factory.

First-generation

GTs are highly sought after, with examples

fetching $700,000

or more. 

Ford

produced a

second-generation

GT

from 2016-2022, powered by a turbocharged V6 making 660

horsepower

. 
2007 Honda Civic Si
Adding the Si (Sport Injected) label to a Honda Civic was a recipe for fun back in 2007. It also marked the first year the Si was available as a sedan, as previously, the Si was a coupe-only offering. Power came from a 2.0-liter inline-four engine attached to a six-speed manual transmission. 
While 197 horsepower may not sound like much 15 years later, it was enough to propel this car to 60 mph in 6.9 seconds. In addition to punchy acceleration, the Civic Si enjoys sharp handling thanks to a race-tuned suspension and a limited-slip differential. 
The 2007 Civic Si is part of the eight-generation Civic, produced for the 2006 to 2011 model years. 

Look for aero-style body upgrades and a rear spoiler to differentiate the 2007 Civic Si from its plain-Jane siblings.

The Civic Si was the highest-performance version available in the U.S. until the 2017 debut of the Civic Type R. 
2004 Toyota Prius
It's hard to imagine, but there was a time when hybrid vehicles were odder than mainstream transportation. And the quirky, bulbous looks of the first-generation Toyota Prius sedan added to dubious consumer perceptions. But this all changed with the launch of the second-generation model, featuring a modern wedge-style body and hatchback versatility. It's a transformative design still present in today's Prius models almost 20 years later. 
2004 Prius power comes from a 1.5-liter engine paired with an electric drive motor. In total, 76 horsepower came from the gas engine, and the electric motor produced 67 horsepower. 

The

2004 Toyota Prius

was

EPA-rated

for fuel economy of 48 mpg in the city and 45 mpg on the highway.

Grammar geeks have long contended over the plural form of the Prius name. It even got so intense that

Toyota had to get involved

. And because of that, "Prii" is the official term to describe multiple Prius vehicles, according to the company. 
Protect Your Vehicle with Endurance Warranty
While some may be considered "classics," many cars from the 2000s are still on the road. But whether or not they may be an Audi, BMW, Cadillac, Hyundai, Jeep, Mazda, or any other make or model vehicle, as cars age, the more prone they are to repairs. That's why even if your trusted car is still road-worthy today, it might not be tomorrow. And because there's no factory warranty out there that lasts for over 20 years, owning or buying a used car manufactured in the 2000s could end up costing you. Luckily, that's where Endurance auto protection plans come in.
Endurance offers a wide variety of plans, with coverage starting at $79 per month, including coverage for vehicles up to 20 years old, regardless of the number of miles on the odometer. So whether you're looking for basic powertrain protection in your high-mileage vehicle or a plan similar to a new car factory warranty and everything in between, Endurance is sure to have the plan for you. 
Even better, every Endurance plan offers the freedom to take your vehicle to any ASE Certified mechanic or repair shop of your choice, as well as a 30-day money-back guarantee and flexible payment terms. You'll even be able to enjoy complimentary services like 24/7 roadside assistance, rental car reimbursements, and trip interruption coverage. Plus, all policyholders are eligible for an entire year's worth of Endurance Elite Benefits, including even more perks and savings like tire replacements or repairs, collision repair discounts, key fob replacements, and up to $1,000 in total loss protection. 
Don't wait until your reliable old vehicle isn't so reliable anymore and request a free no-obligation online quote to protect yourself and it from the cost of expensive auto repair bills. Or, to learn more about how Endurance can help you, give a member of the award-winning Endurance customer care team a call at (800) 253-8203. And don't forget to check out the Endurance blog for even more helpful articles on various other automotive topics, including DIY maintenance tips, vehicle buying guides, money-saving tips and more.
More like this
Make/Model

If you're the owner of a Honda Accord, you certainly aren't alone. The brand has a great reputation for producing some of the most reliable cars on the road, with..

Read More

Make/Model

The last thing any Ram driver wants is to hear an odd noise while driving down the road, followed by a mechanical issue within their vehicle. Unfortunately, mechanical breakdowns are..

Read More

Make/Model

Finding yourself in the position where you are notified of a recall affecting your vehicle is never a fun situation, but it should require immediate action on your part. Depending..

Read More