Whether you're on the east coast, cruising through the midwest or enjoying the sun on the west coast, chances are you're sure to spot plenty of Hyundais. After all, as the 4th most reliable car brand out of 32 leading manufacturers according to RepairPal, they're known for being a sturdy, long-lasting ride. Add to that their effortlessly sleek design, and it's really no wonder why they're the car of choice for so many Americans.
But just like with any other car, truck or SUV, however, all Hyundai components fail eventually. So if you have a brand new Hyundai, it's important to understand what's included in your factory warranty coverage and what options you have when that coverage ends.
What Is a Factory Warranty?
Before learning more about what is covered in your Hyundai factory warranty, you've got to understand what that kind of warranty coverage actually is.
Whenever you purchase a brand new vehicle, whether it be a new Hyundai, Toyota, Ford or most other automakers, you will be given a factory warranty for free. This warranty coverage is essentially the manufacturer's guarantee to repair or replace any components of your vehicle that fail within a specified post-purchase window. For example, factory warranties for most automakers usually last around 3 years/36,000 miles, but this can vary between brands, so it's always crucial to check with your car's dealership to learn how long your factory coverage will be active.
Depending on the automaker, most factory warranties will cover almost everything apart from the usual wear and tear components (like tires or your windshield wipers). They may also split that factory warranty converge into different parts, each providing coverage for a different period of time or miles. But while the specific kinds of factory warranty coverage you may find or your vehicle may differ, for most automakers, they will usually include:
Bumper-to-Bumper 
As arguably the most well-known kind of factory warranty, a bumper-to-bumper warranty is known as exclusionary coverage and covers everything between your bumpers except a small list of exclusions (hence the name). Depending on your vehicle's manufacturer or your specific warranty provider, these exclusions will differ.
Powertrain Warranty 
Along with a bumper-to-bumper warranty, a powertrain warranty is also one of the most commonly referred to types of warranty coverage. But unlike a bumper-to-bumper warranty, however, a powertrain warranty will cover just that—your powertrain—which consists of several components that are arguably some of your car's most important, such as your engine, driveshaft, transmission and differential. Powertrain coverage will often have longer periods than bumper-to-bumper warranties, typically lasting for 5 years/60,000 miles.
Emissions 
Similar to powertrain coverage, any emissions warranty coverage you have will help cover repairs for parts of your vehicle's engine. However, the length of coverage will depend on the automaker, with many falling somewhere in the 2-year/24,000-mile range. This coverage will also provide you with help regarding your car's emissions control components (such as the catalytic converter) if they aren't performing as they should.
Corrosion 
Rust and corrosion can be the kryptonite for many vehicles, which is why most manufacturers provide some form of warranty coverage. Specifically, with this coverage, your vehicle should be protected against corrosion before it leaves the factory, so Hyundai will repair any holes caused by rust during the warranty period. However, this often covers perforation specifically rather than general surface corrosion.
What's Covered in My Hyundai's Factory Warranty?
Now that you know the basics of factory warranties, it's time to learn more about what you can expect for your brand new Hyundai or any other kind of new car. Specifically, as of early 2022, Hyundai calls its factory warranty 'America's Best Warranty." And while it's a bold claim, it certainly seems to stack up. Hyundai coverage wins out in every area compared with other major manufacturers—sometimes by several years!
Here's a quick recap to help give you an even better idea of what's included:
Powertrain Limited Warranty
The Hyundai Powertrain Limited Warranty protects your vehicle from failure for an incredible 10 years/10,000 miles! That's a whole five years longer than the average factory powertrain warranty! However, this coverage is only available to the car's origins owner for 2004 or newer model years. They will also not cover vehicles used for commercial uses, such as rideshare or delivery drivers.
New Vehicle Limited Warranty
Owners of a brand new Hyundai will see their bumper-to-bumper coverage referred to as the Hyundai New Vehicle Limited Warranty and see coverage for 5 years/60,000 miles, which is typically the length of your average powertrain warranty. But, as expected, there are some exclusions to be aware of, so be sure to always check with Hyundai first to confirm. However, this warranty coverage will be able to provide coverage for some specific parts, such as your Hyundai's infotainment system and battery, for a shorter period. You can also find coverage for some high wear and tear components like your brake pads, filters and wiper blades for 1 year/12,000 under the New Vehicle Limited Warranty as well.
Anti-Perforation Warranty
For Hyundai, the Anti-Perforation Warranty is their version of corrosion coverage. It will cover body sheet metal from perforation, which is essentially just holes caused by rust, that was caused due to poor materials or workmanship when built. This coverage will last for 7 years/unlimited miles. However, this applies to any Hyundai model made after 2005 and will exclude surface corrosion.
24/7 Roadside Assistance
Hyundai doesn't want their drivers stranded at the roadside, so 24-hour roadside assistance is at your disposal for the first five years you own the vehicle with no mileage limits. 
Replacement Parts and Accessories Limited Warranty
Hyundai would help cover the cost of repairs or replacements for any Hyundai Genuine Replacement Parts or Accessories for 12 months/12,000 miles if there were installed after the vehicle's "date of first use." Hyundai also notes that any accessories installed before or at the time of "first use" will be covered under the New Vehicle Limited Warranty.
Federal Emission Defect and Performance Warranty
While automakers must cover emission components on vehicles for at least 2 years/24,000 miles, Hyundai takes it a step further, providing drivers with coverage for your major emissions control components that fail to conform to EPA standards in the first 8 years/80,000 miles. This includes your catalytic converter, engine control module and Onboard Emissions Diagnostic Device (ODB-II). 
California Emissions Control Systems Warranty
While this may seem similar to the Federal Emission Defect and Performance Warranty, this specifically applies to vehicles manufactured to California specifications which can be stricter than the federal specifications put out by the EPA. This covers emissions components in vehicles for 7 years/70,000 miles.
Hybrid/Electric Battery & Hybrid System Components Warranty
With the rise in popularity of hybrid and electric vehicles, it's no surprise that automakers worldwide are starting to focus more on them, especially when it comes to warranty coverage. And given the fact that the cost of replacing or repairing parts on hybrids or electric cars can get expensive, Hyundai's coverage can help. Specifically, Hyundai will help cover your hybrid/electric battery, hybrid starter/generator, hybrid power control unit, and automatic transition for 10 years/10,000 miles.
To help give you even more of an idea of how well Hyundai's factory warranty coverages compare to other leading automakers, be sure to take a look at the chart below: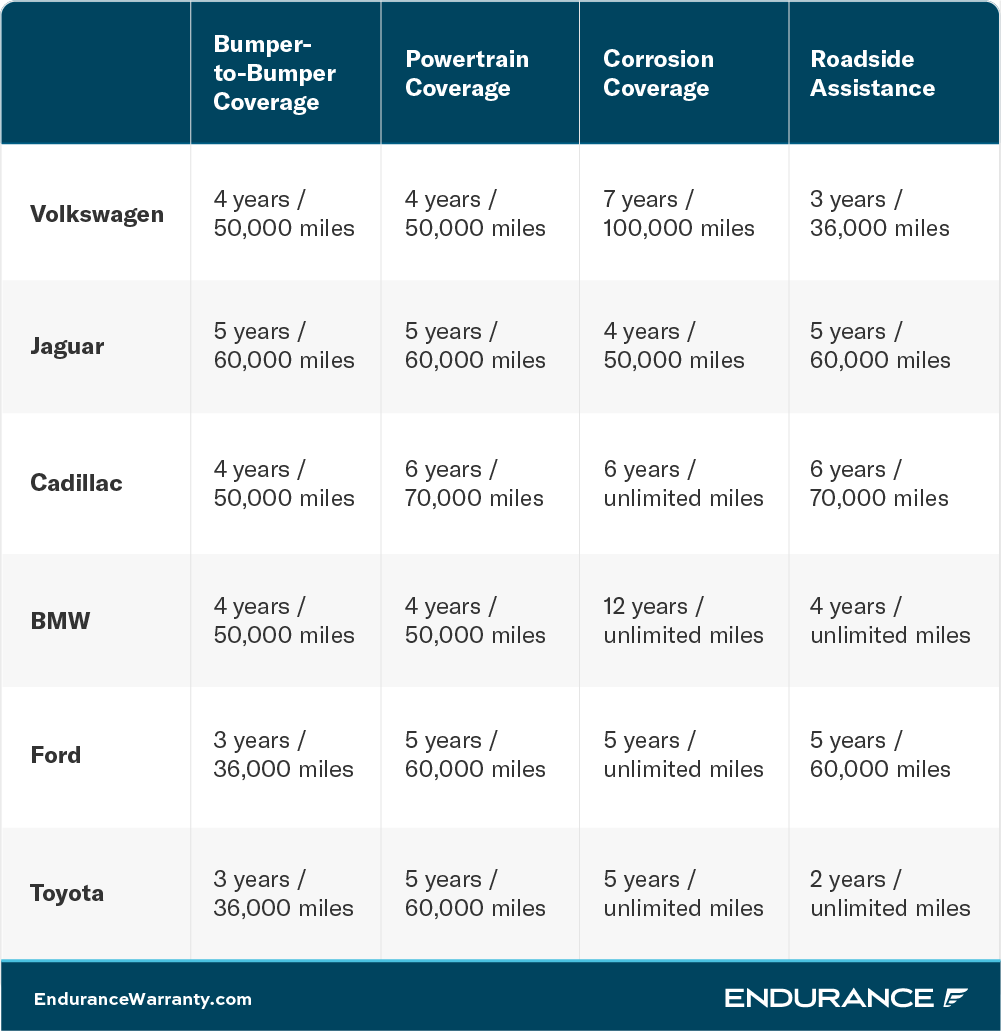 When it comes to factory warranties, coverages like those provided by Hyundai and other automakers can save drivers thousands in repair costs for at least the first few years of owning your vehicle. But remember, that coverage won't last forever. And once it does expire, it's your responsibility to foot any repair bills. 
For example, if you own a Hyundai Sonata needing a new fuel pump, you could be left paying as much as $1,329 for a replacement. This is also especially true if you have recently purchased or are considering purchasing a used Hyundai vehicle, as it could be well past many of its original factory warranty coverages.
Some other common Hyundai repairs you could face without the help of warranty coverage can include:
Can I Get Extended Coverage for My Hyundai?
Without the help of a factory warranty for your Hyundai, you would be left paying potentially up to thousands of dollars for repairs. It's also important to note that while having auto insurance is crucial as a driver, it cannot help you with these types of repairs. Even mechanical breakdown insurance (MBI), sometimes called "car repair insurance," can't help with everything. 
To help drivers avoid these kinds of hefty repair bills, Hyundai does offer extended warranty coverage. However, Hyundai refers to these plans as vehicle service contracts (VSCs), similar to how third-party providers like us at Endurance, as only an automaker can truly extend your coverage. Regardless of how Hyundai refers to their extended plans, they can offer drivers up to three levels of coverage, all for 10 years/100,000 miles, though with varying degrees of coverage. 
But while extensive, plans provided by third-party providers can often offer better value than those provided by automakers. This is because they can provide many of the same types of coverages and additional perks and benefits that automakers may not include, such as maintenance help. You also won't be limited to using only specifically authorized repair shops or Hyundai dealerships with third-party providers like Endurance. That means you can be certain you can take your vehicle to the shop of your choice for repairs, so long as they are a certified repair facility or an ASE Certified mechanic. Some plans can even help you stay up-to-date on your vehicle's essential maintenance needs while also giving you coverage from breakdowns and repairs.
For example, with Endurance, Hyundai owners can find comprehensive breakdown protection while also saving up to $3,500 in yearly maintenance services with the Advantage auto protection plan. That means you can get services such as up to three oil and filter changes, tire rotations, engine diagnostic exams and more, all covered and at no additional cost to you. You can even get help on your vehicle's next safety inspection service, plus access to special one-time services like cooling system maintenance, a battery replacement, a front or rear wiper blade set replacement and more.
You can also get peace of mind no matter which Endurance plan you choose, as you will automatically receive 24/7 roadside assistance, trip interruption coverage and rental car reimbursements to go along with a 30-day money-back guarantee. And even better still, every new Endurance plan comes with the chance to enjoy an entire year's worth of Elite Benefits, adding key fob replacements, total loss protection, up to two tire replacements or repairs and more. Just pay a $29 activation fee, and you're good to enjoy your year's worth of extra perks and savings.
Protect Your Hyundai for Years to Come with Endurance
Combined with a stellar reliability rating (4th out of 32) and "America's Best Warranty," it's no surprise that Hyundai vehicles have become one of the go-to vehicles for drivers of all ages. But, while reliable, and there really is no denying that Hyundais are a reliable ride, breakdowns and repairs are an inevitable part of owning any vehicle, even the most well-maintained. And with the costs of repairs always on the rise, finding coverage for those costly repair bills is vital, especially when your factory warranty ends.
With Endurance, you can rest easy knowing you'll have comprehensive breakdown protection for your Hyundai's most vital components without worrying about being limited to specific repair shops or your local Hyundai dealer. Not only that, but with plans like the Advantage protection plan, you can combine your coverage with up to $3,500 in yearly maintenance services, helping you extend your vehicle's life for years to come. You'll even have 24/7 roadside assistance, trip interruption coverage and rental car reimbursements for free, regardless of the plan you choose, as well as being automatically eligible for a full year of Elite Benefits for just a small activation fee. Most Endurance plans are also transferable, meaning that you can upsell your Hyundai or any other vehicle to subsequent owners whenever you look to sell it.
So whether you're interested in protecting your Hyundai much as possible or are just looking for coverage for its most important components, Endurance has a plan for you. Simply give us a call at (800) 253-8203 to speak with a member of our award-winning team, or you can get started by requesting a free quote today. Be sure to check out the Endurance blog as well to find even more articles and resources on a variety of automotive and extended warranty-related topics, including vehicle buying guides, extended warranty coverage breakdowns and comparisons, expert auto tips and more.
More like this
Make/Model

As the most rugged SUV Honda has ever offered, the Pilot offers a wide variety of benefits for those looking for an off-road capable SUV with adequate features. Like any..

Read More

Make/Model

As the world gradually transitions to renewable energy sources, the adoption of e-vehicles is on the rise, and Tesla has been leading the charge. Their range of electric cars is..

Read More

Make/Model

Originally formed from the remnants of the Henry Ford company, Cadillac is arguably the most quintessential American car brand in existence. Founded over 100 years ago, they were the first..

Read More