When it comes to finding a new car, truck, or SUV, you must consider several key factors apart from the overall price. Even when purchasing a used vehicle, you must also account for unexpected bills stemming from repairs, breakdowns, and other costs that can all play a major role in owning any vehicle. One way to help you determine extra costs such as these is by understanding a vehicle's overall reliability. 
The make and model of a vehicle will also play a significant factor in how much it will cost to own, as luxury brands such as BMW, Lexus and Infiniti can have higher repair costs than vehicles from automakers like Honda or Ford. Another automotive brand, Hyundai, can often be a great option for car buyers looking for an overall reliable vehicle while also offering some luxury-like qualities without paying luxury car prices. 
Before you decide if a new or used Hyundai may be right for you, it's first important to understand the trust cost of owning one of these vehicles and if they are expensive to maintain.
How Expensive Is It to Maintain a Hyundai?
In just over 50 years, the South Korean automaker Hyundai has quickly become one of the most reliable vehicles on the market today, ranking 4th out of 32 different automotive manufacturers, placing them higher than popular brands such as Ford, Toyota, Jeep and Nissan. 
Along with being reliable, Hyundais are also one of the least expensive vehicles to own, costing drivers an average of $468 per year in annual repair costs, which is almost $200 cheaper than the average of $652 across all makes and models. Along with providing exceptional reliability and overall low costs for drivers, Hyundai has also been at the forefront of some leading automotive innovations since its founding in 1967, including being the first automaker in the world to offer a car with three electrified powertrains back in 2016 with the IONIQ.
Overall, Hyundai offers drivers a variety of vehicles ranging from SUVs, sedans, compacts, hybrids and fully electric vehicles (EVs) with some of the most popular models including:
Hyundai Sonata
Introduced in 1986, the Sonata is undoubtedly one of the most well-known Hyundais on the road, and one of the most reliable, ranking 5th out of 24 different vehicles in its class. The Sonata can also help you save at the pump, with the 2022 model year offering 28 miles per gallon (mpg) city and 38 mpg highway.
In total, Sonata owners can expect to pay an average of $458 per year in general maintenance costs. Yet, despite being one the most reliable vehicles, it is not without some problems. There have been 16 reported issues for the Sonota, ranging from parking lights not turning off, the transmission failing to shift, or the check engine light activating due to a faulty accelerator pedal position switch. 
According to RepairPal, other potential repairs you may expect owning a Sonata can include: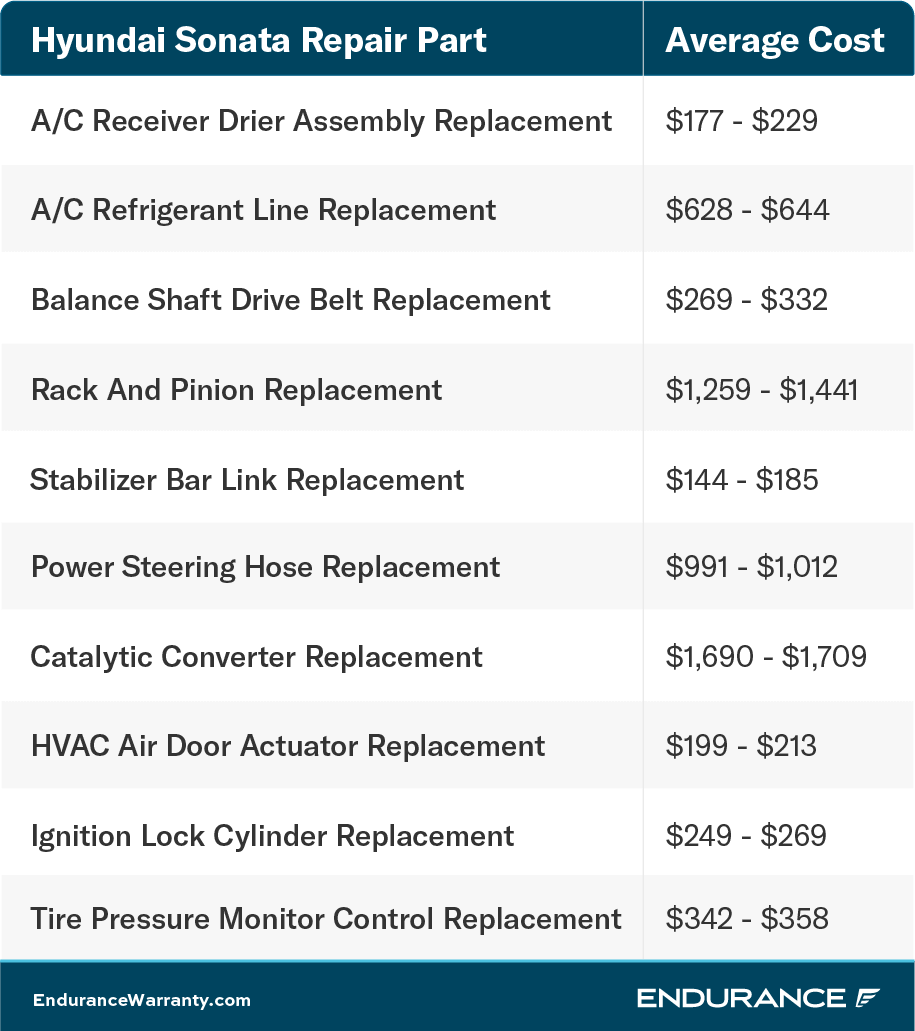 Hyundai Santa Fe
Recently celebrating its 20th anniversary in 2020, the Hyundai Santa Fe is currently in its fourth generation and can offer drivers a standard 2.5-liter engine capable of 25 mpg city and 28 mpg highway. Yet, where the Santa Fe may lack in terms of overall fuel economy compared to the Sonata, it'll make up for in reliability, ranking as the 2nd most reliable midsize SUV, costing owners an average of $515 each year in repairs. This is even despite the 2021 model year having three recalls regarding its fuel system and airbags.
Some of the other potential repairs and issues you can expect when owning a Santa Fe may include: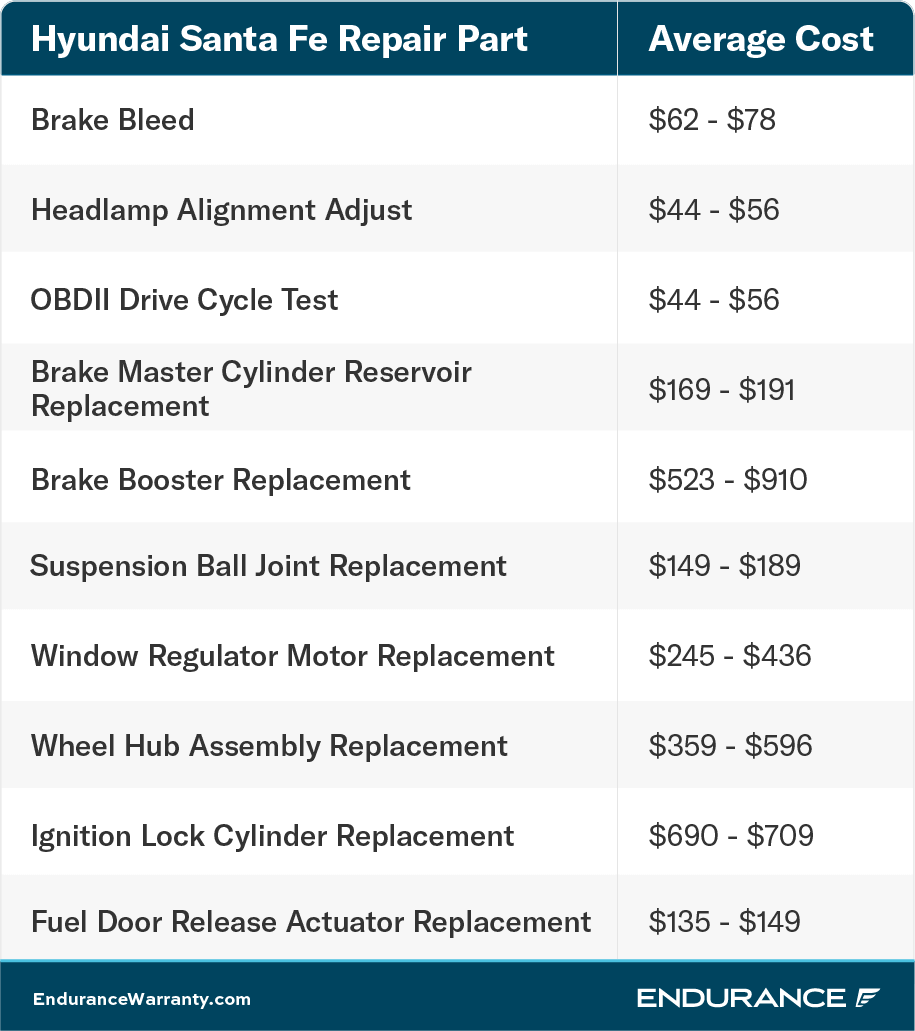 Hyundai Veloster
Only introduced in 2011, the Veloster is one of the newer models of Hyundais available. Overall, Veloster owners can expect a 2.0-liter engine capable of producing 275 horsepower (hp) though only reaching 22 mpg city and 28 mpg highway. The Veloster is also one of the least reliable Hyundais to own, only ranking 19th out of 36 other compact vehicles in its class, costing an average of $493 per year in repair costs.  
These repairs can include: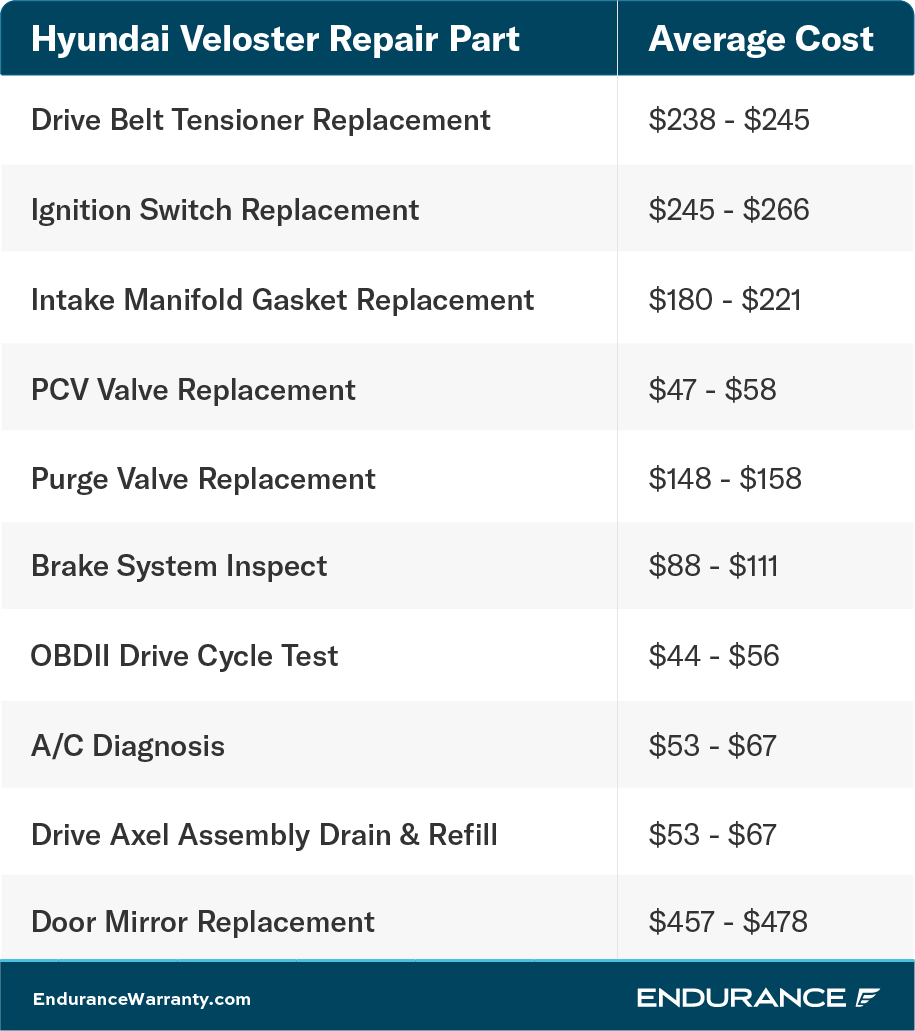 Hyundai Genesis
Perhaps one of the most well-known Hyundai models, the Genesis, was initially introduced in the early 2000s as Hyundai's go-to luxury vehicle. Today, the Genesis offers drivers a fairly reliable vehicle (ranking 7th) while providing 23 mpg city and 32 mpg highway. 
Despite its relatively high ranking, there are still some issues Genesis may have to deal with. Specifically, some Genesis model years and trim levels dating back to 2015 have had a recall issued by the National Highway Traffic Safety Administration (NHTSA) regarding issues with the anti-lock braking system (ABS) malfunctioning.
Along with these potential issues, some other common Genesis repairs can include: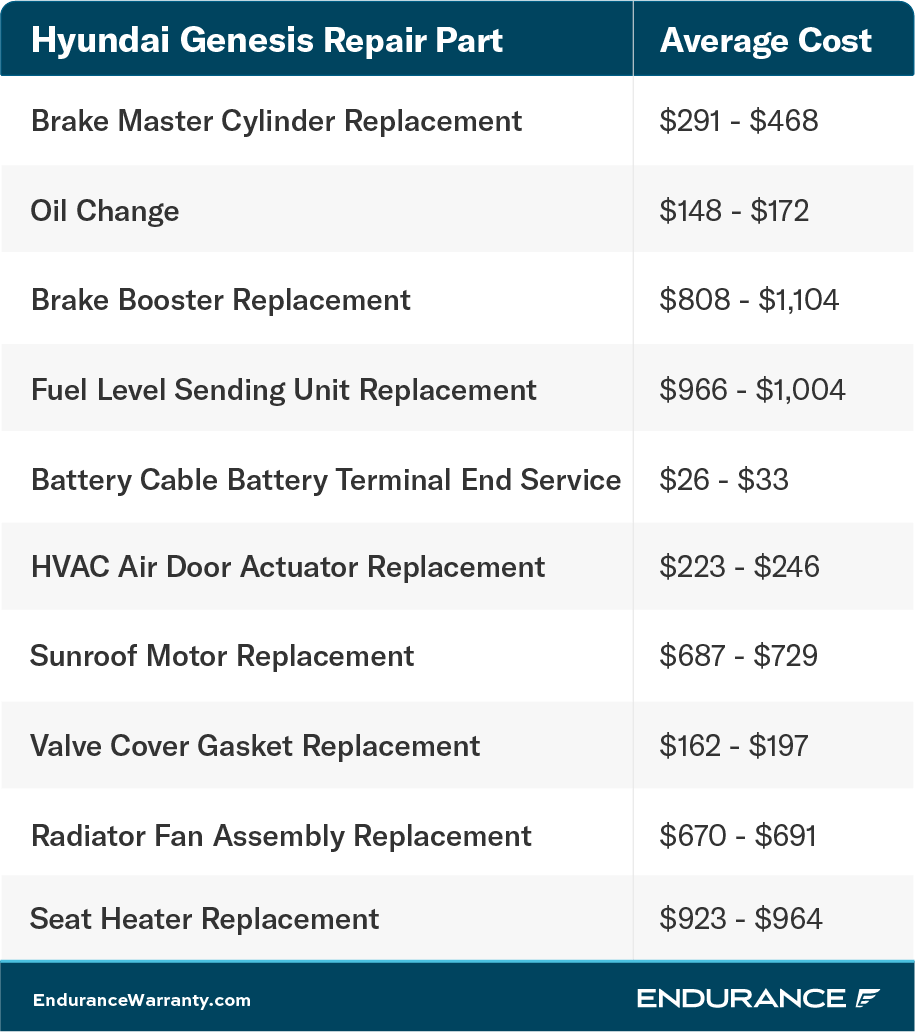 Recommended Hyundai Maintenance Plan
Regardless of the make or model vehicle you own, staying up-to-date on your manufacturer's recommended maintenance schedule is the best way to keep your car running for longer. In total, Hyundai owners should expect to follow a recommended schedule that includes:
7,500 Miles or 6 Months
For a brand new Hyundai, this is typically the first recommended maintenance interval and will generally include:
Replacing engine or oil filter
Inspecting parking brake 
A brake adjustment
30,000 Miles or 24 Months
While the 7,500-mile inspection is recommended, this interval is considered the first major checkup. Here, you should focus on ensuring a fully comprehensive check of your vehicle, including services such as:
60,000 Miles or 36 Months
Finally, the 60,000-mile checkup is one of the most important vehicles. For Hyundai owners, this checkup should cover most of the heavy maintenance tasks that result from severe wear and tear, which can include:
Replacing in-cabin micro-filter
Inspect steering and suspension
Replacing engine oil and filter
Topping off all fluids
A battery service
Inspecting throttle chamber
Inspecting transmission case fluid
Inspecting rear axle fluid
Replacing manual transaxle oil
A bear brake service
Hyundai Maintenance Costs
As with any other vehicle, it's essential to know the total cost you can expect when deciding to purchase any new or used Hyundai. Perhaps the best way to determine what price range you can anticipate when purchasing a Hyundai is to look at their overall reliability rating, as mentioned previously.
Overall, Hyundai ranks 4th out of 32 car brands in overall reliability, according to RepairPal. Due to this high rating, Hyundai owners can expect an average of only 0.3 visits to a repair shop each year combined with averaging only $468 in yearly maintenance and repair costs, making Hyundais one of the most reliable and cheapest vehicles to own. 
Protect Your Hyundai with Endurance
Regardless of the model of Hyundai you own, or if you own another brand such as a Honda, Ford or Toyota, ensuring your vehicle is properly maintained is vital in helping it stay running for longer. With an EnduranceAdvantage™ auto protection plan, you can rest easy knowing you'll have comprehensive breakdown protection and up to $3,500 in regular maintenance coverages, including essential services such as up to three oil and filter changes, tire rotations, alignment checks and more. You can also receive several other special, one-time services, including a battery replacement, a brake pad/shoe replacement, cooling system maintenance and more. New and existing Endurance customers will also automatically receive 24/7 roadside assistance when purchasing an EnduranceAdvantage package or any other Endurance plan for even more coverage and savings.
You can also get access to several other great perks and savings with a year's worth of Endurance Elite Benefits. Coming with the purchase of any Endurance plan and a small activation fee, these benefits include key fob replacements, tire repairs or replacements, collision discounts and more — so you can be confident Endurance has you covered for the road ahead.
Get started today by requesting a free quote or call us directly at (800) 253-8203 to speak directly with a representative to learn just how Endurance can help you. You can also find even more helpful and insightful articles on a variety of automotive topics such as other vehicle buying guides, expert auto tips and more at our Learning Center.
More like this
Make/Model

As the most rugged SUV Honda has ever offered, the Pilot offers a wide variety of benefits for those looking for an off-road capable SUV with adequate features. Like any..

Read More

Make/Model

As the world gradually transitions to renewable energy sources, the adoption of e-vehicles is on the rise, and Tesla has been leading the charge. Their range of electric cars is..

Read More

Make/Model

Originally formed from the remnants of the Henry Ford company, Cadillac is arguably the most quintessential American car brand in existence. Founded over 100 years ago, they were the first..

Read More