Before deciding to purchase any brand-new car or a used vehicle, it's essential to account for more than just the initial price. Instead, understanding the actual cost of owning a vehicle, including annual maintenance costs, necessary repairs, or any other unexpected breakdowns, is important.
However, while luxury car brands such as Audi, BMW, Acura, or even Cadillac can provide drivers with quality and reliability, they will often cost much higher than an average Chevy, Ford, or Toyota. Another famous brand, in particular, Honda, is often an excellent choice for those looking for a reliable vehicle at an affordable price.
But, while Hondas are well known for their reliability, it's still crucial to understand the true cost of owning a Honda and if they are expensive to maintain.
How Expensive Is It to Maintain a Honda?
Initially founded in 1948 in Hamamatsu, Japan, Hondas have since made their way to being some of the top-selling automotive brands in the country. Honda has even become known for creating a safer and smarter world, winning awards for low-emission technology, such as being the first automaker with engine technology that complies with the U.S. Clean Air Act without needing a catalytic converter in 1972. They even had the first gas-electric hybrid vehicle in North America with the 2000 Honda Insight!
However, despite Honda being at the forefront of innovation regarding clean air technology, they remain one of the most reliable and affordable vehicles on the road today. In fact, Honda's annual maintenance costs come in at $428, which is significantly lower than other popular car brands, including Toyota ($441), Ford ($775), Chevy ($649), Nissan ($500), and GMC ($744).
In total, potential buyers can choose between 21 current models of Hondas, with some of the most popular including:
Honda Civic
The Honda Civic is undoubtedly one of the most well-known vehicles in the world. But, as with any vehicle, there are still repairs that should be expected. Over the years, there have been 16 major recalls for Honda Civics for issues ranging from airbags to various other components.
Problems such as low rumbling noises caused by bad engine mounts ($88-$111), power window switch failure ($233-$263), windshield wipers failing, and more have also been reported. However, despite these noted issues, the reliability of Civic holds true, as most of these repairs are relatively cheap.
According to RepairPal, Honda Civic owners can expect repair costs such as: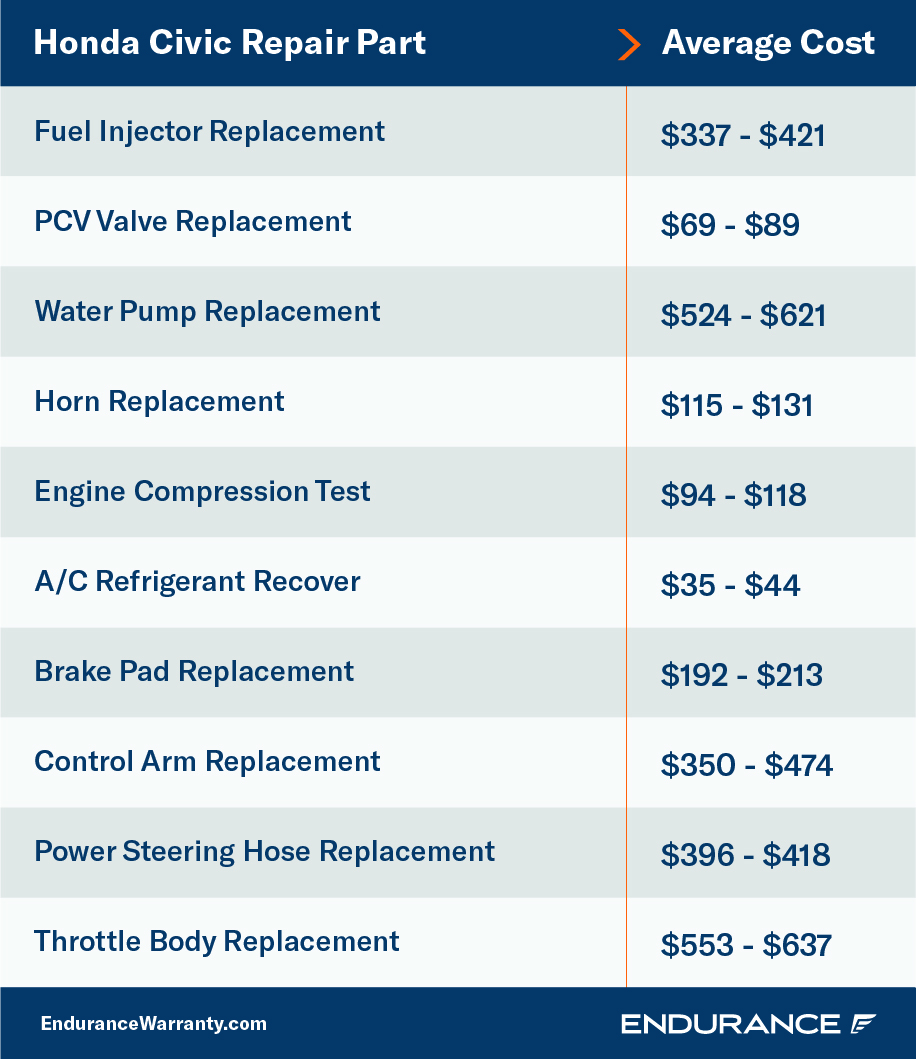 Honda Accord
Another well-known model, the Honda Accord, is one of the brand's most reliable vehicles, with the 2021 model year having an overall 4.5 reliability rating. However, while reliable, there are still some common issues reported with the Accord. Specifically, there have been reported issues due to a lack of starting due to an ignition switch failure ($94-$112), check engine lights flashing ($88-$144), radio and climate controls going dark, and the air conditioner blowing warm air ($249).
This model also had a recent recall in early 2021 due to a software error causing inconsistent communications between parts under the hood. It was estimated that nearly 800,000 models were affected.
Despite this recall, RepairPal notes that Accord owners can expect potential repairs and repair costs that include: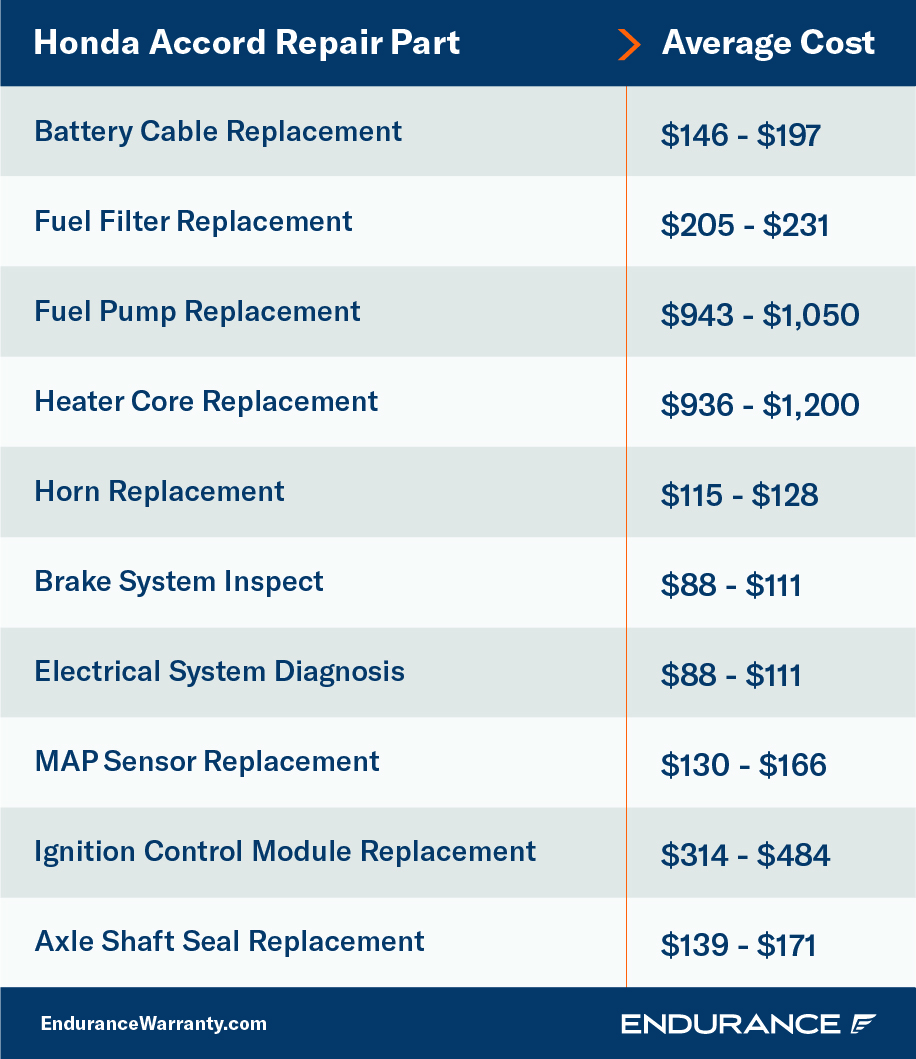 Honda CR-V
Originally debuting in 1997, this is another well-known Honda model on the road. In fact, the CR-V was the #5 top-selling vehicle in 2021 as of the start of October, having sold over 290,100 units. This even beat out the ever-popular Civic, which ranks at #9 with over 216,500 units sold.
Like the Civic, CR-V owners have reported issues with their A/C blowing warm air, transmission issues when shifting from 1st to 2nd gear, door locks not working, and coolant leaks and overheated engines.
Additionally, RepairPal indicates that CR-V owners can expect potential repair costs such as: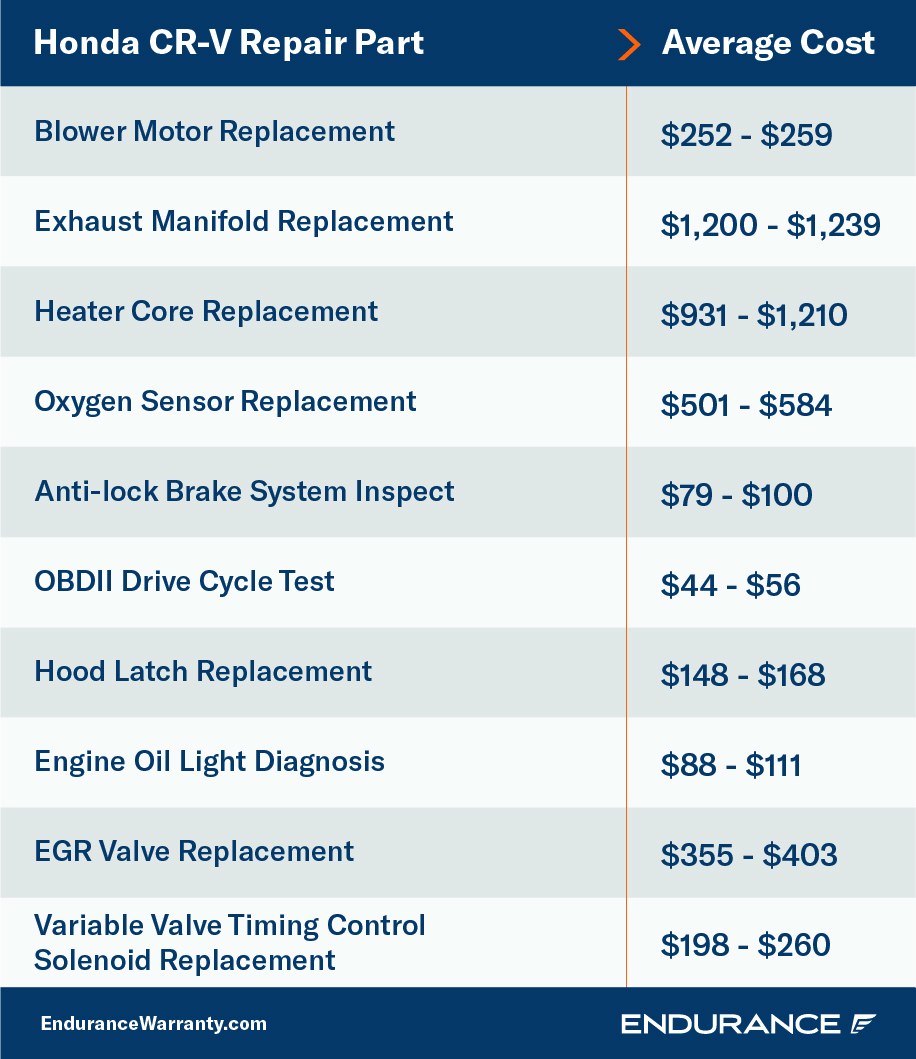 Honda Pilot
Despite ranking as just the #23 top-selling car so far in 2021, the Honda Pilot is another reliable vehicle for those looking for a low-maintenance midsize SUV. Some commonly reported problems include water leaks due to poor seals ($180-$252), warped front brake rotors ($200-$400), a 'knocking' noise from the front suspension stabilizer ($109-$151), and others.
Per RepairPal, other potential repairs on a Honda Pilot can also include: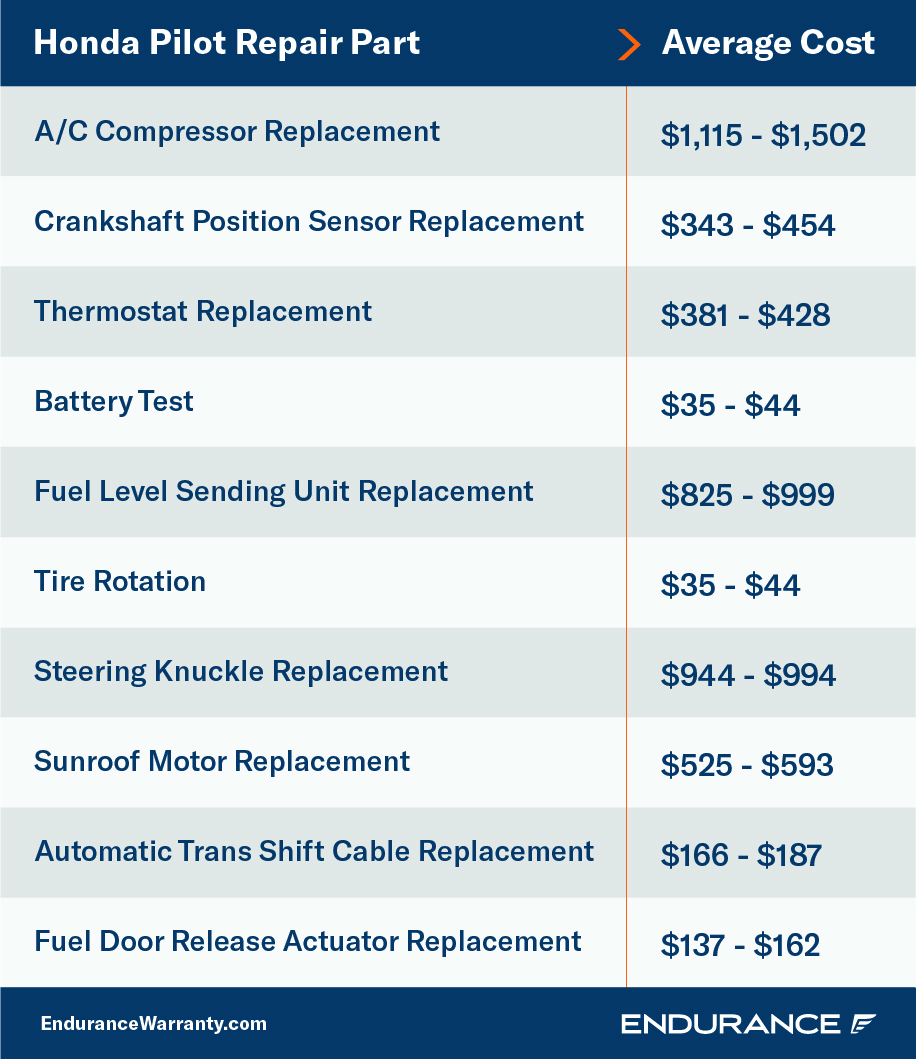 The Honda Recommended Maintenance Plan
Like many automakers, Honda has provided their vehicle owners with a recommended maintenance schedule to help ensure their vehicle stays running longer. To find your Honda's recommended schedule, refer to your owner's manual.
While your specific maintenance schedule will vary based on the Honda model you own, most cars can expect a schedule that includes:
Every 10,000 Miles
When it comes to a maintenance schedule, the 10,000-mile checkups are to cover your standard services. These services range from checking the engine oil, oil filter, tire pressure (PSI), windshield wipers, engine coolant, and other standard services that you must replace consistently.
Every 30,000 Miles
Commonly considered the second checkup in a car's life, the 30,000-mile checkup shop will cover some more extensive maintenance procedures. Services such as checking the engine temperature, cleaning brake pads, inspecting smaller parts under the hood, and more will all be done at this interval.
Every 60,000 Miles
One of the biggest maintenance milestones for any vehicle is often the 60,000-mile checkup. At this time, a certified repair facility or ASE Certified service professional should examine most of your vehicle's major components, including inspecting tire alignment, brake lining, air filters, and more are all standard. At this time, they will also take care of all of the services recommended at your standard 10,000 and 30,000-mile checkups.
Honda Maintenance Costs
As with all other vehicles, understanding the costs behind your Honda is an integral part of purchasing the vehicle. One helpful way to check potential costs you may face is to read up on your vehicle's reliability rating. Those vehicles with a lower score are more likely to need unexpected repairs, whereas those with a high score are generally safer.
Honda is ranked 1st out of 32 brands with an impressive 4.0 out of 5.0 reliability. On top of this, Honda owners should only expect an average of 0.3 visits to a repair facility each year, including only having a 10% chance of a severe repair being required.
Combining this with the fact that annual repair costs are estimated at $428 per year, which is well below the average of $652, it's clear that Hondas are arguably the most reliable vehicles on the road today.
Keep Your Honda Running for Longer with Endurance
Following your recommended maintenance schedule is vital in helping to make sure your Civic, Accord, CR-V, Pilot, or any other Honda vehicle stays running for longer. Having an Endurance auto protection plan can also help you avoid paying out-of-pocket expenses when faced with unexpected breakdowns and other costly repairs that fall outside your typical auto insurance policy.
You can also ensure you are staying up-to-date on your Honda's maintenance needs with the help of an Advantage auto protection plan. Along with providing comprehensive breakdown protection, each Advantage plan also comes with up to $3,500 in regular maintenance services. This includes essential and routine maintenance tasks such as up to 3 oil and filter changes, tire rotations, engine diagnostic exams, and more. Additionally, Endurance customers can receive 1 year of Elite Benefits such as up to 2 tire repairs or replacements, 24/7 roadside assistance, and even up to $500 in collision discounts with the purchase of any protection plan and a small activation fee.
To learn more about how an Endurance protection plan can help you, request a free, no-obligation quote or call us at (800) 253-8203 to speak directly with a representative. You can also visit the Learning Center to discover more articles on topics such as DIY maintenance tips, expert auto advice, make/model comparisons, and much more.
More like this
Make/Model

As the most rugged SUV Honda has ever offered, the Pilot offers a wide variety of benefits for those looking for an off-road capable SUV with adequate features. Like any..

Read More

Make/Model

As the world gradually transitions to renewable energy sources, the adoption of e-vehicles is on the rise, and Tesla has been leading the charge. Their range of electric cars is..

Read More

Make/Model

Originally formed from the remnants of the Henry Ford company, Cadillac is arguably the most quintessential American car brand in existence. Founded over 100 years ago, they were the first..

Read More