Protect your vehicle with custom coverage from Endurance.
Shop Now
May is Military Appreciation Month, where we look to give our thanks and salute those that have served. It can also be a great opportunity to learn more about the U.S. military vehicles our armed forces have used and how these machines have helped transform the automotive world. After all, without the advancements of some military vehicles and their civilian variants, we would be without iconic vehicles like the Jeep Wrangler. 
To celebrate this Military Appreciation Month, check out our list of the coolest military vehicles.
The Coolest Military Vehicles 
Some military vehicles are symbolic, some turn heads, and others have helped pave the way for some iconic civilian variants. Here are our picks for the seven coolest military vehicles ever to aid U.S. service members.
#1: Willys Jeep (Pictured Above)
Few vehicles are as iconic as the Willys Jeep. Developed on the eve of America's involvement in World War II, the GP (the origin of the "Jeep" name) met the military's need for a fast and agile scout car. Engineered by American Bantam Car Co, the Willys Jeep would go on to tame continents and sow the roots for America's love affair with off-road vehicles. Ford also had their hand in producing a version of this iconic vehicle, producing approximately 280,000 during the war.
Still, despite Ford's involvement in producing this legendary vehicle, the better-known Willys edition is the foundation of today's Jeep brand. The original Jeep got the job done with 60 horsepower and a 65 mph top speed, helping to make it THE quintessential military vehicle.
#2: HUMVEE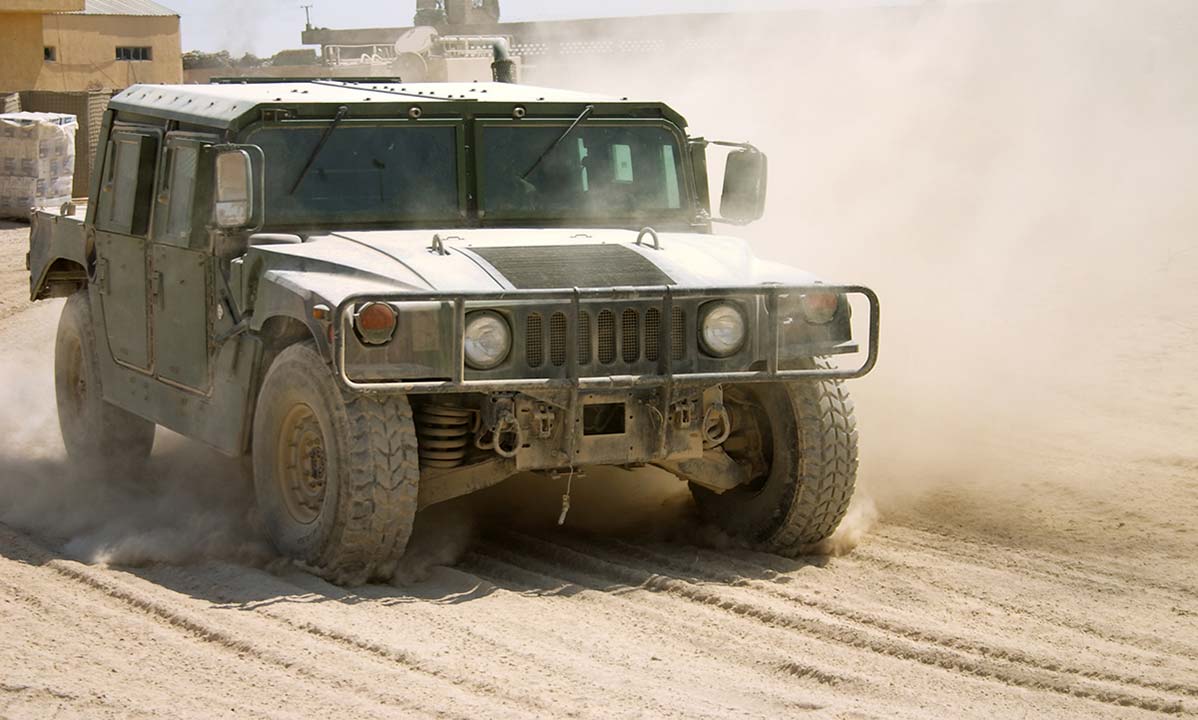 Media coverage of Operation Desert Storm helped popularize the High Mobility Multipurpose Wheeled Vehicle — aka the HUMVEE. But, while becoming popular during this time, the idea of a more rugged and capable multipurpose machine dates back to the Korean War. Since then, after decades of prototypes and tinkering, AM General won the contract in 1981 to produce the HUMVEE for the military. Then, thanks to a clever 1992 marketing campaign with Arnold Schwarzenegger, the civilian Hummer H1 edition became prominent and paved the way for SUV dominance in the marketplace. The idea of military cars for ordinary people had many shoppers dreaming of a Hummer in the driveway.
As far as performance, despite the increase in bulk over the Willys Jeep, the original HUMVEE boasts a 65 mph top speed and has a 300-mile range. But you may not get there too fast, as the original version needed 24 seconds to reach 60 mph! 
 #3: M3 Half-Track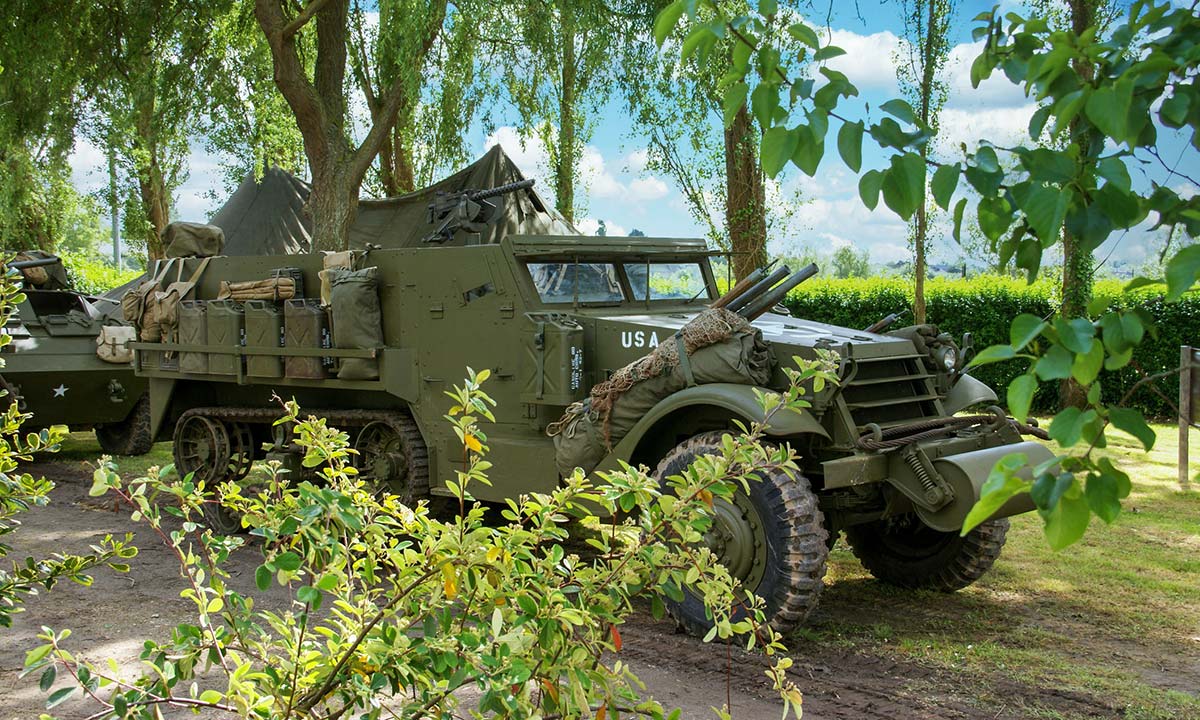 Watch a World War II movie, and chances are you'll see an M3 Half-Track on the screen. Over 40,000 of this unique armored personnel carrier, which got its name thanks to the two front tires and its rear "tracks," were manufactured by the White Motor Company got its name thanks to the two front tires and rear "tracks." 
Light armor protected its occupants in upwards of 20 feet vehicle, a .30 to .50-caliber machine gun kept the enemy at bay, and the rear track enabled operations in the worst conditions.  
#4: M1 Abrams Tank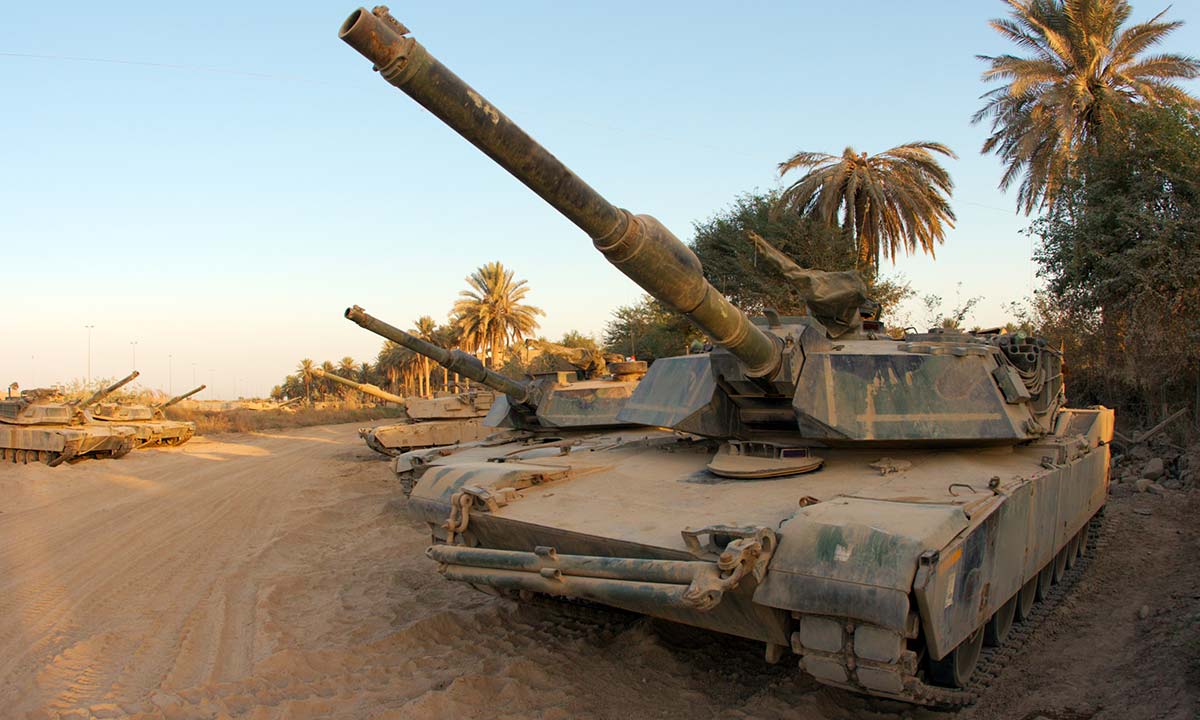 When it comes to armored vehicles, it's hard not to think of a tank. Developed for Cold War duty in Europe, the M1 Abrams first appeared in 1980. But activity a decade later in the Persian Gulf brought the U.S. Army's main battle tank to prominence. Initially produced by Chrysler Defense, General Dynamics built the latest version of this iconic tank. Overall, this 70-ton beast can move with a 40 to 45 mph top speed! Though, don't expect to get too far, as it only has a range of approximately 280 miles.
#5: M2 Bradley Fighting Vehicle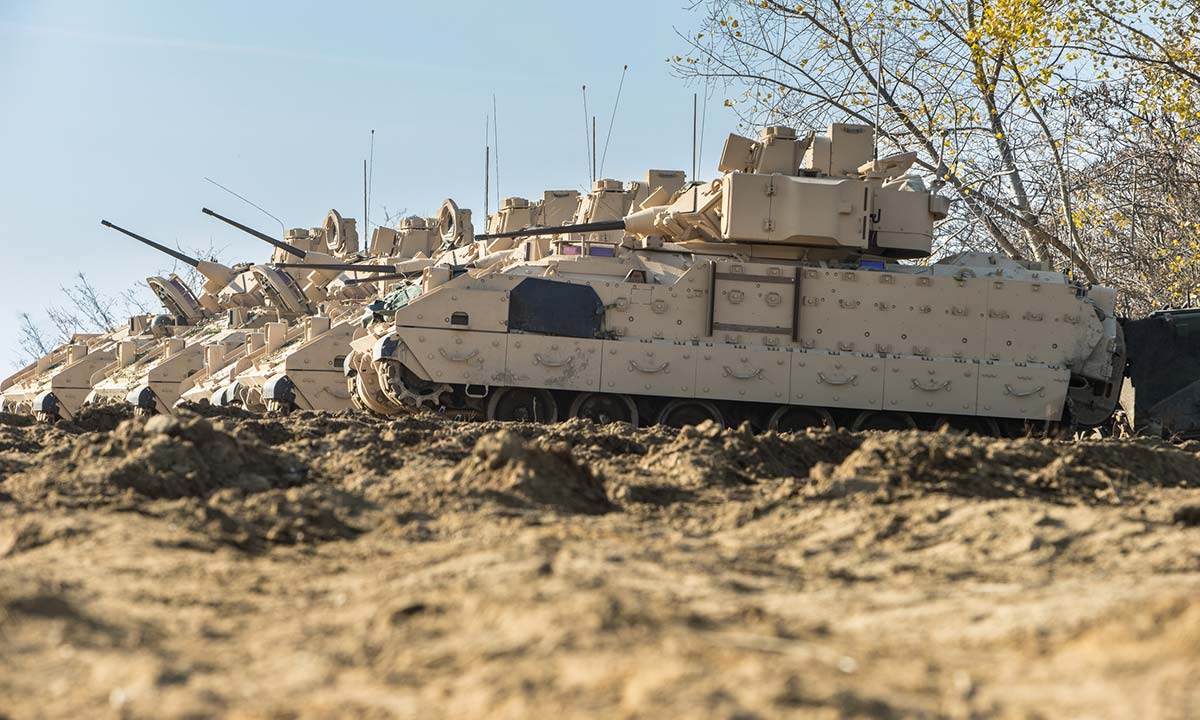 The M2 Bradley is arguably the modern-day successor to the M3 Half-Track. But, beyond its name (a tribute to legendary general Omar Bradley) and similar role as a troop carrier, the M2 doesn't share much with its aged predecessor. Its all-track drive gear also skips the front wheels of the M3 and is even amphibious!
Armaments include a 25mm chain gun, a TOW anti-tank missile, and a 7.62 mm machine gun. Inside is a modified 600-horsepower Cummins Diesel engine that enables the 27.6-ton Bradley and its three-person crew to reach 41 mph on land (an army requirement so the M2 could keep up in a formation with the Abrams tank). 
#6: MRAP Vehicle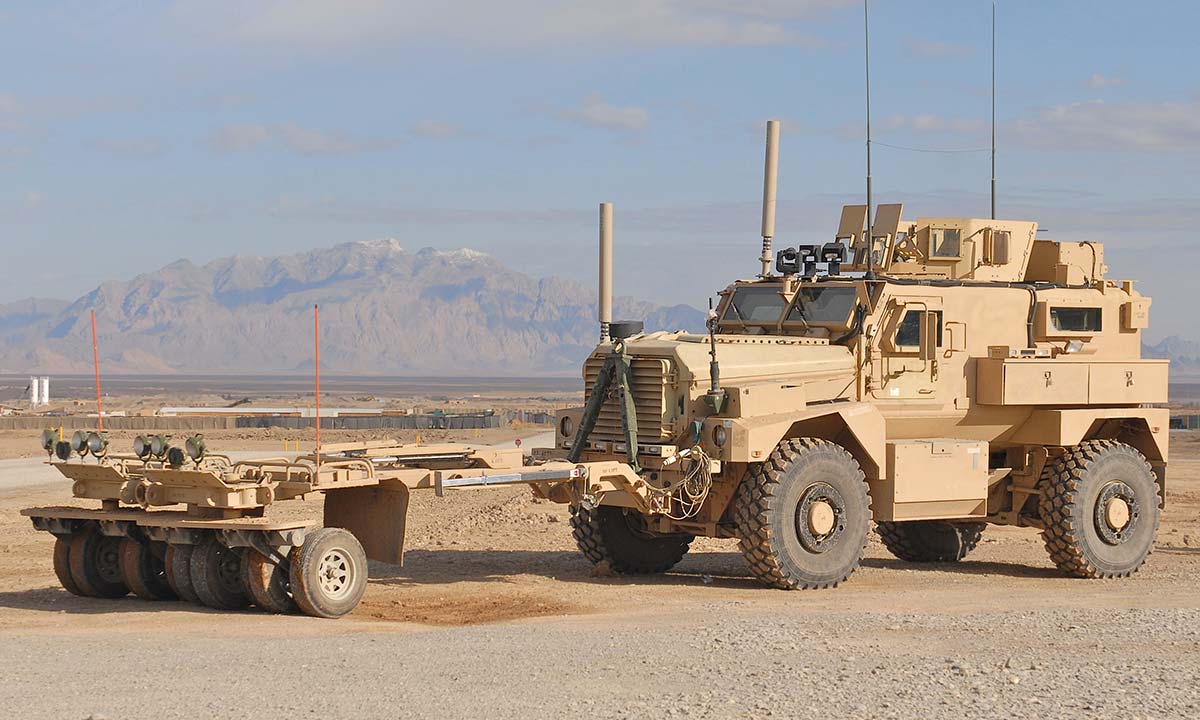 While all military vehicles need to be able to move troops, they also need to protect them, which is where the Mine Resistant Ambush Protected (MRAP) comes in. Thanks to an initiative from the Defense Department, the MRAP first 2007. More than 24,000 MRAPs were built to serve American and allied service personnel.
A unique version of the MRAP is the Cougar 6X6. Its six-wheel design fits up to two crew members, eight troops and clocked in at a whopping 65 mph, all on a 350-mile range.
#7: M1126 Stryker Combat Vehicle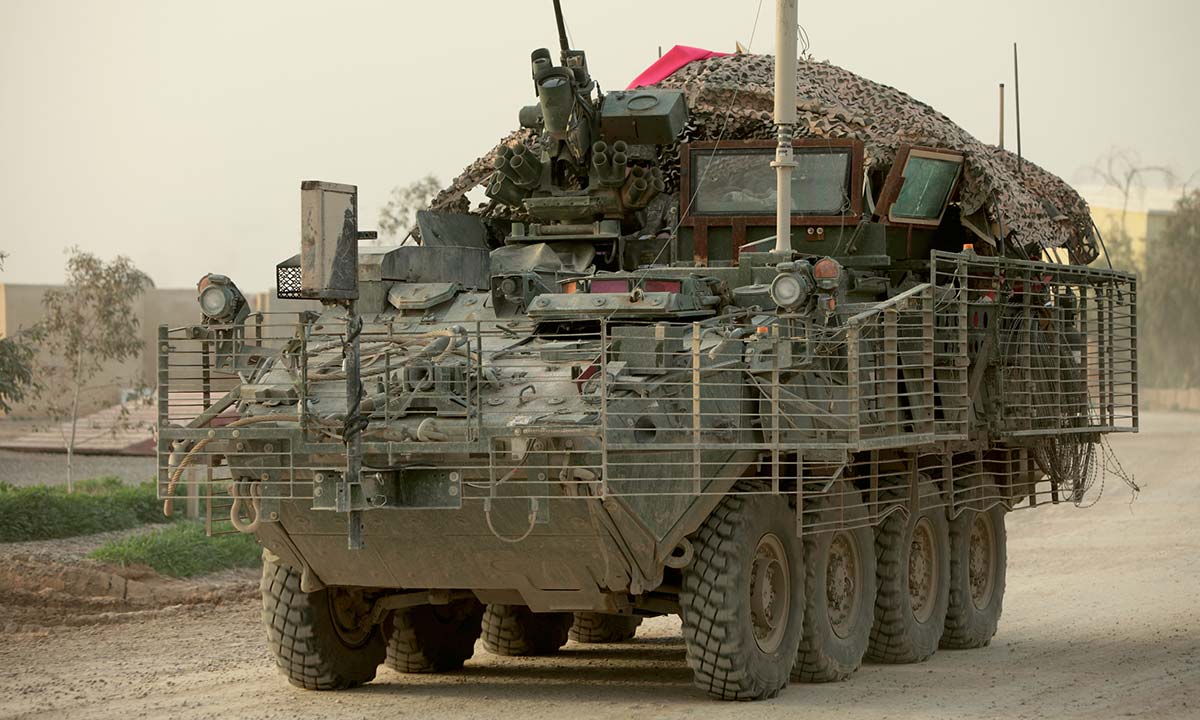 As advanced as the M2 Bradley is, its track-drive system limits speed. That's why the U.S. Army introduced a speedier armored personnel carrier—the M1126 Stryker. 
Its eight-wheel configuration and 350-horsepower engine enable the Stryker to achieve a top speed of 62 miles per hour. And while it comes in at 19 tons, which may sound like a lot of weight for army vehicles, it's not when compared to the M1 Abrams or M2 Bradley, giving it greater flexibility for transporting equipment by cargo aircraft.
Best Automotive Military Discounts
From restaurants, theme parks, shops and more, companies often offer discounts to active duty personnel, reservists, and retirees, including many automotive-based companies. We have put together a partial list of offerings to help you find the best deals for you, including preferred pricing for a new car and specials on auto parts and services. However, always check for the specific conditions of any military discount.
Military Discounts from Automakers (as of May 2022)
Military Discounts for Auto Parts & Services
*Confirm availability of a military discount through Goodyear's customer service. 
About Military IDs & Discounts
A merchant may ask to see your military ID to confirm discount eligibility. While this action is legitimate, remember that it's illegal for anyone to copy your credentials. 
Protect Your Civilian Vehicle with Endurance
Military vehicles like the Willys Jeep and HUMVEE have inspired mainstream automakers for decades. But, most civilian cars aren't as rugged and reliable as what the military use. And, you're unlikely to have access to a motor pool for repairs to your car. 
Help protect yourself and your vehicle from the cost of unexpected breakdowns and repairs with an Endurance auto protection plan. You can even save up to $3,500 on routine maintenance services like tire rotations, alignment checks and more with the Advantage plan, or protect your eligible high-end luxury vehicle with the Highline coverage plan. 
Every Endurance plan also includes 24/7 roadside assistance, rental car reimbursement, and trip interruption coverage. You'll even have a 30-day money-back guarantee to help ensure you have the right plan for yourself and your vehicle. And, for just a small activation fee, you can get access to 12 months of Endurance Elite Benefits, including tire repairs/replacements, key fob replacements, total loss protection, and even collision discounts.
To learn more about how Endurance can help protect your vehicle, give our award-winning customer care team a call directly at (800) 253-8203. Or, you can get started today by requesting a free, no-obligation quote. And don't forget to check out the Endurance blog to find even more articles on topics like DIY car care tips, vehicle buying guides, extended warranty comparisons and other helpful articles.
More like this
Make/Model

The 1960s was undoubtedly a golden era for the American automobile industry. Iconic cars like the Ford Mustang, Chevrolet Camaro, and Pontiac GTO came into existence during this decade, capturing..

Read More

Make/Model

Whether you're a passionate petrolhead or a casual commuter, everyone agrees that classic cars are special. From the iconic exteriors to the old-school engineering, their look, feel, and sound really..

Read More

Make/Model

When it comes to purchasing a used car, there are many factors as a consumer you need to keep in mind. Performance, condition, and style are all important considerations, but..

Read More