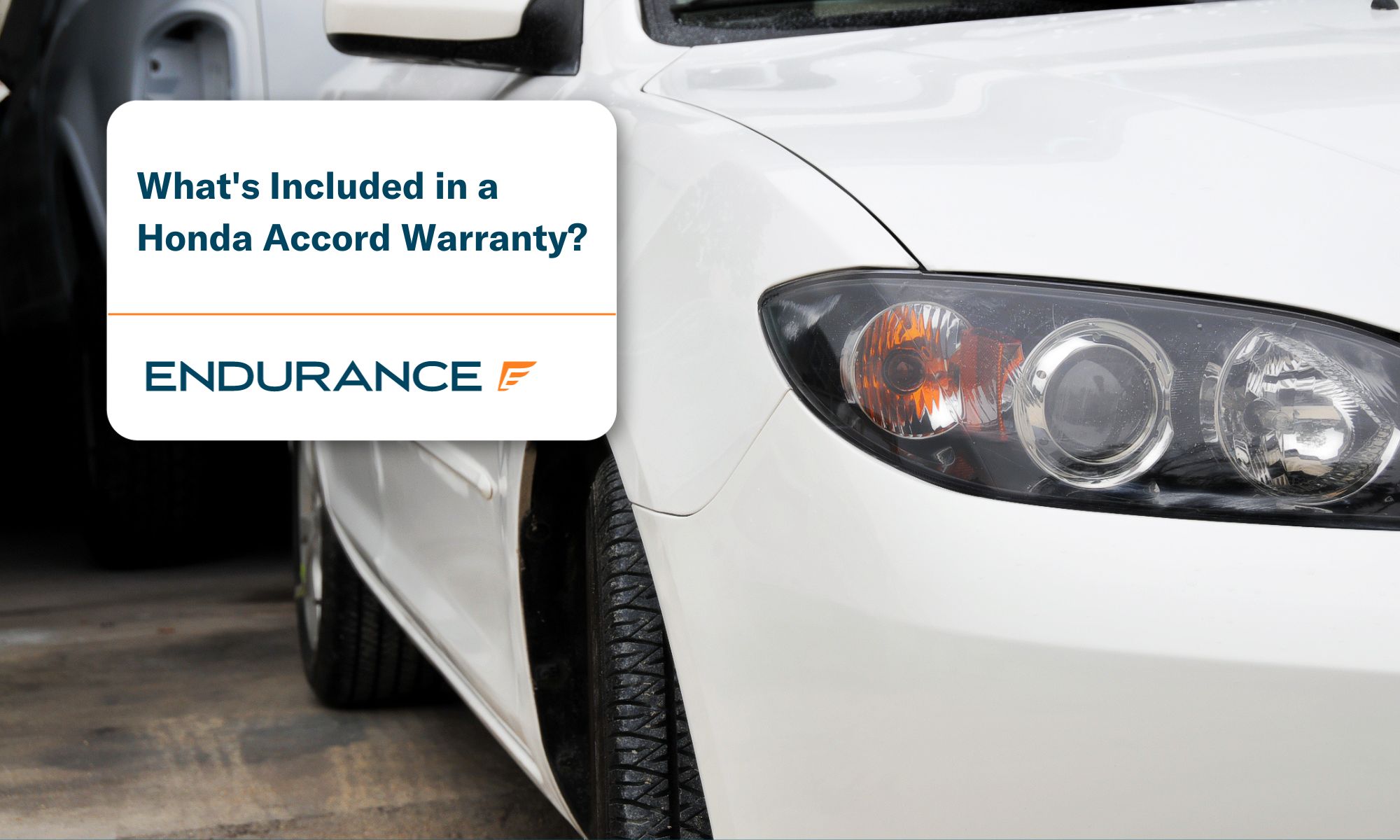 If you're the owner of a Honda Accord, you certainly aren't alone. The brand has a great reputation for producing some of the most reliable cars on the road, with Consumer Reports putting them in fifth place in their 2022 rankings.
Unfortunately, no matter how reliable a vehicle might be, all components fail eventually, and few things are worse than an unexpected repair bill. If your Accord is relatively new, it should still have an active manufacturer warranty. But what exactly does a Honda Accord warranty cover? Read the full breakdown below, including benefits, exclusions, and how to file a claim.
What Is an Auto Warranty?
Every vehicle rolls off the production line with what's known as a factory warranty (also called a manufacturer's warranty). This effectively acts as the automaker's promise to repair or replace any components that fail due to manufacturing fault for a predetermined number of years or miles traveled after purchase. How long this lasts completely depends on the manufacturer in question, with some being more generous than others.
Once this warranty expires, you, as the owner, are fully responsible for any repair bills that might be incurred—unless you decide to extend your coverage. For this, you have two options: a traditional extended warranty or a third-party vehicle service contract.
Traditional extended warranties are generally purchased via your car dealership or directly from your car manufacturer. If the name doesn't give it away, this type of warranty extends your vehicle's factory coverage past the expiration date. The very big catch is that it must be purchased while your original manufacturer coverage is still active. Leave it just one day late—or purchase your vehicle used—and you'll no longer qualify. To make things worse, traditional extended warranties tie you to dealerships for repairs, which isn't ideal if you break down hundreds of miles from one.
Third-party vehicle service contracts are the universally preferred option, as they offer almost like-for-like coverage with a series of added benefits. Firstly, you can purchase a vehicle service contract at almost any point in a vehicle's lifetime, with some providers offering coverage specifically for high-mileage cars. Providers are also incentivized to offer coverage at a better price point than traditional extended warranties, and they often throw in extra perks to sweeten the deal. You're also free to have repairs carried out at any licensed auto shop.
It's worth pointing out that extended warranties and vehicle service contracts are completely different from auto insurance. While both things save you a lot of money, a warranty specifically covers costs associated with unexpected component failure, while insurance protects you from damage as a result of collisions or similar incidents. Together they act as the ultimate defense against those pesky repair bills, so it's highly recommended that you invest in both.
Types of Warranty Offered by Honda
Like every manufacturer, Honda includes a factory warranty with all new Honda Accord vehicles. This is split into several different parts, with each covering a different area of the vehicle for a different length of time or miles traveled. Let's take a look at each part in more detail:
New Vehicle Limited Warranty
The New Vehicle Limited Warranty is a bumper-to-bumper warranty that covers almost every vehicle component, including the 12-volt battery. This lasts for 3 years or 36,000 miles (whichever comes first), which is about average for the auto industry.
Powertrain Limited Warranty
Those crucial powertrain components (e.g., engine, drivetrain, transmission) are warranted separately for a longer period. Honda will cover them for up to 5 years or 60,000 miles traveled.
Federal Emissions Warranty
The components that make up your Honda's emissions control systems are covered under "Emissions-related Defects and Performance Warranties."
California Emissions Warranty
For Honda vehicles registered and operated in California or in other states that have adopted California emissions warranty regulations, the "Emissions Control Systems Defects and Performance Warranties" have you covered.
Hybrid Powertrain Warranty
If your Honda has a hybrid powertrain, the Hybrid Powertrain Warranty applies (including Integrated Motor Assist (IMA) systems).
High Voltage Battery Capacity Warranty
If your high-voltage battery degrades much faster than it should, it's covered for 8 years or 100,000 miles. However, gradual capacity loss of the high-voltage battery is expected and not covered under warranty. An authorized Honda dealer can determine whether your battery qualifies.
Tire Warranty
Tires are warranted by their manufacturer rather than Honda themselves. If you have any issues, your Honda dealer can help you to contact the relevant tire representative.
Seat Belt Warranty
Seat belts that don't function as intended are covered for 15 years or 150,000 miles.
Rust Perforation Limited Warranty
If any body panel on your vehicle rusts from the inside out, Honda will repair or replace it. This additional coverage lasts for 5 years with no mileage limit.
Accessory Limited Warranty
When you purchase a Honda vehicle, you'll have the option to install a variety of Honda Genuine Accessories. These are covered by a 3-year/36,000-mile limited warranty. Any damage that occurs to your vehicle as a result of installing or using non-Honda-genuine accessories will not be covered under warranty.
Roadside Assistance
According to the Honda website, 24/7 emergency roadside assistance is available for customers in the United States, Puerto Rico, and Canada, which is valid during the 3-year/36,000-mile warranty term, starting with 2015 vehicles. Services provided by the roadside team include:
Winching
Jumpstart
Fuel delivery
Lockout
Flat tire
Mechanical tow
Accident tow
In the event of a mechanical breakdown that renders your vehicle inoperative, the service will tow you to the closest Honda dealership for repairs to be carried out under warranty. You can request to be taken to a licensed auto shop, but any warranty-related repairs will need to be paid for by yourself to be later reimbursed by your Honda dealer.
Warranty Transferability
Is a Honda Accord factory warranty transferable? The short answer is yes. If you decide to sell or transfer ownership of your vehicle while the original manufacturer coverage is still active, the new owner can benefit from the remainder of that coverage. Honda owners who are thinking of passing their vehicle over to someone else should contact a Honda representative for further information.
What Isn't Covered under Honda Warranty
Factory warranties are some of the most comprehensive around, but no warranty covers absolutely everything. Make sure to familiarize yourself with the things that aren't covered under your Honda warranty so that you aren't caught out should something go wrong.
Wear and tear parts: Parts that are expected or designed to wear and tear during use are not covered under warranty. This includes things like brake pads, windshield wipers, and spark plugs.
Environmental damage: If your vehicle is affected by flooding, hail, or other such Acts Of God, it is not protected by your Honda warranty.
Damage caused by collision, theft, or vandalism: Like environmental damage, these kinds of problems are related to car insurance policies rather than any sort of warranty. This is why it's highly recommended that you invest in both a warranty and insurance.
Routine maintenance: Oil changes, tire rotations, and other routine maintenance are your responsibility as the owner. For vehicles that are less than 1 year old with fewer than 12,000 miles on the clock, Honda does offer Honda Care Maintenance™ coverage as an add-on, however.
Problems caused by negligence or unauthorized modifications: Understandably, Honda will not cover repairs caused by negligence, such as failure to maintain your vehicle in line with their recommended schedule or unauthorized modifications with non-Honda-genuine accessories/parts.
How to Make a Warranty Claim
So you've experienced unexpected mechanical failure. How do you go about making a claim? Honda gives you several options for raising one, including via email form, over the phone, or in person.
Phone: If you'd like to file a claim over the phone, the Honda support team is available at (800) 999-1009 Monday through Friday from 6 a.m. to 5 p.m.
Email form: For email claims, you'll need to fill in the form on the Honda website.
In-person: To file a claim in person, just pay a visit to your local Honda dealership and inform them of the issue at hand.
Your Extended Warranty Options
Even if your Honda Accord factory warranty is still active, you should be considering your options for extending the coverage. If you don't, you could find yourself stranded at the roadside and faced with a nasty repair bill at the worst possible moment.
One option is to take out Honda's traditional extended warranty: Honda Care. Sold via Honda dealerships, this can extend your vehicle's factory coverage for up to 8 years or 120,000 miles. Additional benefits are also included, such as 24/7 roadside assistance, rental car reimbursement, trip interruption benefits, and concierge services. The price of this kind of warranty can vary from dealership to dealership.
Your other option is a third-party vehicle service contract. Drivers generally prefer these auto protection plans as they offer comprehensive coverage and often better value for money. For example, here at Endurance, we offer a wide range of plans with unrivaled eligibility, affordability, and flexibility. From daily commuters to rideshare workers to luxury car owners, we have something for almost every kind of driver—and if our base plans aren't quite right, we'll be more than happy to tailor a bespoke plan that meets your specific needs and budget.
It doesn't stop at industry-leading coverage, either. We also throw in some of the best-added benefits around. Every Endurance plan includes 24/7 roadside assistance, towing, trip-interruption costs, and replacement travel reimbursement as standard. Better yet, new Endurance customers also get a year's free access to our Elite Benefits package, which piles on tire repair or replacement, key fob replacement, total loss protection, and much more.
Endurance Warranty coverage is effortlessly transferable to future owners, which could increase the value of your vehicle should you come to sell it. Unlike many third-party vehicle service contract providers, we're also the direct administrator of our plans, meaning no frustrating middlemen to deal with when you want to make a claim.
Want Extended Auto Coverage? Get Peace of Mind With Endurance
Auto experts agree that when it comes to vehicle service contracts, Endurance is head and shoulders above the competition. Across the web, we're rated as the provider of choice—but don't just take our word for it. Take a look at our thousands of 5-star reviews from happy Endurance customers.
Want to know more about what we can do to protect your vehicle and your wallet? Give our award-winning customer service team a call at (800) 253-8203 for a free, no-obligation quote. We also have plenty more useful resources just like this on our extended warranty blog, so head on over if you'd like to do some more reading.
More like this
Make/Model

As the most rugged SUV Honda has ever offered, the Pilot offers a wide variety of benefits for those looking for an off-road capable SUV with adequate features. Like any..

Read More

Make/Model

As the world gradually transitions to renewable energy sources, the adoption of e-vehicles is on the rise, and Tesla has been leading the charge. Their range of electric cars is..

Read More

Make/Model

Originally formed from the remnants of the Henry Ford company, Cadillac is arguably the most quintessential American car brand in existence. Founded over 100 years ago, they were the first..

Read More