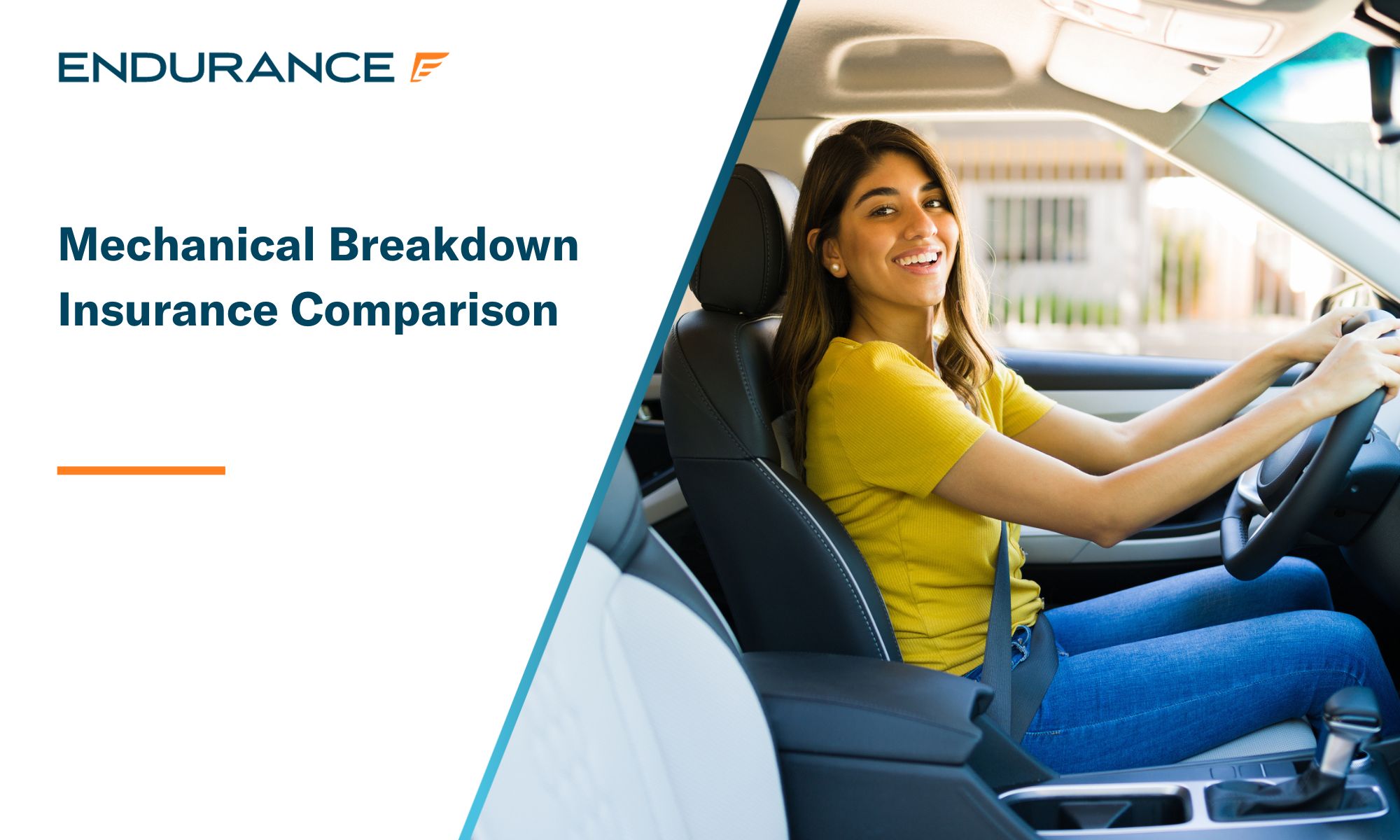 Thinking about vehicle breakdowns and surprise repair bills is stressful, especially considering all the complexities of modern life. One way for California car owners to reduce this burden is to get mechanical breakdown insurance (MBI) coverage.
It's similar to what's offered by an extended warranty but is regulated as an insurance product in the Golden State. So, MBI works from San Diego to Crescent City and everywhere in between.
Keep reading as we explore everything you need to know about California mechanical breakdown insurance. In particular, we'll look at what's offered by Endurance and GEICO, leading mechanical breakdown warranty providers in the state. This is valuable information because while both companies offer MBI, each goes about it differently.
You'll want to understand these details before getting this coverage for your car.
What Is Mechanical Breakdown Insurance?
Before diving into company-specific information, let's take a broader view of mechanical breakdown insurance. This has particular meaning in California because MBI is tightly regulated by the California Department of Insurance (CDI).
MBI sellers must be registered as insurance companies and pass rigorous financial requirements. This is one of the ways that separate a California MBI policy from an extended warranty you might purchase in another state. In addition, rates for all California MBI policies are reviewed by the CDI, ensuring consumers are treated fairly.
At a minimum, MBI protects against the failure of vital mechanical systems like the engine,  transmission, and drive axles. Depending on where you purchase coverage, you may have additional safeguards. For example, Endurance's base MBI policy also includes coverage for the electrical system, air conditioning, and other select essential systems. There are options for more expanded protections, too.
MBI is an insurance policy that covers car owners for certain repairs after the manufacturer's warranty expires. Importantly, MBI is not standard car insurance, such as a liability policy mandated by California law (or plans that insure against collisions, theft, or other damage). These are the types of coverage you would buy from Progressive, GEICO, Allstate, or another traditional carrier. In addition, MBI does not pay for routine maintenance (like tune-ups and oil changes) or parts that wear down through ordinary use and require replacement (like tires or brake pads).
Endurance Mechanical Breakdown Insurance
Endurance offers three MBI options for California car owners, providing budget flexibility while balancing comprehensive coverage.
Endurance Standard MBI: This basic MBI policy is known as stated component coverage and protects crucial elements in your car from the engine, transmission, drive axles, transfer case, steering, electrical system, air conditioning, suspension, and brakes (non-consumable parts). It's the most affordable Endurance MBI policy.
Endurance Premium MBI: Building from the fundamentals of Standard coverage, Endurance Premium offers an expanded list of covered components. In addition to safeguarding more electrical parts, this enhanced policy protects fuel delivery and cooling systems and luxury equipment.
Endurance Elite Plus MBI: This exclusionary coverage offers MBI protection that comes closest to a factory warranty. This premier policy covers most parts, components, and systems.
Add-On Coverage: Understanding that some California car owners need additional protections, Endurance offers coverage options for covered-part causes of loss, emissions, business use, lift kit/oversized tires, and snowplow use.
A hallmark of Endurance's MBI coverage is flexible terms, including separate vehicle categories. Newer vehicles up to four years old and less than 50,000 miles are eligible for immediate protection. Older cars up to ten years old with 50,000-150,000 miles can get MBI protection after a 30-day/1,000-mile waiting period.
Depending on the vehicle category, customers can choose coverage terms ranging from three years/30,000 miles to six years/90,000 miles. There are also options for different deductibles ($0-$200 upfront), which helps tailor premiums to each policyholder.
GEICO Mechanical Breakdown Insurance
GEICO takes a different direction to California MBI with only a single level of coverage — it's a one-size-fits-all approach. This coverage is only available on new or leased cars less than 15 months old and with less than 15,000 miles.
In addition, GEICO requires its MBI customers to have comprehensive and collision coverage. This can be a challenge for someone who has an older car and doesn't want the extra expense of this insurance.  Further, all MBI claims include a $250 deductible. There is no option for higher or lower amounts.
GEICO's mechanical breakdown insurance can be renewed for up to seven years of 100,000 miles, whichever comes first. These extended terms can be reassuring. However, virtually every new car sold in the U.S. has a bumper-to-bumper warranty ranging from three to five years and up to 60,000 miles in coverage. In addition, most new vehicles also have a powertrain warranty that typically lasts five years and up to 60,000 miles (some are longer).
This all adds to a narrow window to take advantage of GEICO MBI protection. In addition, the company states explicitly that claims must first be made against any existing factory warranty. GEICO MBI coverage is secondary, further limiting its usefulness. A policyholder could pay for mechanical breakdown insurance for seven years but only be able to make a claim in the final two years.
Key Differences Between Endurance and GEICO MBI
Trying to understand the differences between Endurance and GEICO MBI coverage can be overwhelming. Here are the essential contrasts for you to decide which is worth it:
Endurance
GEICO
Vehicle Qualification
New car up to 48 months old, no more than 50,000 miles.
Used car up to 120 months old, no more than 150,000 miles
New car up to 15 months old, no more than 15,000 miles
Mileage Limitations
150,000 miles
100,000 miles
Term Options
New: 4 years/40,000 miles through 6 years/90,000 miles
Used: 3 years/30,000 miles through 4 years/60,000 miles
New: Up to 7 years/100,000 miles

Used: Not available

Deductible
$0, $50, $100, or $200
$250
Insurance Requirements
None
Comprehensive and collision
Of course, these are just the highlights. Always review policy terms and conditions before buying any mechanical breakdown insurance.  In particular, you'll want to check the policy document for:
Pre-existing conditions and waiting periods
Deductibles and co-pays
Exclusions and limitations
Coverage for wear and tear
Repair shop restrictions: authorized vs. non-authorized repair shops
Reimbursement vs. direct payment
Cancellation and refund policies
Coverage extensions and renewals
Lapse in coverage and reinstatement
Customer Reviews and Ratings
Endurance and GEICO are nationally recognized companies with extensive customer outreach. Illinois-based Endurance focuses exclusively on mechanical breakdown insurance (and extended warranties, aka vehicle service contracts, outside of California), while MBI accounts for a small portion of GEICO's business.
GEICO, a subsidiary of Nebraska-based Berkshire Hathaway, gets most of its revenue from traditional automobile insurance policies, as well as from covering homeowners and renters.
Here's a glance at each company's consumer ratings (remember that GEICO's ratings reflect all its business lines) as of September 2023.
| | | |
| --- | --- | --- |
| | Endurance | GEICO |
| Google Reviews | 4.3/5 (8,670 reviews) | 2.8/5 (484 reviews) |
| Consumer Affairs | 4.3/5 (10,957 reviews) | 3.7/5 (596 reviews) |
| WalletHub | 4.1/5 (1,824 reviews) | 2.4/5 (2,080 reviews |
There's ample evidence that customers from both companies have had good experience with MBI coverage. One Endurance customer recently remarked, "Expedient, hassle free and always there when you need them," while another added, "I have been with Endurance for over 3yrs now. Never had to make a claim until July 18, 2023. It was a very expensive repair and Endurance proved to be a warranty of its word."
There are equally good things to say about GEICO's MBI coverage. One policyholder explained, " One does not have to pay as much 'out-of-pocket' for major repairs." Another GEICO customer reminded "I am still covered even after my factory warranty has expired."
Which One Is Right for You?
The big separator in choosing between Endurance and GEICO is the age of your car. If it's more than 15 months old or has more than 15,000 miles (or purchased second-hand at any age or mileage), it's ineligible for GEICO MBI protection.
Also, remember that if you add GEICO MBI coverage to your new car, it may be years before you can make a claim. Factory warranty coverage gets priority. In addition, a GEICO MBI policy has a single deductible option of $250 per claim. There's no alternative to paying a slightly higher premium in exchange for a deductible as low as $0.
If your car doesn't meet GEICO's qualification threshold, an Endurance MBI policy is the obvious choice. In addition to having broader qualifying standards, Endurance offers a range of MBI policies. Budget-minded car owners can take advantage of powertrain coverage, while those seeking even greater protection can enroll in an exclusionary MBI plan that's close to a factory warranty. Endurance MBI is all about options and flexibility.
California Car Owners Choose Endurance Warranty
More and more California car owners without a manufacturer's warranty are learning how mechanical breakdown insurance from Endurance can protect against breakdowns and unexpected repair bills. It's coverage that goes beyond traditional auto insurance and offers ultimate vehicle protection.
Best of all, there are options for most vehicles and budgets. Endurance makes MBI coverage even easier by offering flexible payment terms and allowing customers to select from any ASE Certified mechanic or shop for covered repairs. Extra peace of mind comes from standard perks, like roadside assistance with towing.
Endurance ensures that the claims process is simple, too. The Endurance customer support team is one call away for personalized help, or use the exclusive Endurance mobile app for quicker service.
Discover all your Endurance MBI options by requesting a FREE quote or calling (800) 253-8203 to speak with an Endurance MBI advisor. Read the Endurance blog for expert advice about vehicle maintenance, DIY car care, insurance comparisons, and vehicle reviews.
Mechanical Breakdown Insurance FAQs
Does Progressive offer mechanical breakdown insurance like GEICO?
While Progressive is not a direct issuer of MBI coverage, it partners with Good Sam (a Colorado-based extended car warranty company) to provide mechanical breakdown insurance.
What is GEICO's mechanical breakdown insurance coverage?
GEICO's mechanical breakdown insurance covers car repair costs for mechanical failures on new vehicles after the manufacturer's warranty expires.
How does GEICO's mechanical breakdown warranty work?
GEICO's mechanical breakdown warranty works by extending repair coverage for up to seven years or 100,000 miles on new vehicles. However, it has eligibility limitations, requires comprehensive and collision insurance, has a $250 deductible, and is secondary to the manufacturer's warranty.
More like this
Mechanical Breakdown Insurance

In California, mechanical breakdown insurance (MBI), sometimes referred to as an extended warranty or vehicle service contract, is a type of coverage that pays for certain vehicle repairs after the..

Read More

Extended Warranty

Buying a used vehicle or new car has a lot of benefits that can make your life easier and reliably get you where you need to go. When you purchase..

Read More