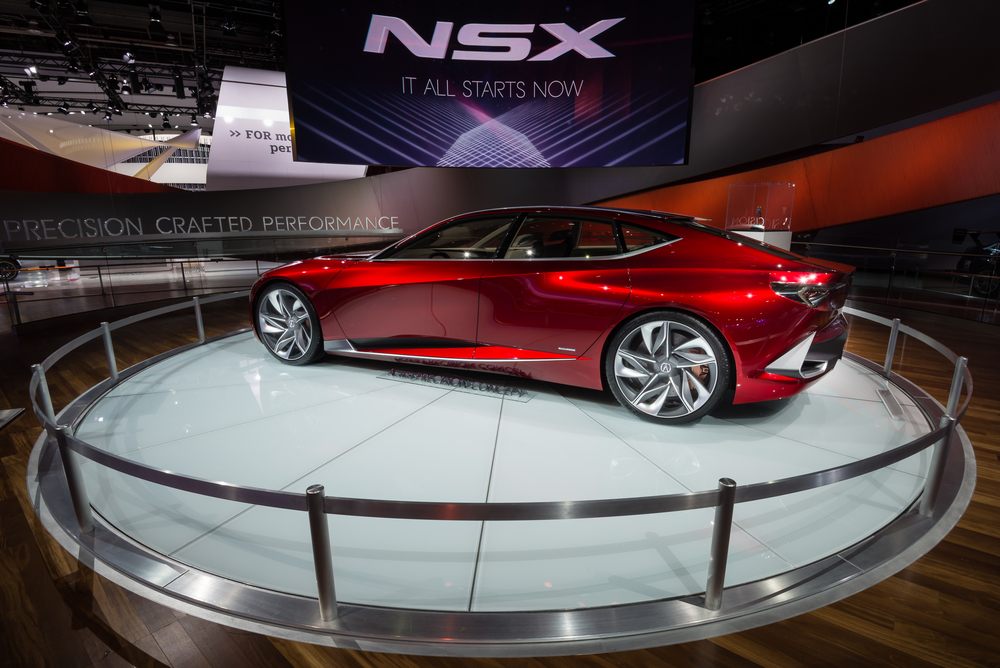 The New Year in the automotive world kicked off in Detroit. Companies set out to unveil most of their new, updated and concept cars at the massive North American International Auto Show (NAIAS). We Simultaneously mist of the show was being broadcast live online in time for the big reveals all to provide a first look for car fans at the new wheels of 2016 and beyond.
Here are our picks for the latest cars that new shoppers and enthusiasts should take note of. The best cars of the 2016 Detroit auto show:
Acura Precision Concept
Acura's had a rough couple of years with models featuring odd beaks and bland, slab-sided styling. Now Honda's luxury brand stepped up their game to show off stylish new concept car. It reminds us of the thrill of seeing the various NSX concepts over the years, with scores of fanciful designs that looked great, but never made it to full production. However if any brand needs a new design direction, it is Acura. The aggressive-looking Precision concept sedan certainly is bold and new. If Acura can get its styling into production cars, it will be a return to form for the brand.
Nissan Titan Warrior
While Nissan can has never made Ford F-150 or Ram 1500 sales numbers with their trucks, that doesn't mean  can't have fun and play with the idea of a more "extreme" version of their pickup truck. Witness the Titan Warrior. This straight-up challenger to the F-150 Raptor and Ram Rebel has the name of mythological gladiator and packs big skid plates, roof-mounted lights, and an off-road-ready suspension, showing that the new Titan platform can be about fun, as well as work.
Chevrolet Bolt
While electric cars are a small niche, the Chevrolet Bolt's importance comes from claims of a driving range that almost matches a six-figure Tesla Model S, but at the price of a family sedan. The Bolt promises a practical range of 200 miles and will take just 60 minutes to fast-charge to 80 percent battery capacity—all at a cost of around $30,000 after government incentives.
Chrysler Pacifica
Nobody has more hinging on a car from this show than Chrysler. Despite its flaws and runner-up status to the Toyota Sienna and Honda Odyssey,  Chrysler's current minivan sells in big numbers and remains popular among our readers. So it's high time to hit the reset button and usher a new platform and new technologies, with a new name: Pacifica. On looks alone, the stylish Pacifica minivan has the chops to compete, and the luxurious accommodations in the show cars felt inviting. Too bad there's no AWD version but the plug-in hybrid version is intriguing.
Volvo S90
Like the BMW M2, we'd already seen pictures of the Volvo S90, but we still had yet to see it in person. Once again, we were not disappointed. Volvo has done an excellent job with its new midsize luxury sedan, and like the new XC90, we expect the S90 to be a hit for Volvo. Now we just have to wait on the station wagon and Polestar versions.
BMW M2
We had already liked what we'd seen in pictures, but when we finally got to see the BMW M2 in person, we were beyond impressed with its exaggerated yet fluid styling. It is a really gorgeous coupe, and we expect it to be spectacular to drive. Sorry, BMW M3, but you may have been replaced in our hearts by something smaller and newer.
Lexus LC 500
We've talked this car up before but it really can't be understated: this was THE car of the show. Of course, this car is for those privileged enough to buy a supercar with cash. But you're a sensible, Endurance Shoptalk reader. So after you get your allowance from your investment bankers and estate planners while in your massive mansion or yacht, you should head down to the Lexus dealer and splurge on the LC 500, a grand-touring 2+2 coupe. The Lexus says to everyone that you're wild and easy with all the cash, but you know in your heart that the LC 500 will start every day, won't be in the shop more than its on the road, and will dust the competition in a responsible, polite manner.
More like this
News

As we transition away from combustion engines, electric vehicles (EVs) continue to dominate the automotive conversation. The latest development involves Honda's joint venture with General Motors to co-produce affordable electric..

Read More

News

There are a number of important components that allow your vehicle to operate, and each individual piece serves a purpose. Given the intricacies of these pieces, the value is naturally..

Read More

News

For decades, used cars have been the go-to solution for budget-conscious buyers. American shoppers could readily find quality second-hand vehicles for under the average price of $20,000 at most dealerships...

Read More