The Volkswagen emissions scandal has led many to be concerned that cheating on vehicle emissions could be prevalent across the automobile industry, thus regulators in the United States and Canada are significantly expanding their on-the-road emissions tests to cover all makes and models of diesel cars. In response to the ongoing diesel emissions scandal that's rocking Volkswagen Group, the United States Environmental Protection Agency says it will significantly expand random, real-world emissions testing for new cars that hit the US market.
The New York Times reports that the EPA has already begun such testing on Volkswagen Group diesel-powered vehicles, which led to the recent discovery of cheating software on approximately 10,000 VW, Audi, and Porsche models not disclosed in previous Volkswagen admissions. The agency says that no other automaker has been found to use cheating software in testing so far, though it will take several weeks to test all makes and models of new cars in the US market.
Christopher Grundler, director of the office of transportation and air quality at the EPA, told NYT that testing will focus on 2015 and 2016 model year diesel cars, with further testing planned for all new cars that manufacturers seek to certify for the US market.
EPA will obtain vehicles directly from manufacturers, request them from dealers, or in some cases rent or borrow specific vehicles from ordinary drivers for the testing. NYT describes a "Rube Goldberg-type machine the size of a pair of large suitcases that fits in the trunk" of the car being tested, which captures and analyzes the exhaust coming out the tailpipe of the test vehicle as it's driven on public roads.
This expanded real-world testing will work in addition to the highly-controlled lab tests, depicted above, where vehicles are driven on a treadmill according to a rigorously-defined testing procedure. For decades, manufacturers have known the exact test conditions the EPA uses to measure vehicle emissions; Volkswagen has admitted to designing its engine management software specifically to detect when a vehicle is being EPA tested, sending the engine into a designated "clean running" mode to pass the test. In real-world driving, this mode is never activated, and vehicles emit up to 40 times the permissible limit of pollution.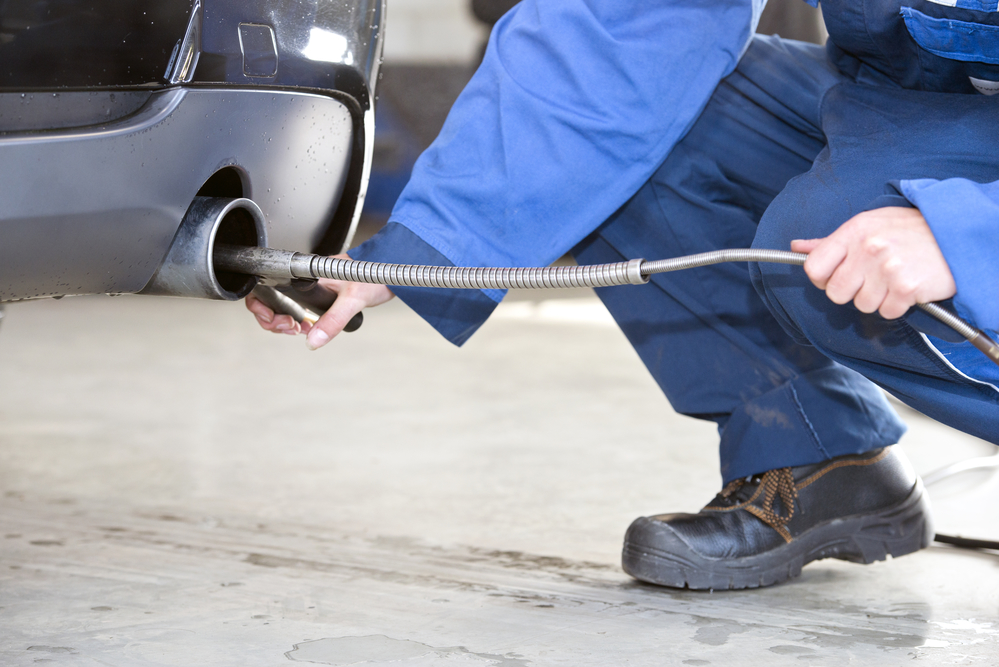 The EPA plans to continue using lab-based testing to collect data on new car emissions; currently, the road tests are envisioned to catch illegal defeat devices that could cause a vehicle to bypass emissions control devices in real-world driving.
The tests, which come in the wake of Volkswagen's admission that it installed software on more than 11 million cars to evade emissions standards, are being conducted randomly and in real-world conditions, rather than in traditional laboratory settings, to increase the odds of catching cheaters.
The first tests on brands manufactured by Volkswagen, completed last week, found the cheating software on about 10,000 VW, Audi and Porsche models not previously disclosed by the German manufacturer. Volkswagen disputes the E.P.A.'s claim, saying the software recently uncovered was not intended to thwart emissions testing.
Since then, no other automobile company has been found to have installed so-called defeat software, although it will take several weeks for all makes and models to be tested. Mr. Grundler declined to describe the tests, except to say they will focus on 2015 and 2016 model year diesel cars. The move by the E.P.A. is a significant expansion of its testing regimen, which previously did road testing for pollutants mainly on large trucks. It also makes road-test spot checks of older cars to ensure that their pollution-control mechanisms are still effective. Tests are also being performed in cooperation with regulators in Canada and California.
But Volkswagen's scandal has highlighted deficiencies in the existing lab tests in both North America and Europe.
Europe has been planning its own real-world testing for several years, though those tests will not start until 2017. Other countries, including South Korea, China, India and Mexico, have announced or are considering road tests. The new and more unpredictable testing represents a sea change from the traditional, highly controlled lab setting where vehicles are put on a treadmill, wired with sensors and run through a standardized and familiar routine.
The road testing could dim the future for diesels, which have higher pollution emissions, making electric and hybrid vehicles more attractive in terms of their effect on the environment. American regulators believe that road testing is relatively crude and cannot match the precision of lab results at detecting nitrogen oxide and other fine particles and pollutants. Rather, the aim of their road tests is to help validate lab findings by catching cars whose road performance reveals higher emissions readings.
Road testing involves capturing exhaust gases with a Rube Goldberg-type machine the size of a pair of large suitcases that fits in the trunk of most cars, with a few pieces hanging off the back. The technology, which was developed by an E.P.A. engineer, is decades old but until now has been used mostly to test diesel trucks.
To obtain test vehicles, the E.P.A. gets cars directly from manufacturers or sometimes requests loaners from dealers. It also uses rental cars and even reaches out to ordinary drivers to obtain the specific make and model needed for testing. In those cases, the car owner is offered $20 a day and a loaner car in exchange for the use of the vehicle for a couple of weeks. Once the tests are done, the cars are returned cleaned, with a full tank of fuel and an oil change.
The United States has this robust lab-testing system where regulators perform their own lab emissions tests to check manufacturers' claims. American regulators test preproduction vehicles and those that are already on the road. Whether or not this will bring an end to concerns is another matter entirely.
More like this
News

Now more than ever before, consumers and automakers are looking at alternative sources of transportation and different ways to power automobiles. More likely than not, the automobile industry is going..

Read More

News

You're likely familiar with the microchip shortages in the auto industry, given its widespread coverage in recent news. If you've been car shopping over the past few years, you've likely..

Read More

News

According to the Federal Highway Administration, trucks and SUVs have outnumbered cars in every state since 2018. While these bigger, more powerful vehicles certainly have their uses, a new report..

Read More