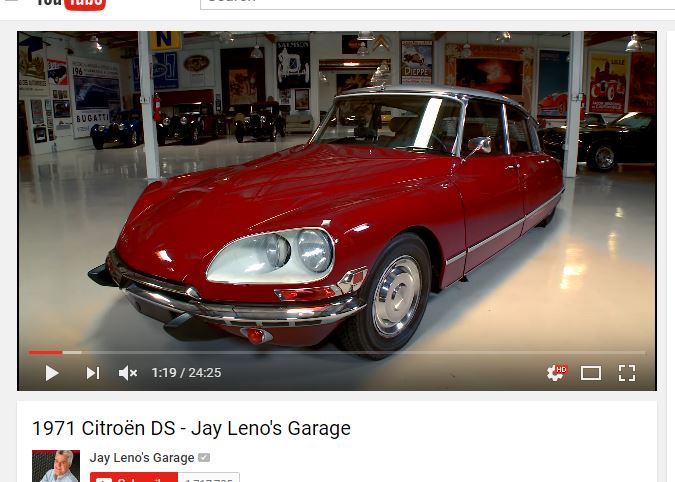 Some cars are known for horsepower, others are known for the agility, and some cars are even known for their ability to overcome obstacles. But regardless of what the vehicle's primary function or attribute is, it doesn't matter as long as it looks "cool" right? The majority of us gearheads will disagree, but there is no denying there is a market for cars that look a lot cooler than they perform. It's the classic style over substance argument. It isn't to say that these cars are inferior by any means, it's just that when looking at price, specs, and driving power, these vehicles are a bit lacking. Today we are looking back at some of the most interesting "slow cars" – cars that don't pack a lot of power but drive exceptionally well.
Citroën DS
The Czech car company arguable made one off the coolest cars ever made. What it lack in performance it more than makes up for in its unique "hydropneumatic" suspension system, disc brakes and incredibly sleek design. This car was about giving drivers an experience like a smooth jazz with a soft ride an aerodynamic body.
Fiat 500
Fiat
re-engineered the "people's car" with their Italian mentality. The "Nuova 500" topped out at silly 18 horsepower but it did so with a zippy panache unmatched. They still make this car today with the same cute design. Goes to show that this style is timeless.
Volkswagen Karmann Ghia
The oddly named car is a heavier variant of the
Volkswagen
Beetle. Publications call the Karmann Ghia "the slowest sports car in the world." What it lacks in speed, it makes up for in being infinitely more gorgeous than the Beetle. Which one would you rather have in your garage?
Land Rover Series
Jaguar's line of luxury SUVs are just that: a luxury. While they can look stylish as they conquer all manners of terrain, they don't have a lot of power and performance compared to competitors. But' it's as luxurious an sophisticated as a bespoke suit. Even as you ride through the mud.
Lincoln Continental (1961-1963)
No, it's not named after the breakfast. However this
Lincoln
so perfectly embodies the swinging 60s swagger and the optimism. Like the fashion of MAD MEN, it is timeless. A 5,000 lbs car won't give you much in the way of agility, but onlookers will believe you mean business nonetheless.
Jeep Wrangler
Once, it was a relic of World War II. Now it soldiers through each decade of Jeep's life. It may be as aerodynamic as a dumbbell and not really fast but the Wrangler can literally "go anywhere, do anything" as Jeep claims. You really want this car to change?
Honda Civic CVCC
The Civic has a pretty interesting  history. Back in the day,
Honda
developed a new engine technology that they named "CVCC." That is where Civics get the name. It was the first vehicle lacking a heavy, expensive catalytic converter yet was able to meet the emissions regulations of the early 1970s. GM doubted this would work, Soichiro Honda, the company's founder proved them wrong. And the rest was history.
Subaru BRAT
Critics of the auto industry refer to Subaru  as "quirky." They are nothing compared to how they were in the 70s though.  Look at this BRAT! It's the lovechild of an El Camino and Subaru Leone sedan. This BRAT (Bi-drive Recreational All-terrain Transporter), is odd in having two rear-facing seats in the back just to get past U.S. restrictions on imported trucks. Certainly one of the stranger things Subaru has made.
While these cars may be a little on the slow side, they are nonetheless novelties worth checking out. Every driver will have their own personal preferences and priorities, so if you're looking for a car that looks great but not too worried about how much power is under the hood, you can't go wrong with any of the vehicles on this list. Which is your favorite "slow" car? Let us know in the comments section below and let us know if there is any that we left out!
More like this
Rewind

Can you feel it? There's a big change coming in the American automotive landscape. For the past couple of years we've seen the steady increase of sales in trucks and..

Read More

Rewind

Ever-increasing numbers of cup holders large enough to accommodate super-sized jugs  and an expanding suite of electronic features and entertainment invade our vehicles. However, there comes a time where we..

Read More

Rewind

The Corvette is not just an "American classic," it's one of the most famous cars around. There are so many models and variations that every fan probably has a favorite...

Read More