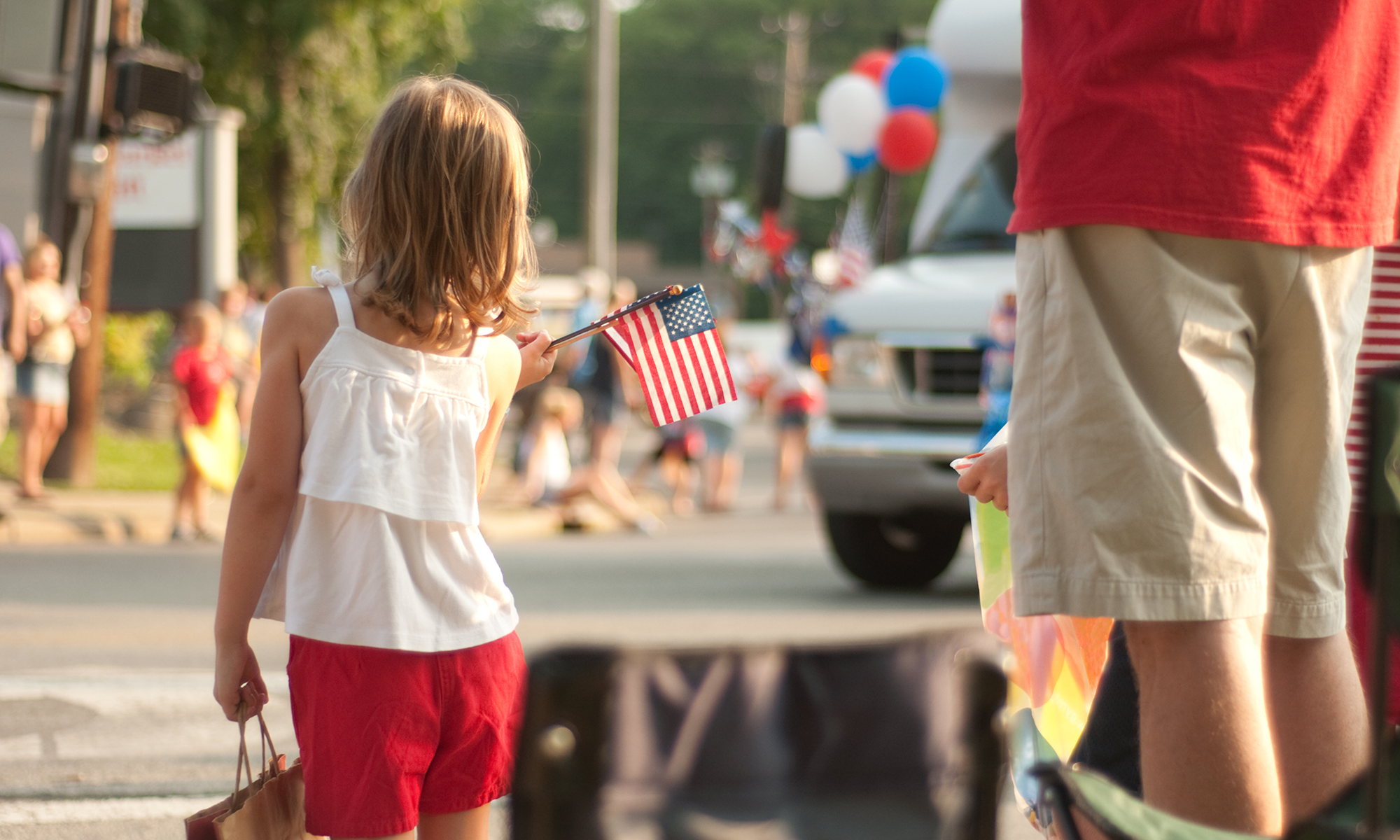 Summer in the USA is full of celebrations and excitement, and the 4th of July is no exception. Big commemorations, parades, and fireworks shows are held all over the country—from New York to Los Angeles and everywhere in between—just calling for you to see and enjoy them. 
With warm weather and long days, road trips for the 4th of July fireworks are a great way to spend a few days relaxing and unwinding. But if you still haven't planned out your road trip, don't worry, as there are plenty of great places to go to celebrate the holiday. Just remember to drive safely and pay attention to the busy roads.
Summer Road Trip Safety Tips
Summer often has more people out and on the roads. No matter where you're headed or what plans you have for your weekend getaway, don't forget to be aware of your surroundings and follow safe driving techniques. This not only keeps you and your family safe but also protects the pedestrians, bike riders, and other drivers as well. 
Some tips to keep in mind when driving to your Independence Day getaway include:
Checking for pedestrians while at intersections and crosswalks

Avoiding distractions such as using cell phones, electronics, and other distracting objects 

Being on the look-out for bike riders and motorcyclists, especially when turning or changing lanes

Exercising extra caution in neighborhoods and around schools where children are present
While nothing can replace awareness and safe driving habits, an extended warranty or vehicle service contract, like an auto protection plan from Endurance, can help protect you against the unexpected on the road. So whether you're planning a summer road trip or just want year-round peace of mind, Endurance has you covered. 
The Best 4TH of July Road Trip Destinations
Fourth of July celebrations are the perfect time to enjoy some parades and fireworks displays across the country, whether in the hustle of a big city like New York or Chicago or on Main Street in a small town near Nashville, Tennessee. But, if you're still looking for your perfect getaway, here are some of the best places to go for your 4th of July weekend.  
St. Augustine, Florida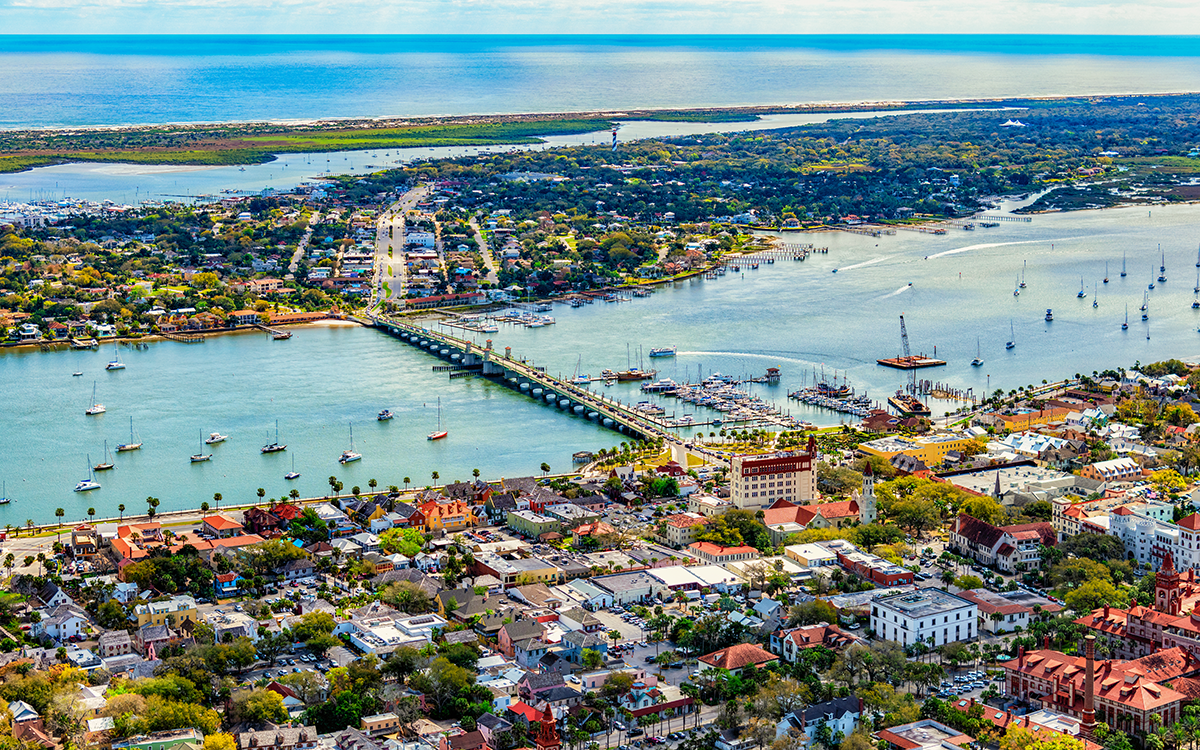 A family-friendly coastal city, St. Augustine, Florida, has an annual 4th of July celebration called "Fireworks Over the Matanzas." This fun-filled outdoor adventure begins with two hours of patriotic big band music played in the Plaza de la Constitución's Gazebo. Later in the evening, an extravagant fireworks display is set to a fitting soundtrack and is visible from all over town.
If you're looking for something to do during your stay before or after the 4th of July, St. Augustine offers historic pubs to visit and amazing fresh-caught seafood to try right off their beautiful beaches. They also boast the country's oldest masonry fort, Castillo de San Marcos, as well as numerous other historical sites, museums, and living history attractions to complete a weekend of family fun. 
Telluride, Colorado
Kick-off Telluride's day full of celebration with a fundraiser run for the Telluride Foundation. After that comes the town's 4th of July parade, beginning around eleven in the morning, then the Telluride Fireman's BBQ. Finally, to cap the celebration, there's a fireworks display visible from all over town.
And don't forget that Telluride is situated on the Western Slope of the Rocky Mountains, so you'll be conveniently near numerous hiking trails and nature areas to head off to once your celebrations are over. You can also visit the nearby mine for a day of exploration. Or, enjoy the hot springs scattered throughout the area for some peace and relaxation. 
Philadelphia, Pennsylvania
One of the oldest towns in the country, dating all the way back to colonial days, Philadelphia hosts its 4th of July celebration over several days, with the main events concentrated on Independence Day. These main events include an Independence Day parade, free concerts, free entry to local museums, and a festival complete with games and food. Fireworks end the night with a bang, incorporating music and relevant quotes into the display.
Philadelphia's rich history isn't limited to its 4th of July celebration. The city is also home to icons such as Independence Hall, the Liberty Bell, and the Betsy Ross House to enjoy during your time there. And if you need a break from the lovely historical sites, Philadelphia has a thriving live music scene with venues across the city that are sure to put on a great show.
Myrtle Beach, South Carolina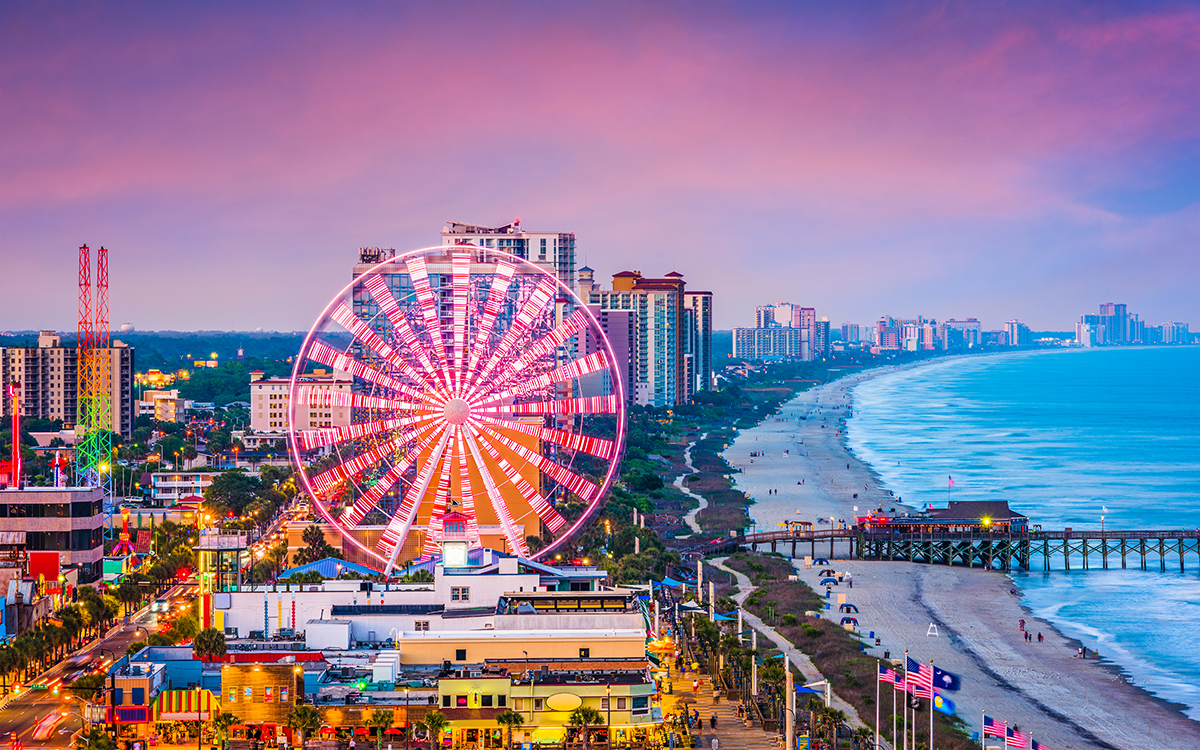 It's hard to beat 60 some miles of coastline to enjoy during the 4th of. And that's exactly what you get when you take a trip to Myrtle Beach. There will be plenty to do during the holiday weekend, from boat parades, live music and four days' worth of various fireworks shows. And don't worry, even if the fireworks don't typically start until 9:30 or 10 pm, you'll surely find something to enjoy while you wait. Plus, the adjacent town of Surfside Beach also has options for celebration, including a golf cart race on July 2nd and a family-friendly festival on the 4th of July.
Outside of all the 4th of July events, Myrtle Beach has a boardwalk section complete with fudge shops, an amusement park, arcades, and a 200-ft Ferris wheel called SkyWheel. The nearby beach offers endless summer fun, and there's even local artwork and murals throughout the town. 
Monterey, California
Both the city of Monterey and Monterey County have tons of fun and exciting events going on to celebrate the 4th of July. From "4th of July on the Wharf" with stilt walkers in sparkly holiday colors and Lady Liberty posing for photos outside Candy World to an "All American Jazz Brunch" featuring the talents of the "Safina 7," the city of Monterey will keep you busy. On top of the music also featured in surrounding towns, the county of Monterey replaces the typical fireworks displays with views of a gorgeous West Coast sunset. 
If you're looking for more to do, you can try the handcar tours in the nearby Marina. You can also get out on the water with fishing and whale watching tours and buy stunning photographs of the local wildlife and scenery taken by a National Geographic photographer. 
Flagstaff, Arizona
Flagstaff offers yet another option for an all-day celebration. Arts and fine crafts, a fun run, and a concert by the Flagstaff Symphony Orchestra round out a day highlighted by the downtown parade. They also offer a stunning fireworks display after dark to bring the amazing day to a close.
Outside of all the festivities, Flagstaff is a great option for those who love the outdoors. The nearby Grand Canyon offers a chance to visit one of the world's great wonders and experience the frontier spirit still thriving in the area. In addition, Slide Rock State Park is just south of town, and guests can take a refreshing dive into the park's famous creek. Or, see if there are any state or national parks in the area, such as Slide Rock State Park (about 22 miles south) or Coconino National Forest (about 14 miles west), to get out and enjoy the outdoors. 
Road Trip Worry-Free with Endurance
Whether you're going on a 4th of July getaway, taking a summer vacation, or traveling across America to find the best view, have peace of mind that your car is protected all along the way with an Endurance auto protection plan, including plans starting as low as $79/month. You can even enjoy the Advantage plan, which combines breakdown protection with $3,500 in yearly maintenance services, helping you to keep your vehicle in road-trip-ready condition. 
And regardless of the Endurance plan you have, you'll automatically be able to enjoy the coverage of 24/7 roadside assistance (and towing), trip interruption coverage and rental car reimbursements. Endurance plans are also accepted at any ASE Certified mechanic or the dealership, meaning wherever you are, Endurance has you covered. 
No matter where you're heading this 4th of July weekend, protect yourself from unexpected breakdowns with the help of Endurance by requesting a free, no-obligation quote. Or give a member of the award-winning Endurance customer care team a call at (800) 253-8203 to learn more about how Endurance can help you. You can also read more road trip tips or find other fun and informative articles on car care and maintenance how-tos, vehicle buying guides and more by visiting the Endurance blog. 
More like this
Travel

In the warmer weather of summer, many people plan off-road excursions and road trips with the entire family. The only thing that can ruin these outdoor adventures is an unexpected..

Read More

Travel

Thanksgiving is fast approaching, and if you're like many across the country, you're probably gearing up to head home (or somewhere) to spend quality time with loved ones and enjoy..

Read More

Travel

With the end of summer near, the Labor Day holiday weekend is just around the corner. It also means that millions of drivers will be hitting the highway for one..

Read More