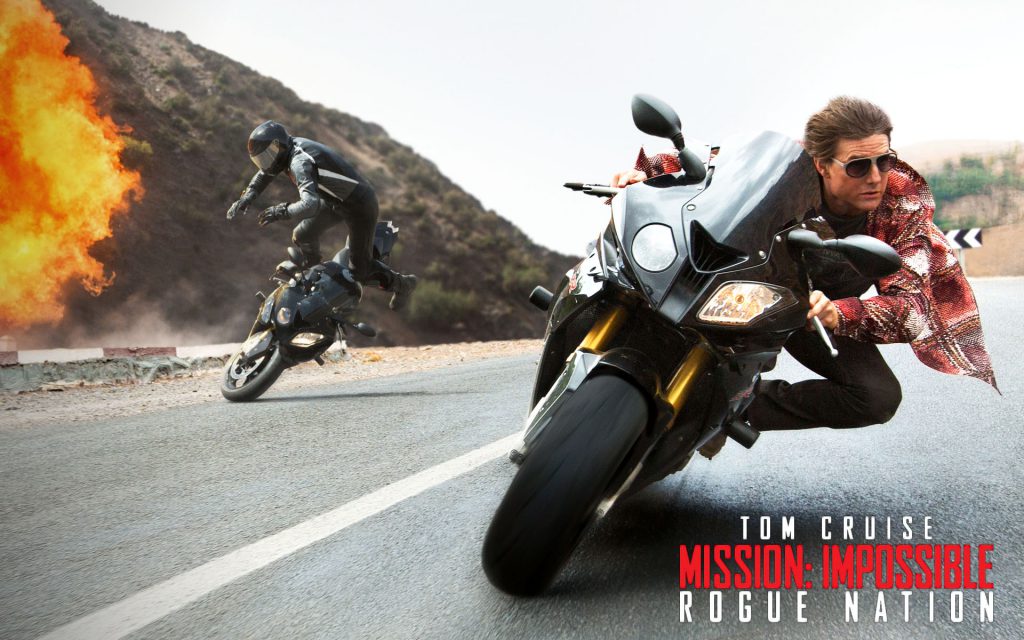 When the first footage of Mission: Impossible – Rogue Nation, the fifth installment in a movie franchise that began in 1996, debuted the first thing anyone ever talked about was 50-year-old movie star Tom Cruise's death-defying plane stunt where the alleged thrill junkie strapped himself to the side of a military jet and soared to 5,000 feet in the air. That's physical cinema at its best. However it's just a small glimpse of what Cruise and his writer-director, Christopher McQuarrie (Usual Suspects, Jack Reacher) cooked up.
The other movies in the franchise are also known for their death defying stunts but having reviewed them you realize that the one big setpiece the franchise never got around to was a truly iconic vehicular chase. Well, Rogue Nation has one that stands alongside its action movie rivals. In this scene BMW motorcycles roar, cars drift, glass shatters, wheels squeal, and walls bash Cruise's BMW to bits. All the while the sun drenches everything in "magic hour" lighting and co-star Simon Pegg screams like he's in actual danger. It all crescendos to an automotive ballet that is as intense as it is playful. And that sums up the majority of Rogue Nation.
Much like their older sibling from the UK, the James Bond films, this franchise is no stranger to product placement and partnerships. In this case, this is the second time BMW has "accepted the mission" to lend its superior technological and automotive engineering support to the film's production crew, enabling it to deliver breathtaking vehicular stunt scenes shot around the globe. BMW previously partnered with Paramount on the 2011 successful release of "Mission: Impossible – Ghost Protocol". Here's a look at some of the cars and gadgets that will assist Cruise on his latest adventure for the fictional superspy agency, the "Impossible Mission Force:"
2016 BMW M3:
The new BMW M3 is put through its paces in several scenes beyond the one we already detailed. Its renowned high-performance capabilities make the fifth generation M3 sports car the perfect choice to perform
precision driving sequences
, the likes of which have never been seen before. BMW claims that the car can do 0-60 mph in 4.1 seconds with the 6-speed manual gearbox and 3.9 seconds with the optional DCT gearbox. The M3 and M4 will run the standing kilometer in 22.20 seconds which rivals the 2006 Corvette Z06, which took 22.24s to accomplish the same. Its top speed is limited to 155 mph (249 km/h) but an optional M Driver's package will raise this to 174 mph (280 km/h). The new engine will generate up to 425 hp between 5,500 and 7,300 rpm and up to 406 lb-ft of torque between 1,850 and 5,500 rpm. The M division's philosophy and dynamic design leaves no doubt about the M3's motorsport genes.
BMW Motorrad S 1000 RR
BMWs renowned motorcycles also make their appearance in the film as well.  is also seen in the film trailer released yesterday, represents the ultimate performance on two wheels. The BMW S1000RR is a sport bike that was made by BMW Motorrad to compete in the 2009 Superbike World Championshipbefore it was made available to the public. This two-wheel rocket is powered by a 999 cc (61.0 cu in) inline-4 engine redlined at 14,200 rpm. That means it's about 193hp and considering the low weight and aerodynamic design, it's one agile machine and is sure to show off the velocity of the chases.
BMW ConnectedDrive
BMWs newest user interface which offers uniquely intelligent connectivity between driver, car and environment. One thing that's remarkable about the Mission Impossible movies is the fact that they always use existing tech and dramatize/exaggerate them as opposed to making up stuff completely. In this case this standard gizmo is always on hand for the IMF team as they travel around the globe. This highly innovative system also offers enhanced safety and driving comfort in real life, with features such as camera and driving assistance systems playing an important role in the film and in real life.
So what do you think? Let us know what you thought of the movie in the comments section below! Car chases, stunts and a glorious showcase of the latest toys for gearheads all factor in this blockbuster. Do you accept this mission? *cue theme song*
More like this
Autotainment

Car enthusiasts are always looking to learn more about a complex and constantly changing industry. One way to tackle this task is through automotive podcasts. These shows offer a treasure..

Read More

Autotainment

Moviegoers don't need to be car lovers to appreciate the legendary vehicles that have graced the big screen over the decades. These automobiles have helped to tell the stories and..

Read More

Autotainment

When football season arrives, it only means one thing—tailgates! But while die-hard fans are sure to have enjoyed a tailgate or two (or 200) in their time, many might not..

Read More