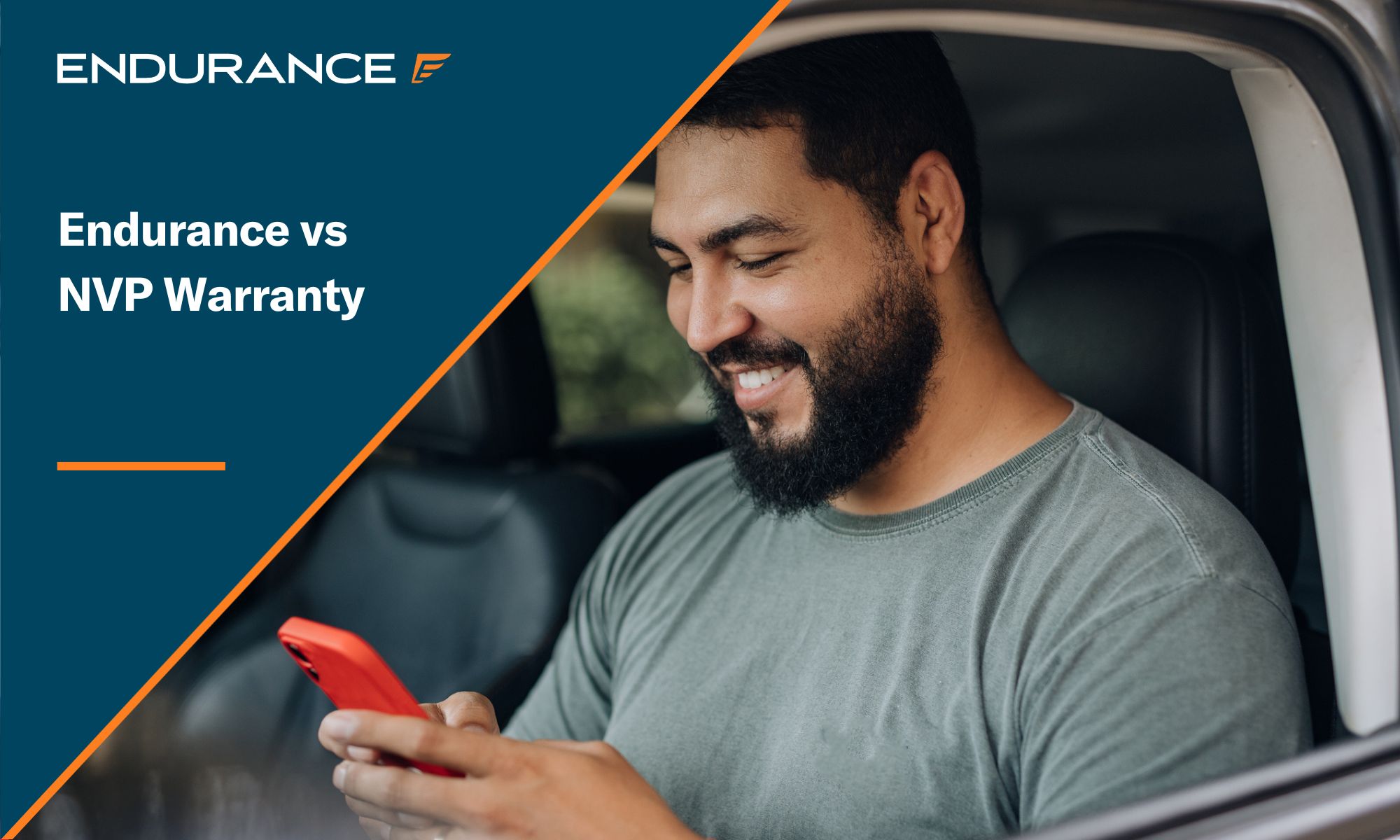 While owning a car is incredibly liberating, it doesn't come cheap. In August 2023, AAA announced that the average annual cost of running and maintaining a vehicle had just passed the $12,000 mark—and that number is only expected to increase over time.
Because of these ever-rising costs, car owners across the country are understandably looking for ways to keep more money in their pockets. Preventative maintenance is a good start, but a quality extended auto warranty is a much more effective solution. There are plenty of providers out there, though, and deciding which is right for you can be a total minefield.
To help you in your research, our ongoing warranty comparison series puts two of the leading names in vehicle service contracts head to head to see who comes out on top. Today, we'll be taking a look at Endurance and NVP Warranty so you can see how they stack up.
What Is an Extended Warranty, and Why Do You Need One?
Put simply, an extended auto warranty is a fantastic way to save money on unexpected repair bills. But to give you the full answer, let's start at the beginning.
Every vehicle rolls off the production line with what's known as a factory warranty or manufacturer's warranty. This acts as the manufacturer's promise to repair or replace any components that fail due to fault within a predetermined number of years or miles traveled. How long your factory warranty lasts will completely depend on your manufacturer, but one thing's for certain: once it expires, you, as the owner, are fully responsible for any future repair bills.
If you want to continue enjoying the warranty coverage that you're used to, you have two options. The first is a classic extended car warranty, which you can usually purchase via your manufacturer or dealership. Extended warranties do exactly what you'd expect and extend your factory warranty beyond its expiry date.
However, all repair work must be carried out at a dealership (not ideal if you break down hundreds of miles from one), and you must purchase your extended warranty while your factory warranty is still active. Leave it just one day late, and you'll no longer qualify.
The second option is a vehicle service contract (VSC) from a third-party provider, which most people prefer for a number of reasons. A vehicle service contract can be purchased regardless of factory warranty status, which is great for used car drivers. VSC providers are also incentivized to offer almost like-for-like coverage at an even better price point, often adding extra perks to sweeten the deal. On top of all that, vehicle service contracts also allow you to have work carried out at any ASE Certified mechanic.
We should also note that a warranty and automotive insurance are very different. They're both great at saving you money but do so in different ways. A warranty specifically protects you from repair shop bills incurred due to component failure, while auto insurance protects you from repair bills incurred as a result of a collision or other such incident. When you have both, you're protected from all angles, so it's worth investing in them.
The Companies
Now you're all clued up on extended warranties, let's take a closer look at the companies in question.
Endurance Warranty Services
Founded in Northbrook, Illinois, over 15 years ago, Endurance has protected thousands of American drivers from the cost of unexpected component failure. We offer a wide range of protection plans aimed at an even wider variety of people, with unrivaled flexibility, eligibility, and affordability. Coverage starts at just $99 per month, and with our 30-day money-back guarantee, you have all the time you need to be sure you've picked the right program for your needs and budget.
To save you even more money, all our plans include some seriously great benefits. When you sign up, 24/7 roadside assistance, towing, trip interruption coverage, and replacement travel reimbursement are yours. If that wasn't enough, new Endurance customers also get a year's free membership to Endurance Elite, opening up extra perks such as tire repair, total loss protection, and more. Pay a $29 activation fee, and you're ready.
We're the direct administrator of most of our plans, so you'll never have to go through pesky middlemen during your claims process. Our award-winning customer service team is always on hand, and the Endurance Mobile app puts all the most important information in the palm of your hand. Endurance plans are also fully transferable, potentially raising the value of your vehicle should you decide to sell it.
NVP Warranty
Based out of Ohio, NVP Warranty has been in business for around eight years. They primarily provide vehicle warranties and GAP coverage, with an A+ rating from the BBB. While this is certainly a positive start, their reviews put them at just 2.08 stars out of a possible five, leaving much to be desired regarding customer satisfaction.
There are seven protection programs on offer from NVP Warranty, ranging from a basic powertrain plan to three different levels of exclusionary coverage. These include a few standard benefits, such as roadside assistance and rental car reimbursement, with more benefits added to the pricier packages.
What's apparent from reading NVP Warranty reviews is that they're quite behind in terms of tech. There are no services immediately available via their website, so customers are unable to check their plan details, claims status, and other coverage aspects on the go. Adding to the difficulty is that NVP Warranty plans are only available for purchase via an affiliated dealership.
The Coverage Plans
Both Endurance and NVP Warranty offer a range of plans with varying coverage options and levels:
Endurance Warranty Plans
Supreme
If you want all-inclusive coverage that closely resembles a factory warranty, Supreme has you protected. Virtually every part, component, and system in your vehicle is safeguarded, even extending to seals, gaskets, and some advanced components. Compared to Titanium or Diamond plans offered by other extended warranty providers, you can be confident that Supreme is at least as good, if not better, for your covered repairs.
Supreme For Highline Vehicles
While everyone aspires to own a luxury vehicle, the unfortunate reality is that they aren't so reliable. Luxury cars tend to come with hefty repair bills, so this plan is specifically tailored to protect luxury vehicles under 80,000 miles on the clock and under eight years of age.
Superior
A level below Supreme, the Superior plan is another comprehensive option, covering a wide array of specified parts and components. It's an excellent choice for anyone who relies on their vehicle daily or those who enjoy the occasional road trip. The coverage includes many electronic components, with the option to add protection for more advanced tech.
Select Premier
Endurance's eligibility is unmatched, and Select Premier is a prime example. Getting coverage for high-mileage vehicles can be challenging, but this protection plan caters to older cars with up to 150,000 miles. It covers essential engine components, transmission, and drive axle assembly components, as well as your cooling system, fuel system, and select air conditioning and electrical parts.
Secure
For those in need of our most basic level of coverage, consider Secure. Starting at just $99 per month, it safeguards all essential powertrain components to protect you from the most expensive potential repairs.
Secure Plus
As the name implies, Secure Plus includes everything from Secure and more. Additional covered components include brakes, air conditioning, steering, and select electrical parts.
Advantage
As our most comprehensive plan, Advantage provides nearly unparalleled coverage in case of unexpected component issues. It's also the only protection program in the industry that includes up to $3,500 in annual maintenance expenses, ensuring your vehicle's always in top running condition and reducing your overall ownership costs.
NVP Warranty Coverage
Exclusionary Wrap
NVP Warranty's most comprehensive plan includes all factory-installed mechanical and electrical components except those on a list of exclusions. This list features a number of parts, such as maintenance-related items (e.g., brake pads) and all exhaust system components.
Exclusionary Plus
Exclusionary Plus covers vehicles with up to 150,000 miles on the clock and is split into two parts. The initial term is a comprehensive exclusionary program, after which an additional 24 months/24,000 miles of powertrain coverage kicks in.
Exclusionary
The Exclusionary plan includes everything from the Exclusionary Plus plan minus the powertrain component.
5 Star
The 5 Star plan from NWP Warranty is a stated component with the longest list of covered components.
4 Star
The 4 Star plan from NWP Warranty is a stated component plan with a slightly shorter list of covered components, removing fluids, filters, and interior/exterior parts.
3 Star
The 3 Star plan from NWP Warranty is a stated component plan with the shortest list of covered components, removing fuel parts and sensors.
Powertrain
The most basic level of coverage available from NWP Warranty is their Powertrain plan, which covers those more important components that move your vehicle forward.
Other Customer Benefits
As with many vehicle service contract providers, both Endurance and NVP Warranty offer additional benefits. These include:
Endurance Warranty
24/7 roadside assistance: Being stuck at the roadside is no fun for anyone. We make sure our customers are well looked after by including 24/7 roadside assistance with all our coverage plans.
Trip interruption costs: Dealing with a mechanical breakdown is bad enough, so we do our best to mitigate the inconvenience. Trip interruption costs are covered if you find yourself stranded far from home.
Replacement travel reimbursement: We want you back on the road as soon as possible, so when more complex repairs keep your car in the auto shop for longer, we'll cover replacement travel.
Maintenance costs: Our Advantage plan is the only one on the market to cover $3,500 in annual maintenance costs, like oil changes, saving you even more on the cost of ownership.
Endurance Elite: Our optional Endurance Elite Benefits add on tire repair, total loss protection, and key fob replacement. Every new customer receives complimentary access for one year (a small activation fee applies).
NVP Warranty
Roadside assistance: Just like Endurance, NVP Warranty includes roadside assistance if your vehicle breaks down.
Rental car reimbursement: NWP Warranty also covers rental car reimbursement should your vehicle be in the repair facility for an extended period of time.
Trip interruption costs: Take out one of NWP Warranty's more expensive plans, and they'll also add on trip interruption costs.
Fluids and freon: Fluid and freon changes are another benefit of the more expensive NWP Warranty plans.
Endurance Warranty vs NVP Warranty: Pros and Cons
To quickly wrap things up, let's lay out the pros and cons of each provider:
Endurance Warranty pros:
America's most trusted service contract provider
Administrator of most of their plans
Unrivaled eligibility, flexibility, and affordability
Award-winning customer service
Strong suite of benefits
Transferable coverage
Helpful mobile app
Free year of Endurance Elite for new customers
Varying deductibles to choose from ($0 to $500)
Endurance Warranty cons:
Not available outside the U.S.
NVP Warranty pros:
Strong Better Business Bureau rating
Good range of plans and add-ons
Coverage for high-mileage vehicles
24/7 roadside assistance as standard
No waiting period before coverage begins
NVP Warranty cons:
No services available immediately online (including quotes and claims)
Only available for purchase via participating dealerships
Less-than-positive customer reviews
Different benefits based on level of coverage
Deductible is unknown
When It Comes to Quality Coverage, Only the Best Will Do
Across the web, industry experts agree that Endurance is your top choice for a third-party warranty. On top of that, we also have thousands of five-star reviews from happy customers on sites like Trustpilot and Best Company, sharing their peace of mind.
If you'd like to hear more about what we can do to protect your vehicle (and wallet), just get in touch with our award-winning customer service team at (800) 253-8203 to request a FREE quote. You can also shop online to see your price now.
If you'd like to do some more reading first, such as comparisons with CARCHEX or CarShield reviews, we have plenty more helpful articles, just like this one over on our extended warranty blog.
More like this
Comparisons

No matter what kind of car you drive, keeping it in good condition should be one of your top priorities. A vehicle that is well taken care of will last..

Read More

Comparisons

Buying a new or used car can be incredibly exciting, especially if you are buying something you have always dreamed of owning. No matter what kind of vehicle you purchase,..

Read More

Comparisons

Owning a car is incredibly liberating, but unfortunately, that freedom comes at a significant cost. Not only is it expensive to purchase a vehicle, but the cost of annual repairs..

Read More