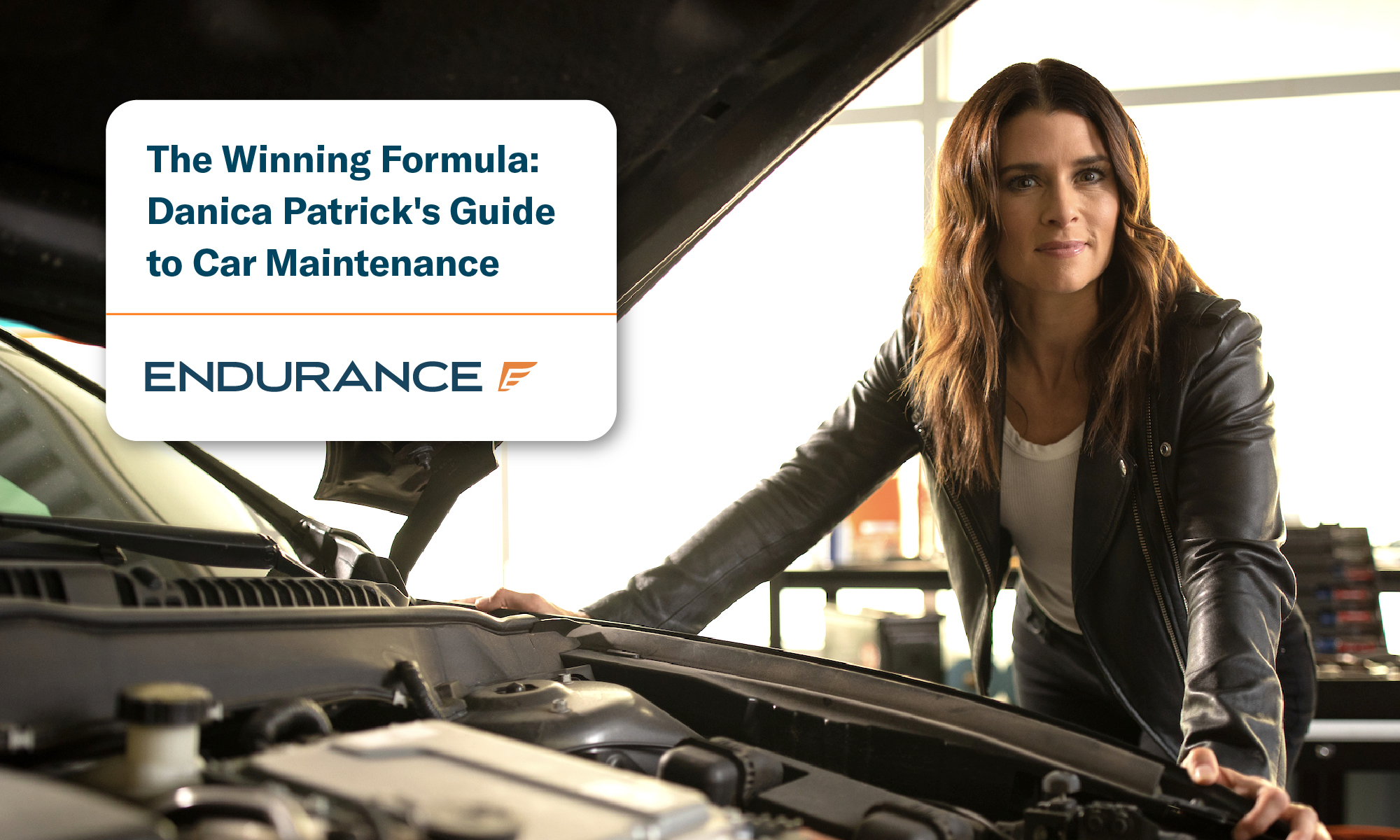 Retired professional racecar driver Danica Patrick is a pioneer in the world of motorsports. Her breakthroughs include being the first woman to lead an Indianapolis 500 race (the 89th running of the historic contest in 2005).
She finished 4th, marking the highest finish ever for a female driver in the Indy 500. She continued with many other firsts for female racers in the IndyCar series, including a win in 2008 at the Indy Japan 300 in Motegi. Danica's time with IndyCar included working with legends like Bobby Rahal and driving for Rahal Letterman Racing and Andretti Green Racing (now Andretti Autosport).
In 2012, Danica moved to NASCAR to continue her racing career. That same year, she became the first woman to win the pole position for NASCAR's flagship race, the Daytona 500. Driving the #10 "GoDaddy" Chevrolet for Stewart-Haas Racing, she raced in the Sprint Cup Series through 2018.
With top-10 finishes in the Indy 500 and Daytona 500, Patrick demonstrated competitive talent against the top male racers in pretty intense competitions. Danica's time in IndyCar and NASCAR has inspired women of all ages to become more involved in motorsports. Even after retiring from professional racing in 2018, Danica remains a recognizable and influential figure in auto racing history.
Danica's expertise goes far beyond the race track. Her unique background provides an insightful look into everyday vehicles and what's required to keep them running. We can apply many things learned from operating high-performance machines to our daily drivers.
By partnering with Endurance, a leading extended warranty provider, Danica shares her knowledge with a new group of people. While Endurance's team includes many automotive experts, Danica's experience adds a new dimension to the company's outreach to customers.
The Racing Connection: Why Danica Patrick's Approach Matters
The maintenance demands of race cars go far beyond typical automobiles, but much can be learned from these extreme requirements. Danica's history offers a unique perspective on these needs.
Routine Maintenance: Race car drivers and their support teams have to follow rigorous maintenance schedules to keep race cars in peak operation condition. This approach reinforces the need for oil changes, tune-ups, tire rotations, and fluid checks in regular vehicles. All these steps are designed to increase vehicle longevity, whether for the street or track.
Preventative Maintenance: Dovetailing off routine vehicle servicing, preventative maintenance identifies troubled components before they create an on-track disaster. Addressing problems early on prevents bigger troubles later on, an equally important approach for regular cars.
Quality Parts: Racing professionals depend on top-tier components for high-speed endurance and capability. This creates an appreciation for using quality parts in everyday vehicles, which enhances longevity and minimizes future breakdowns.
Safety Awareness: Racing comes with inherent risks that can be partially mitigated through various safety measures, such as ensuring the brakes and suspension are in top condition. This same awareness is equally valuable when driving on public roads.
Diagnostic Skills: Every vehicle is vulnerable to problems. Being able to quickly and accurately address these issues is especially crucial in the middle of a race. And while today's cars (on and off the track) come with advanced technologies that help identify troubles, often, the answer comes from a driver's ability to spot the problems from behind the wheel.
Thanks to her first-hand experience, Danica recognizes that staying ahead of problems, relying on quality components, and focusing on safety are equally important for everyday drivers.
What Care and Maintenance Mean in the Racing
A race driver is only as good as their car, emphasizing the importance of a stringent maintenance approach. A peak-conditioned vehicle influences many aspects of racing.
Performance: Racing victories come from machines engineered to maximize speed and handling. This only happens when systems and individual components are in optimal condition. Even a slight drop in capability or performance can impact results.
Safety: Triple-digit speeds can be a recipe for disaster. That means zero tolerance for mechanical failures, which often can be identified through detailed maintenance efforts.
Longevity: Race cars endure far beyond what street automobiles experience. But the idea is the same for both types of vehicles: keep them running as long as possible through careful maintenance. In the racing world, rebuilding the same engine multiple times is not unusual to keep it in top condition.
Efficiency: During a race, every second counts. Changing tires and refueling cost time. And unscheduled repairs can completely upset race performance. The more that can be done to eliminate unanticipated work will only lead to better results on the track.
Investment: Leading racing teams spend millions on equipment. Proper maintenance preserves this investment because even minor issues can be expensive to repair.
Danica Patricks' Insights Benefit Celebrities and Regular Drivers
Celebrities may be concerned with maintaining their image, while ordinary people are just concerned with making it work. But all walks of life can benefit from Danica's expertise in car maintenance.
Longevity: Taking Danica's approach to maintenance can help keep a car on the road as long as possible.
Safety: A well-maintained vehicle promotes safer operating conditions.
Reliability: Keeping a car in top condition makes it more trustworthy for daily use.
Resale Value: Cars in good working order are worth more at trade-in time.
Danica's Car Maintenance Philosophy
Race drivers have many things on their minds while behind the wheel. For Danica, these thoughts often concentrated on performance, safety, and reliability. These are all elements that can be tied into her approach to vehicle maintenance.
Keeping a vehicle in excellent condition is vital whether you're trying for a podium spot or accelerating onto a highway onramp. A well-running car gives drivers the confidence they need, no matter the task.
At the same time, a well-maintained vehicle is less likely to be affected by safety issues. That means driving on tires with plenty of tread life, ensuring the brakes operate properly, checking that exterior lights are working, and confirming the steering and suspension are in good condition.
Meticulous maintenance also translates into reliability, which is especially important because most drivers don't have a pit crew on standby. Catching things early is the key to enhancing reliability. Addressing small problems right away prevents them from getting larger (and more expensive). Regular visits to the shop and frequent vehicle inspections are the best way to avoid breakdowns.
Long before Danica entered professional racing, she learned the importance of regular car maintenance by learning to drive in the Midwest (she grew up in Wisconsin and Illinois). Failure to keep a charged battery, maintain proper fluid levels, and have good-condition tires can leave cars stranded during the region's brutal winters.
Danica's Top 5 Car Maintenance Tips
There are many elements to keeping a car in tip-top shape, but Danica recommends a few steps that don't require mechanic-level knowledge:
1. Check and Maintain Fluid Levels
Essential fluids are the lifeblood of internal combustion automobiles. Engine oil, transmission fluid, coolant, brake fluid, power steering fluid, and wiper fluid all need to be checked regularly. The owner's manual provides the necessary guidelines and how-tos.
But it's up to you to actually do the work. Set a schedule, perhaps monthly or after every few fill-ups, and stick to it. Top off low fluids and be sure not to overfill; this can cause problems, too. Look for leaks or curiously low fluid levels and have problems looked at right away.
2. Prioritize Tire Care
Tires significantly influence the safe and efficient operation of a car. Get in the habit of inspecting the tires for irregular wear patterns, cracking, bulges, or cuts. These are all signs that something is not right.
Checking tire pressure is equally important. This should be done at least monthly while the tires are cold. Follow the PSI recommendations on the driver's door jam or inside the owner's manual. Tires should be rotated every 5,000 miles for more even wear. Replacing the tires once the tread depth reaches 2/32 of an inch or are more than six years old is also vital. In addition, ensuring the tires are balanced and the wheels are aligned promotes longer tire life.
3. Pay Attention to Brakes and Suspension
Be alert for any changes to how the brakes and suspension perform. Grinding, squeaking, vibrations, extra pedal effort, and longer stopping distances indicate potential problems. At a minimum, have the brake pads, rotors, and braking system inspected annually.
An uneven ride height, bouncy handling, and unusual vibrations can signal worn shock absorbers or suspension troubles. Don't delay in getting any of these issues looked at.
4. Keep the Car Clean and Protected
Appearance doesn't impact safety or performance but can affect a car's value. Keep the exterior washed and waxed to preserve the paint and prevent rust. And clean the headlights, too.
Vacuuming and cleaning the interior prevents dirt build-up, which can lead to premature wear. When possible, park in shaded areas or use protective covers to avoid UV damage to the dashboard and upholstery.
Follow Scheduled Maintenance Guidelines and Be Proactive
Figuring out what maintenance your car needs isn't a guessing game. Everything you need to know is in the owner's manual or supplemental maintenance guide. Be diligent about these service intervals, which cover fluid and filter changes, belt replacements, and other crucial tasks.
And don't wait for things to break before getting service; be proactive.  Repair bills are lower before the problem escalates, and you're less likely to need a tow truck later. Keeping good repair records can help with future repair decisions and may be required for warranty claims.
Collaboration with a Leading Warranty Provider, Endurance
By teaming up with Danica Patrick, Endurance is raising awareness of the value of an extended warranty (also known as an auto protection plan or vehicle service contract). It's an effective way of safeguarding drivers against breakdowns and surprise repair bills. Her notoriety calls attention to the value of extended warranties, especially for vehicles without factory protection.
"I am excited to join the Endurance team to help spread the word about how their auto protection plans save drivers thousands in car repair bills," said Danica. She adds, "Having spent many years in the racing industry, I understand the high cost of unexpected breakdowns. Endurance provides drivers with the peace of mind they need to keep their vehicles running smoothly, and I am thrilled to be a part of that."
Get Started with Championship Coverage from Endurance
Thanks to an Endurance extended warranty, you don't need a checkered flag to score a victory. Drivers can select from numerous coverage options, including protections for high-mileage vehicles and select luxury models.
All Endurance extended warranties come with 24/7 roadside assistance (with towing coverage and lockout assistance), rental car reimbursement, trip interruption support, and flexible terms. The confidence of a 30-day money-back guarantee means you can request a cancellation in the first month of your coverage, typically for a full refund. Policyholders can also choose from any ASE Certified mechanic or repair facility for covered repairs.
Customers also have access to one year of Elite Benefits. These extra features are worth up to $2,000 and cover tire repairs and replacements, collision repair discounts, key fob replacement, and other valuable services. Just pay a small activation fee to get started.
Learn all that an Endurance auto protection plan has to offer. Request a FREE quote or call (800) 253-8203 for personalized help from our award-winning customer service team. You can also visit our online store for instant price information and coverage details.
To learn about car care, DIY maintenance, vehicle reviews, and more, check out the Endurance blog for expert articles and guides.
More like this
Expert Auto Tips

Buying a new car can be incredibly exciting and can open up a whole new world of possibilities. There are so many vehicles on the market, and no matter what..

Read More

Expert Auto Tips

Changing your oil and keeping your tires at the correct PSI are two great ways to keep your car running smoothly and driving safely as the seasons change. Your vehicle's..

Read More

Expert Auto Tips

With the temperatures at their all-time high heading into the home stretch of summer, your vehicle's components get put to the test at this time of year. The higher temperatures..

Read More